Located in the Himalayas on the Leh-Manali Highway, between Himachal Pradesh and Ladakh, Sarchu is also known as Sir Bhum Chun and is an important halt point with tented accommodation. It is situated between Baralacha La to the south and Lachulung La to the north, at an altitude of 4,290 m.
Sarchu comes into the center of attention from May to September every year when the snow thaws on this route thus making the place a transit campsite in the Himalayas on the Leh-Manali Highway. Sarchu also becomes the starting point for treks to Zanskar in Ladakh. The route is popular with trekkers and high altitude climbers as one has to deal with hostile conditions and difficult terrain.
But ever wondered why Ladakh is also called the 'Land of High Passes'? And every time you cross one at an altitude greater than you have ever done before in Ladakh, it adds to a sense of achievement.
Sarchu also resembles Ladakh with its barren splendor which is a beehive of activity between June and September when the snow melts and the Leh-Manali highway is open for traffic. Now, let's find about some of the amazing places to visit while traveling to Sarchu.
Here are the 4 Amazing Places To Visit In Sarchu:
1. Baralacha La Pass
Baralacha La Pass also known as Bara-Lacha Pass is a high mountain pass in the Zanskar range, connecting Lahaul district in Himachal Pradesh to Leh district in Ladakh, situated along the Leh–Manali Highway.
It is a high plateau where three different mountain ranges – Pir Panjal, Zanskar, and the Great Himalayas – meet at an altitude above 16,000 feet. One of the highest passes in Ladakh, Baralacha La Pass is around 73 kilometers away from Keylong on Manali – Leh road.
The Baralacha La Pass is the point of commencement for several treks which include the famous Suraj Tal trek and Chandra Tal trek but during the winter season, the pass is closed due to heavy snowfall.
So, don't forget to visit the mighty Baralacha La Pass in the Zanskar Range where you will find all the answers, hahaha! Standing tall and strong at an elevation of 16,040ft, this pass is the only connecting link between Lahaul district in Himachal Pradesh and Ladakh which is one of the most scenic places to visit in Ladakh.
2. Moore Plains
Originally called Kiang Chu Thang in the local language, Moore Plains is a plateau on the Leh–Manali Highway. It occupies 40 km of the highway between Leh and Sarchu. The plateau has an average elevation of 4,800 metres. Kiang Chu Thang means a plain where the Kiang does not find water.
Flanked by beautiful mountains on both sides, the Moore Plains area is a major attraction to both motorists and bikers. At some places, the road runs along the Sumkhel Lungpa River featuring some of the amazing sand and rock natural formations. It is a perfectly flat plateau bordered by low hills.
Moore Plains is a photographer's delight and a captivating destination for nature lovers. Its landscapes and the colors keep on changing with every turn where the clear blue sky is an addon to this awesome place. So, don't forget to explore it while visiting Ladakh.
Check out the 3 Spectacular Places To Visit In Khardung La Pass
3. Lachung La Pass
Located some 54 km from Sarchu and 24 km from Pang on the Leh–Manali Highway, Lachung La is a mountain pass along the Leh–Manali Highway. It is one of the easier 16,000 ft passes and it can be traversed cross-country by moving along the Nala on both sides.
The Lachung La mountain pass offers a great sight of the snow-capped mountains to all the visitors. You will get to witness natural beauty at its best with a visit to the pass.
The primary attraction of Lachulung La Pass is its natural beauty and the gorgeous views of the landscape. There is a signpost that declares your arrival at Lachulung La Pass which is decorated with Buddhist prayer flags.
Did you know? Lachulung La pass is visited by a number of people and it is one of the favorite passes amongst hikers as well as trekkers. So, if you want to soak in the beauty of Lachung La Pass and its surroundings then a visit to this mountain pass is highly recommended.
4. Taglang La Pass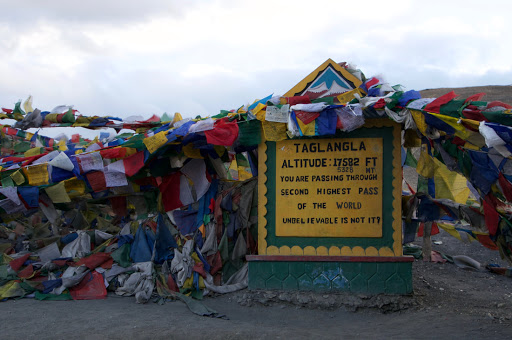 Located at an elevation of 5,328 metres, Taglang La Pass is one of the incredible high altitude mountain passes in Ladakh and what makes it more famous is the incredible views it offers & the sheer excitement of crossing it that is no less than an adventure.
This mountain pass is the residence of nomadic Changpa herdsmen who are primarily cattle and goat herders. The Taglang La Pass cuts through rocky mountains which are crisscrossed by gently flowing streams, and on a clear day, their slopes are the playground for curiously shaped shadows.
In a distance, you can see the snow-covered peaks, with clouds appearing to sit on top of them. Now, do you know during winters, it's almost impossible to cross this road? But for those who are experienced behind the wheel, this pass can present exciting challenges.
But once you reach there then there is a signpost which informs you of your arrival at Taglang La Pass and is a great place for clicking a selfie or posing with your family, friends, or the group with which you may be traveling.
So, visit one of the incredible high altitude mountain passes is a must when you are traveling to Ladakh, don't miss it at any cost.