Are you on the hunt for a truly spectacular offbeat location for your next vacation? Popularly known as the "Paradise on Earth", Jammu & Kashmir is world-famous for its scenic splendor, snow-capped mountains, plentiful wildlife, exquisite monuments, hospitable people, and local handicrafts. It is dotted with the most beautiful mountain peaks, massive glaciers, splendid monasteries, blue lakes, rivers, forests, ever Jammu & Kashmir meadows, and tall pine trees.
For a rare retreat, if you head to Jammu & Kashmir, you will discover places that are so untouched. A destination of wonderful natural treasures that also doubles up as a winter destination. The unparalleled beauty and charm of the state and the sweetness of the locals will remain etched in your memory forever.
But now, it's time to find out some of the lesser-known places to visit in "Paradise on Earth – Jammu & Kashmir" and I am quite sure that it will take your breath away as they're so breathtaking.
Here are the 6 Offbeat Places To Visit In Jammu & Kashmir.
1. Daksum
Situated at an altitude of 2,438 m above sea level, about 40 km south-east of Anantnag in Jammu and Kashmir,  Daksum is a beautiful picnic spot, and also it is a trekker's paradise covered with coniferous forests, gurgling streams, and hidden grassy meadows with the melodious sound of the gushing Bringi River forming the backdrop.
Daksum is also famous for its trout. It's a place for those who like to spend time in solitude and in conversation with nature as it is swathed in coniferous forests, gurgling streams, hidden grassy meadows, where your only company is the sound of the gushing Bringhi river or an occasional shepherd tending his flock.
Daksum is a reviving experience -the bracing mountain air, the solitude, the densely clad hills, and beyond them, snow-covered mountains, all contribute to Daksum's mystique, making it the perfect retreat.
Daksum is a place where you can revel in solitude and be one with nature. Pine trees, green meadows, clear gurgling brooks, fresh mountain air all promise to make your experience invigorating and long-lasting.
So, if you are looking for hidden beauty in the heavens of Kashmir, Daksum is your place. Isolated from the touristy destinations, this river valley is the perfect getaway for travelers in search of peace and beautiful river music where you will be crossing dashing Bringi River many times with every crossing opening to a new and better treasure of natural beauty.
Best time to visit Daksum: April-September
Check out 6 Beautiful Places In India Which Turn Into Snowy Wonderlands During Winter.
2. Warwan Valley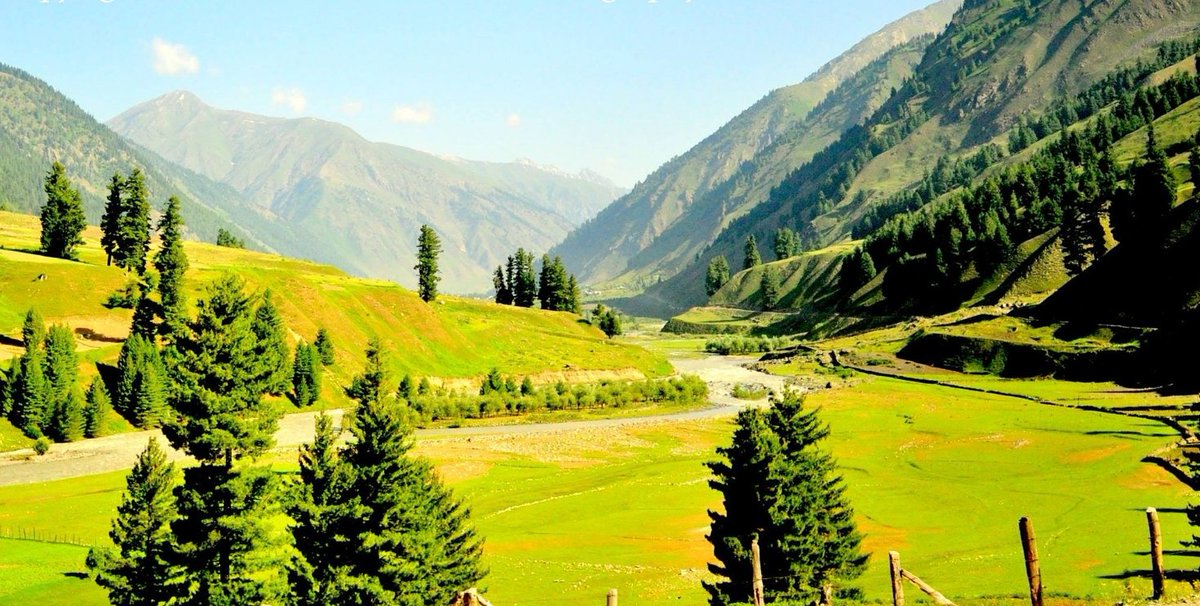 The Warwan Valley, falling in the Kishtwar district that is situated in the upper reaches of the Himalayas at an altitude of around 7000 feet above sea level.
It is bound by Kashmir Valley on one side and Ladakh on the other that remains completely cut off from the rest of the world for around 7 months in a year. This pristine valley comprises 13 villages with three located on the left bank of the Warwan river and 10 on its right side.
The Warwan Valley is a little-known valley in Kistwar, Jammu & Kashmir, mostly untouched by the outside world. Warwan Valley is a gorgeously beautiful long but narrow valley with a width not exceeding 3 km.
The towering lush green buttes are astounding. The breathtaking waterfalls, clear sky, and cool breeze are stunning. But what may be the greatest wonder of a visit to Warwan Valley is its clam, making this place a complete beauty, hidden from the world. This beauty is compounded by the valley's remoteness and isolation.
This 30 km long valley has splendid waterfalls, vast verdant meadows and pastures, huge cedar trees, enormous patches of thickly wooded forests, and all sorts of natural scenic places that leave the visitor spellbound. This is a side of Kashmir that even most Kashmiris haven't seen.
The setting of villages in Warwan Valley is too perfect even for pictures that are unique to this part of Kashmir that you won't like to miss on your trip to Kashmir that has remained untouched for generations, the valley is pollution-free and offers natural beauty at every curve and curl.
Best time to visit Warwan Valley:  April-September
3. Margan Top
Perched at an altitude of 14,000 ft, the Margan Top has of late become a tourist attraction for being one of the most beautiful mountain tops of the Himalayan region in south Kashmir.
An unexplored valley in Kashmir is one of the best places for trekking in Kashmir valley to visit in the summers. Margan Top connects Warwan Valley with the main Kashmir Valley.
Surrounded by beautiful meadows all around, the Margan Top boasts of a 360-degree view with Kashmir valley on one side and the Warwan valley on the other. Its name is derived from two words; Mar meaning death and Gan connoting valley. Margan Top is studded with four magnificent small lakes, together called Choharnag or four lakes.
Lying at a distance of 3 km from the main road, these high altitude lakes provide a soul-soothing ambiance at top of the mountain. The surrounding meadows of the Margan Top present a riot of colors during the summers when the wildflowers blossom in unison where the long and grassy expanses are home to thousands of sheep and goats who are brought here by Gujjars and Bakerwal tribesmen to graze here for some months.
Did you know? Margan Top also acts as a base for some adventurous trekking routes where you can pitch tents anywhere as the track is absolutely courteous to offer you breathtakingly beautiful campsites all over.
Best time to visit Margan Top: April to September
4. Tosa Maidan
Tosa Maidan is a meadow in Khag tehsil of Budgam district of Jammu and Kashmir, India. Surrounded by thickly wooded forests, Tosa Maidan has situated about 10 km from Khag in the mountains of the Pir Panjal range.
Due to its gorgeous landscape and pleasantly cool breeze during the summers, visitors throng the place in hordes. This captivating place is not only famous as a pasture but also for its historical background.
Tosa Maidan has plenty of snow-capped mountains forming its frame. Also, there is a wide range of wildflowers bedecking the landscape. The fragrance of wildflowers refreshes the whole environment, casting a unique spell upon the visitors. The region is full of springs; the one in its vicinity at Khag is most famous for the curative properties of its waters.
Given the beautiful landscape of this destination, visitors simply surrender their minds for the entire duration of their stay. There are plenty of freshwater springs in Tosa Maidan; however, the spring present in Khag closeby is especially known for its curative properties. The most ideal season to visit this region is between May and September. During the remaining months, Tosa Maidan remained covered with a thick blanket of snow.
Best time to visit Tosa Maidan: April to September
5. Gurez Valley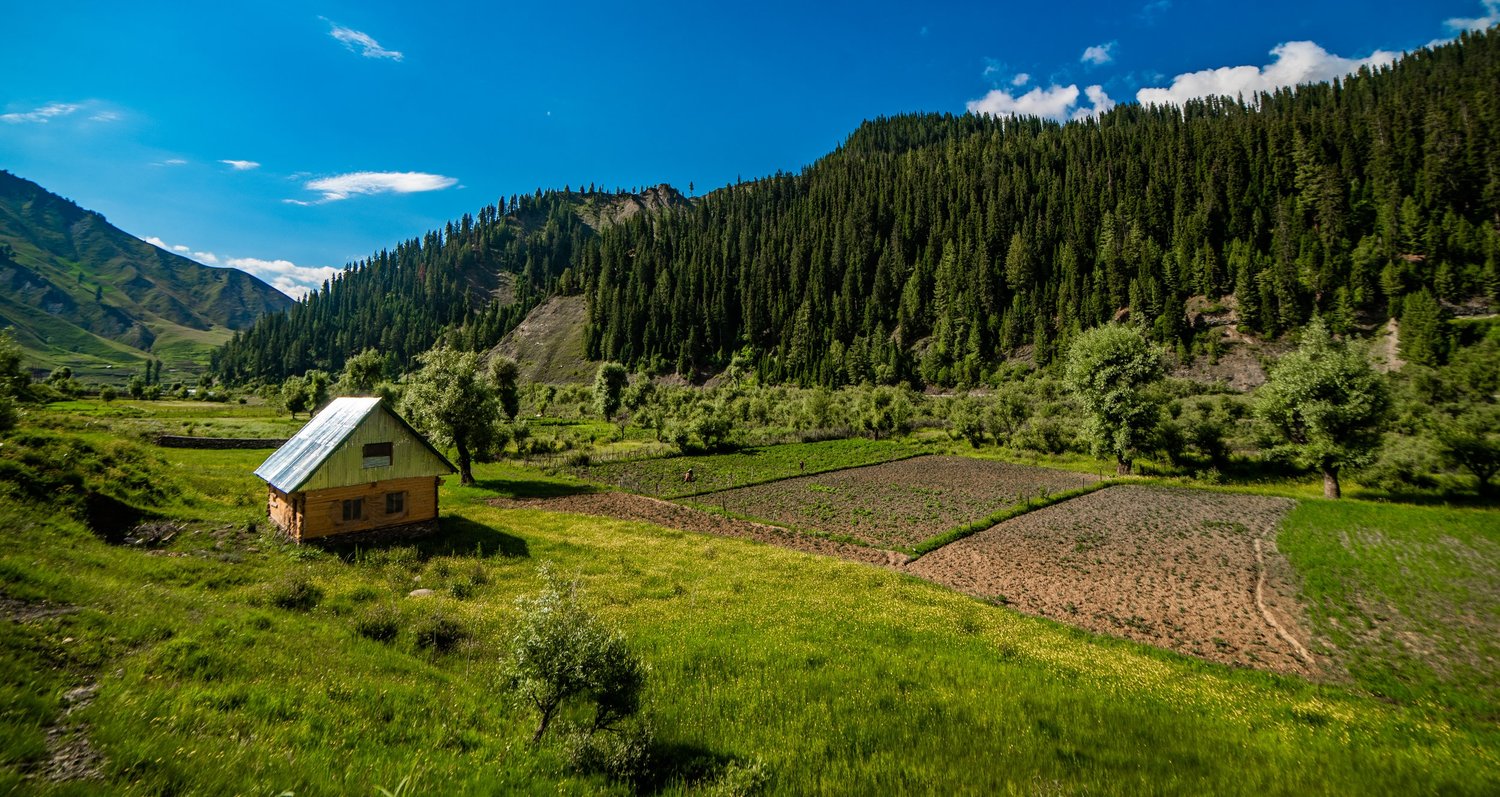 Gurez is a valley located in the high Himalayas, about 86 km from Bandipore and 123 km from Srinagar in northern Jammu and Kashmir, India.
Gurez is an epitome of a beautiful serene mountainous valley spread across the river banks. It has all of the attributes for a person to fall in love with the place. It has diverse fauna and wildlife including the Himalayan brown bear and the snow leopard.
This valley is replete with beautiful sights, such as the roaring Kishan Ganga River, fauna and flora, and mountains of poetic beauty. Gurez has lovely campsites where the tents can be pitched near the river.
20 km from Gurez, the awesome villages of Tilel have log wood houses that perfectly add to the magnificent view of mountains full of pine and fir trees. A trip to Gurez Valley will be an unforgettable experience for you.
Best time to visit Gurez Valley: June to September is the best time to visit and it remains closed for about six months due to heavy snowing in winters.
Check out Top 5 Beautiful But Unexplored Hill Stations Of India.
6. Bungus Valley
Situated in the North area of Kupwara District in Jammu and Kashmir, Bungus Valley is a lush green meadow that is a part of a unique ecological area, comprising mountain and grassland with flora, Taiga or Coniferous forest.
The valley with rugged terrains and lush meadows is ideal for jeep safaris. The valley is surrounded by Rajwar and Mawar in the east, Shamsasbury and Dajlungum mountains in the west; Chowkibal, Karnah Gali in the north, and Leepa mountains in the south.
Bungus is an upcoming destination that will soon see its place on the tourist map of the state. Extreme natural beauty, serenity, splendor are few synonyms associated with the majestic valley of Bungus.
It is one of the relatively unknown areas of Jammu & Kashmir that has a vast tourism potential to grow.
Bungus Valley is one of the virgin destinations which you can look forward to exploring without any second thoughts.
Best time to visit Bungus Valley: April to September