Catching a glimpse of the snow-capped mountain ranges or sun rising on the sea from the window of the hotel room is something that you might have experienced a lot of times.
But have you ever discovered yourself at a place so serene where even the wind is audible? No, right? East Sikkim is the 'Heart' Of Sikkim that is a flawless vacationer's destination in Sikkim with captivating scenery and a hypnotizing scene where even the wind is audible.
Being one of the four administrative districts of the Indian state of Sikkim, East Sikkim is the prime destination with numerous places to visit and customs and celebrations to enjoy whereas the capital city of Sikkim, Gangtok is the prime traveler's hub of East Sikkim.
The rich greenery, entrancing valleys, delightful lakes, numerous old monasteries, and temples enhance East Sikkim that is still untouched. So, go ahead and explore through the length and breadth of East Sikkim. Its beauty is sure to mesmerize you! But why wait any further? Let's go and Explore the off-beat, unexplored East Sikkim!
Here are the 7 Best Places To Visit In East Sikkim:
1. Zuluk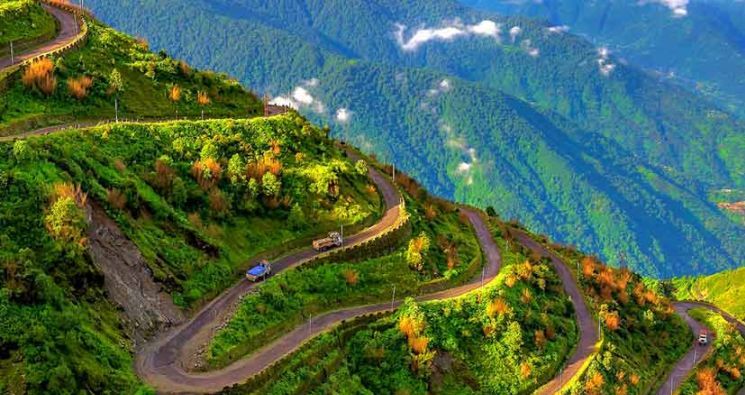 Situated at a stature of around 10,100 feet on the tough territory of the lower Himalayas in East Sikkim, Zuluk or Dzuluk is a little town next to a winding street. Zuluk is relatively an emerging and offbeat destination in East Sikkim.
Did you know? Zuluk was previously a travel point to the memorable Silk Route from Tibet to India. Zuluk determines its tourism significance because of the great views of the eastern Himalayan Mountain including the Kanchenjunga.
But an excursion to the zone requires special licenses. You need to pre-arrange a special permit for visiting this restricted area that is issued from a place called Rangli. The permits are also issued from Gangtok, the capital of Sikkim.
Dzuluk is surrounded by wild forests, some of the forests are completely virgin. Have you ever stayed a night at a remote village on the lap of a valley guarded by high mountains covered with lush greeneries? If you are trying to visualize it then stop imagining and pack your bags for Zuluk, a hamlet at an altitude of over 10,000 feet in the Eastern part of Sikkim.
Attractions in & around Zuluk: Zuluk Loop, Thambi View Point, Nathang Valley, Kupup Lake, Menmecho Lake, Lungthung , Tukla Valley, Old Baba Mandir, Tsomgo Lake & Nag Temple
Best Time to Visit Zuluk: Amid August and September, Zuluk is doused in different shades of wild blossoms. The entire area is canvassed with different wildflowers. From January to April Zuluk is shrouded in snow. While the blustery period from May to July is generally foggy.
2. Nathang Valley
Being called Ladakh of East Sikkim, Nathang valley is privately known as Gnathang Valley is arranged at an elevation of 12,700 feet above ocean level where this rich valley was the home to customary yak herders who originated from Tibet.
Nathang town is one of the remotest Tibetian residences in Eastern Himalaya. It is one of the most beautiful places in Old-Silk-Route that is surrounded by snow-capped hills and mountain landscape.
Scarcely many streams befuddle the valley, and supplication banners ripple on the mountain edges on this huge plain. Nathang Valley shows up in various hues on various occasions of the year. It looks brilliant when the grass goes away, in the stormy season it's shrouded in blooms, and in winter it is covered in 5 feet of snow where you can encounter chilled wind waves blowing all around.
Few streams crisscross the valley, and prayer flags flutter on the mountain edges on this vast plain of nothingness. Don't forget to visit this valley because it is surrounded by streams, valleys, mountains making it one of the magical places in Sikkim.
Attractions in & around Nathang Valley: Padamchen, Genmochen, Thambi View Point, Kupup Lake, Tukla Valley, Baba Mandir, etc.
Best Time To Visit Nathang Valley: Nathang Valley looks beautiful in every season, but you can visit the place from June to September when the valley is veiled behind wildflowers. From September to January, the valley gains back a golden hue after the snow thaws from the grassland. From January to April the valley remains under the cover of snow, so if you are looking forward to experience snowfall in winter, this is the ideal time for you.
Check out The 7 Charming Lakes That You Must Visit In Sikkim
3. Kupup
The village situated at an altitude of 13000 feet gives amazing views of the renowned Elephant Lake, which got the name from its shape that looks like an elephant, Kupup is one of the most astounding villages in the area, which was a perceived travel point amid the silk exchange among India and Tibet.
Locally known as Bitan Choo, the lake is surrounded by towering snow-clad mountains on one side and a difficult to maintain 15 feet wide road carpeted with fresh snow on the sides and in between that provides the only route to reach Kupup via the lake. I
n the event that you are venturing through the Old Silk Route to Dzuluk and Jelep La Pass, this destination is an absolute necessity to have on your Sikkim bucket list. It comes just before the Baba Mandir which is another well-known travel destination of Sikkim.
It's trivial to attempt and portray the charm of the place in words. Kupup is past lovely; it is a paradise in itself. It is near the Indo-China outskirt and has dependably offered nature sweethearts and experience enthusiasts the much-wanted delight of an exciting visit where a few houses dot the landscape on either side of this village as tires wrapped in chains move in and out of this village with a high degree of caution against possible slippage on the snow.
So, if you ever plan an Old Silk Route visit, keep in mind to stop by this nature-loaded ideal world that you won't regret.
Attractions in & around Kupup: Yak Golf Course, Jelep La, Menmecho Lake, Baba Mandir, etc.
Best Time To Visit Kupup: Kupup receives heavy snowfall and hence remains close from January to the end of April. So, May and June are the most wonderful months as the climate is great and the entire territory has a flower cover.  Storms are not a decent time to go trekking here but rather summers and harvest time but October to November are additionally excellent and appropriate for treks.
4. Rangpo
Rangpo is a small town that carries great charm for not having any cultural dilution and is also a border town of Sikkim, close to the West Bengal border that runs along the Teesta river, which is one of the main rivers of the mountains of Sikkim. Nepalis and Bhutias are the main residents of Rangpo.
The villages around Rangpo are a delight for any culture vulture who loves going off the beaten track and exploring life outside cities. But due to its close proximity to higher altitude places like Tsomgo & Nathula Pass, Rangpo has cold weather almost throughout the year.
Rangpo has a lot of offer when comes to its scenic beauty but it's untouched. Tourism is picking up here, and Rangpo pulls people from all parts of the country for its natural beauty and cultural preservation.
If you like to revel at some entertaining site or cherish the marvels of age-old architecture at historical monuments, museums, and buildings, Rangpo is your go-to destination.
So, don't miss to explore this hidden gem of East Sikkim while traveling to Sikkim which is also on the way to other destinations like Lachung, Pelling, and Yuksom.
Attractions in & around Rangpo: The Kailash Mansarovar Yatra, Watershed War Memorial, etc.
Best Time To Visit Rangpo: Summer is the best time to visit Rangpo because due to its close proximity to higher altitude places like Tsomgo & Nathula Pass, Rangpo has cold weather almost throughout the year.
5. Ranipool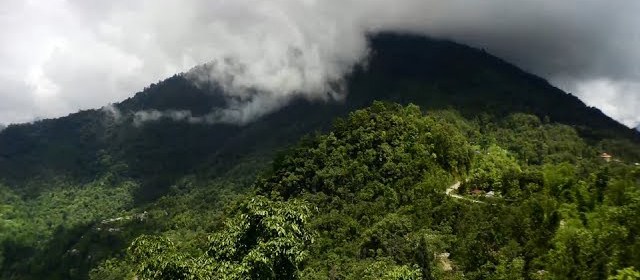 Located near Gangtok, Ranipool is a small suburban town that is 12 km before from Gangtok's main town. It has three roads that lead to Singtam, Pakyong, and Gangtok.
Ranipool may not be as popular as other cities in Sikkim, but don't let that fool you. Are you one of the individuals that enjoy the chilly breeze? If so then the Ranipool is best for you to visit.
Ranipool is a smaller but beautiful upcoming tourist destination that is worth a visit. You will be surprised by some of the unique places you can explore at this hidden destination.
Attractions in & around Ranipool: Rumtek Monastery, Saramsa Garden, Jawaharlal Nehru Botanical Garden, Shanti View Point, etc.
Best Time To Visit Ranipool: Match to October is the magnificent season to visit Ranipool because the normal temperature falls around 63℉. The climate is extraordinary for outside, the air being tolerably moist. This is in all probability extraordinary compared to another season to visit Ranipool and furthermore a traveler's peak season.
6. Gangtok
With magnificent views of the Kanchenjunga peak, uniqueness, and vibrancy in colors of culture and tradition infused into the stunning sceneries and just the right dash of subtle city life, Gangtok – the capital of Sikkim is one of the most popular tourist destinations in the Sikkim that is incredibly alluring, pleasantly boisterous and wreathed in clouds. Gangtok is one of the most popular hill stations in India.
Gangtok has a little of everything – culture, nature, entertainment, and food where you can explore Tibetan monasteries to delve into the rich Tibetan culture which permeates festivals, music, food, architecture, and the lives of the local people.
For those who love Tibetan food, Gangtok is a delight. Momos, Noodles, Thukpa, and other local dishes are readily available all over the city.
When it comes to adventures, Gangtok is a base for adventure enthusiasts comprising of trekkers and campers to the Himalayan mountain ranges.
But did you know? During the months of March to Mid-May, the blooming of wild Rhododendrons transform the surrounding regions in vast fields of colorful carpets making it look so stunning. So, I am telling you now only, do not miss a chance to explore Gangtok while you're in Sikkim because it is a breathing and dynamic bit of paradise of the northeast. Gangtok and its surrounding regions are abundant in natural beauty.
Attractions in & around Gangtok: Tsomgo Lake, Ban Jhakri falls, Tashi viewpoint, etc.
Best Time To Visit Gangtok: Spring and summer are the best time to visit that is from March to June as you get clear views of the mountain ranges.
7. Aritar
Located on the edge of the Himalayas, Aritar is a small town in Eastern Sikkim and a comfortable retreat into the forests for the off-the-beaten-track traveler.
Aritar is famed for its enchanting natural scenery peppered where you can see the abundance of nature, as forests, glacial lakes, snow-covered mountains, and quaint monasteries tucked in the midst of peaks, valleys, and paddy fields.
The place has in its store, something for every kind of traveler. The unmatched tranquility of this little Himalayan town, occasionally broken by the light whispering of the winds, spirited music of the bubbling streams and playful chirps of colorful feathered birds is bliss for soul seekers too who throng here to soak in the quietude of nature, undisturbed from maddening noises of the chaotic city lives.
If you are up for some adventure in Aritar then you would definitely find yourself to be treated with numerous offerings that will satiate your adrenaline cravings; be it trekking, hiking, paragliding, rock-climbing, or camping, each activity would be a completely new experience, and will leave you with some exhilarating moments that will be etched in your memories forever.
Aritar is untouched in its natural beauty and a welcome antidote to the modern noise and din. Aritar is a reminder of all that is beautiful in the world, and a short walk away from the regular routine humdrum of everyday life. It is a must-visit destination for all those who seek tranquillity and a journey to remember.
Attractions in & around Aritar: Mankhim Dara, Lampokhari Lake, etc.
Best Time To Visit Aritar:  The best time to visit Aritar is January or April-June because Aritar is colder than most of the towns in Sikkim, being on the edge of the Himalayas and that makes it receive ample snowfall, and has a beauty of its own in the light winter months.
If you liked this article, then please subscribe to my YouTube Channel for Travel Adventures. You can also follow my adventures on Twitter and Instagram.