Poland, officially the Republic of Poland is a country located in Central Europe with its incredible history and fourteen UNESCO World Heritage Sites is a wonderful but too often overlooked destination.
Those who imagine Poland as a backward, impoverished land of rusting factories, smoggy cities, and gloomy natives are left speechless when they step into Krakow's vibrant main square, Gdansk's colorful Royal Way, or Warsaw's lively Old Town.
Visit Poland and discover the most representative hallmarks of the city that is its museums, art galleries, and buildings of historical value that are an inherent part of Polish & European heritage were awaiting you is a terrific trip to an unspoilt landscape full of distant views, steep climbs, and also perfectly marked hiking trails of all difficulty levels.
Here are the 8 Charming Places To Visit In Poland.
1. Krakow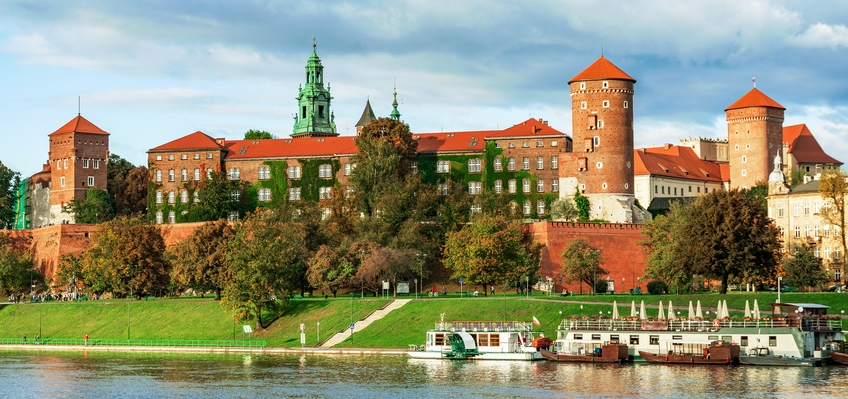 Known for its well-preserved medieval core and Jewish quarter, Krakow is a southern Poland city near the border of the Czech Republic whose old town – ringed by Planty Park and remnants of the city's medieval walls – is centred on the stately, expansive Rynek Glowny (market square).
Its cobbled streets lined with horse-pulled carriages, beautiful squares surrounded by pretty buildings and churches, and a huge castle.
Krakow is composed of so many unique attractions that trying to pick its cherries in an unbiased way can definitely make you experience real vertigo.
So, don't forget to see the famous heritage sites, marvel at the most cherished treasures, and discover Krakow's most interesting nooks and crannies.
2. Warsaw
Warsaw is the sprawling capital of Poland where its widely varied architecture reflects the city's long, turbulent history, from Gothic churches and neoclassical palaces to Soviet-era blocks and modern skyscrapers.
The city's Old Town was restored after heavy damage during WWII but its heart is Market Square, with pastel buildings and open-air cafes and the Monument of the Warsaw Mermaid at its center is the city's symbol.
The Old Town of Warsaw entered on the UNESCO World Heritage List and that is where the city's heart has been beating for centuries.
At Warsaw, you'll be struck by how unusual the panorama of the city is whose skyscrapers rise above the red roofs of the Old Town, historical buildings blend in harmoniously with modern architecture, and the city surprises travelers by revealing its second face.
3. Wroclaw

Known for its Market Square, lined with elegant townhouses and featuring a modern fountain, Wroclaw is a city on the Oder River in western Poland which is one of the oldest and the most beautiful cities in Poland.
Wroclaw is an exceptional city of 12 islands and more than 100 bridges. The walls are steeped in the city's rich and turbulent history.
Ostrow Tumski – "the Cathedral Island" is one of the most beautiful surviving sacred architecture sites in Europe which is a reminder of the early Middle Ages.
Wroclaw is a wondrous city of rich history and exceptional beauty, appreciated both by its residents and its guests. When visiting this city, you will discover truly magical places.
4. Zakopane
Zakopane is a resort town in southern Poland, at the base of the Tatras Mountains which is a popular departure point for winter sports and summertime mountain climbing and hiking where Kasprowy Wierch and Gubalowka, reachable by cable car and funicular are nearby ski destinations offering sweeping mountain views.
The town is also known for its turn-of-the-20th-century wooden chalets, symbols of Zakopane-style architecture.
It is one of the country's most popular holiday destinations, both in the winter for skiing and in the summer for hiking and camping.
Zakopane has long been a playground for Poles and travelers from Eastern Europe but is just now being discovered by the rest of the world for its splendid natural scenery and world-class ski slopes.
5. Tatra Mountains
Home to wildlife including the Tatra chamois, marmot, lynx, and bears, the Tatra Mountains which is the part of the Carpathian mountain chain in eastern Europe that create a natural border between Slovakia and Poland whose both Slovak and Polish sides are protected as national parkland and are popular destinations for winter and summer sports.
Here, one can find stunning views and pristine nature as well as the best skiing in winter and hiking, rock climbing, cave exploration, cycling, paragliding, etc. through the rest of the year so don't miss to explore it.
6. Krkonose
The Krkonose, Karkonosze, Riesengebirge, Riesageberge, or Giant Mountains, are a mountain range located in the north of the Czech Republic and the south-west of Poland, part of the Sudetes mountain system.
The Krkonose is a mountain range packed with superlatives which is the highest and the most visited. Steep glacial corries and large mountain meadows, rocky ridges, and picturesque valleys with timbered houses, all of this can be seen here.
The nature in the Krkonose is unique whose harsh beauty and diverse landscape amazes every traveler.
It not only attractive due to its unique nature but its picturesque character is accompanied by a peculiar rural architecture found even in the smallest villages in the submontane areas and scattered houses on the ridges.
So, awaiting you is a terrific trip to an unspoilt landscape full of distant views, steep climbs, and also perfectly marked hiking trails of all difficulty levels.
7. Bieszczady Mountains
Situated between the Lupkow Pass and the Vyshkovskyi Pass, Bieszczady is a mountain range that runs from the extreme south-east of Poland through Ukraine and Slovakia which forms the western part of the Eastern Beskids and is more generally part of the Outer Eastern Carpathians.
As one of the last European non-urbanized mountain areas covered with natural forests, the Bieszczady mountains have always attracted people seeking freedom, sensitive men, loners, homeless, survivors, and finally tough guys wanting to face life difficulties.
The Bieszczady Mountains remain one of eastern Europe's last great travel unknowns with a remarkable tale to tell.
So travel to this wild range, where deep mysticism and legend hang heavily and discover its human story, handsome wildlife, and home-distilled brews.
8. Ojcow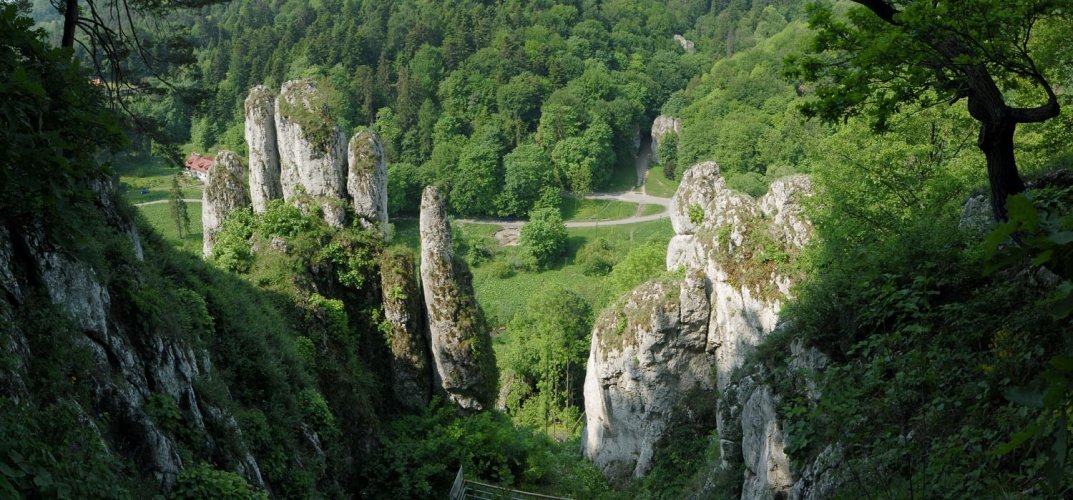 Ojcow is a village in Gmina Skała, in Krakow County, Lesser Poland Voivodeship, in southern Poland which is one of the sights of the Eagle Nests Trail, as there are the ruins of a gothic castle near the village.
The village is where the authorities of the Ojcow National Park have their headquarters.
Despite being one of the smallest of Poland's 23 national parks, Ojcow ranks with the best of them and even takes the prize for fauna with over 1,000 species of flowering plants within its boundaries.
As the saying goes, that "small is beautiful", so many tourists come here, thirsting for the extraordinary landscapes where castles, caves, picturesque rocks and monadnocks attract with their magic and who will visit it once a while here.