Check Out These 6 World's Most Epic Wonders: Rainbow Mountains
Share this post for good karma 😊
Still, don't believe me? It's true that the Rainbow Mountains exist! In fact, there are 6 around the world that you can explore, hike and of course, take stunning photos of for your lifetime memory. These mountains are famed for their natural and multi-colored beauty.
What sets the Rainbow Mountain apart from other mountains is, of course, its vibrant array of colors. Lined with layers of red, orange, yellow, and turquoise, Rainbow Mountains has become an increasingly popular tourist destination for those willing to take the hike. These landscapes are so rare and weird that giving the hallucination of being on another planet.
There are a few places on earth that you can visit these dazzling painted mountains. Now, maybe you're curious about visiting these new traveler hot spots and want an idea of the best times to go and what to expect when you visit. So, let's find out.
Here are the few places on earth where you can visit these dazzling painted mountains:
1. Zhangye Danxia Landform, China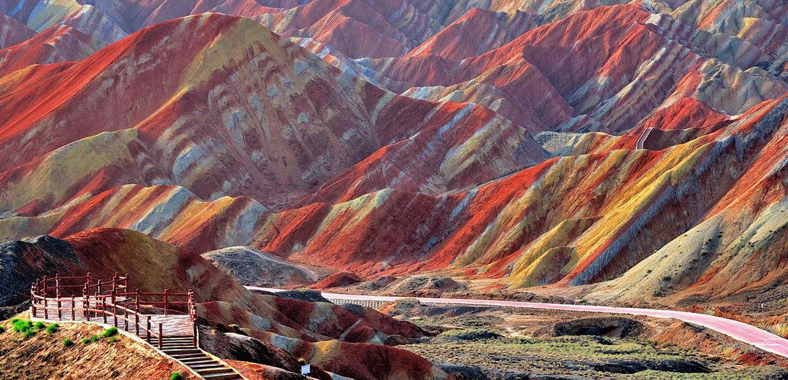 Extending along the northern slope of Qilian Mountain in west China, Zhangye Danxia National Geological Park in Gansu is the best representative of China's colorful Danxia landform and the largest Danxia landscape in an arid area, with a wide variety of landforms that are formed by rocks piling on top of one another. It's known for its otherworldly colors that mimic a rainbow painted over the tops of rolling mountains which is divided into two distinctive areas: Colorful Hills, featuring the bright and contrasting colors, and Ice Valley, famous for its bizarre forms. The best time to visit Zhangye is from June to September when the weather is comfortable, and the combination of strong sun and a little rain brings out the colors more. The rest of the year is very dry. So don't miss to visit this geological wonder of the world as it is unbelievably colorful, like an imaginative oil painting when you're in China.
2. Vinicunca Mountain, Peru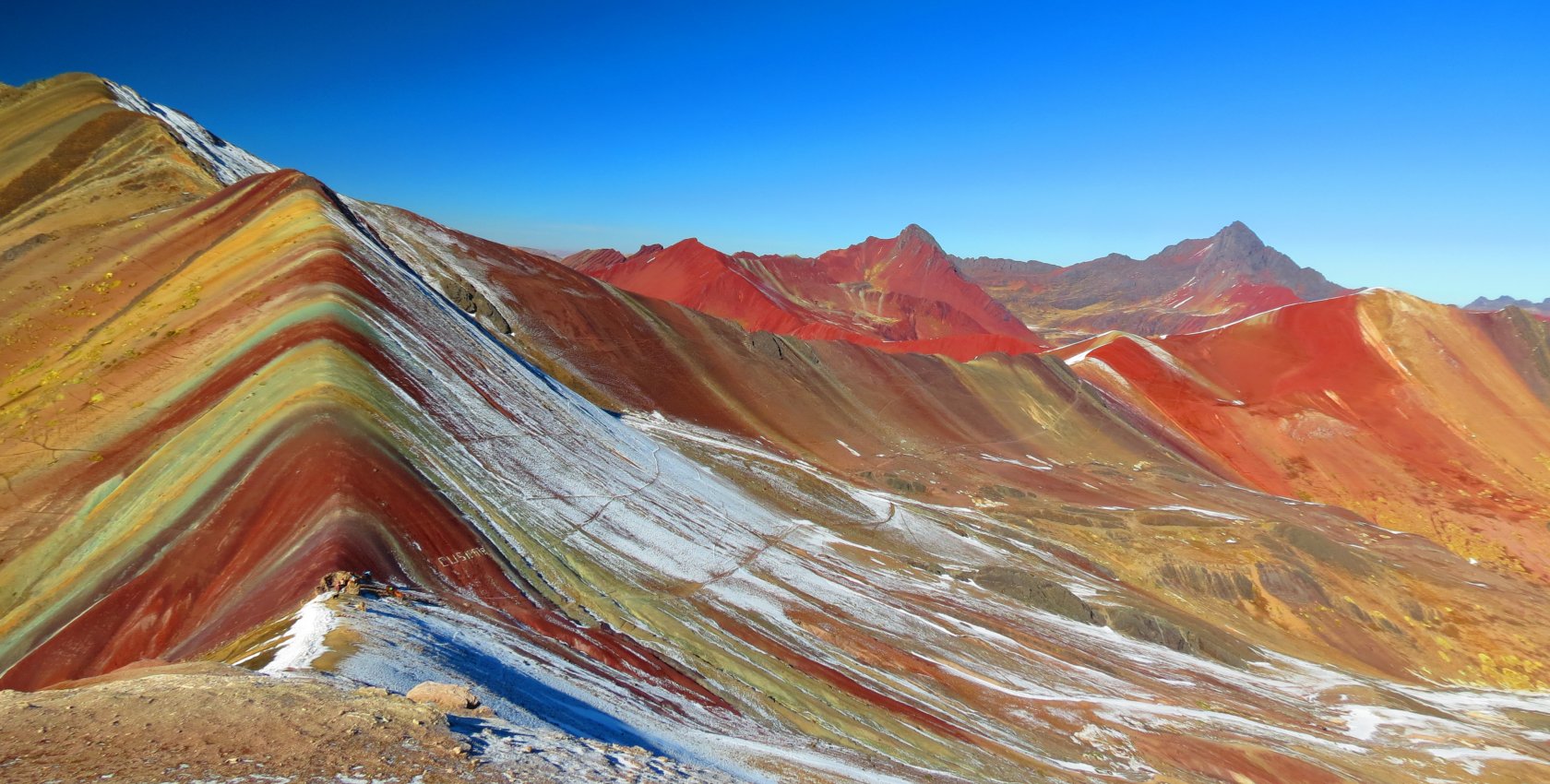 Located in the Peruvian Andes in Cusco just 3 hours away from the historical center, Rainbow Mountain is becoming the main attraction to see after or before Machu Picchu where the peaks in the Ausangate mountain region of the Peruvian Andes are all uncommonly colored – some are terra cotta, some lavender, others are a vibrant turquoise due to the sediment and atmosphere of the area which is unique because of its altitude and isolation that is close to the ocean. It's so stunning and can be seen on the spectacular Ausangate Trek. Despite its ancient history, it's incredible that the mountain was only discovered just a few years ago. Since its discovery, Rainbow Mountain as slowly started gaining popularity and has even been listed in National Geographic's "Top 100 Places To Visit Before You Die". According to locals, this mountain and the surrounding ones were covered with snow a few decades ago, and because of global warming, the snow has disappeared leaving them exposed and showing us an incredible view, and not just the view of the mountains, but also the Apu Ausangate, Cusco's highest snowy peak. The best time for trekking Vinincunca is between March and November with blue skies from June to August, whereas January and February are considered the wettest months.
3. Aladaglar Mountains, Iran
Ala Daglar Mountains has located between Ahar and Khajeh 25 km from the Northeast of Tabriz, Iran. The Aladaglar is the Azari Turkish name of the rainbow-like mountains and hills in the East-Azerbaijan province. The mountains are 15 million years old which is spread in an area of about 70 km.  Along the road of Ahar-Tabriz, the landscape begins to switch step by step. Passing the city of Tabriz, an eye-catching mountain chain of the Aladaglar appears and is painted with hues of copper, red, yellow, green, and orange. You may imagine that humans have painted them so carefully but as you see them more deeply, you'll realize that they're all-natural and exist on the earth which is a masterpiece of mother nature.  And what adds more to these stunning allures are the lively water streams flowing through the mounts. The reflection of these picturesque landscapes over the water surface is so fascinating. In order to have the best opportunity to capture the colors, summer is the best season to get to the Aladaglar mountains when the sun shines at a straight angle to get a maximum glow.
4. Landmannalaugar, Iceland
Located in the Highlands of Iceland, Landmannalaugar is a magical place full of hot springs, lava fields, and multicolored mountains. It's pretty impressive to be close to an active volcano viewing endless lava and majestic colorful mountains with smoking earth around you as well. The colors and all the beauty are so overwhelming that it's really hard to describe so as you can imagine this is something very spectacular. These rainbow mountains of Landmannalaugar are considered one of the most beautiful parts of Iceland where a wide range of colors along the entire length of the trails is breathtaking. The variety of colors found in the landscape of the rainbow mountains gives an irresistible impression of being in the wonderland. Exploring this extraordinary site is one of the best things any nature enthusiast can do in Iceland. Unfortunately, Landmannalaugar appears in all its glory for a few months. So it's best to choose between June and September. In June, however, you can still meet with snow. The rainbow mountains look most beautiful at the turn of August and September.
5. Hornocal Mountain Range, Argentina
The Serrania de Hornocal is a range of mountains located 25 km from the city of Humahuaca in the Argentine province of Jujuy and Cerro Hornocal or Serrania de Hornocal are the names by which the mountain range are known locally. This stunning mountain range is one of the wonders of the province of Jujuy, a limestone formation with different types of minerals being eroded stripped a symphony of colors on the mountainsides. The incredible colors and the inverted-V-shaped formation seen here is part of the limestone formation called Yacoraite that extends from Peru to Salta, through Bolivia and the Quebrada de Humahuaca. The Hornocal mountains are part of the Quebrada de Humahuaca valley, which is a UNESCO world heritage site. Be sure to visit this fascinating geology in the morning, as the colors are more vibrant in the early sunlight. This mountain range is definitely a must-see for anyone visiting Argentina so don't forget to add it to your bucket list.
6. The Wave (Arizona), USA
Spanning 30,000 acres in Arizona near the Utah border, The Wave (Vermilion Cliffs National Monument) is a sandstone rock formation located in Arizona, United States. The formation is situated on the slopes of the Coyote Buttes in the Paria Canyon-Vermilion Cliffs Wilderness of the Colorado Plateau. The formation is well-known among hikers and photographers for its colorful, undulating forms and the difficult hike required to reach it as there are no visitor centers, no developed campsites. Just 3,000-foot cliffs, sandy slot canyons, pulled-taffy rock formations, and miles of unmarked paths. Do you know this geologic wonderland is three times the size of Las Vegas and 3 million times as wild? This geological wonder attracts people from all over the world. This site is a rugged playground for hiking, backpacking, camping, off-roading, wildlife viewing, and photography. The high season is summertime, but bear in mind that the desert gets extremely hot in Arizona in July. It's better to go from April to June or September to October. You need a permit to witness this stunning site where only 20 people per day are allowed in each area, and the number of permits awarded each day depends on the size of the groups that win them.
If you liked this article, then please subscribe to my YouTube Channel for Travel Adventures. You can also follow my adventures on Twitter and Instagram.
Are you ready to experience a place like no other on Earth? If yes, then an adventure of a lifetime awaits you!
Aladaglar Mountains
Argentina
Check Out These 6 World's Most Epic Wonders: Rainbow Mountains
China
Hornocal Mountain Range
Iceland
Iran
Jujuy
Landmannalaugar Park
Peru
Rainbow Mountain Arizona
Rainbow Mountains
rainbow mountains of Argentina
rainbow mountains of arizona
rainbow mountains of China
rainbow mountains of Iceland
rainbow mountains of Iran
rainbow mountains of Peru
Serranía de Hornocal Mountains
They Really Exist: The Rainbow Mountains
Top 100 Places To Visit Before You Die
USA
Vinicunca Mountain
Where In the World Are These 6 Incredible 'Rainbow Mountains'?
where to see rainbow mountains Unsplash/Roi Dimor While rainbow foods have been trending for the past couple years
Your Guide To The Different "Rainbow" Mountains Around The World
Zhangye Danxia Landform