Located at the foothills of Mount Kanchenjunga and sharing the boundary with the neighbouring country Nepal, West Sikkim offers one of the best views of Southeast face of Mt. Kangchenjunga. West Sikkim is also famous for few of the oldest and holiest Buddhist Monasteries of the world such as Pemayangtse Monastery.
West Sikkim is otherwise called a trekker's heaven as it has numerous outlandish and delightful trekking trails that pull in hodophiles from over the world. West Sikkim owes its tranquillity and calmness to the beautiful and age-old monasteries like Sangachoeling and Pemayansgtse Monasteries.
Its beautiful natural surroundings with the peaceful and tranquil ambiance are very hypnotizing and refreshing to the mind, body and soul. But now it's time to dive into some of the amazing "West Sikkim Visiting Places". Let's go!
Here are the 17 Amazing Places To Visit In West Sikkim:
1. Pelling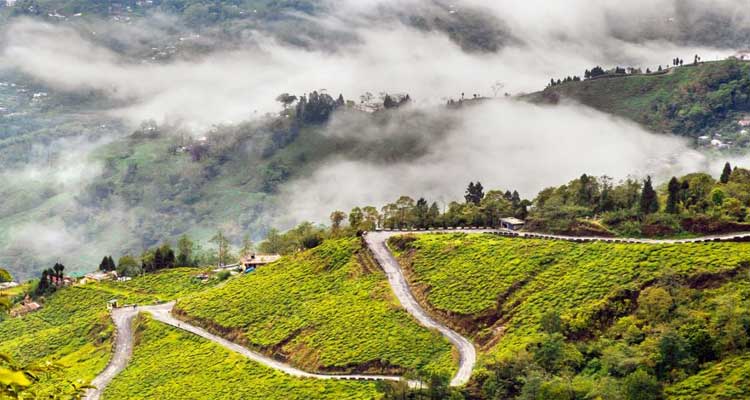 Located 10 km from Geyzing and 130 km from Gangtok, Pelling is a small town in the West district of Sikkim that is filled with a natural beauty which is almost breathtaking in its magnitude.
It is most popular for breathtaking views of the Kanchenjunga peak and the Himalayas. Located at a high altitude of 6800 ft, Pelling is the ideal place for exploring the Himalayan views, without any of the harshness of the high mountains.
Tall snowy mountains look down benignly at this little town and waterfalls and lakes send forth their twinkling music through the landscape. It is the closest view possible apart from mountain trekking. Embraced within the carpeted green mountains, Pelling is the most stunning hill station with a charm of its own. So, don't miss to take a break from your busy life and make your way to the ocean of calmness, Pelling.
2. Dentam Valley
Located 10 km from Varsey in West Sikkim, Dentam Valley is a scenic valley that lies at an elevation of around 1,500 m. Dentam commands a constant view of the Kanchenjunga.
The entire area is surrounded by forest of rhododendrons. The name Dentam comes from the word 'TEN-NEM', which means a flat terraced land in the Limboo language.
A cover of rhododendrons encompass Dentam and this valley is an ideal spot for bird watchers and nature lovers. Also, mountain climbing and trekking you can do here.
If you're a nature lover like me then Dentam Valley is a place for you.
3. Khangchendzonga National Park
Khangchendzonga National Park also known as Kanchenjunga Biosphere Reserve is a national park and a Biosphere reserve located in West Sikkim that was inscribed to the UNESCO World Heritage Sites list in July 2016, becoming the first "Mixed Heritage" site of India.
The Khangchendzonga National Park includes a unique diversity of plains, valleys, lakes, glaciers and spectacular, snow-capped mountains covered with ancient forests, including the world's third highest peak, Mount Khangchendzonga.
This high altitude national park in Yuksom is known for its spectacular wildlife where exotic animal species such as Red Panda, Snow Leopard, Great Tibetan Sheep, Bharal, Musk deer etc can be spotted.
But did you know? Mythological stories are associated with this mountain and with a great number of natural elements (caves, rivers, lakes, etc.) that are the object of worship by the indigenous people of Sikkim.
Unique in biodiversity, the Khangchendzonga National Park is a paradise for trekking with a diverse landscape and breathtaking views. Don't miss it.
Check Out The 7 Charming Lakes That You Must Visit In Sikkim
4. Darap Village
Darap is a small village in West Sikkim at an altitude of 5,100 feet or 1550 meter that is just 7 km from the tourist hub of Pelling offering peaceful environment as well as similar sightseeing options as in Pelling.
Darap's calming ambiance, wide rolling ranch lands and paddy fields oozes a feeling of peace and tranquility.  The word Darap is originated from the limbo word 'Tan-lop' which literally means a plain or even land.
Darap Village is one of the few unexplored villages in Sikkim and it has retained the pristine nature of its flora and fauna over the years.
Darap offers a village retreat gifting you a quiet adventures amidst the glorious scenic wonders of the charismatic village. A humble abode treasured amidst the lofty mountains, Darap Village is a must visit for you if you want to spend some quality time with nature. Darap Village awaits you!
5. Rinchenpong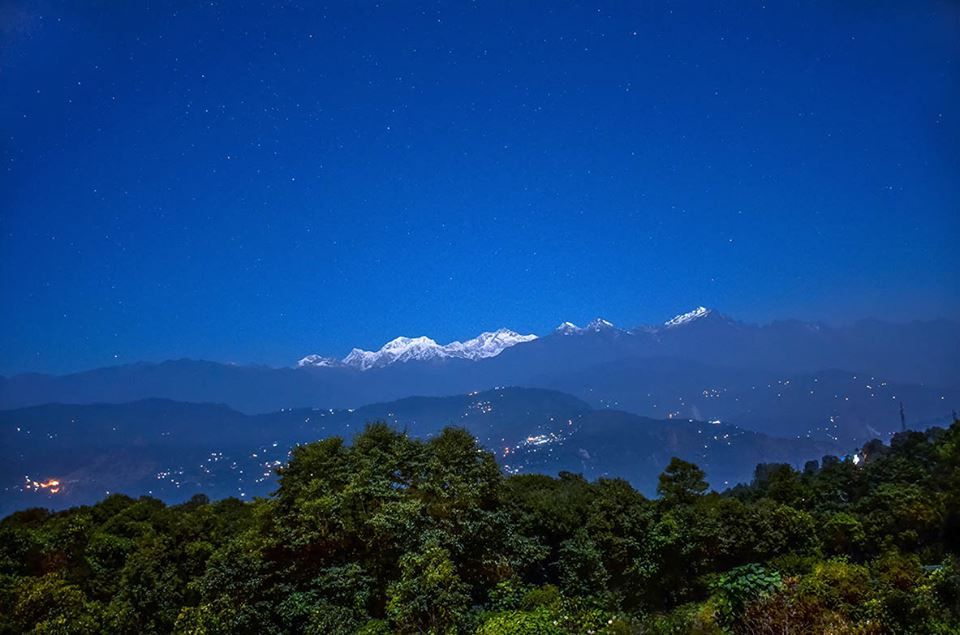 Situated in West Sikkim, about 123 km west of Gangtok, 47 km due south of Gyalshing, close to the village of Kaluk and amidst the lap of nature in the foothills of the majestic mountains is Rinchenpong.
It is famous for its natural beauty and the sights of Mt. Kanchenjunga. Rinchenpong is physically close to the Kanchenjunga range where you can have an excellent view of the Kanchenjunga peaks and the surrounding mountains such as the Mt Narsing etc.
You can also view the mountain range from the entire range of Rinchenpong Kaluk. Rinchenpong is not only known for its excellent area and quiet climate but nature lovers are likewise pulled in to this place for the stunning views of the Kanchenjunga runs that it offers.
Let your senses be calmed with the serene ambiance while your eyes feast upon the surreal sunrise over the majestic snow capped Kanchenjunga. Far from the maddening crowd amidst the nurturing lap of nature, a place rich in flora and fauna with a tinge of history if you are looking for such place, Rinchenpong is a place for you.
6. Geyzing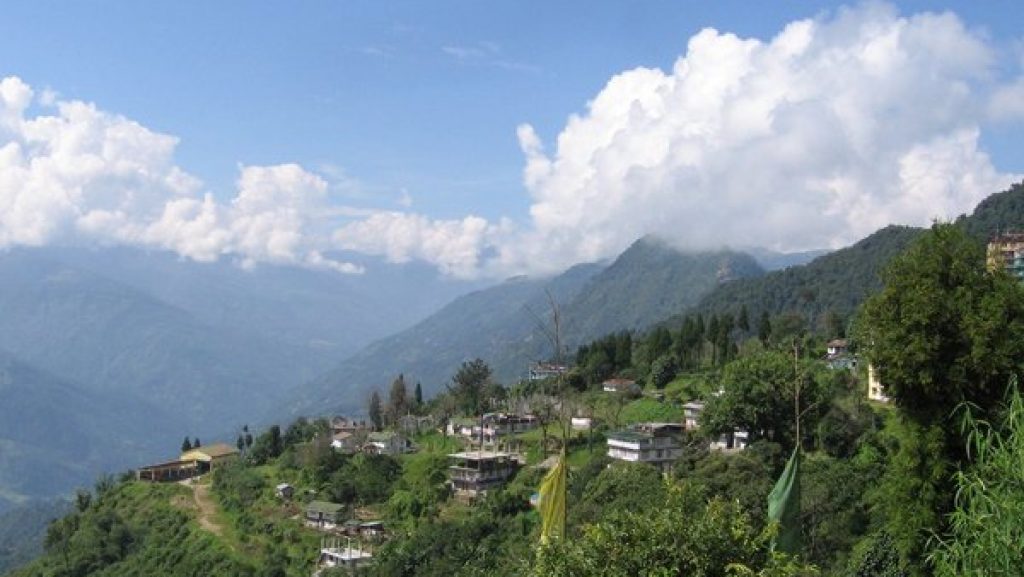 Located at an altitude of 6,500 feet above the sea level with lofty and majestic mountains of the Himalayan range surrounding the city, Geyzing also known as Gyalshing is the capital city of the West Sikkim District.
Just imagine yourself standing amidst lush green valleys, small painted beautiful houses, tall alpine trees, the clear blue sky overhead, and the snow clad mountains right in front of your eyes. Yes, you heard me right. Geyzing is a scenically blessed town in the lap of nature.
Stunning but untouched, this amazing place is perfect to spend life-changing occasions. It is a town arranged in the midst of the stunning excellence of nature. So, don't forget to stroll through its amazingly dazzling environment where you will get the chance to observe sights you haven't seen before. Discovering and exploring this scenic town and its rare culture will give you unforgettable memories.
7. Dzongri
Nestled at  an altitude of 4,200 m, Dzongri serves as one of the most popular high altitude trek destination in Sikkim that can be completed in a short time that is among the best trekking destinations in India today.
The sights of the milky white peaks all around Dzongri are bound to keep you gazing. The awesome presence of the great mountains thrusting their snowy peaks deciphers the strength of the Tethys Sea bulging its muscles to reach this towering height.
If you are willing to add thrill and adventure to your overall affair in West Sikkim, there cannot be a better option that Dzongri Trek. The trek to Dzongri offers some enchanting sights while hiking through the fascinating trail comprising of varied terrains, from patches of land streaked with green and gold and lush green meadows to dense forest and mighty peaks covered in snow.
Without a doubt a trek to Dzongri is one of the most significant trails for you to taste the flavors of the Eastern Himalayas.
8. Biksthang 
Biksthang is located among acres of pine and fruit trees in a pristine Himalayan hamlet in West Sikkim. Grass is greener here and sky is azure.
A sleepy Himalayan hamlet Biksthang in West Sikkim, where time stands still. If you feel like 'getting lost', this is the place. Get lost in lively greens, blue sky and mountain waves. Get lost in great food, modern comfort and warmth of heart. Get lost here to find yourself back. It is also primarily popular among the travelers for offering the majestic view of Mt. Kanchenjunga.
Every corner of Biksthang has breathtaking views of the peak of Kanchenjunga, the guardian deity of Sikkim. This small perfect village of Biksthang, is at a distance of 119 km from Gangtok in West Sikkim that is believed to be one of the most serene destinations of Sikkim and is the perfect gem for you if you wish to just relax and enjoy the beauty of nature.
9. Kasturi
Kasturi is a trail and its trek is a round trek passing Goecha la pass and offers extraordinary panaromic mountain views.
Kasturi trek is said to be the trekkers heaven because of its route which offers the mesmerizing view of the lush green, yellow and brown meadows and shiny white snow. It is a round trek of around 8 to 10 days, passing Goecha la pass and offers the view of white snow capped Himalayas and shiny glaciers. Perfect trek for adventure enthusiasts and nature admirer.
The trek starts from Yuksom and goes up to Goecha La, the highest point of this trek. From here, you can see the stunning view of Talung Glacier and Mt Kanchenjunga. The views are simply amazing and captivating. From green meadows to shiny glaciers, the Kasturi Trek is a trekker's haven that you would not like to miss at any cost while traveling to West Sikkim.
10. Khecheopalri Lake
Also known as Wishing Lake, Khecheopalri Lake – originally known as Kha-Chot-Palri, is a lake located near Khecheopalri village, 147 km west of Gangtok in the West Sikkim and it is one of the beautiful lakes in Sikkim.
Situated at an altitude of 6000 feet, the Khecheopalri Lake is a sacred place of worship for Buddhists as well as for the Hindus.
The lake is an integral part of the much revered valley of 'Demazong' meaning valley of rice. The fascinating fact about the lake is that despite so much of greenery encircling it, not even a single leaf can be spotted on its surface. It is believed that birds in this region keep the lake clean all the time.
You can do trekking here. There are short forest routes to get here where you can see rare flora and fauna. While here, you can enjoy the peaceful sounds of nature and simply relax. This beautiful Khecheopalri Lake is a paradise for nature lovers and trekkers. So, get ready for a spectacular journey and don't miss to camp here.
11. Goecha La 
At 16,200 ft, Goecha La is one of the gateways to Kanchenjunga, the third highest peak in the world. It is a high mountain pass in West Sikkim in the Himalaya range.
The southeast face of Mt. Kanchenjunga, the world's third highest mountain, can be viewed from the pass that is also a base camp for those aspiring to scale the mountain. Even as it serves as a camp for mountaineers scaling Kanchenjunga, a trek to Goecha La itself is quite exhilarating.
The Goecha La trek is unarguably one of the best treks in the Himalayas taking you through the stunning and diverse Kanchenjunga National Park in the heart of Sikkim. The trail is blessed with a wide array of beautiful flora and fauna that is considered as one of the most pristine trails in the world.
With awe-inspiring campsites and intimidating yet beautiful peaks, the Goecha La trek is a heaven for trekking enthusiasts and nature lovers. But entry to Goecha La is restricted and Indian travelers are required to register themselves at Yuksom. International travelers are only allowed to travel in groups. Don't miss to trek this amazing Himalayan pass.
12. Samiti Lake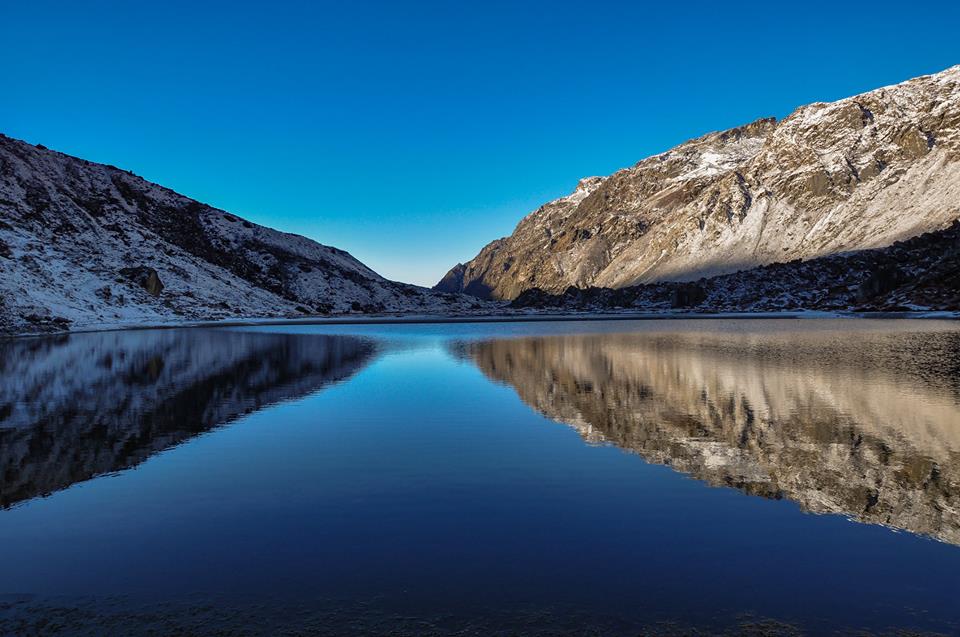 Samiti Lake is a alpine glacial lake located in the West Sikkim. The lake sits at the bottom of Onglakthang Valley that is located in close proximity to the base of the mountain Pandim and Kangchenjunga and by extension is located in the Himalaya mountain range.
It lies on the route to Goechala Pass and has been attracting travelers due to its beautiful, transparent turquoise color. The view of the still waters, and the reflection of Mt Pandim in the lake, especially in the early hours, is a visual treat. The lake is an ideal spot for camping due to the beautiful views of the surrounding snow-capped mountains it offers.
From Thangsing, it is a two-hour climb up the valley to Samiti Lake where the gradual ascent passes through grazing meadows lined with wildflowers that burst into a riot of color in the pre-monsoon season. The lake is the sacred source of the Prek river. Samiti Lake is the tiniest lake of Sikkim. Be ready to get swayed by its lovely charms and appeal because being the tiniest lake it looks more charming and appealing with its immense beauty which is a perfect spot to relax and rejuvenate for a while during a thrilling activity.
13. Yuksom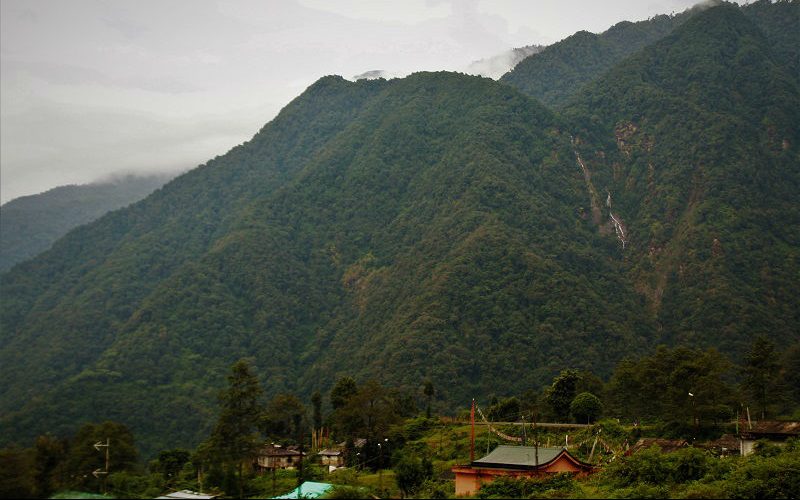 Located 33 km from Pelling, Yuksom, literally meaning the 'meeting place of three lamas' is of great historical importance to the Sikkimese. Yuksom is a beautiful place located in the Western region of Sikkim and the village is well known for its natural beauty.
Situated near the Kanchenjunga National Park, the village of Yuksom is in the heart of mountains covered with lush green vegetation. Its old cloisters, landmarks, quiet cascades and lakes will abandon you spell-bound.
If there is any place on earth where one can see "heaven," then it has to be Yuksom. Formally referred to as the 'Gateway to Kangchendzongha', Yuksom is consecrated by the presence of majestic snow peaked mountains, monasteries, etc. But still Yuksom is so untouched and unexplored.
14. Yangtey
Located just 9 km from Pelling and at an altitude of 6000 ft, Yangtey is a tiny village that is blessed with the gorgeous views of snow peaked mountains, partially sunlit meadows, cascading waterfalls and cloudy skies.
This attractively small village is home and blessed with many ancient Buddhist Monasteries, showing the art and culture of the past of Sikkim.
Yangtey is dotted with various nearby destinations like Kangchendzonga waterfalls, Khecheopalri Lake, Rimbi Waterfalls, Rabdentse Ruins, Sewaro Rock Garden, Temi Tea Garden, Geyzing, Legship and Pemyangtse.
The sceneries of Yangtey are marked by magnificent peaks of the Eastern Himalayas, under an occasional cover of clouds. Apart from the splendid sight of the Himalayas, Yangtey also has a name for its beautiful Tashigang Resort lying amidst plush green gardens and lawns. A trip to Yangtey is gonna be your most amazing trip of Sikkim.
15. Uttarey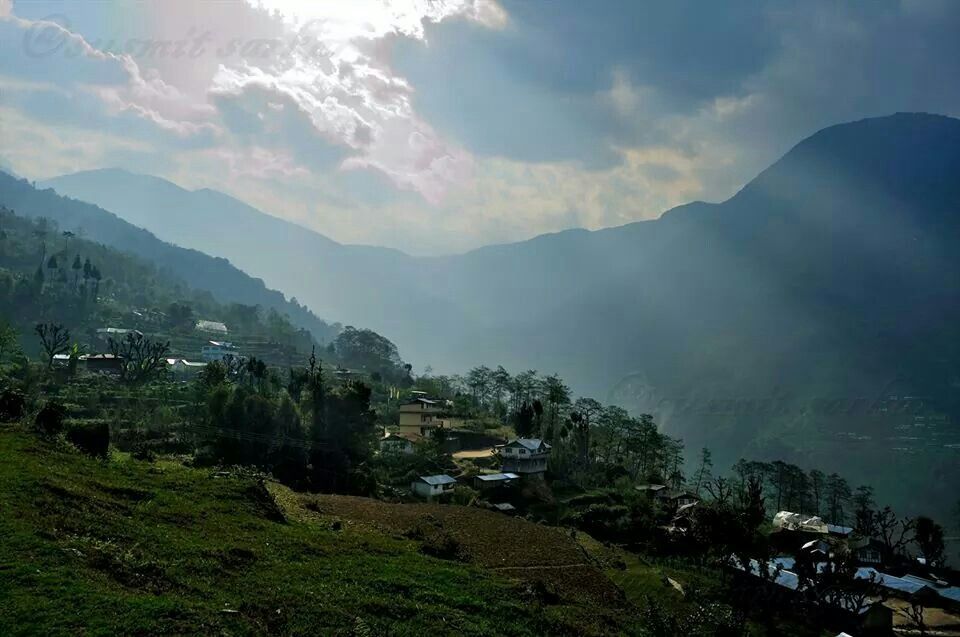 Situated in the west district of Sikkim, Uttarey is a small village close to Nepal border that is prominent among travelers for the tranquil condition of the place and numerous travel destinations in and around. From the higher edges of the Uttarey slopes, perspective of the colossal heap of Kanchenjunga can be seen.
It is famous for its tranquility and natural beauty that provides a beautiful view to the Himalayan mountains and is yet untouched and unexplored . This allows a more serene atmosphere to be enjoyed but during winter the mountains around here are covered with snow allowing heavenly views.
Uttarey is a small but beautiful and a virgin paradise on earth set amidst the pristine valley. Uttarey is one such place. If you are tired of your daily routines and planning to break free with a trip to Sikkim, ignore the popular names and make Uttarey your destination. You will get back with your soul and eyes enriched with blessings of nature. Uttarey appears like a piece of painting on a paper, such as the scenic beauty of the place and its surroundings.
Since Uttarey is still grossly unexplored, the place is very serene and is perfect for you if you want to stay away from every sign of urban life. So, don't miss exploring this unexplored beauty of Sikkim.
16. Varsey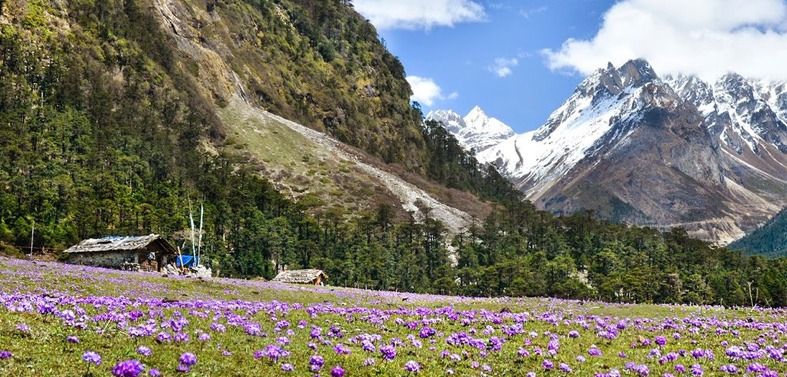 Located in between Kanchenjunga Biosphere Reserve in the north and Singalila National Park in the south is a Varsey that is a butterfly shaped rhododendron sanctuary that sprawls in 104-sq-km area of West Sikkim. The sanctuary itself is a part of the West Sikkim and quite easy to access through road via Hilley, Dentam/Soreng from Geyzing.
Varsey is one of the best places to visit for nature lovers and adventure seekers. It offers scenic view of the Khangchendzonga Mountain and attractive blooms of rhododendron flowers. Also, it has several trekking trails.
So, if you are planning an amazing trekking trip, the idea is simply spectacular. The trail is enriched with varied flora and raw nature and proceeds from Hilley up the hill.
Nestled in the Singalila Range, the natural border with Nepal, the Varsey is perfect for you if you're seeking solitude, a connection with nature and some adventure.
17. Rabdentse Bird Park
Located 8 km from Pelling, Rabdentse Bird Park is a perfect destination for a great time with your loved ones. With so much to lure your senses and offer you recreation at its best, get drenched in the spirit of adventure that you get to explore at Rabdentse Bird Park.
It is not just the place for sightseeing, but it also enables you to steal a self-indulgent moment for yourself as well. So, don't forget to check out the Rabdentse Bird Park for all the attractions that it has to offer that you can visit on weekends for a rejuvenating time.
World standards, extraordinary architecture, innovative layouts, and well-thought execution make Rabdentse Bird Park a highly coveted point of tourist interest so don't forget to carry your camera for capturing special moments. Rabdentse Bird Park is the best way to have a memorable time with kids and family. So, enjoy a fulfilling outing at Rabdentse Bird Park.
If you liked this article, then please subscribe to my 
YouTube Channel
 for Travel Adventures. You can also follow my adventures on 
Twitter
and 
Instagram
.