Our world is full of wonders where we live in a strange and fascinating world filled with spectacular destinations that never ceases to amaze.
But the continent is also packed with dramatic natural sights, some a little more remarkable than others.
Whether you're looking for a short hike to conical hills, a surreal rainbow limestone landscape, or a multi-day trek to sparkling Himalayan lakes, you'll find it in one of these natural wonders.
Dive in and enjoy! With so many beautiful places on earth, a list of the 18 Most Colourful Natural Places In Asia is unlikely to create a consensus.
Don't believe me? Take a look for yourself.
Here are the 18 Most Colorful Natural Places In Asia.
1. Panjin Red Beach, China
Located in Dawa County, Panjin, Liaoning of China, Red Beach is famous for its landscape featuring the red plant of Suaeda salsa of the Chenopodiaceae family which is based in the biggest wetland and reed marsh in the world where its landscape is composed of shallow seas and tide-lands.
Red Beach's most unique feature is its seepweed-covered landscape.
While the seepweed plant is common to coastal areas around the world, the Red Beach's seepweed is distinguished by its color whose sprouts are green in the spring, turn a lush jade in early summer, and explode into a range of shades of crimson during its peak viewing seasons, from late summer into early fall of August-October.
But the best time to enjoy mature red-hued weeds is September to early November.
So don't miss to visit this amazing nature's gift when you're in China whom the Chinese dubbed "red carpet beach", tourists often name it "the sea of red", and in reality, this is a field of seepweed or sea blite.
2. Valley of Flowers National Park, India
Valley of Flowers National Park is an Indian national park, located in North Chamoli, in the state of Uttarakhand and is known for its meadows of endemic alpine flowers and the variety of flora which was declared a National Park in 1982 and was included in the list of World Heritage sites by UNESCO in 2005.
This virtual paradise on earth has been unknown to the outside world until the great Mountaineer Frank S Smith discovered it in the year 1931.
A scenic place where nature blooms with its entire vista can be accessible by a tedious but lovely stroll that is bounded by the magnificent mountain ranges and glittering glaciers which unfolds the charisma and charm of nature at its best.
This natural wonder gives enough reasons to explore whose best time to visit is from mid-July to mid-August when the flowers are in full bloom after the first monsoon rain, so don't forget to add to your India bucket list where the flowery meadows await the visitors all through the way.
3. Hitachi Seaside Park, Japan
Hitachi Seaside Park is a public park in Hitachinaka, Ibaraki, Japan that incorporates a unique natural environment of sand dunes, forests, grasslands, and springs.
With a total space of 350 hectares, of which 200 hectares are open to the public, this spacious park features a variety of green spaces and seasonal flowers spread out across 350 hectares, as well as an amusement park and several cycling and walking trails.
This tremendous park is filled with 32,000 Kochia balls making spectacular scenery at the Miharashi Hill in Hitachi Seaside Park in Ibaraki Prefecture! Don't miss the "Kochia Carnival" this autumn. 
Check out Charming But 11 Overlooked Asian Countries Not Enough People Visit.
4. Bamboo Forest, Japan
Bamboo Forest, or Arashiyama Bamboo Grove or Sagano Bamboo Forest is a natural forest of bamboo in Arashiyama, Kyoto, Japan.
The forest consists of several pathways for tourists and visitors where this towering green stalks of the famously versatile plant sway in the wind, creaking eerily they collide and twist, leaves rustle in the wind which is one of the most beautiful and serene places in Kyoto.
The Ministry of the Environment considers it a part of the soundscape of Japan. If you've been planning a trip to Kyoto then the Bamboo Forest is a must-visit.
The best time to visit the Bamboo Forest is early morning or late on weekdays as you'll find fewer visitors.
But if you'll be visiting during the Kyoto Arashiyama Hanatouro illuminations in December then you can view various points of interest lit up at night, including the Bamboo Forest and Arashiyama's iconic Togetsukyo Bridge.
5. Neelakurinji, India
The flowering of the "Neelakurinji", which happens once every 12 years in the Western Ghats, is one of India's great natural spectacles.
It is named after the famous Kunthi River which flows through Kerala's Silent Valley National Park, where the plant occurs abundantly.
One of the rarest flowers in the world, the Neelakurinji blooms just once every 12 years in India's south-western state of Kerala, when it covers the hills in a violet hue and it sure is a sight to behold!
You surely wouldn't want to miss such a beauty!
6. Tianzi Mountains, China
Tianzi Mountain is located in Zhangjiajie in the Hunan Province of China, close to the Suoxi Valley in South Central China which is named after the farmer Xiang Dakun of the Tujia ethnic group, who led a successful local farmers' revolt and called himself "Tianzi".
Often surrounded by mist, the tower-like peaks of Tianzi Mountain abruptly rise up from the tree-covered ground below to create a landscape like no other.
It provides stunning views of peaks, which rise one after another and is known as 'the Monarch of the Peak Forest'.
The best months to explore this mountain are April, May, September, and October. The uniqueness of the mountain can be seen from the splendid sights that it provides.
Some of the sights include a sea of clouds that seem to be at the top of the peaks, snow-covered rocky peaks in the winter, and other attractions.
7. Honshu, Japan
Honshu is Japan's main island and home to most of the country's major cities and cultural sites. On the east coast are the Japanese capital, Tokyo, a busy global hub for finance, industry, fashion, and cuisine.
Mount Fuji, an iconic, snow-capped volcano, lies southwest of the city.
In central Honshu, the city of Kyoto is famed for its Zen temples, gardens lined with cherry blossoms, and traditional geisha entertainment.
Japan's main island and cultural heartland is a must for first-time visitors with world-famous cities, spectacular mountains, bullet trains, Mount Fuji, and the Hakone National Park.
Late spring (March to May) and late autumn (September to November) are generally the best times to visit Japan, when there is little rainfall, skies are clear, and temperatures are mild. What's more, the delicate cherry blossom of spring and vivid hues of autumn leaves are visually stunning.
8. Shibazakura Flowers, Takinoue Park, Japan
Shibazakura Flowers is one of Japan's Largest Moss Pink Fields is in Full Bloom during Fairy Tale village Takinoue Moss Pink Festival that is located in the northeastern part of Asahikawa city and is well-known as one of the largest places famous for moss pink together with Higashimokoto Shibazakura Park in Japan.
And the Fairy Tale village Takinoue Moss Pink Festival is famous as one of 3 major Okhotsk Spring Festivals together with Kamiyubetsu Tulip Festival and Higashimokoto Moss Pink Festival.
The spring mountain views and fresh mountain air make for a splendidly relaxed scenic drive where you'll find plenty of places along the way to stop, stretch the legs, and take a photo or two of the stunning white peaks of the Taisetsuzan Mountain Range.
 The Shibazakura grows only in April and early May. The best time to visit is mid to late April. 
9. Canola Flower Fields, China
In early spring, you can witness an amazing "Golden Sea" of Canola Flower Fields.
The canola flower fields in China are one of the world's beautiful sights in small Luoping (Yunnan, China).
Vast farmlands get covered in golden, yellow rapeseed flowers stretching as far as the eyes can see, all the way to the horizon. Luoping County is quiet for most of the year until the canola flowers bloom, and then the area of Yunnan, China, is reborn into a vibrant natural spectacle of yellow flowers as far as the eye can see.
10. Zhangye Danxia Landform, China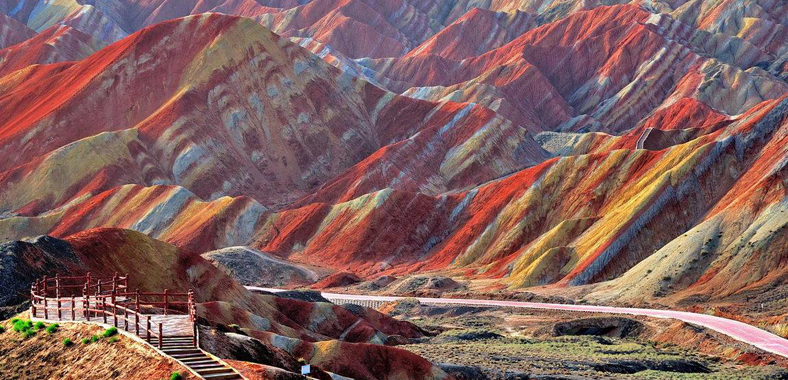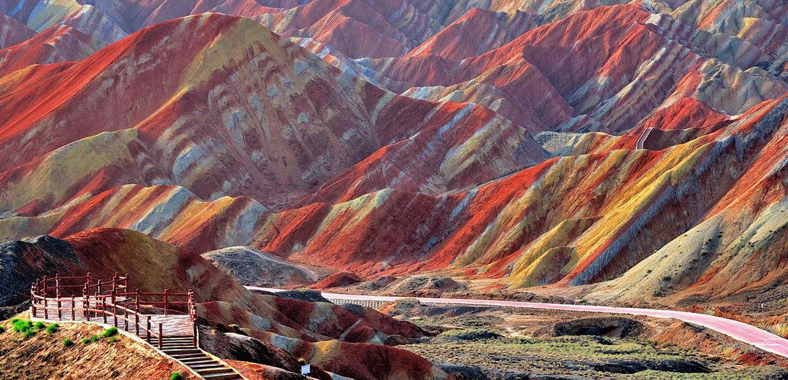 Extending along the northern slope of Qilian Mountain in west China, Zhangye Danxia National Geological Park in Gansu is the best representative of China's colorful Danxia landform and the largest Danxia landscape in an arid area, with a wide variety of landforms that are formed by rocks piling on top of one another.
It's known for its otherworldly colors that mimic a rainbow painted over the tops of rolling mountains which is divided into two distinctive areas: Colorful Hills, featuring the bright and contrasting colors, and Ice Valley, famous for its bizarre forms.
The best time to visit Zhangye is from June to September when the weather is comfortable, and the combination of strong sun and a little rain brings out the colors more. The rest of the year is very dry.
So don't miss to visit this geological wonder of the world as it is unbelievably colorful, like an imaginative oil painting when you're in China.
11. Rice Terrace Fields in Mu Cang Chai, Vietnam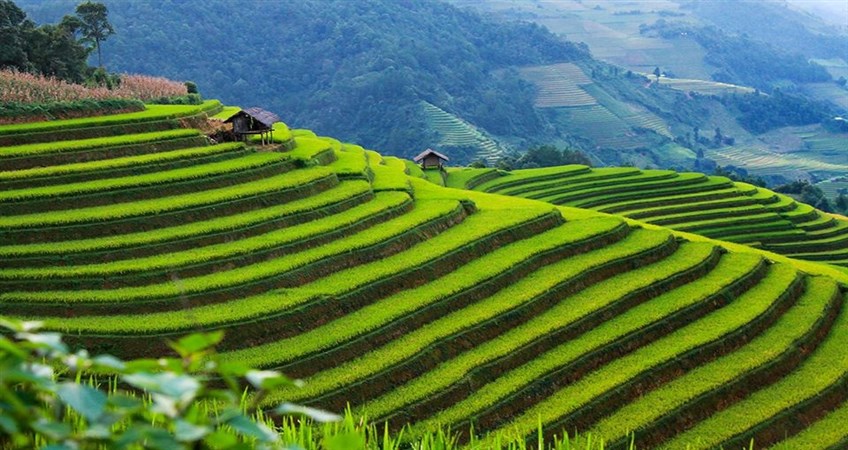 Mu Cang Chai is the mountainous district of Yen Bai province, about 280 km from Hanoi. It's well known for its splendid rice fields in terraces.
In each season of harvest, this isolated region in the north of Vietnam welcomes thousands of visitors from all over the country.
From mid-September to mid-October, this is the season when rice is ripe. Mu Cang Chai is covered by a yellow color. At that time, the weather is nice and favorable to visit this area.
Vietnam's rice terraces may not be the most accessible places in the country but the effort of getting to them is certainly worth it if you have the time.
The unique setting and the ethnic tribes provide a great experience even for the most seasoned of travelers.
12. Chocolate Hills, Philippines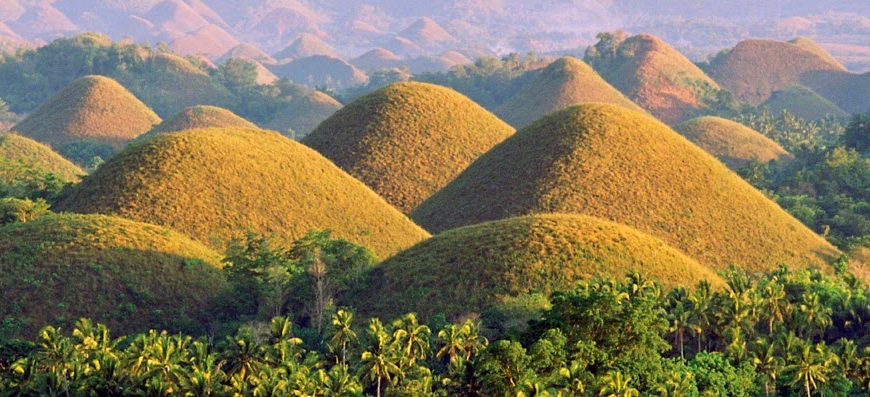 The Chocolate Hills are a geological formation in the Bohol province of the Philippines. In the rainy season, these conical hills are more green than chocolate, but once the rains stop the Chocolate Hills turn brown.
During the wet season the Chocolate Hills of Bohol, the Philippines, are vibrant and green. Visit when they dry out to see where they truly get their name.
Geologists theorize that karst rocks eroded in unison and formed the hills, leaving behind a landscape now covered in flora. Several local legends offer more colorful explanations.
13. Charyn Canyon, Kazakhstan 
Also known as the "Grand Canyon of Asia" Charyn Canyon is located 120 miles east of Almaty near the Chinese border which has also been described as the Grand Canyon's little brother.
Charyn Canyon is actually comprised of five different canyons: Valley of Castles, Temirlik Canyon, Yellow Canyon, Red Canyon, and Bestamak Canyon.
Even though it's smaller it's no less impressive. You can admire the golden rocks for hours and get the most beautiful pictures here.
There are a variety of eye-catching colors on display throughout the canyon and it really is hard to not 'oooh and ahhh' every time you turn the corner.
The vista of dramatic erosion made by the river Charyn below and the elements has created a dramatic and impressive landscape.
14. Five Flower Lake, China
Five Flower Lake, also called the Wuhua Hai is one of 118 lakes in Jiuzhaigou Valley Nature Reserve, located in the north of Sichuan, China, is the 6th best in the world.
It is the most beautiful lake in the valley and is regarded as one of the wonders of Jiuzhaigou.
The Jiuzhaigou Valley is on the UNESCO World Heritage Site list for a reason. Besides, breathtaking views, the valley is home to over a dozen lakes and waterfalls.
But, most spectacular of all is Five Flower Lake.
Its water periodically changes colors and can be yellow, then green, and then blue. Most often, the water is of saturated diamond-blue color. The constant change of color is just one of the features of the lake.
15. Kawachi Fuji Garden, Japan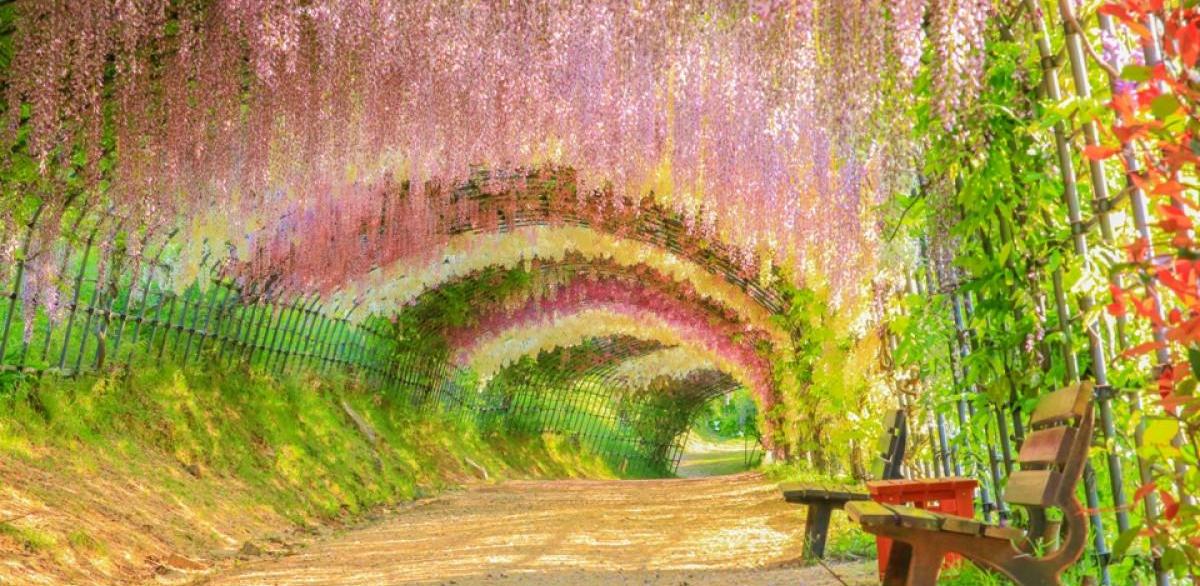 Kawachi Fuji Gardens in Kitakyushu,  Japan is where you will find the most amazing wisteria tunnel in the world.
It is a private garden in the wooded hills south of central Kitakyushu, famous for its spectacularly presented, large numbers of wisteria flowers.
The garden is opened to the public seasonally during the wisteria season which usually peaks around late April to mid-May and during the maple leaf season in autumn. 
People make a big to-do about Japan's cherry blossom season. It's spectacular, but it's not the only reason to visit in the spring.
Again, this popular spot is only open during wisteria season and when colors start to change in the fall. There are two stunning tunnels draped with long swaying wisteria vines to mosey through.
16. Rainbow Eucalyptus Groves, Philippines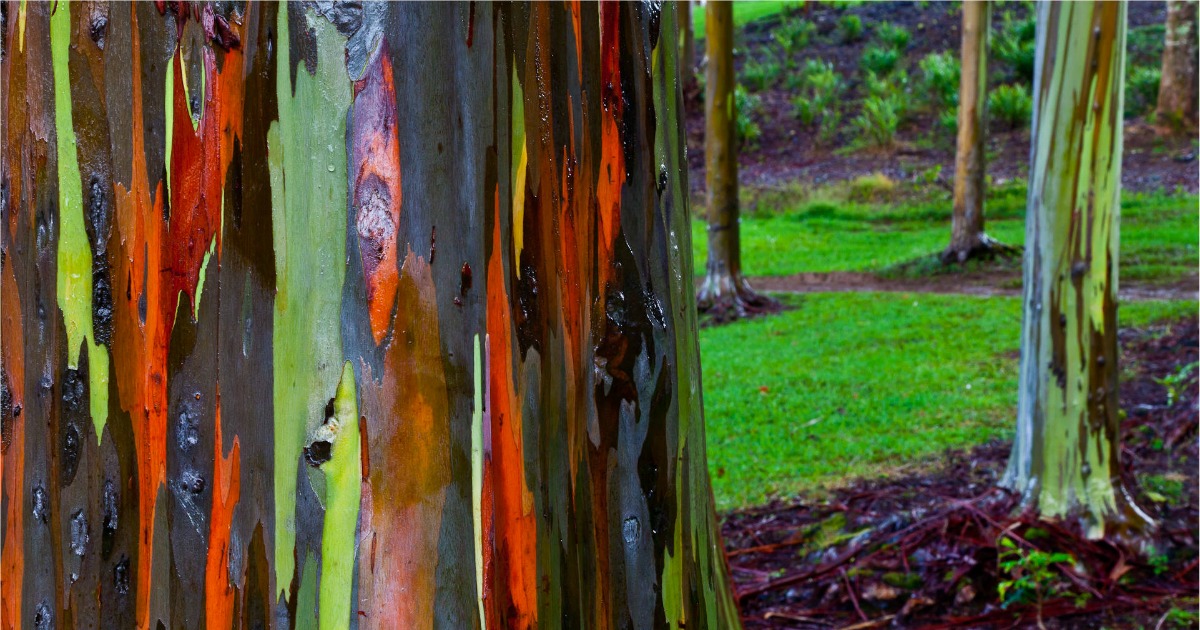 For a trippy experience, don't forget to pay a visit to the Rainbow Eucalyptus Groves in Mindanao, the Philippines where you'll find a bizarre variety of tree which, as it sheds its bark, reveals a lime green interior that ultimately matures into rich blues, purples, and maroons, leaving behind a real-life candy cane of color.
17. Mount Kelimutu, Indonesia
Located on the island of Flores, Kelimutu's claim to fame is its three summit crater lakes, each with a different-hued pool.
Geologists have studied the crater over time for its chameleon-like properties.
Each lake has shifted from one color to another over the years as it comes into contact with mineral-rich underwater fumaroles.
The surprise element of a Kelimutu visit is that you rarely know what colors will greet you when you summit the volcano.
Lake Kelimutu is part of the Kelimutu National Park, presenting a high aesthetic value and surreal experience.
18. Daigo-Ji Temple, Japan
Daigo-Ji is a Shingon Buddhist temple in Fushimi-Ku, Kyoto, Japan whose main devotion is Yakushi. Daigo-Ji Temple, a World Heritage Site, spreads across Daigo-san Mountain and is well-known as the "Temple of Flowers".
The temple is famous as where the feudal lords of the Sengoku period, Hideyoshi Toyotomi, used to hold a Hanami (cherry blossom viewing) party with over 1,000 people in the 16th century. The temple site is divided into 3 areas, Kami Daigo (upper grounds), Shimo Daigo(lower grounds), and Sanboin. Daigo-Ji is well worth the visit.
It's one of the most beautiful temples in Japan. If you are visiting in the autumn or during the cherry blossom season, it is especially beautiful!
If you liked this article, then please subscribe to my YouTube Channel for Travel Adventures. You can also follow my adventures on Twitter and Instagram