Do you want your blog or website to float to the top of the Google search results by knowing some basic SEO tips and tricks?
Search Engine Optimization (SEO) helps make your blog or website rank higher in Google and other search engines. As a beginner to search engine optimization (SEO) you need to understand that there is no magic way to rank your website on the first page of Google, Bing, or Yahoo.
While WordPress provides an SEO-friendly setup right out the box, there are still many things that you can do to improve your SEO by using these SEO tips for bloggers such as adding meta tags, generating XML sitemap, avoiding duplicate content, etc. These SEO basic tips will help you if you want to make your posts rank higher in Google and other search engines.
In this post, I am going to outline the absolute SEO DIY tips. This will be a series of simple, actionable SEO optimization tips that you can use right now to improve your visibility in organic search and rank higher in Google. Still with me? Right then. So let's get started with SEO marketing tips now.
Here are the 10 SEO Tips For Content Writing As Beginners to help you optimize your site and drive more organic traffic:
1. Keyword with 2 or more words
Even if a long tail keyword won't bring as many visitors as one keyword would, the traffic those keywords will bring will be better, and more focused on what you're selling.
Check out How To Get Tons Of Traffic To Your Website 
2. Keyword is present in the URL
Whatever your keyword is for that particular post, the keyword must be present in the URL of your post for a better ranking. You should consider not adding a keyword more than once.
3. Keywords are used in Title
Whatever title you keep for your blog post your keywords need to appear in the title of the blog post.
4. Title length is between 10-75 characters
The optimum length for a Title is between 10-75 characters on major search engines. So, you should always try to keep your blog post title between 10-75 characters.
5. Title is different from the domain name
Since the Google Penguin Update, the title must be different from the domain name – the domain name is your blog name, or you might get banned soon.
6. Keywords are used in Content
Whenever writing an SEO-friendly post then always keep in mind that the keyword must appear in the body of the article, at least once.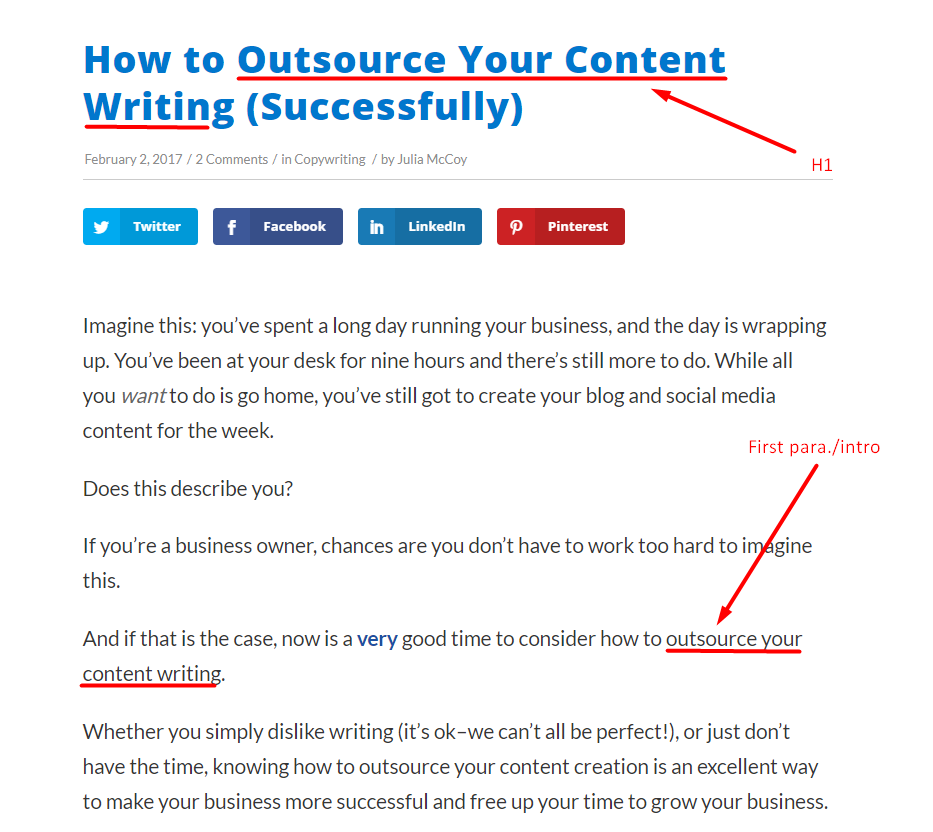 Check out How to 10X your INFLUENCE in 2021
7. Bold one of the keywords
Whatever your keyword is, Bolding your keywords will help search engines figure out what your content is about and what topic you cover. It's also useful for your Human readers to bold some of the most important ideas.

8. Keywords used in the headline
The keywords should be used in headings like H2, H3, H4. Try NOT to use them all, for it will seem to be SEO abuse. You can use your H2 button from the editor to do this. It works like the Bold, Italic, or Underline buttons.

9. Use image(s) in content or featured image
Articles need to be optimized for human beings as well, so you should place an image at the beginning of your article and always add a featured image to your post. And don't forget to fill in the Title and Alt Text of your featured image that you should name as exact as your keyword text.
10. Use keywords in the Alternative Text field of the image
Add at least one image to your article. Now use your keyword in the description of the image. The Alternative Text field of the image.
That's it – hope this article on SEO tips for beginners or SEO tips for websites helped you if you were looking for SEO writing tips!
If you liked these latest SEO tips, I would really appreciate it if you can share them using one of the social sharing icons above or down.
Also, leave me a comment and let me know what you thought about the SEO tips website– I love talking to the readers, so hopefully will talk to you in the comments below
If you liked this article, then please subscribe to my YouTube Channel for Travel Adventures. You can also follow my adventures on Twitter and Instagram.