In a country, where every village has a fascinating story to tell from remnants of ancient empires, cosmopolitan cities, spiritual towns, scenic mountains, picturesque lakes, and lush valleys are all part of  India's vast and diverse landscape where picking a few favorite spots on the Indian front isn't really an easy task.
Yet considering the busy lives that people lead, with something for everyone, I have put together a list of some of the Top 13 Best Places To Visit In India which promises a fabulous holiday experience up-India.
Here are the  Top 13 Best Places To Visit In India.
1. Srinagar
Famously known as 'Heaven on Earth, Srinagar is every bit the epitome of paradise on earth.
As picturesque as the most stunning painting to ever be painted, Srinagar, the capital of Jammu and Kashmir, lies on the banks of the Jhelum river, and has a cool, pleasant climate all year round, contributing to the perpetual influx of tourists visiting this city which offers a plethora of gorgeous scenic vistas.
2. Leh 
Leh, a high-desert city in the Himalayas. Originally a stop for trading caravans, Leh is now known for its Buddhist sites and nearby trekking areas.
Massive 17th-century Leh Palace, modeled on the Dalai Lama's former home (Tibet's Potala Palace), overlooks the old town's bazaar and mazelike lanes.
3. Munnar
Munnar is a town and hill station located in the Idukki district of the southwestern Indian state of Kerala.
The hill station enjoys a favorable and pleasant climate all year round and is famous for its lush green hills and tea plantations.
The best part of Munnar is, the sprawling tea gardens everywhere and anywhere you see and more than 90% of this hill station is under tea plantation.
The view they offer is stunning which makes Munnar a must-visit place in South India.
4. Shimla
Shimla is the capital of the northern Indian state of Himachal Pradesh, in the Himalayan foothills.
It offers a wonderful holiday experience full of adventure, romance, and complete spiritual as well as inner relaxation.
It's also known for the handicraft shops that line The Mall, a pedestrian avenue, as well as the Lakkar Bazaar, a market specializing in wooden toys and crafts.
5. Coorg
Kodagu, also known as Coorg, is a rural district in the southwest Indian state of Karnataka.
In the area's north, Madikeri Fort has 2 life-size elephant statues at its entrance, plus a Gothic-style church with a museum on its grounds. Nearby, the Hindu Omkareshwara Temple dates back to the 19th century.
Further north is the domed Raja's Tomb, a burial place of Kodava kings, and cascading Abbi Falls.
6. Varanasi

Regarded as the spiritual capital of India, Varanasi is a city in the northern Indian state of Uttar Pradesh dating to the 11th century B.C.
The city draws Hindu pilgrims who bathe in the Ganges River's sacred waters and perform funeral rites where the city's winding streets are some 2,000 temples, including Kashi Vishwanath, the "Golden Temple," dedicated to the Hindu god Shiva.
Varanasi is one of the world's oldest continually inhabited cities, and one of the holiest in Hinduism.
So must visit Varanasi because walking on the ghats and alleyways or watching the sunrise from a boat can be an unforgettable moment of your North India trip.
7. Ooty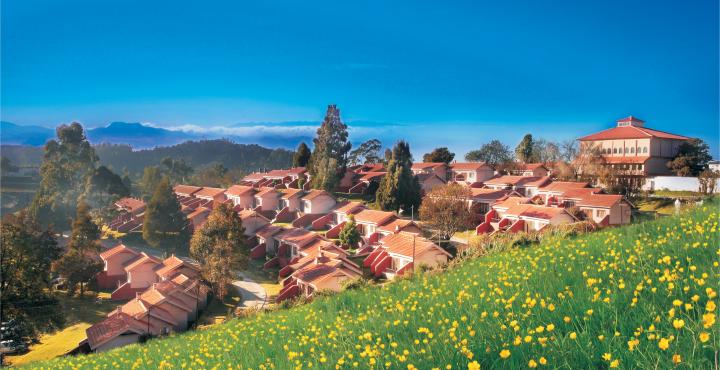 An all-time hit hill station in India, Ooty is situated in the Nilgiris district of Tamil Nadu. An equally popular haunt for honeymooners. Ooty, also known as Udhagamandalam surrounded by trees, central Ooty Lake is a huge artificial expanse of water with pleasure boats.
The place is characterized by the blue smoky mist from the thick eucalyptus forests and is also known to house the rare kurunji flower.
The town's major source of economy, like most hill stations, is tourism. Adorned with beautiful tea states and green rolling mountains and sprawling grasslands, Ooty doesn't even need any flattering words to prove that it is one of the best destinations in Tamil Nadu to visit.
The best time to visit is between the months of December till February and is frequented by tourists all around.
The various lakes, mountains, gardens, and valleys are amazing places to visit.
8. Khandala
Khandala, A beautiful hill station is nestled at a height of 1,800 ft in the western ghats of Maharashtra. It's home to vantage spots including Sunset Point and Rajmachi Point, with views of Rajmachi Fort.
Decorated with stupendous natural views, it surprises travelers with its beautiful scenery of lustrous valleys, magnificent waterfalls, verdant greenery, and picturesque ponds.
The natural beauty of Khandala makes it one of the best spots to visit during monsoon and it will be worth spending your time in this nature's beauty with exploring Rajmachi Fort, Lohagad Fort, Bedse Caves, Visapur Fort, Kune Waterfalls, Bushi Dam, and Shooting Point.
9. Ranipuram
Famous for its trekking trail – Ranipuram is a hill station in the Indian state of Kerala situated in the Vellarikundu taluk, Kasargod District.
Ranipuram mountain peak rises to 1022 meters above sea level which makes a perfect picnic spot where one can even come across the occasional herd of elephants. Blessed with the bounty of nature, this destination in Kerala is a refreshing change from the monotony of concrete jungles.
Exploring the land on foot while being surrounded by flora is surely a serene experience. the sublime beauty of this region is comparable to that of Ooty and is a must-visit for all nature enthusiasts.
The innocent life of the village and gentle nature make a perfect blend of delight and enjoyment.
10. Chandigarh
Chandigarh is surrounded by numerous beautiful places that serve as ideal destinations for excursions.
It is often referred to as the City Beautiful, the places to visit in Chandigarh will fill you up with charming experiences which have the capability of showing themselves around to all the global travelers as the greater India wishes to be seen, symbolizing- Prosperity, Comfort, and Culture.
11. Kodaikanal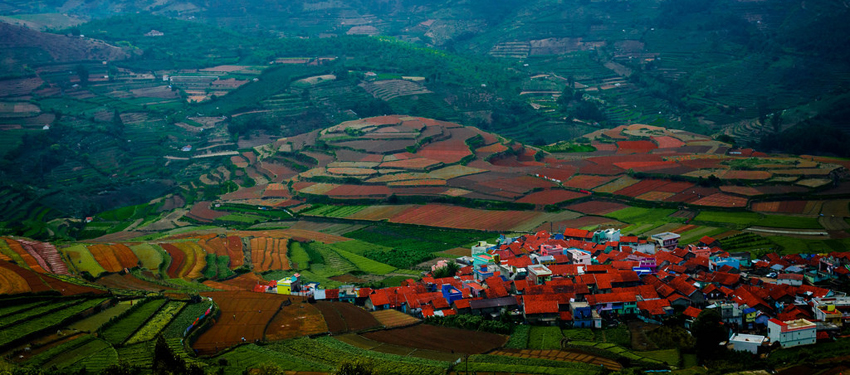 Kodaikanal is a hill town in the southern Indian state of Tamil Nadu. It's set in an area of granite cliffs, forested valleys, lakes, waterfalls, and grassy hills.
It is the most sought-after honeymoon destination in South India because of its scenic beauty with which it can create the most memorable experiences for its visitors as it is blessed with a dense forest that consists of varieties of trees; huge rocks in the wilderness and enchanting waterfalls.
The lakes, parks, and different waterfalls along with the rich abundance of flora and fauna, the town, is indeed the gift of the forests.
With its various flora and natural and manmade attractions to enjoy, Kodaikanal will make you want to stay.
12. Jaisalmer
Jaisalmer is a former medieval trading center and a princely state in the western Indian state of Rajasthan, in the heart of the Thar Desert.
Known as the "Golden City," It is a famous tourist spot due to its magnificent architecture and the various arts and crafts which are unique to this region.
The unique feature about the city of Jaisalmer is its architecture. It was built as a walled city which makes it one of the largest forts in the world.
The city also hosts the annual Desert Festival in January-February and attracts travelers from across the globe to witness the magic of Rajasthani art forms.
13. Auli
 Auli is a Himalayan ski resort and hill station in the north Indian state of Uttarakhand. It's surrounded by coniferous and oak forests, plus the Nanda Devi and Nar Parvat mountains.
A long cable car links Auli to the town of Joshimath. North of Auli is the colorful Badrinath Temple, a Hindu pilgrimage site, and the Valley of Flowers National Park, with its alpine flora and wildlife like snow leopards and red foxes.