Planning to visit Turkey?
Being a land of never-ending mystery – land which has fascinated historians and travelers for countless years, and a land that will continue to attract visitors for many years to come, Turkey is a nation straddling eastern Europe and western Asia with cultural connections to ancient Greek, Persian, Roman, Byzantine and Ottoman empires.
For sheer diversity, Turkey is so hard to beat which is best measured in multitudes of people, cultures, and natural landscapes.
Turkey overflows with historic sites and archeological wonders that all set in a varied and beautiful landscape.
Now, I am gonna mention some of the breathtaking places to visit when you are in Turkey,  so come and discover which places to explore when you are in Turkey.
Here are the Top 16 Most Breathtaking Places To Visit In Turkey.
1. Cappadocia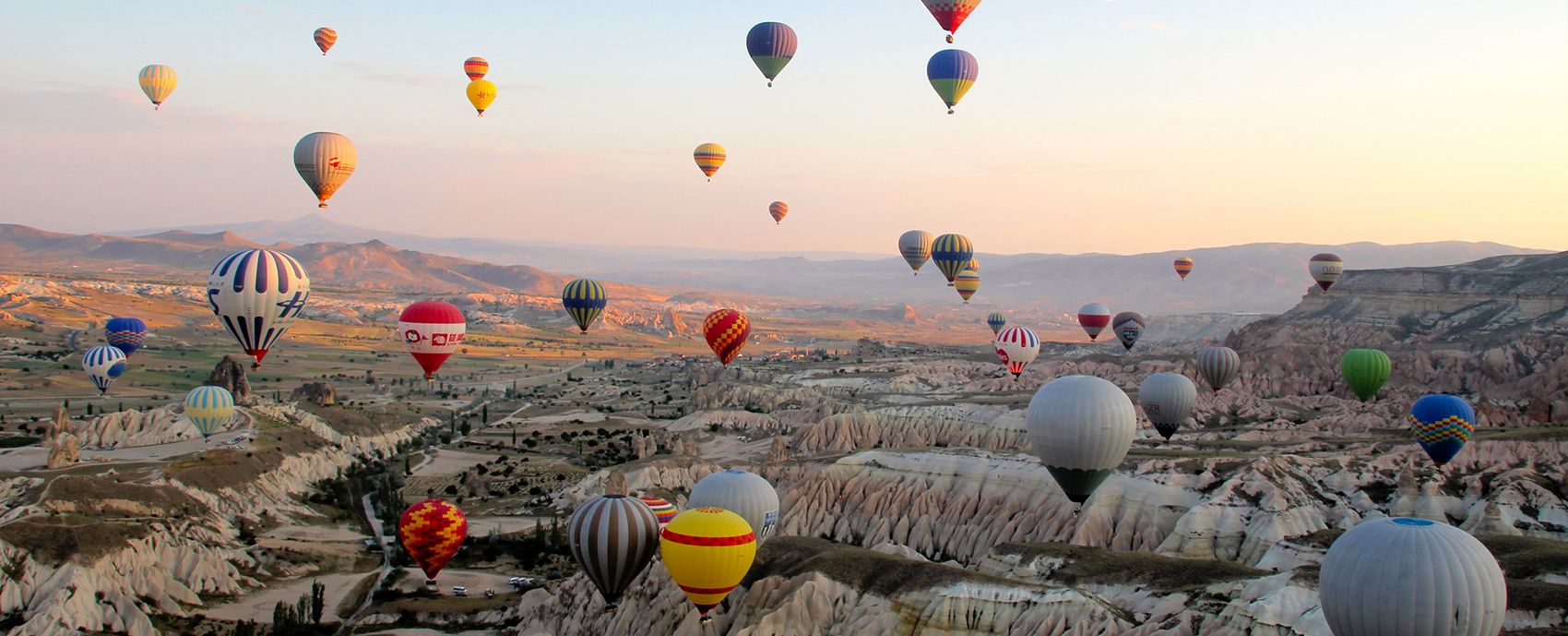 A semi-arid region in central Turkey, Cappadocia which is known for its distinctive "fairy chimneys," tall, cone-shaped rock formations clustered in Monks Valley, Goreme, and elsewhere.
Cappadocia is the most magical place on earth which hides some of its most beautiful jewels out of sight so make sure you don't miss the magnificent underground cities of Derinkuyu, Kaymakli, and Gaziemir, the ancient multi-level cities built around hundreds of underground tunnels which also makes Cappadocia a unique place in the world and is a miraculous nature wonder.
So plan your holiday to this bewitching magical Cappadocia as its beautiful town is surrounded by rock formations shaped like fairy houses and featuring caves where people continue to live in the stunning Goreme National Park that includes over 10 beautifully decorated cave churches, offering truly unforgettable views.
2. Goreme
Goreme is a town in the Cappadocia region of central Turkey where just east of town is the Goreme Open Air Museum, with cave churches and frescoes from the 10th to 12th centuries and southwest is Uchisar Castle, a fortification carved into a large rock which offers panoramic views from the top and to the north, the landscape at Pasabag Valley is known for Cappadocia's "fairy chimneys," cone-shaped rock formations.
A popular way to see these formations is via a hot-air balloon. Goreme is the most popular place to stay when visiting the larger region of Cappadocia in central Turkey.
This UNESCO World Heritage Site protects ancient cave dwellings, church frescoes, and so-called "fairy chimneys", and welcomes over a million visitors every year which makes it must add a place on your Turkey travel bucket list.
3. Ankara
Being a center for the performing arts, home to the State Opera and Ballet, the Presidential Symphony Orchestra, and several national theater companies, Ankara is Turkey's cosmopolitan capital that sits in the country's central Anatolia region.
Ankara is Turkey's beating heart which is the hub of many great civilizations with a history dating back to the Stone Age, Ankara, and its landmarks are still of great importance in the present day.
With its yellow wheat fields, young volcanoes, and infinite steppe, the plateau offers a stern landscape though a look at its history reveals millennia rich with emotive episodes which are famous for its great museums, parks, honey, Kalecik Karasi grapes, and many other cultural and historical assets where Ankara welcomes visitors any time of the year.
So come and discover Ankara which is also the capital of Turkey and itself a historic, beautiful city from its surrounding lakes to chill atmosphere, Ankara is just there waiting to be discovered.
4. Alanya
Alanya is a resort town on Turkey's central Mediterranean coast which is also known as the Turkish Riviera. Its wide beaches lined with hotels include Cleopatra Beach, where the Egyptian queen reputedly swam.
Also, Alanya Castle, a giant Seljuk-era fort turned open-air museum, stands on a rocky bluff above the beachfront, alongside red tile-roofed Ottoman villas and the octagonal Red Tower, a symbol of the city dating to 1226.
Alanya is an idyllic small town located at the foot of the Taurus mountains and offers interesting surroundings for hiking lovers where hiking and walking in the Alanya area is some of the best in the region, one experiences a unique ambiance of incredible scenery, mountain culture, and natural history. Access to beautiful terrain is easy and the scenery is second to none.
Visiting Alanya is worth it as it is one of the best-preserved Seljuk cities today which has many ancient sites, monuments, and caves, as well as natural beauties.
5. Kemer
Kemer is a seaside resort on Turkey's southern Mediterranean coast where part of the Turkish Riviera, it's known for its pebble beaches and a large marina. The name has been given to the city of the Turkish word for a belt, due to the fact that the river that flows through the Kemer, looks like a belt.
The town is backed by the pine forests of Olympos Beydagları National Park, where cable cars run to the top of Tahtalı Mountain.
Nearby lie the extensive Greco-Roman ruins of Phaselis and the perpetual gas fires emitted by the mythical Yanartas rock formation. Tourism dominates Kemer.
In the cool evening hours, the town's streets bustle with visitors and locals alike, whose mill about the shops and coffeehouses.
The most attractive characteristic of Kemer is its natural beauty, with many parks, and orange trees that can be found everywhere sea, forest, and mountains intersect at a point.
It is very attractive to see the clarity of the sea, the green color of the forests; seas reaching out the pine trees, pine trees used as sunshades at the beaches, so do visit Kemer when you are in Turkey.
6. Ihlara
Ihlara is a township with its own municipality in Aksaray Province, Central Anatolia, Turkey. In the central Anatolian province of Aksaray's Guzelyurt district, the Ihlara Valley is called the "pearl of Cappadocia."
Among one of the world's biggest canyons, the Ihlara Valley resembles an open-air museum, with its historical and natural beauty, and attracts visitors for its hiking routes and magnificent scenery.
The natural beauty of the area is obvious to everyone who ever hiked the valley.
It is believed that the valley housed more than four thousand dwellings and a hundred cave churches decorated with frescoes. Around eighty thousand people once lived in Ihlara Valley.
It is very pleasant to walk through the Ihlara valley by the vineyards, poplars, and pistachio trees to the soothing sound of the rushing water (Melendiz River), and surrounded by the rich wildlife of lizards, frogs, butterflies, birds, and sometimes eagles and other mammals like lambs and sheep.
7. Safranbolu
Safranbolu is a town in the Black Sea region of northern Turkey, once a stop on the trade route between Europe and the Orient. Its Ottoman architecture includes the old Carsı district, with hundreds of preserved, red-roofed Ottoman houses on cobblestone streets.
As you walk along Safranbolu's streets sheltering over 2000 traditional Turkish-Ottoman houses, you will grasp the opportunity of exploring the elegance of Ottoman housing architecture and of becoming familiar with the traditional lifestyle of its hospitable locals.
Safranbolu was placed in the world Cultural Heritage list by UNESCO in appreciation of the successful efforts in the preservation of its heritage as a whole.
Safranbolu has deserved its real name for its houses where these houses are perfect examples of old civilian architecture, reflecting the Turkish social life of the 18th and 19th centuries.
So these are the reasons why Safranbolu must be in your Turkey itinerary.
8. Kekova
Kekova is the name of a region of fascinating islands, bays, and ancient cities, situated upon one of the most attractive spots of the Turkish coast which make an idyllic day trip for the traveler looking for a combination of sunshine, swimming, and fascinating historic ruins.
It has a rarely seen attraction, along with the shore of the Island a sunken city is observed.
The geological movements of the Island caused the city on the Island to be submerged, creating a strange scene with half of the city underwater and a half above.
Kekova is an enjoyable place to visit for its great beauty and charm which is a peaceful place of history, gorgeous turquoise water, sun, islands, unspoiled nature, blue skies, and wonderful swimming that shows a remarkable example of cultural continuity, and living cultural assent as well.
9. Nevsehir
The province of Nevsehir is one of the major cities of the Cappadocia region that displays a beautiful combination of nature and history.
Nevsehir, which is literally an open-air museum is a stop for explorers and enthusiasts to discover.
The fairy chimneys of Turkey and perhaps even the most beautiful natural structures of the world – Nevsehir is an extraordinary city with its valleys with splendid natural beauties where its churches displaying religious and cultural buildings.
So, do visit Nevsehir when you are in Turkey as it is one of the most visited cities in Turkey that has a history of about five thousand years
10. Uchisar
The Uchisar is a little troglodyte village, is the first that visitors see when they leave Nevsehir to drive to Goreme, situated at the highest point in Cappadocia, on the Nevsehir-Goreme road, just 5 km from Goreme.
The village is dominated by a huge plug of rock, so-called kale (castle) which is mirrored in Ortahisar, a similar-sized but much less visited village just off the road from Nevsehir to Urgup.
The top of the Uchisar Castle provides a magnificent panorama of the surrounding area with Mount Erciyes in the distance.
Way back in history Uchisar was the "outer castle" and the main point of the defense for the Cappadocia region. Uchisar is a must-visit place when you are in Cappadocia.
11. Mount Nemrut
Nemrut is a 2,134-metre-high mountain in southeastern Turkey, notable for the summit where a number of large statues are erected around what is assumed to be a royal tomb from the 1st century BC.
Crowning one of the highest peaks of the Eastern Taurus mountain range in southeast Turkey, Nemrut is the Hierotheseion (temple-tomb and the house of the gods) built by the late Hellenistic King Antiochus I of Commagene (69-34 B.C.) as a monument to himself.
The gigantic statues of gods, each weighing 6 tons and 10 m tall, indicate what kind of super-human effort was spent on the construction of the tomb.
It was the monumental resting place of King Antiochus I Theos from the Kingdom of Commagene which is one of the most fascinating ancient places in Turkey.
The huge sculptures on Mount Nemrut are a perfect illustration of religious syncretism and Antiochus' attempt to introduce a new state cult that combined Greek, Persian, and Armenian influences.
12. Cavusin
Cavusin which is located about halfway between Avanos and Goreme is surrounded by a valley that becomes gradually wider, allowing extended farming. Cavusin is a small village, and one of the oldest settlements in Cappadocia.
If you visit the old town Cavusin in Cappadocia, and you turn your gaze to the top of the hill, the first thing you'll see is the ancient Church of St John the Baptist which dates back to the early part of the 5th century.
Now, imagine visiting a place and discovering an almost forgotten valley of ancient churches, many of which have been cut into timeless rock formations which is difficult to imagine that such a place could even exist, at least until you visit Cavusin in Cappadocia, Turkey. So do add Cavusin is your Turkey bucket list.
13. Denizli
Known for its textile industry and as a tourist attraction with its numerous beauties and sites in the environs, Denizli is situated in the inner part of the Aegean Region of Turkey that once was known as the Phrygian region.
Nestled in the high mountains near the Buuyuuk Menderes  River is Denizli – a city surrounded by a beautiful verdant valley in an area rich in culture and history.
Pamukkale in Denizli is a fascinating expression by Mother Nature and the only example of its kind in the world and appears in almost every list of places to be seen before you die and visited by almost two million tourists each year which is a place where nature assumed the role of an artist and created such majestic beauty.
Denizli is a must-visit place when you are in Turkey as its eye-catching artifacts around the astonishing white miracle of nature will take your breath away.
14. Bodrum
Bodrum is a city on the Bodrum Peninsula, stretching from Turkey's southwest coast into the Aegean Sea.
The city features twin bays with views of Bodrum Castle where an impressive medieval castle built by the Knights of Rhodes guards the entrance to Bodrum's dazzling blue bay, in which the Aegean and the Mediterranean Seas meet.
Bodrum is an inviting, colorful crowd full of surprises, sometimes a humble wiseacre and a loose wise man, sometimes it is an alone crazy, it is freedom, love – Bodrum is sun, sea and after all, it is history which is ready to be discovered anytime.
The town's charm is well-known, attracting a diverse population of vacationers who stroll along its long palm-lined waterfront, while elegant yachts crowd the marina which suits holidaymakers interested in a subdued and relaxing atmosphere.
Enchanting villages, with guest-houses and small hotels on quiet bays, dot the peninsula.
15. Pamukkale
Pamukkale is a town in western Turkey known for the mineral-rich thermal waters flowing down white travertine terraces on a nearby hillside.
Pamukkale means, "cotton castle" in Turkish and it's a natural site that's located near Denizli in Turkey.
This town is famous for its hot springs and massive white limestone terraces. It neighbors Hierapolis, an ancient Roman spa city founded around 190 B.C.
Ruins there include a well-preserved theater and a necropolis with sarcophagi that stretch for 2km. The Antique Pool is famous for its submerged Roman columns, the result of an earthquake.
You should visit Pamukkale in Turkey to witness the spectacular travertine thermal pools.
16. Fethiye
Fethiye is located in the picturesque bay at the foot of the mountains, sheltered by green pine and cedar forests – an unusually beautiful resort with a developed tourist infrastructure that is known for its natural harbor, blue waters, and numerous rock tombs including the 4th-century B.C.
Fethiye is a port city, and district, on Turkey's southwestern Turquoise Coast where the Tomb of Amyntas, carved into a bluff overlooking the city.
Near-shore islands are popular for day trips by boat. In the south, the beach at Oludeniz is sheltered by a lagoon, and Butterfly Valley is a designated nature reserve.
The beautiful town Fethiye in Turkey is enchanting which is a paradise for beach lovers and explorers where you can explore the city center, Oludeniz, Saklikent, the fish market, and a lot more.
Immersed in the green peninsula known for exceptional environmental friendliness, this resort is for those who are seeking privacy and tranquility, love beautiful nature, clean air, and beautiful views.
So spending your vacation in this wonderful place of secluded relaxation, you will be able to feel the unique national character of diverse Turkey.
If you liked this article, then please subscribe to my YouTube Channel for Travel Adventures. You can also follow my adventures on Twitter and Instagram.