Do you prefer enchanting mountain scenery or the hustle and bustle of city life? The Alpine Country of Switzerland offers you both. Welcome to Switzerland.
Spectacular mountain scenery, unspoiled nature, legendary hospitality, and the Swiss cities that never fail to impress visitors. Switzerland is quite simply the Alpine Country.
Abounding in an urban zest for life, yet set amidst an enchanting Alpine world.
Discover Switzerland's diversity: picturesque villages, cosmopolitan cities, cutting-edge design, lakes surrounded by palm trees, and snow-capped mountains.
Here are the Top 23 Unique Places To Visit In Switzerland.
1. Zermatt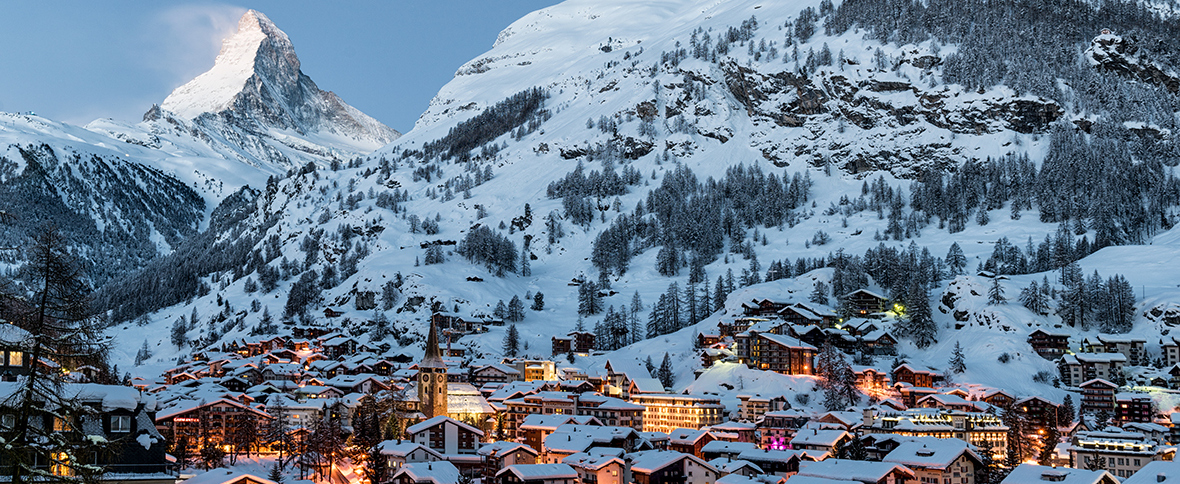 Zermatt, in southern Switzerland's Valais canton, is a mountain resort renowned for skiing, climbing, and hiking.
The town, at an elevation of around 1,600m, lies below the iconic, pyramid-shaped Matterhorn peak and its main street, Bahnhofstrasse is lined with boutique shops, hotels, and restaurants, and also has a lively apres-ski scene.
This travel destination is a car-free zone that has preserved its original character and offers nearly unlimited possibilities as far as excursions are concerned.
So, you shouldn't miss a chance to explore Zermatt because the location of Zermatt at the foot of the Matterhorn and in the middle of an enormous hiking and ski region makes it one of the world's most attractive vacation villages.
2. Grindelwald
Being a popular gateway for the Jungfrau Region, with skiing in winter and hiking in summer, Grindelwald is a village in Switzerland's Bernese Alps which is also a base for mountain-climbing ascents up the iconic north face of Eiger Mountain.
This pretty Swiss village is blessed with stunning surroundings which are the ideal base to enjoy Switzerland's natural beauty and charm.
Grindelwald is surrounded by lush green pastures and towered over by the 3970 mt Eiger whose mountainscape and the numerous lookout points and activities make Grindelwald one of the most popular and cosmopolitan holidays and excursion destinations in Switzerland.
Also, it is a favorite destination for those who love the mountains.
This is a must-visit when you're on your trip to Switzerland where Grindelwald is also the perfect place to head for world-class skiing and snowboarding, so don't miss it.
3. Lauterbrunnen
Set in a valley featuring rocky cliffs and the roaring, 300m-­high Staubbach Falls, Lauterbrunnen is an idyllic Swiss village located in an impossibly beautiful valley in the Alps.
The name 'Lauter Brunnen' ('many fountains') suggests the magnificence of the Lauterbrunnen landscape which is consists of 72 waterfalls where the most famous being the Staubbach Falls.
Nearby, the glacial waters of Trummelbach Falls gush through mountain crevices past viewing platforms.
Also, a cable car runs from Stechelberg village to Schilthorn mountain, for views over the Bernese Alps.
Lauterbrunnen is one of the most beautiful villages in Switzerland with breathtaking views.
This what makes Lauterbrunnen a must-visit place when you are traveling to Switzerland where the unspoiled village is popular throughout the year and also you can enjoy an endless array of scenic hikes and walks and also witness the amazing views of snowcapped peaks.
4. Lausanne
Home to the International Olympic Committee headquarters, as well as the Olympic Museum and lakeshore Olympic Park, Lausanne is a city on Lake Geneva, in the French-speaking region of Vaud, Switzerland, and away from the lake, the hilly old city has medieval, shop-lined streets and a 12th-century Gothic cathedral with an ornate facade.
Lausanne is the second-largest city on Lake Geneva that combines a dynamic commercial town with the locality of a holiday resort.
The setting of Lausanne is extremely picturesque whose old town is dominated by the cathedral, which is regarded as Switzerland's most impressive piece of early Gothic architecture.
5. St. Moritz
St. Moritz is a luxury alpine resort town in Switzerland's Engadin valley which has hosted the Winter Olympics twice, has the Cresta Run, a world championship bobsled run made of natural ice, and an outdoor Olympic ice rink. Its frozen lake hosts polo, cricket, and even horse racing on ice.
Its surrounding area is beautiful which is combined with the special atmosphere of the town where a wonderful vacation is absolutely guaranteed.
Due to its elegance, exclusivity, innovation, and cosmopolitan atmosphere, St. Moritz is one of the world's most famous ski resorts that offers an attractive mixture of nature, sport, activity, culture, and rest.
So, explore St. Moritz which is one of the world's most famous holiday resorts, Olympic host city, and part of a UNESCO World Heritage site while you're in Switzerland.
6. Lake Geneva
Lake Geneva is a crescent-shaped lake shared between France and Switzerland and overlooked by the Alps and a water body of superlatives – mildest climate, largest lake, and lake with the largest amount of water in Central Europe.
This lake is a year-round hotspot for outdoor activities, with a northern shore covered in picturesque villages, terraced vineyards, and medieval castles.
The western extremity of the lake is dominated by the city of Geneva, while the towns of Lausanne and Montreux lie on the northern and eastern shores, respectively.
At Lake Geneva, visitors can soak up the scenery on a Lake Geneva cruise, ride the GoldenPass Panoramic train into the Swiss Alps, take a Geneva sightseeing tour, or hop over the French border to explore Annecy, Chamonix, or Mont Blanc.
7. Lugano
Lugano is a city in southern Switzerland's Italian-speaking Ticino region whose Swiss-Mediterranean mix of cultures is closely related to that of Italy's northern Lombardy region and this mix is reflected in its architecture and cuisine.
The city stands on the northern shore of glacial Lake Lugano, surrounded by mountains. Lugano is a town of parks and flowers, villas, and sacred buildings.
With Mediterranean flair, Lugano offers all the advantages of a world-class city, combined with the cachet of a small town.
It attracts travelers from the rainy north with its sunshine, lush vegetation, inviting lake, and shopping. Lugano is worth visiting when you're in Switzerland, so don't miss it.
8. Murren
Featured in a James Bond film, the Piz Gloria revolving restaurant contains the Bond World 007 exhibit and has views of Mont Blanc, Murren is a Swiss mountain village at the foot of the Schilthorn peak which is accessible by cable car.
The mountain with its breathtaking panoramic views is today one of the top attractions of the Jungfrau region. Lying at the foot of the Schilthorn, Murren has nevertheless remained a cozy mountain village.
It is a charming village with magnificent views and no traffic noise where this beautiful village is completely cut off from car traffic.
Places like Murren are hard to find which is so stunning.
It is an amazing place for hiking enthusiasts who wish to enjoy the natural beauty of Switzerland.
So don't miss to enjoy the most beautiful panoramic view of the Eiger, Monch, and Jungfrau and the autumn in the beautiful hiking area of Murren-Schilthorn.
Check out The 11 Most Heart-Stealing Villages Of Switzerland.
9. Wengen
Known for its timber chalets and belle epoque hotels, Wengen is a Swiss Alpine village in the Bernese Oberland region.
It is a car-free Alpine village in the Jungfrau region which is surrounded by hiking trails in summer and ski slopes in winter making a perfect base for excursions to Jungfraujoch, Kleine Scheidegg, and Mannlichen.
Wengen offers a pure mountain experience with some of the best views in the Alps.
Wengen is one of the picturesque villages you may have in mind when you try to picture what the Swiss Alps look like: no cars, mountains all around, green meadows and forests surrounding the village which is also a perfect place to hike.
So don't miss to enjoy traffic-free Wengen with its picturesque buildings and wonderful views just for you if you are looking for an idyllic Swiss mountain village holiday destination.
10. Engelberg
Located 25 km south of Lake Lucerne in a wide mountain valley at an altitude of around 1000 meters,  Engelberg is a village resort and a municipality in the canton of Obwalden in Switzerland also the largest winter and summer holiday destination in central Switzerland.
Formerly a quiet monastery village, this attractive village offers a wide variety of holiday activities for families, newcomers, and those who are looking for it.
Engelberg is home to a network of walking trails covering around 50 km where many exciting options will make your trip an unforgettable mountain experience.
The village of Engelberg is so appealing because of its distinct and rustic character which offers such a variety of things to do that you will be tempted to extend your vacation long enough to try each and everything that Engelberg offers.
Fresh wind in your hair, glistening snow, and sunshine this is what travelers expect from sledding fun in Engelberg so don't forget to add to your bucket list.
11. Davos
Davos is a town in the Swiss Alps, within the canton of Graubunden which is a popular ski resort with a conference center that hosts the annual World Economic Forum where downhill and cross-country ski areas include Jakobshorn, Pischa, Rinerhorn, and Parsenn.
Davos is a place of superlatives: this holiday destination with the international ambiance is the largest resort in the Alps for mountain holidays, sport, and conferences.
In summer, you can enjoy activities that include swimming and sailing on Lake Davos, hiking, and mountain biking.
If you love sports then Davos is a perfect destination for you as it's a major winter and summer sports centre with an international flavor and a huge range of activities.
12. Thun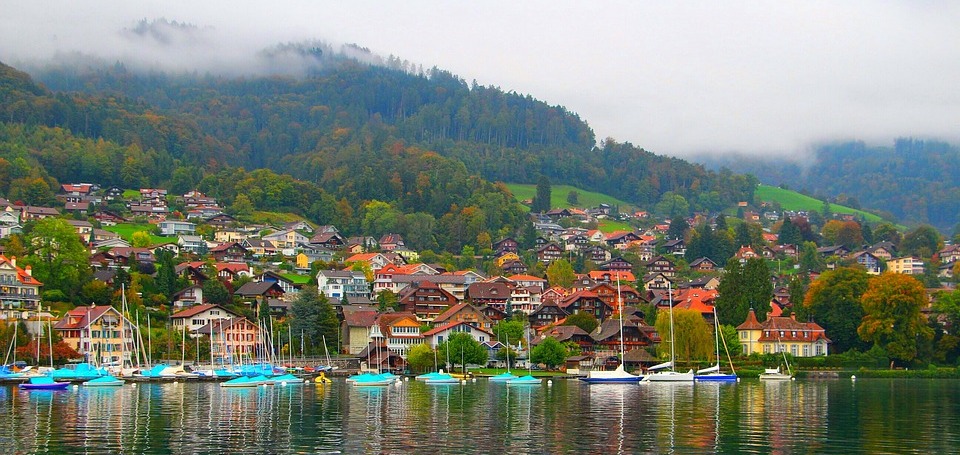 Thun is a town near Lake Thun, in Switzerland's Bernese Oberland region.
Its Turreted Thun Castle, from the 1100s, stands on a hill above the old town which has a sweeping view of the Alps and the 14th-century City Church has an octagonal tower and a baroque hall.
It has a fortification tower built between 1180 and 1190. The halls of the tower house a historical museum that exhibits artifacts from prehistory and early history as well as medieval objects, weapons, and uniforms from the 18th and 19th centuries.
The castle's most splendid exhibit is the restored Knights Hall, dating to the 12th century which you should not miss.
13. Brienz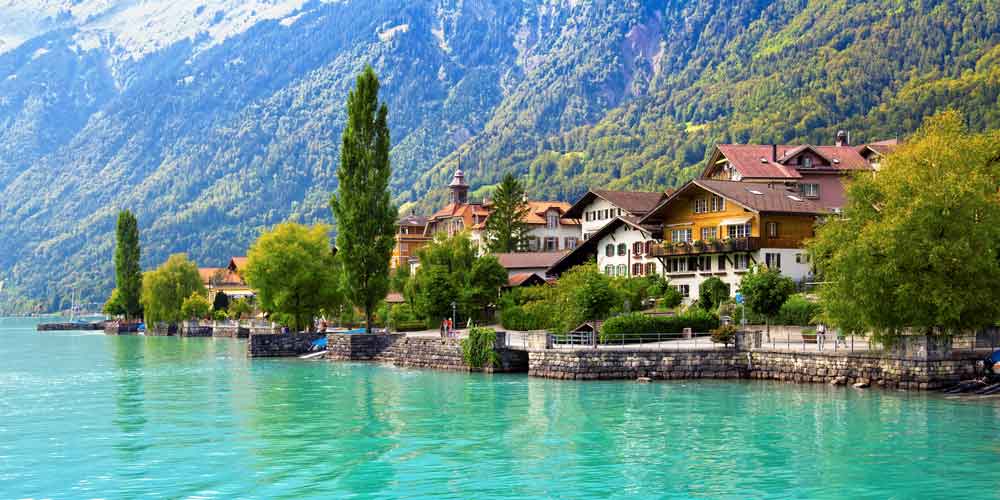 Located in the middle of charming mountains at the eastern end of turquoise-colored Lake Brienz, Brienz is a village on the northeast shore of Lake Brienz, in Switzerland's Bernese Oberland region whose 18th-century wooden chalets and the sculptures dotted throughout the village are testimonials to a woodcarving tradition.
Brienz was a must-visit town on every "Grand tour of Europe" since the British invented tourism in Switzerland.
Brunngasse which is the most romantic part of Brienz has once been awarded the title "most beautiful street in Europe", is well-known abroad.
The picturesque setting on its namesake lake and a wreath of Alpine mountains as a backdrop contribute to the beauty of Brienz.
It is home to the valley terminus of the steep cogwheel railway that transports passengers to the panorama and hiking peak marking the border of the Bern, Obwalden, and Lucerne triangle.
It is really worth taking the time to explore this amazing village of Brienz.
14. Chur
Chur is an Alpine city and the capital of the Graubunden canton in eastern Switzerland whose winding streets in the car-free old town lead to the 13th-century, three-naved Cathedral of the Assumption, in the courtyard of the Bishop's Palace, and The Brambruesch aerial cableway ascends to a plateau with trails, panoramic views, and winter ski slopes.
This Switzerland's oldest city charms visitors with its fine mountain setting, twisting alleys, and historic buildings. Being the oldest city in Switzerland, Chur is one of the most authentic!
The car-free mountain city in the heart of the Alps is very charming and I recommend a visit to this picturesque place.
This historic Old Town is very much worth a visit and is completely car-free that offers a surprisingly large range of cultural activities, shopping, cafes, restaurants, and bars.
15. Verbier
Located in the south-western part of Switzerland in the canton of the Valais, Verbier is an Alpine village in Switzerland's Valais Canton which is the gateway to the 4 Vallees ski area is bordered by France to the west and Italy to the south offering a unique panoramic view of the Mont-Blanc and the Combins massif.
Verbier has developed into a glamorous winter playground for anyone who wants to splash the cash with its pretty chalet-style architecture, glorious mountain views, fantastic ski terrain, and wild nightlife.
During winter Verbier offers limitless pleasure for advanced skiers from all over the world as well as for beginners.
If you love sports then Verbier is the perfect destination for you because this alpine village has countless activities in store for families, senior citizens, and young people alike from paragliding, heliski, sledding, golf, museums to local produce to try.
16. Saas-Fee
Famous for its proximity to mountains more than 4,000m above sea level, Saas-Fee is a resort village in the Swiss Alps near the Italian border which a gateway to more than 100km of pistes for skiing and snowboarding, plus sledding and toboggan runs.
Often called "a diamond of the Alps", Saas-Fee is a marvelously beautiful place with many attractions and traditional high-quality service which is distinguished by 350 kilometers of thematic and hiking trails as well as special offerings for families and children.
One should definitely visit Saas-Fee which is absolute heaven for travelers if they like the combination of stunning alpine scenery, a comfortable village, and plenty of outdoor activities.
17. Bellinzona
Known for its 3 medieval castles, including the hilltop Castelgrande and Sasso Corbaro where both have views of the city, the surrounding Alps and Montebello, the 3rd castle, Bellinzona is the capital city of southern Switzerland's Ticino canton.
The skyline of the capital of Ticino is defined by the powerful fortifications, comprising three of the best-preserved medieval castles in Switzerland, which are listed as a UNESCO World Heritage Site.
The town acts as a gateway to Italy for those traveling from the North, and the keyhole to the Alps for those coming from the South.
Its picturesque corners and squares, the courtyards and the neo-Classical, Italian-style theatre, and the sympathetically restored old houses tell visitors the history of what is culturally a Lombardy town and in its alleyways are richly decorated patrician houses and beautiful churches.
18. Gstaad
Gstaad is an upscale resort town in the Bernese Oberland region of the Swiss Alps whose soaring mountains and prestigious international boarding schools have long made it a holiday destination for royalty and celebrities.
Cable cars connect surrounding ski areas such as Wispile and Rinderberg, with hundreds of kilometers of all-level pistes and cross-country trails.
Gstaad in the Bernese Oberland attracts a charming mix of visitors while the chalet village of Gstaad welcomes famous guests where the smaller neighboring villages offer attractive options for families with children.
It is appealing to a variety of sporting activities and social events during most of the year.
Don't forget to add Gstaad to your bucket list where you will be fascinated by flowering meadows under clear blue skies.
Check out Germany's 5 Most Heart-Stealing Villages You'll Fall In Love With.
19. Andermatt

Located in the heart of the Swiss Alps, Andermatt is a village in the Ursern Valley whose narrow streets are lined with traditional chalets, one housing the folk museum, Talmuseum Ursern.
A cable car offers access to the Gemsstock ski area and a chairlift links the village with Natschen's gentler slopes.
It is a large village in the Urseren Valley embedded in 1.4 million square km of natural Alpine landscape which is renowned far beyond the Swiss borders for its high peaks, deep gorges, cascading waterfalls, and clear mountain lakes.
Andermatt is the perfect destination for nature lovers and outdoor sports enthusiasts, whatever the time of year, so don't miss visiting Andermatt if you're a nature lover.
20. Leukerbad
Leukerbad is the largest spa and wellness resort in the Alps which is situated in the Dala Valley in the canton Wallis and dates back to the 2nd century AD.
The Romans were among the first to recognize the healing properties of the hot springs of Leukerbad. This thermal spa resort lies well protected in a Valais side valley which is now a popular destination for wellness and sports enthusiasts.
You can experience the refreshing relaxation of swimming in thermal baths 365 days a year – in spring, summer, fall, and winter.
So, enjoy musical highlights, adrenalin-packed incentives, and special moments with your loved ones in surroundings blessed with crystal clear mountain air, a stunning mountain backdrop, and all the clean natural healing powers of Mother Nature.
21. Appenzell
Appenzell is a village in northeastern Switzerland situated in a singularly beautiful landscape of rolling hills. Trails and cableways connect various summits, including towering Santi's peak.
The car-free village beckons with pretty lanes and a myriad of small stores and boutiques that are ideal for shopping and browsing.
It offers everyone time and space to relax and rejuvenate. Appenzell has around 7,000 inhabitants making it the political, economic, and cultural centre of Switzerland's smallest canton, Appenzell Innerrhoden.
The hilly pre-Alpine landscape and the mighty Alpstein take on the appearance of a snowy-white winter fairytale, this is why you should drop everything and visit Appenzell.
22. Kandersteg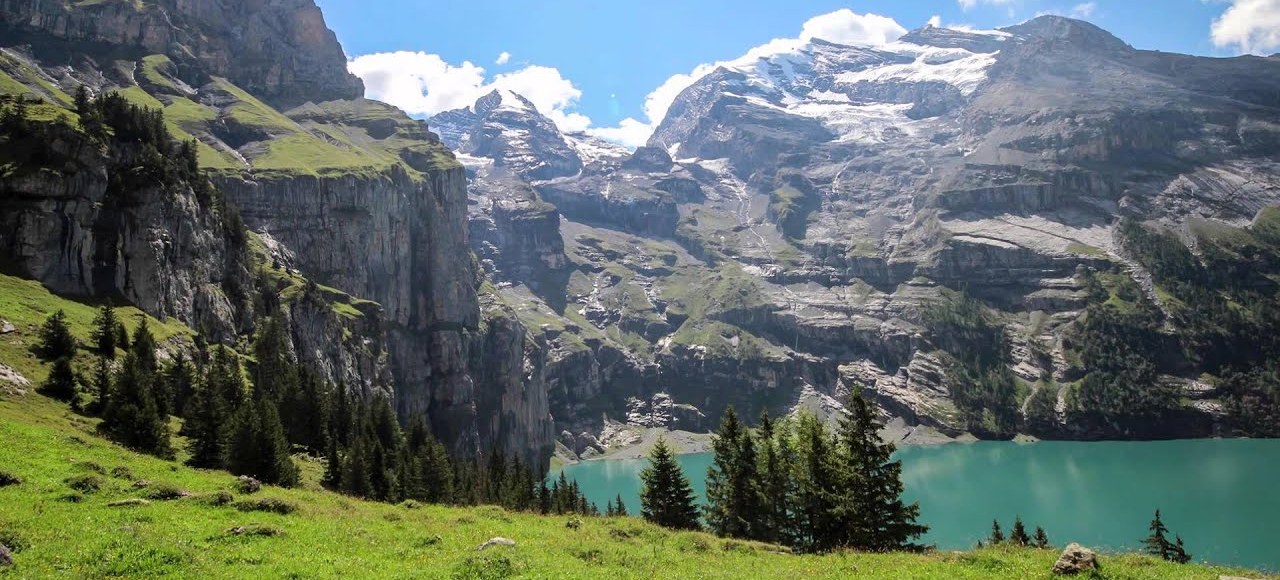 Kandersteg is a high-altitude resort village in the Bernese Oberland region of Switzerland which offers a fantastic view of the Blumlisalp Massif.
The peaceful holiday resort with about 1000 inhabitants with all its wooden chalets has maintained its village character and in summer is an absolute hiker's paradise.
It's a favorite spot for walkers, the area boasts a huge number of marked trails, taking in some truly beautiful alpine scenery and the deep blue lakes of Oeschinensee and Blausee.
So don't miss to visit this place because Kandersteg is a picture-perfect setting in the mountains with lush meadows and mountain streams and a village centre characterized by traditional wooden buildings and cozy restaurants.
23. Gotthard Pass
The Gotthard Pass at 2,106 m is a mountain pass in the Alps traversing the Saint-Gotthard Massif and connecting northern and southern Switzerland.
It's the gateway between north and south: The Gotthard Base Tunnel – the longest train tunnel in the world. The ride across the cobblestone paved Tremola on the southern side of the Gotthard Pass is breathtaking. The Tremola takes you in hairpin turns and serpentine curves from the peak of the pass to Airolo which is considered to be Switzerland's longest historical monument.
Today the Gotthard Pass is the main North-South connection, traversed by leisure hikers and pass enthusiasts.
If you liked this article, then please subscribe to my YouTube Channel for Travel Adventures. You can also follow my adventures on Twitter and Instagram.