Cebu is a province of the Philippines, in the country's Central Visayas region, comprising Cebu Island and more than 150 smaller surrounding islands and islets.
Because of its magnificent beaches, fascinating waterfalls, scenic mountains, and beautiful islands, it has earned its fame all over the globe.
So planning to go to Cebu, and wondering what Cebu tourist spots you should visit? Surely, Cebu has many beautiful sites which is one of the top tourist destinations in the Philippines.
It offers a wide variety of attractions and experiences suited for different types of visitors from historic landmarks to state-of-the-art modern-day wonders, Cebu has a dazzling and endless array of pleasant things to offer to travelers from all over the world.
Let's find out some of the amazing places to visit when you're in Cebu.
Here are the Top 8 Best Places To Visit In Cebu.
1. Kawasan Falls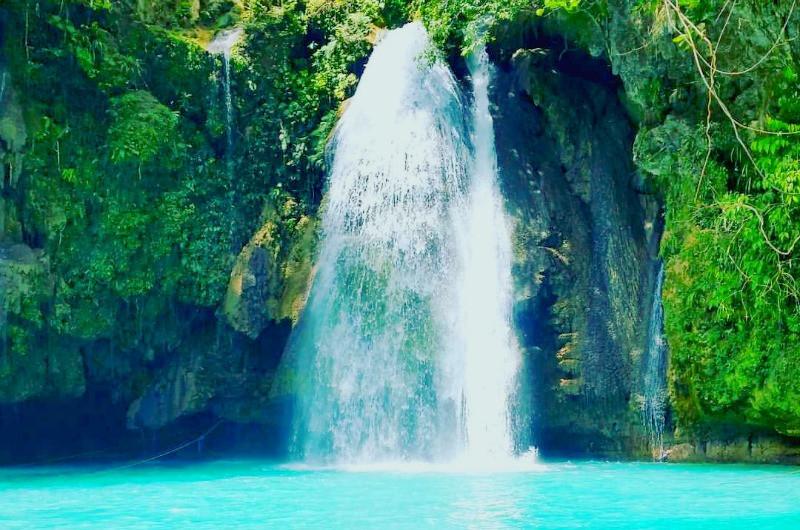 Kawasan Falls is a three-tiered waterfall located in Badian, Cebu which is one of the most famous in the world for its extremely blue water.
The water from the Kawasan Falls comes from the Kabukalan Spring and passes through the Matutinao River and Tanon Strait.
It is known to be a tropical oasis with big bamboo rafts that can take you around the turquoise natural pool under the waterfall.
Also, you can stand beneath the falling chute for a pleasant shower and natural water massage in these scenic surroundings.
Kawasan Falls is truly a beautiful place, so relax in the cool rushing water at the base of these falls and snap photos of the spectacular jungle terrain surrounding it.
2. Osmena Peak
Nestled between the southern towns of Dalaguete and Badian, Osmena Peak rises 1,013 meters above sea level making it the highest peak on the island of Cebu.
It is also known as the "Vegetable Basket" of Cebu or "Little Baguio" because of the vast vegetable farms in the area.
The Osmena Peak is part of the Mantalungon mountain range which is unique from other mountain ranges in the Philippines because of its multiple jagged hills grouped together that overlook and stretch as far as the Badian shorelines.
Also, it is actually a series of rugged peaks that have been compared with the Chocolate Hills of Bohol due to its interesting formations. So, don't miss hiking on this amazing highest peak of Cebu Island.
3. Mount Babag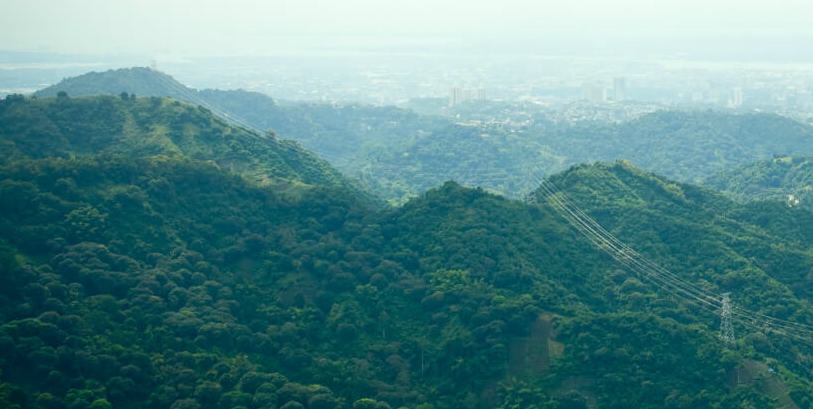 Located within the Cebu city, the mountain which has a height of 752 meters above sea level and offers a breathtaking view of the city – Mount Babag which means "to block" in Bisaya, offers just the right amount of challenge for both beginner hikers and those who are looking for some light exercise.
It is one of the most common trekking destinations for most outdoor enthusiasts in Cebu which is the highest point in Barangay Babag where the RCPI and other communication and radio towers are located.
Mount Babag with its steep slopes and loose soil, can be a tough but thrilling and fun-filled challenge for nature lovers in Cebu which is not yet discovered by travelers from all around the world.
4. Temple of Leah
Built in 2012, the Temple of Leah elaborate Roman-style temple is dedicated to Leah Villa Albino-Adarna which is dubbed as "Cebu's Taj Mahal," which is a grand gesture of love from a husband to his late wife.
The temple has an art gallery, museum, and a library where all of the favorite things her wife owned are placed where from the top you can enjoy the spectacular view of the city and more exceptional scenery as you walk through the temple.
In short, I can say that "Temple Of Leah" is just like India's world-famous Taj Mahal which is a mesmerizing work of art built as a symbol of one man's undying love to his beloved wife.
It's a must-visit so don't miss to explore Cebu's Taj Mahal when you're on your trip to Cebu Island.
5. Sirao Flower Garden
Located in a mountain barangay just a few minutes from JY, Lahug, Cebu City and known as "Mini Amsterdam" of Cebu, Sirao Flower Garden is a mountainous region with a vast expanse of flowers.
Fascinating rows of colorful flowers line up in large and spacious fields which attracts tourists from all over the country and even foreigners. Sirao Flower Garden features colorful flora, like hyacinths and sunflowers where you'll also see "selfie corners," playhouses, kitschy decor, and little replicas of Dutch structures like windmills.
So how about visiting this "Little Amsterdam of Cebu" when you're in Cebu? So don't forget to add this to your Philippines travel bucket list.
6. Cebu Safari and Adventure Park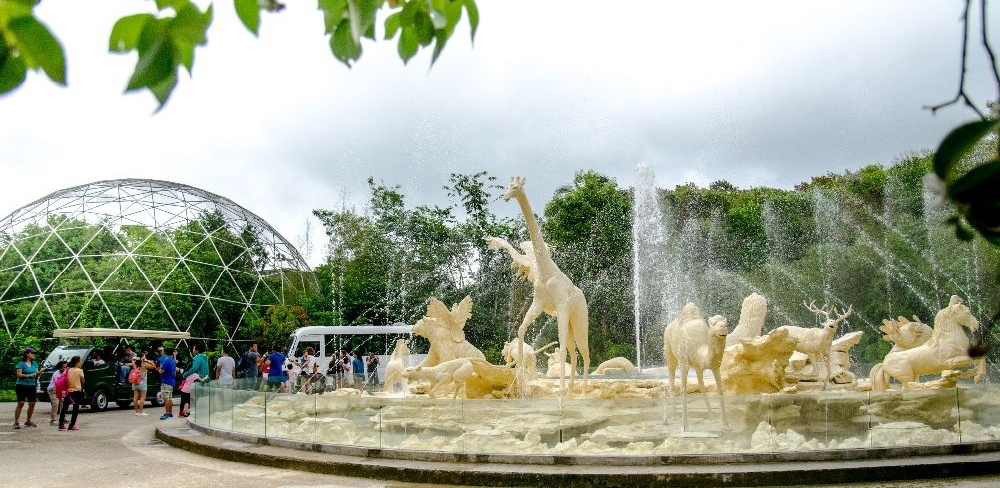 Located in the municipality of Carmen which is about a two-hour drive from Cebu City and Mactan-Cebu International Airport, Cebu Safari and Adventure Park is a world-class zoological garden sprawled across the mountains of Barangay Corte.
Covering a land area of 170 hectares, Cebu Safari is the largest zoological park in the Philippines, and one of the biggest in Southeast Asia, after Naypyidaw Zoological Garden in Myanmar and Safari World in Thailand.
The Cebu Safari and Adventure Park are set to be a premier Safari Park in the country with an international standard that rivals Animal Parks and Zoo's worldwide where it doesn't matter how young or how old you are because at Cebu Safari and Adventure Park, they have got everything for you.
So atop the beautiful and scenic hills of Carmen, about an hour's drive away from Cebu City, an adventure beckons for those who are ready to escape into something new and wonderful.
7. Terrazas De Flores Botanical Garden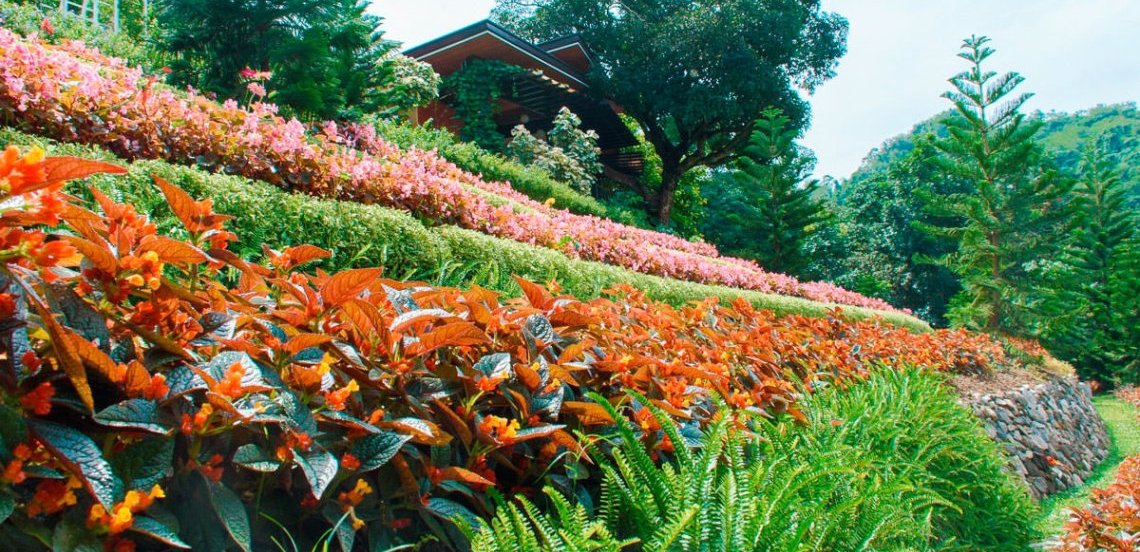 Terrazas De Flores Botanical Garden is the first of its kind in the country where the slope botanical garden facing the south is bedecked with colorful flowers carefully planted by rows whose each row of flower piece is done in a way that forms terraces of flowers.
This amazing botanical garden and its flower terraces boast some 127 species of the region's local flower varieties which were built by the local farmers using the same traditional technique of interlocking stones reminiscent of the Banaue Rice Terraces.
Besides the picturesque garden, it also features cabanas and viewing decks where the cozy cabanas are the perfect spot to relax.
If you're looking to escape from the busy city life then Terrazas De Flores Botanical Garden is a place for you where its cool mountain breezes and stunning views will make it the perfect escape from the madness of the city.
8. 10,000 Roses Cafe
Owned by Miguel Cho – an interior designer, 10,000 Roses Cafe is located in Day-as, Cordova, Lapu-Lapu City, Cebu that has become popular in recent years whose main attraction is the 10,000 artificial LED roses that are "planted" in the open area of the facility.
These roses of about 3 feet tall dance with the sea breeze in the daytime and are transformed into magical lights in the night as they are lit at around 6 pm every night.
It has a viewing deck that can offer a completely amazing view of Cebu Island, the sea, and of course, the flowers.
So try to go around dusk so you have enough light for great photos, and still, have the lighted roses surrounding you which is also a perfect spot for photographers to capture a marvelous picture of this amazing place. This makes the 10,000 Roses Cafe a must-visit place when you're in Cebu.