The pearl of the Mediterranean, unique in many ways and situated in the south of the Adriatic sea, Montenegro is a Balkan country with rugged mountains, medieval villages, and a narrow strip of beaches along its Adriatic coastline with a rich culture where every town has its own story.
So it can be quite challenging to decide where to go and what to see as nowhere else you can find so much natural beauty, mild beaches, clear lakes, fast rivers, and gorgeous mountains in such a compact area as in Montenegro.
So let's check out some of the best places to visit in Montenegro where you can take long morning walks along the beautiful Adriatic coast, have lunch on the banks of Skadar Lake or enjoy an evening hike in the mountains. Montenegro will not leave you indifferent.
Here are the Top 8 Best Places To Visit In Montenegro.
1. Kotor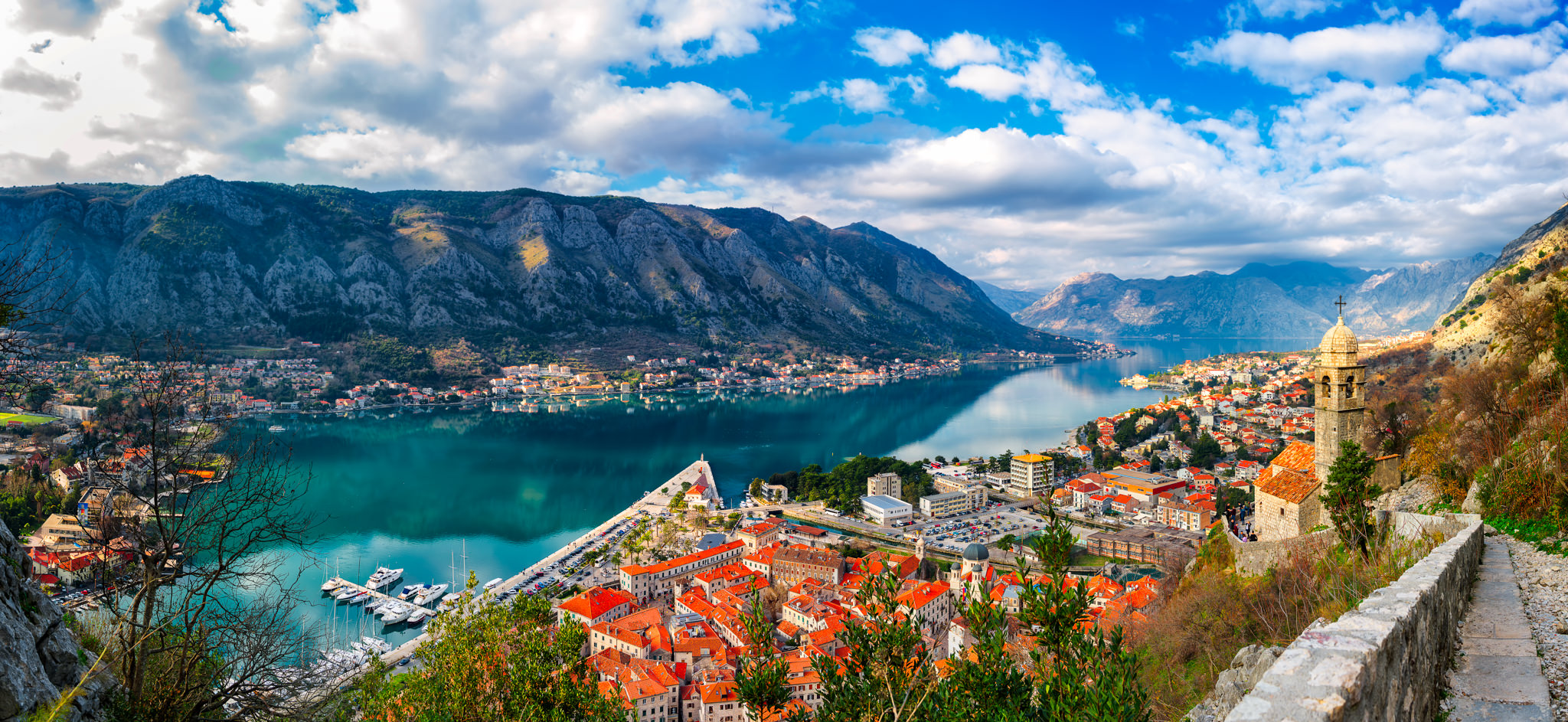 Located along one of the world's most beautiful bays is Kotor, a city of traders and famous sailors, with many stories to tell. Characterized by winding streets and squares, its medieval old town has several Romanesque churches, including Kotor Cathedral, Kotor is a fortified town on Montenegro's Adriatic coast, in a bay near the limestone cliffs of Mt. Lovcen.
Kotor, also home to the Maritime Museum, which explores local seafaring history. Sveti Dorde, one of 2 tiny islands off the ancient town of Perast, features a centuries-old church.
The Old City of Kotor is well-preserved urbanization typical of the Middle Ages, built between the 12th and 14th centuries.
A person's first look at Kotor, whether from the sea or from the road, always leaves a strong impression.  Kotor is unique for several reasons.
So visiting Kotor is about more than beautiful views—it's also about experiencing the cultural heritage of Boka Kotorska Bay.
2. Lovcen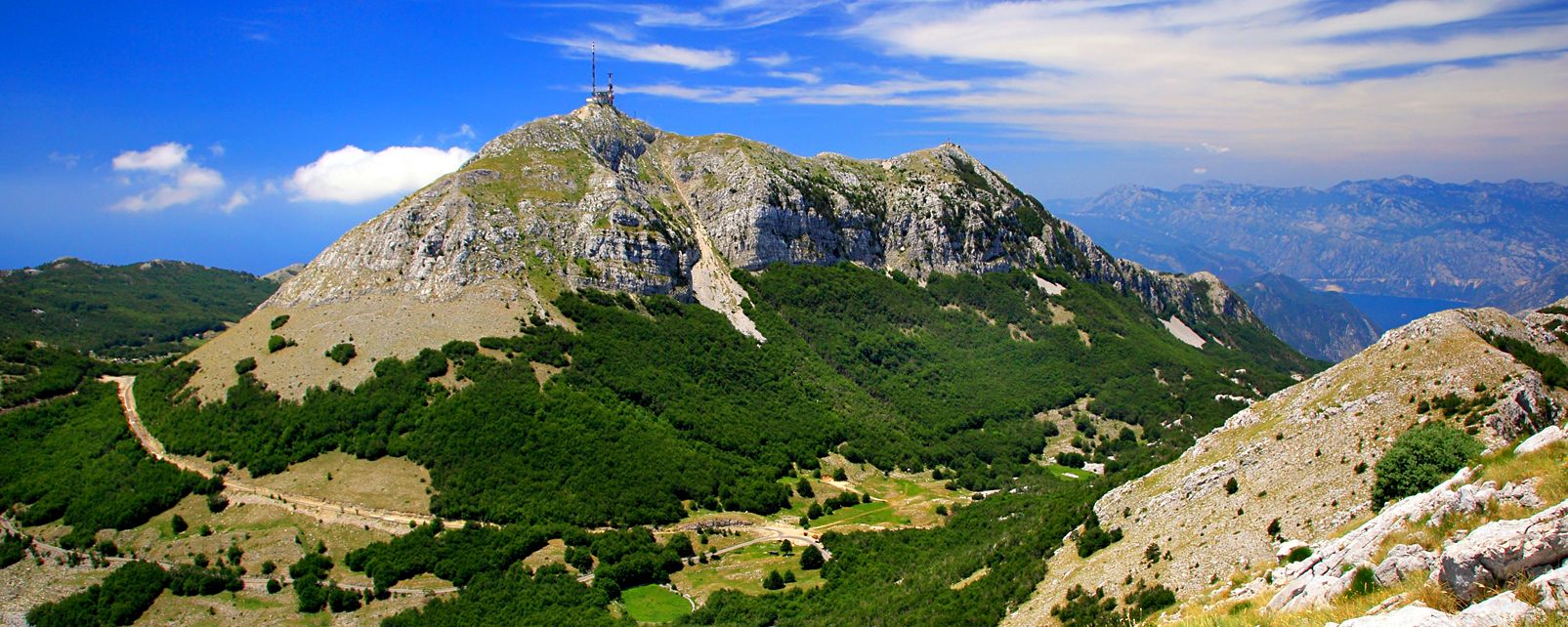 Lovcen is a mountain and national park in southwestern Montenegro. Lovcen mountain range is natural, a historical, cultural, and spiritual symbol for all Montenegrins.
It is the inspiration behind the name of Montenegro; Crna Gora was first mentioned in a charter issued by Stefan Milutin in 1276, the name Montenegro deriving from the appearance of Mount Lovcen when covered in dense forests.
From Lovcen you can enjoy the magnificent view of the Boka Kotorska bay, one of the most beautiful sceneries in the whole of Montenegro which makes Lovcen must visit place when you are in Montenegro.
3. Durmitor
The Durmitor is a massif located in northwestern Montenegro. It is part of the Dinaric Alps where its highest peak, Bobotov Kuk, reaches a height of 2,523 meters.
The name Durmitor is probably derived from Balkan Romance (some Romanian/Vlach dialect), and it means "sleeping" (cognate with English dormitory).
There are similarly named mountains such as Visitor (visator, "dreaming") and Cipitor ( atipitor, "sleeping") across ex-Yugoslavia.  There are beautiful landscapes and unique nature.
A part of the National park Durmitor is also the Tara river canyon, 80 km long and 1,300 m deep, the second largest in the world, just behind Grand Canyon in Arizona.
The Durmitor massif offers; 18 lakes, 5 canyons, 27 peaks above 2200 meters, 48 peaks above 2000 meters, 748 sources of potable waters, forests over 500 years old, 2000 km of marked footpaths, and climbing paths.
4. Lake Skadar
Lake Skadar, also called Lake Scutari, Lake Shkoder and Lake Shkodra lies on the border of Albania and Montenegro and is the largest lake in Southern Europe which is named after the city of Shkoder in northern Albania.
It is a karst lake. Skadar Lake is the largest lake in the Balkan Peninsula, with freshwater and one of the largest national parks in Montenegro.
It's extremely famous for its diversity of flora and fauna. Lake itself is unusual for the mutual vicinity of different living areas and their chain of feeding. So come and explore the Balkan's Largest Lake.
5. Bay of Kotor
One of Montenegro's famous landmarks is the Bay of Kotor, which is more than 20 km in length. Bay of Kotor (Boka Kotorska) is the largest Adriatic bay between Montenegro and Croatia.
The Bay of Kotor is sometimes called Europe's southernmost fjord.
It certainly looks like one, with towering peaks surrounding a rocky coastline dotted with pretty waterside towns.  Unlike the finger-like inlets adorning the coasts of more famous European destinations like Norway and Iceland, the Bay of Kotor was not carved by glaciers.
This impressive bay was instead created when rising sea levels drowned an ancient river valley — a feature geomorphologists call a ria.
Thanks to this strategic and sheltered location, the Bay of Kotor has been the setting for a long and fascinating human history.
Do not miss to explore the Bay of Kotor when you are in Montenegro.
6. Mojkovac
Having a population of 3,590, on the west bank of the Tara River between mountains, Bjelasica and Sinjajevina are located in a little city of Mojkovac.
Mojkovac is famous for the battle of Mojkovac where the Montenegrin army in 1916 defeated a more powerful Austro-Hungarian army.
The monastery of Saint George in Dobrilovina is the most important cultural and historic monument it dates back to 1592.
It is often called the "the small Switzerland of Montenegro" due to the incredible beauty of the mountain ranges that surround it from all sides.
Here you can see all the true beauties of the Montenegrian North, so don't miss to visit this small Switzerland of Montenegro.
7. Pluzine
Pluzine is a town in northwestern Montenegro which is a small and peaceful town at the banks of Piva Lake surrounded by gorgeous mountains.
Pluzine is located in the northwestern part of the country, close to its border with Bosnia and Herzegovina that is nestled within the great Durmitor massif, which is a part of the Dinaric Alps mountains.
If you like fish and jazz festivals, this is the spot for you.
Pluzine only has some 1500 inhabitants which makes it the smallest town in Montenegro.
Pluzine is a quaint Alpine town that is ideal for anyone looking for a peaceful getaway and a quieter alternative to the nearby ski resort of Zabljak, which has become one of the most popular travel destinations in Montenegro.
8. Perast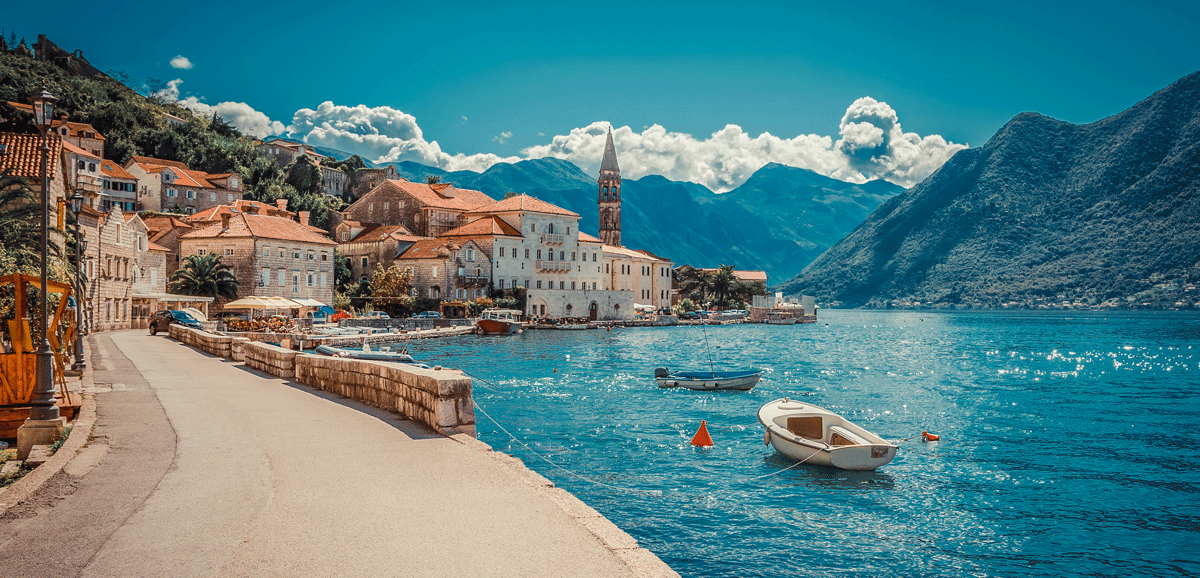 Perast is an old town on the Bay of Kotor in Montenegro. Perast is one of the most beautiful little places in Boka Bay, located just a few km from Kotor which looks like a piece of Venice that has floated down the Adriatic.
This tiny town boasts 16 churches and 17 formerly grand palazzos.
Perast's most famous landmarks are actually right in the middle of the waters- two picturesque islands with quite the story behind them.
Also, the town is famous for its two island churches which lie in front of it. One is a natural island and is home to a monastery that's off-limits to visitors.
The small town is a sun trap and full of former palaces and stone churches. It has UNESCO Heritage protection and has mostly been carefully restored to its former glory.
There are still ruins dotted throughout which lend romantic charm to the town.
Perast is the most picturesque town in Europe.