A  country whose largest city "Yangon" is home to bustling markets, numerous parks, and lakes, and the towering, gilded Shwedagon Pagoda that contains Buddhist relics which dates to the 6th century, Myanmar (formerly Burma) is a Southeast Asian nation of more than 100 ethnic groups, bordering India, Bangladesh, China, Laos, and Thailand.
It is also known as "The Golden Land" to travelers because of its glittering pagodas everywhere.
A country where more than one hundred different ethnic groups still maintaining their traditional culture is the real treasure of Myanmar.
Now let's check out some of the amazing and less known places to visit when you're planning your trip to Myanmar.
Here are the Top 9 Best Places To Visit In Myanmar (Burma).
1. Bagan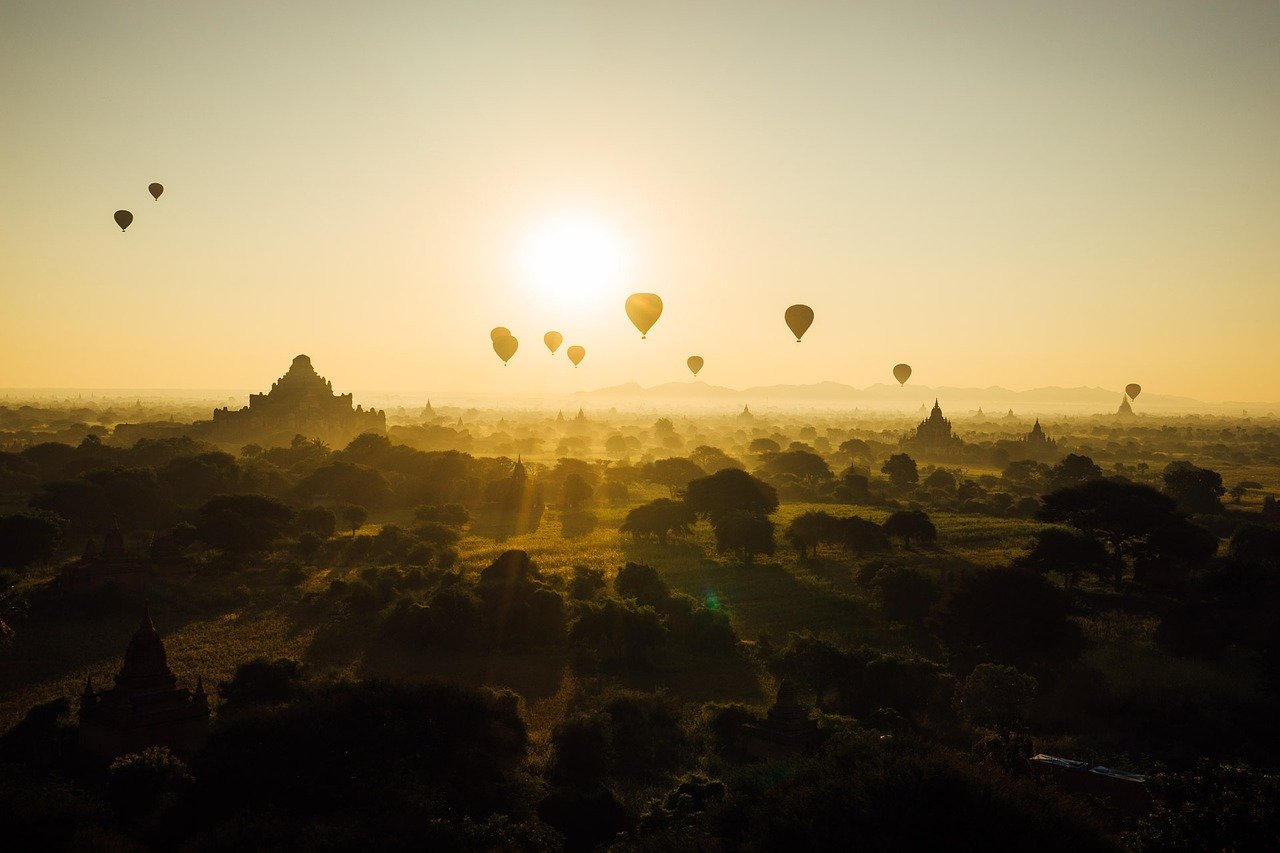 Home to over 13,000 brick temples built between the 9th and 13th centuries, Bagan is an ancient city of temples in Myanmar.
At Bagan, 1000 temples are spread across the plains of Bagan which are the most impressive testament to the religious devotion of Myanmar's people and rulers over the centuries which combine to form one of the richest archaeological sites in Asia and provide views quite unlike anywhere else on earth.
So don't miss to explore this vast and fascinating Bagan when you are in Myanmar where nothing stops the temples of Bagan to be a unique wonder to behold.
2. Mandalay
Being the second-largest city in Myanmar, Mandalay is a city and former royal capital in northern Myanmar formerly known as Burma on the Irrawaddy River.
It is one of Myanmar's ancient cities and home to 4 capitals across the centuries wherein its center is the restored Mandalay Palace from the Konbaung Dynasty, surrounded by a moat which was the last monarchy and independent kingdom of Burma.
The name 'Mandalay' was given based on the 236-m. high Mandalay Hill where Mandalay Hill provides views of the city from its summit that can be reached by a covered stairway and at its foot, the Kuthodaw Pagoda houses hundreds of Buddhist-scripture-inscribed marble slabs which is currently one of the most popular tourist destinations in the city.
It is also home to several Buddhist monasteries and shows an exquisite example of Myanmar masonry which makes it a must-visit for travelers from all over the world.
3. Yangon
Formerly known as Rangoon, Yangon is the largest city in Myanmar whose mix of British colonial architecture, modern high-rises, and gilded Buddhist pagodas define its skyline.
Dubbed as 'The Garden City of the East', Yangon is one of the best places to visit in Asia where nature lovers will fall in love with the city's stunning lakes, shady parks, and verdant tropical trees.
Yangon's famed Shwedagon Paya, a huge, shimmering pagoda complex, draws thousands of pilgrims annually and the city's other notable religious sites include the Botataung and Sule pagodas, both housing Buddhist relics.
Yangon is a melting pot of a diversity of cultures and communities in terms of people, settlement, and religions making it a must-see for anyone who wants to see a different side of Asia.
4. Hpa-An
Hpa-An is a picturesque town and the capital of Karen State where you can explore caves and breathtaking mountains.
This small city which is surrounded by lush green rice fields, limestone mountains, and a huge amount of caves is yet to be discovered by travelers from all over the world.
If you love to hike and want to mingle with locals then I can say Hpa-An is a perfect place for you to know the culture of Myanmar.
Hpa-An has the distinct feel of a country town whose point of attraction is a colorful market, the river port, a Buddhist temple, and their lush green rice fields.
The town is picturesque with its dramatic karst formations jutting out of the jungle landscape and a seemingly endless supply of new routes to go up that's worth a visit.
5. Inle Lake
Being the second largest lake in Myanmar, Inle Lake is a freshwater lake located in the Nyaungshwe Township of Taunggyi District of Shan State, part of Shan Hills in Myanmar.
This lake is famous for its floating villages and gardens and also the unique way of life of the local people whose living communities are entirely based on the water.
This picturesque highland lake is 900 meters above sea level which is 22km long and 10km across and inhabited by many different ethnic nationals of the area.
It is one of Myanmar's most popular destinations for travelers from all over the world.
So don't miss to visit this amazing lake as you'll get to see the leg-rowing Intha fishermen where they drive their flat-bottom boats by standing on the stern with one leg and using the other leg with the oar to row in order to obtain better vision over the reeds.
6. Kalaw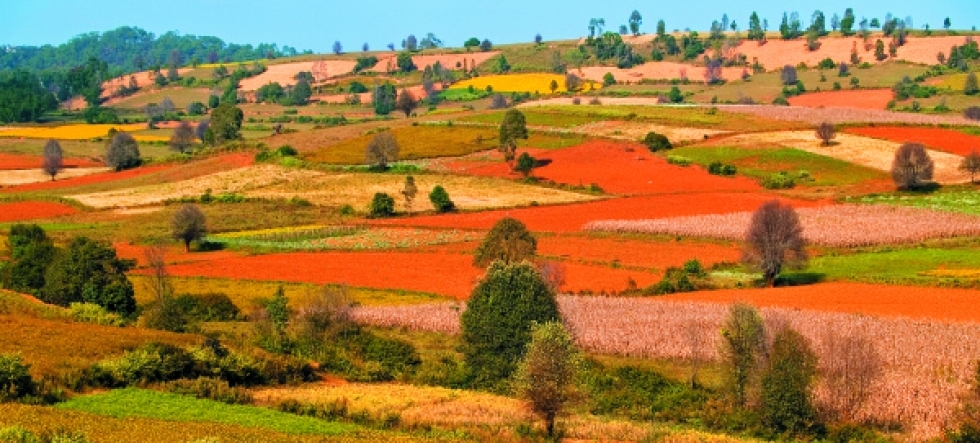 Located in Kalaw Township in Taunggyi District and known as Myanmar's trekking mecca, Kalaw is a hill town in the Shan State of Myanmar that was founded as a hill station by the British during colonial rule to escape from the sweltering heat of the tropics.
Its impressive refreshing climate and scenic views allow you to enjoy hill views and the colorful flower-lined streets by offering a wide variety of options for exploration.
When you're in Myanmar then you should definitely visit Kalaw because its cool mountain air, mixed with the beautiful pine forests and a relatively mellow vibe will make for a great stop on your Myanmar adventure.
7. Taunggyi

Taunggyi is the capital and largest city of Shan State, Myanmar that lies on the Thazi-Kyaingtong road at an elevation of 4,712 feet, just north of Shwenyaung and Inle Lake within the Myelat region.
The name Taunggyi means "Huge Mountain" in the Burmese language and is set on a high plateau bordered by the massive mountains, as a part of the Shan Hills system.
The attractions include here are many traditional pagodas, ancient villages, secretive caves, and many ethnic tribes wherein the first village you might conclude that this destination is so laid-back but when you start exploring then Taunggyi is the great place for you to unwind and find peace.
 You can also witness the Fire Balloon Festival if you visit this place in November.
Taunggyi is a great destination to explore but unfortunately, it is yet to be discovered by travelers from all over the world.
8. Mrauk U
Mrauk U is a little-known archeological site in Western Burma located in the beautiful hilly landscape of the Rakhine state where hundreds of ancient temples and pagodas are well-preserved which are the remnants of the powerful empire that once flourished here.
The offbeat Mrauk U which is far from the usual tourist route in Myanmar is just waiting to be discovered by travelers from all over the world. It was the capital of the Rakhine Kingdom from 1430 to 1785.
If you are a fan of history then you should definitely visit Mrauk U which was one of the most powerful kingdoms in the history of Myanmar that was built on its shipping fleet which traded with nearby territories, while plundering others.
9. Kengtung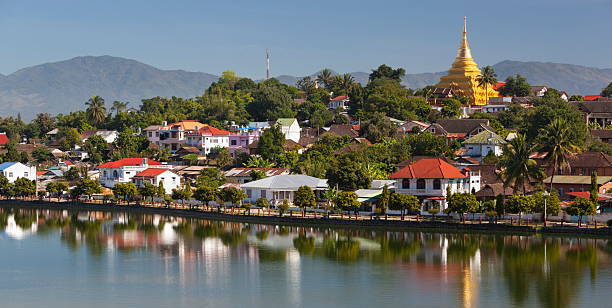 Close to Laos, Thailand, and China, Kengtung is a town in Shan State, Myanmar which is the principal town of Kengtung Township.
It is one of the prettiest spots that is cut off from much of Myanmar, sitting in the centre of the Golden Triangle region in the east of Shan State.
Kengtung is a former British administrative outpost that was once known as the capital of the Golden Triangle but today it is one of the remotest parts of Burma that tourists are permitted to visit.
This highland tribe of Eastern Myanmar is diverse, and truly unique, each possessing its own customs, religion, history, and language that is set against a picturesque mountain backdrop.
So if you get a chance then you should definitely visit this small tribal village of Myanmar which is surrounded by impressive scenery and numerous traditional hill-tribe villages.
If you liked this article, then please subscribe to my YouTube Channel for Travel Adventures. You can also follow my adventures on Twitter and Instagram.