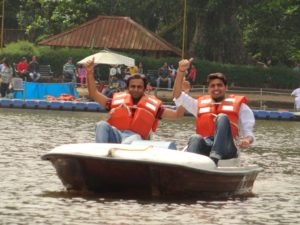 Wayanad, one of the beautiful places I have ever been which is located in Kerala. Nature has blessed this place abundantly. Lush greenery with huge open space enchants you while water adds to the luxury of nature. The drive to Wayanad itself is awesome. There are many natural beauties which are a must-visit. The Kuruva Island with almost 1000 acres of evergreen forest lies on one of the tributaries of the Kabini. The island is home to various species of rare birds, orchids, and herbs.
Soochipara, is a very popular leisure destination. People love to romp in the pool formed at the foot of the fall, the more restrained can have equally good fun just taking in the scenery.
An interesting trek up the Ambukuthi Hill takes you to the fascinating neolithic cave site of Edakkal. Etchings found on the walls of these caves have drawn the serious attention of archaeologists and historians worldwide. With at least three distinct sets of petroglyphs, the earliest thought to date back over 5000 years, it is assumed that the Edakkal caves had been inhabited at various stages in history.
Climbing Chembra Peak is a challenging mountaineering endeavor. The surrounding areas offer exceptional photo opportunities. Camping at the peak is an unforgettable experience.
Considered to be the largest earth dam in India, the Banasura project precincts are an ideal starting point for treks to the Banasura Peak.
There are many places we can visit there. I recommend all of my friends to visit Wayanad at least once to see the beauty of nature.
– Sumit Kumar Mishra