We all love FLOWERS because they make us smile and tend to cheer up even the most somber of occasions.
So, if you're the type of person that truly loves to smell the flowers you will fall in love with any of these jaw-dropping flower fields and you'll find yourself lost among blooms in every color, shape, size, and texture where these amazing fields of blooming flowers around the world are a sight to behold.
Let's find out some of the most incredible flower fields around the world that you have to visit!
Here are the 11 Spectacular Flowers Fields In The World.
1. Flower fields,  Netherlands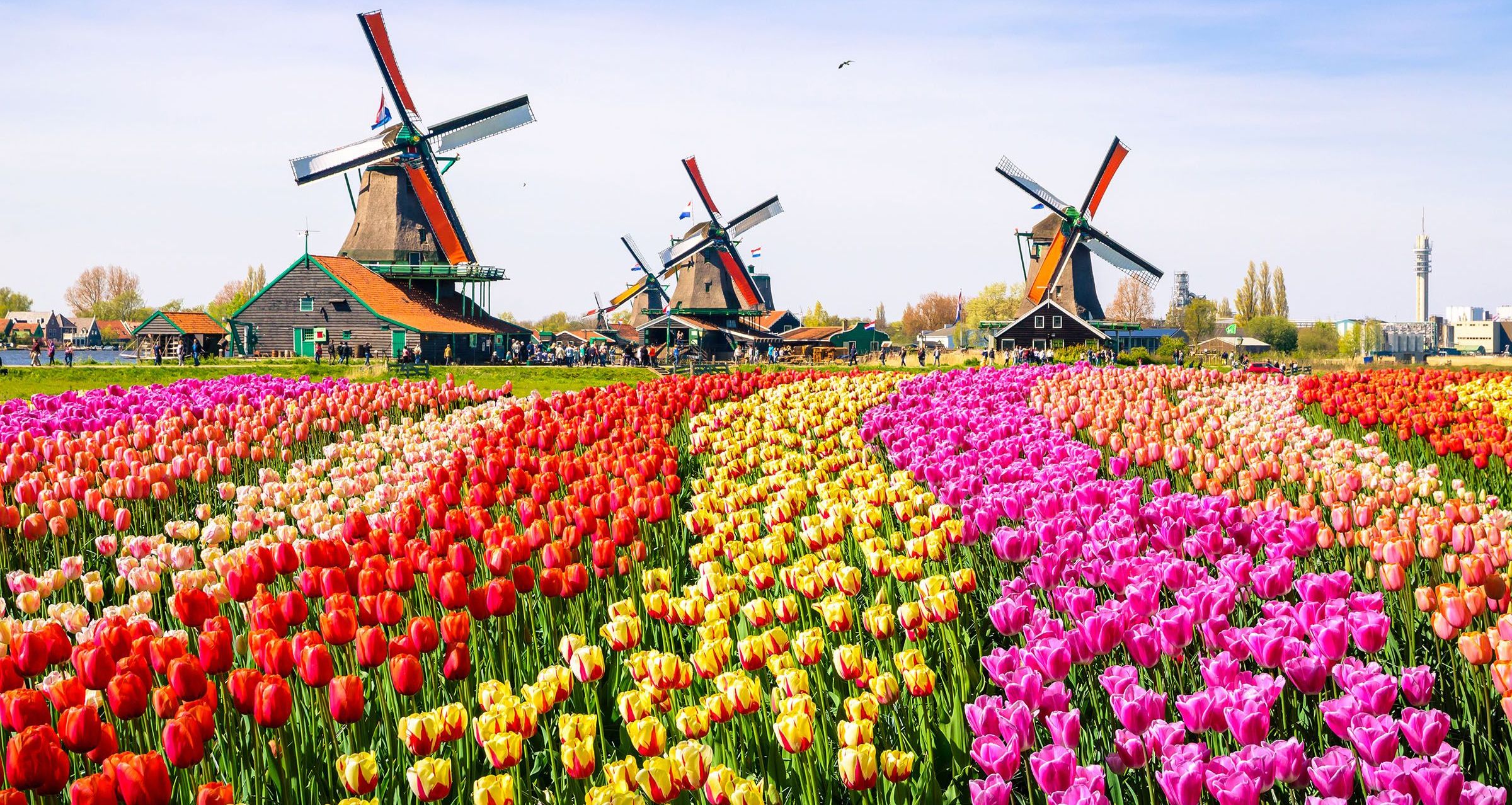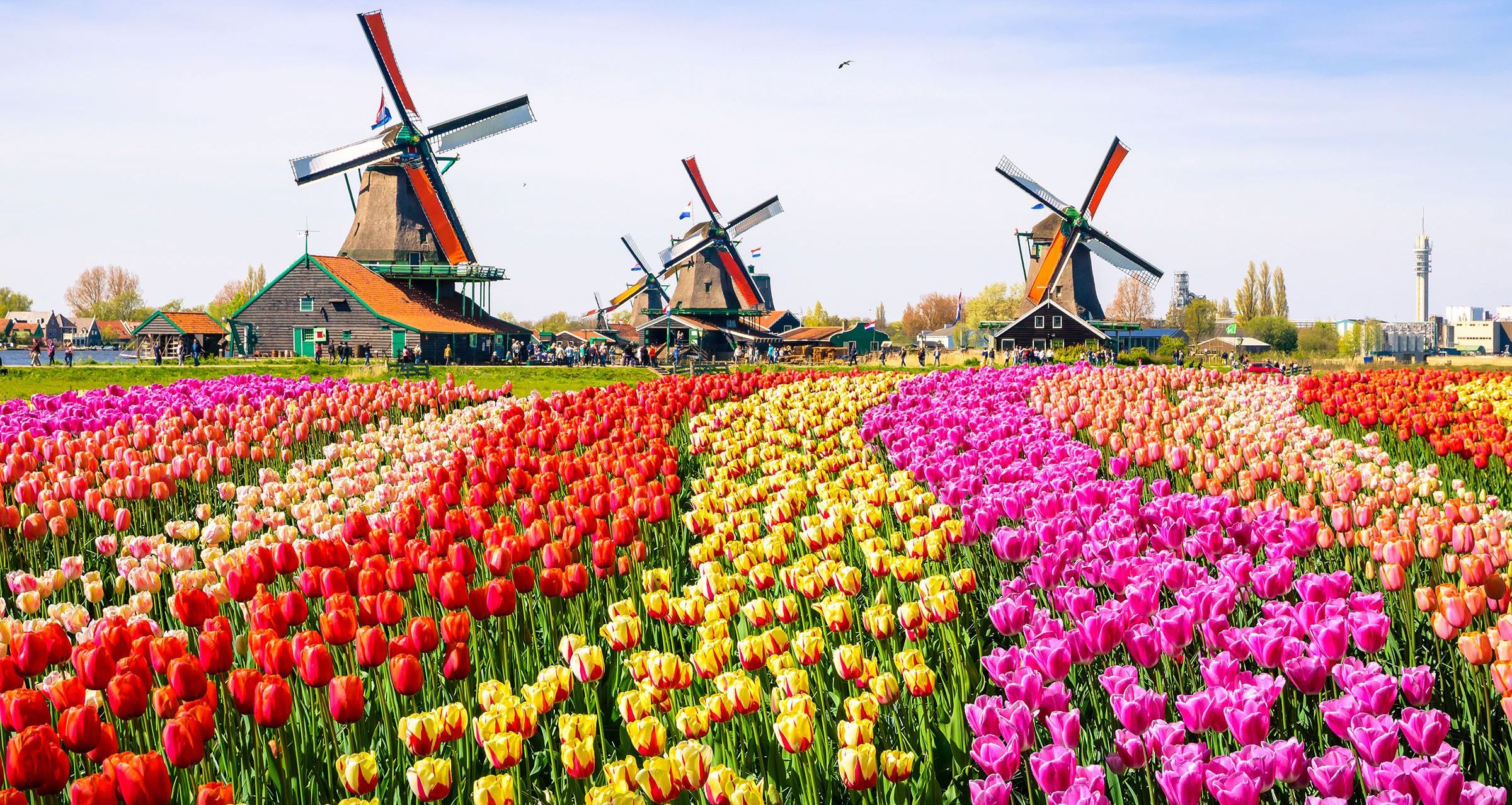 When you think of the Netherlands, it is easy to picture never-ending fields of brightly colored flowers.
The striking colors of the flowering tulip bulbs are a typical sight in the Netherlands during the spring.
The most famous flower field area in the Netherlands is located around Keukenhof, and in the general area of Lisse, there are countless flower fields full of tulips, daffodils, and hyacinths.
The bright red, pink, and yellow colors are overwhelmingly beautiful and are a must-see, or should we say, a must experience!
The best time to see the flower fields of the Netherlands is early April where these fields are just as spectacular when they are seen in real life.
2. Canola Flower Fields, China
In early spring, you can witness an amazing "Golden Sea" of Canola Flower Fields.
The canola flower fields in China are one of the world's beautiful sights in small Luoping (Yunnan, China).
Vast farmlands get covered in golden, yellow rapeseed flowers stretching as far as the eyes can see, all the way to the horizon.
Luoping County is quiet for most of the year until the canola flowers bloom, and then the area of Yunnan, China, is reborn into a vibrant natural spectacle of yellow flowers as far as the eye can see.
3. Sunflower fields, Italy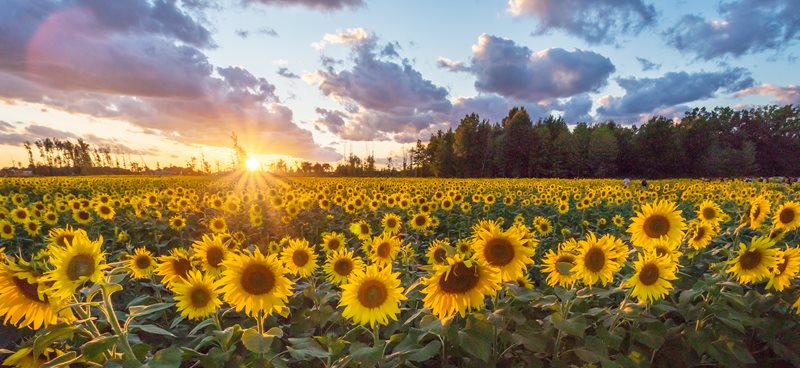 Since the 18th-century sunflowers have bloomed in Italy. So coming to Italy and want to know where and when to find those iconic fields of sunflowers?  Of course, you do!
Today, visitors from all over the world travel to Italy for scenic drives and bike rides through the Tuscan countryside to view the endless sunflower fields where you will find an abundance of sunflower fields around Casali di Bibbiano Villa & Winery.
Sunflower fields are in bloom between about mid-June and early August, in the regions of Tuscany, Umbria, and Le Marche making it the best time to visit.
Though the dazzling yellow image of a sunflower is timeless, their locations are not
4. Lavender fields, France
For tourists as well as locals, lavender is more than just a plant. The words Provence & lavender have become so synonymous with each other over the decades that you can hardly mention one without the other:
The dusky purple shades and delicate fragrances that decorate its fields every summer are now so emblematic of the region, and even of France itself, that the Provence lavender fields have very much become a tourist attraction in their own right.
The flowering season spans from mid-June to mid-August, and may depend on climate factors: it comes sooner in warmer, sunnier regions, and can come later nearer to Alpine valleys which is an extraordinary sight: fields of a light purple stretch beyond the horizon, like endless, motionless waves.
5. Hitachi Seaside Park, Japan
Hitachi Seaside Park is a public park in Hitachinaka, Ibaraki, Japan that incorporates a unique natural environment of sand dunes, forests, grasslands, and springs.
With a total space of 350 hectares, of which 200 hectares are open to the public, this spacious park features a variety of green spaces and seasonal flowers spread out across 350 hectares, as well as an amusement park and several cycling and walking trails.
This tremendous park is filled with 32,000 Kochia balls making spectacular scenery at the Miharashi Hill in Hitachi Seaside Park in Ibaraki Prefecture! Don't miss the "Kochia Carnival" this autumn. 
6. Neelakurinji, India
The flowering of the "Neelakurinji", which happens once every 12 years in the Western Ghats, is one of India's great natural spectacles.
It is named after the famous Kunthi River which flows through Kerala's Silent Valley National Park, where the plant occurs abundantly.
One of the rarest flowers in the world, the Neelakurinji blooms just once every 12 years in India's south-western state of Kerala, when it covers the hills in a violet hue and it sure is a sight to behold! You surely wouldn't want to miss such a beauty!
7. Agassiz Tulip Festival, British Columbia, Canada
Each year in April, fields are decked out in tulips where tourists come from afar to get a glimpse of the colorful display of these flowers.
One such event which is worthwhile visiting is the Tulip Festival out at Seabird Island, close to Harrison Hot Springs/Agassiz, BC. when some 40 acres of land explodes with vibrant colors and with millions of bright and beautiful petals blanketing the valley below majestic Mount Cheam.
8. Shibazakura Flowers, Takinoue Park, Japan
Shibazakura Flowers is one of Japan's Largest Moss Pink Field Is in Full Bloom during Fairy Tale village Takinoue Moss Pink Festival that is located in the northeastern part of Asahikawa city.
It is well-known as one of the largest places famous for moss pink together with Higashimokoto Shibazakura Park in Japan.
Also, the Fairy Tale village Takinoue Moss Pink Festival is famous as one of 3 major Okhotsk Spring Festivals together with Kamiyubetsu Tulip Festival and Higashimokoto Moss Pink Festival.
The spring mountain views and fresh mountain air make for a splendidly relaxed scenic drive where you'll find plenty of places along the way to stop, stretch the legs, and take a photo or two of the stunning white peaks of the Taisetsuzan Mountain Range.
The Shibazakura grows only in April and early May. The best time to visit is mid to late April. 
9. Keukenhof Gardens, Netherlands
Keukenhof is a park where more than 7 million flower bulbs are planted every year which lies in Lisse, between Amsterdam and The Hague, in the heart of the Bollenstreek (Bulb Region).
Gardens and four pavilions show a fantastic collection of tulips, hyacinths, daffodils, orchids, roses, carnations, irises, lilies, and many other flowers.
You will be overwhelmed by a spectacle of colors and perfumes. If you want to see the Dutch tulip fields in bloom, you should visit the Netherlands in April and May. This is the same period in which the biggest flower park in the world, Keukenhof, opens its doors.
Keukenhof is also known as the "Garden of Europe" and is one of the largest flower gardens in the world.
10. Sakura Tulip Festival, Japan
Are you visiting Japan for cherry blossoms in spring? Besides cherry blossoms, there are many more beautiful flowers that flourish during spring in Japan.
Sakura Tulip Festival is the biggest Tulip festival around Tokyo, featuring over 600,000 colorful Tulip flowers which are one of the must-see flowers during spring in Japan is colorful, charming, and adorable Tulip.
The Sakura Tulip Festival in Chiba is held yearly during April when the tulips are in full bloom.
Enjoy the incredible beauty of Japan's famous flower festival!
11. Dubai Flower Garden, UAE
Located in Al Barsha South, The Dubai Miracle Garden is the largest flower garden in the world. The Dubai Miracle Garden itself is a miracle, as it is located within the hot deserts of Dubai, UAE. where the 72,000sqm garden showcases identifiable structures completely covered with flowers.
Every year from mid-November to mid-May, a 72,000 sqm space full of scents and colors comes to life.
A world of floral wonder awaits at Dubai Miracle Garden where you can immerse yourself among more than 50 million blooming flowers throughout the different exhibits.
If you liked this article, then please subscribe to my YouTube Channel for Travel Adventures. You can also follow my adventures on Twitter and Instagram.