Defined by religious sites including the Greco-Roman Temple of Garni and 4th-century Etchmiadzin Cathedral, headquarters of the Armenian Church, Armenia is a nation, and former Soviet republic, in the mountainous Caucasus region between Asia and Europe.
There would hardly be anyone who would not agree with the statement that Armenia is more attractive and beautiful with its undiscovered miracles where every corner of Armenia has its own history – a legend,  a myth connected with it.
So, let's find out some of the awesome places to visit in Armenia.
Here are the 5 Awesome Places To Visit In Armenia.
1. Lake Sevan
Set on a narrow peninsula, the Sevanavank Monastery has 2 stone churches dating to the 9th century and known for its beaches, Lake Sevan is a large, high-altitude lake in eastern Armenia.
It was Sevan is considered to be one of the three ancient and biggest lakes (Vana and Urmia) of the Armenian Kingdom. It was called the "blue eyes" of Armenia that is surrounded by Geghama, Vardenis, Pambak, Sevan, and Areguni mountain chains.
It is also one of the largest high-mountainous freshwater lakes in the world and the main attraction not only Gekarkunik but whole Armenia.
Sevan Lake is very picturesque with its thick woods, white bare steep rocks, mountain steppes and Alpine Meadows, a wide bright strip of sea-buckthorn and pine trees, and pebble beaches.
You shouldn't miss visiting this lake while you're in Armenia as this beautiful landscape is added with whipped clouds where they literally touch the snow-capped mountain-tops.
2. Dilijan
Known for spa resorts and traditional craft workshops, Dilijan is a town in northern Armenia which is surrounded by the forests of Dilijan National Park.
This resort town, surrounded by forests and mountains which is an excellent place to spend leisure time.
Fresh air and places to taste healthy food are among the advantages of the spa town where you can discover from cultural attractions to historical spots, natural monuments to religious sites.
"Armenian Switzerland" is the word, the people of Dilijan call their city when introducing it to tourists that have a lovely mountain climate and several mountain springs.
The forested and reclusive town is home to numerous Armenian artists, composers, and filmmakers and features some traditional Armenian architecture and is presently a great destination for hikers, mountaineers and nature lovers from all over the world.
3. Akhtala
Akhtala, also known as Pghindzavank is a 10th-century fortified monastery located in the town of Akhtala in the marz of Lori, 185 kilometers north of Yerevan which is one of the unique monuments of Christian history in the Caucasus.
Akhtala Monastery is one of Armenia's less-frequently visited tourist attractions, despite its rich history, unique architecture, and fascinating collection of frescoes due to its location that is situated on a small plateau above a small river, Shamlukh.
Akhtala is not very popular among tourists because it is far from Yerevan but it's worth a visit for the architecture of the church and fortress and, especially, the frescoes.
4. Khndzoresk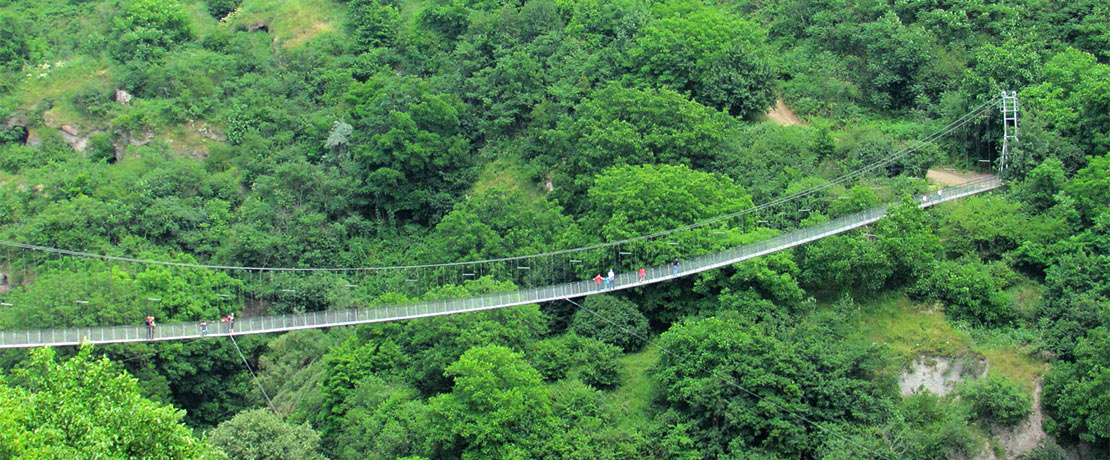 Khndzoresk is a village and rural community in the South-East of Armenia, in the province of Syunik which is famous for its antique cave dwellings that have been used up to 1950s.
From ancient times people lived in these rocky hills, constructing artificial shelters and places for food storage.
Khndzoresk is a great place for hiking and spelunking which has a very large number of caves, although most of them are man-made and rather small which also has ruins of an old village, churches, tombs, great rock formations, springs and a new bridge that spans the gorge.
Khndzoresk has always been a tiny village with its unique image and perceptions that make it must visit.
5. Kapan
Located in the valley of the Voghji River, on the northern slopes of Mount Khustup, Kapan is a town at the southeast of Armenia, serving as the administrative centre of the urban community of Kapan as well as the provincial capital of Syunik Province.
Kapan's name means canyon or mountain pass.
Hike across the beautiful Armenian mountains from village to village and don't forget to enjoy authentic and delicious Armenian food during every meal.
Kapan's marvelous nature, the rocky mountain's fresh and healthy air, historical monuments, castles, and other places interest, that's all you need in Armenia.