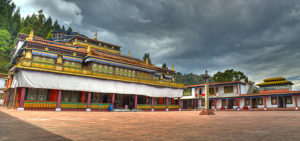 Broadly speaking, I would divide rural Sikkim into two zones – the areas which most tourists find time to visit – and the areas which even the most adventurous tourists find difficult to visit!
Around Gangtok, there are many beautiful spots that are now conveniently accessible to casual tourists. Though these spots see a regular influx of visitors (especially during the summer and the Durga Puja seasons), they still retain their pristine beauty.
Tchango Lake is the prime attraction for first-time tourist to Sikkim. It is situated 34 kilometers to the north-east of Gangtok, at a height of 3750 meters above sea level.
This oval-shaped lake is considered sacred by the local people. It remains frozen right till April – the start of the summer tourist season in Sikkim. And so, visitors are delighted to encounter ice and snow on their vacation – while the plains below are simmering in the summer heat.
About 24 km from Gangtok, in the opposite direction, is the Rumtek Monastery. It is the repository of many sacred Buddhist scriptures and treasures, making it the richest monastery in the state. Its treasures include a magical black hat which is said to give its wearer the power to fly (naturally, it is kept hidden from all visitors) and the ornate, jewel-encrusted tomb of the 16th Karmapa (which is on display to all visitors).
Slightly more adventurous tourists may venture out to the isolated town of Pelling in West Sikkim. The highlight of this town is a visit to the Pemayangtse (Perfect Sublime Lotus) Monastery – and the solitude of the surrounding mountains.
    – Anonymous