Chandigarh is surrounded by numerous beautiful places that serve as ideal destinations for excursions.
It often referred to as the City Beautiful, the places to visit in Chandigarh will fill you up with charming experiences which have the capability of showing themselves around to all the global travelers as the greater India wishes to be seen, symbolizing- Prosperity, Comfort, and Culture.
Here are the Top 5 Most Popular Places To Visit In Chandigarh.
1. Rose Garden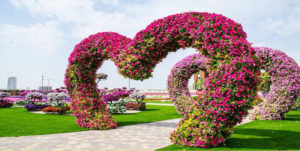 Located in sector 16 of Chandigarh, Rose Garden is a blooming garden that showcases nature at its best which is spread over 30 acres of land, with 50,000 rose bushes of 1600 different species.
It is the largest garden of its kind in Asia and was built in the year 1967 under the guidance of the First Chief Commissioner, MS Randhawa.
Named after India's former president Zakir Hussain, the Rose Garden is also known as Zakir Hussain Rose Garden.
The garden is open from around 5:00 am to 9:00 pm during summers and the greatest incentive is that there is no entry fee for the park.
Apart from the varieties of roses, and unique attractions of the place, Rose Garden is also famous for hosting a huge annual festival, known as the Rose Festival. This festival is held every year at the end of February or the beginning of March and is celebrated with huge pomp and show.
So, if you happen to visit Chandigarh in February or March, do visit the Zakir Hussain Rose Garden to witness the celebrations of this festival.
2. Rock Garden

Located in sector 1 of the beautiful city Chandigarh, The Rock Garden of Chandigarh is a sculpture garden in Chandigarh, India.
It is also known as Nek Chand's Rock Garden after its founder Nek Chand, a government official who started the garden secretly in his spare time in 1957.
It nestles amidst 20 acres of woods in the form of an open-air exhibition hall, theater trove and a miniature maze all rolled into one vast fantasy land of art and landscape.
Having a total of about 5,000 statues within its bounds, the Rock Garden is one of the prime attractions of Chandigarh and is a must-visit.
3. Terraced Garden
Located in Sector 33 of the main city, The Terraced Gardens of Chandigarh is a famous and much-loved tourist attraction.
It is the right place for lovers, travelers, tourists, and for all. There are lots of flowers variety available here like the rose, jasmine, lily and many more.
The main attraction factor of the terraced flower garden is its lighted musical fountain, where popular folk, as well as film songs, are played.
You can see hundreds of different varieties of flowers in the garden. In the evenings, people enjoy the cool breeze that flows in the garden.
The attraction boasts of being home to a myriad of colorful and vibrant flowers, the beauty and cheerfulness of which attracts tourists from not only Chandigarh and neighboring areas.
The exuberance of the flowers is indeed contagious, and people who visit the Terraced Gardens never leave without a huge smile on their faces where this is perhaps yet another reason why the attraction continues to be so popular amongst the masses, and why it definitely should not be missed while on a tour of Chandigarh.
4. Pinjore Garden
Pinjore Garden is a beautiful Mughal Garden made in 17th Century India located in the city of Pinjore, in the district of Panchkula, Haryana. 
 The fascinating Mughal Garden (now popularly called Pinjore Garden) covers a total area of 100 acres.
A mini zoo, plant nursery, a Japanese garden, historic palaces, and picnic lawns await tourists. Especially at weekends, fountains are switched on and after dusk, lights pick up the beauty of the palaces by night.
During Baisakhi, between April and June, the Garden serves as the venue of the annual Mango Festival.
Tourists from all over the world visit the Pinjore garden to experience this Mughal creation that India has very proudly and carefully maintained.
5. Fun City
Located on an expanse of 43 acres, this water amusement park in Ramgarh is the biggest in North India.
It boasts of one activity pool, three landing pools, and a wave pool, a cluster of water slides of various shapes and sizes, which makes for a delightful ride for water lovers.
Other popular draws are the lazy river ride, splash pool, aqua dance, slides like a white multi-lane, typhoon tunnel, white slide, red dragon slide, run away raft slide, and pendulum slide.