Bosnia and Herzegovina is a country on the Balkan Peninsula in southeastern Europe that truly merit its title as "Heart of the Balkans".
Its countryside is home to medieval villages, rivers, and lakes, plus the craggy Dinaric Alps. It is still flying under the radar for most travelers that have stunning mountain scenery and a culture unique to the region.
Hidden in the shadow of more popular neighbors like Croatia and Montenegro, Bosnia and Herzegovina is one of the most underrated countries in Europe which has a lot to offer and is worth your time and effort to get there.
Now, it's time to find out some of the amazing places to explore while you're planning your trip to Bosnia and Herzegovina.😄
Here are the 5 Beautiful Places To Visit In Bosnia and Herzegovina.
1. Mostar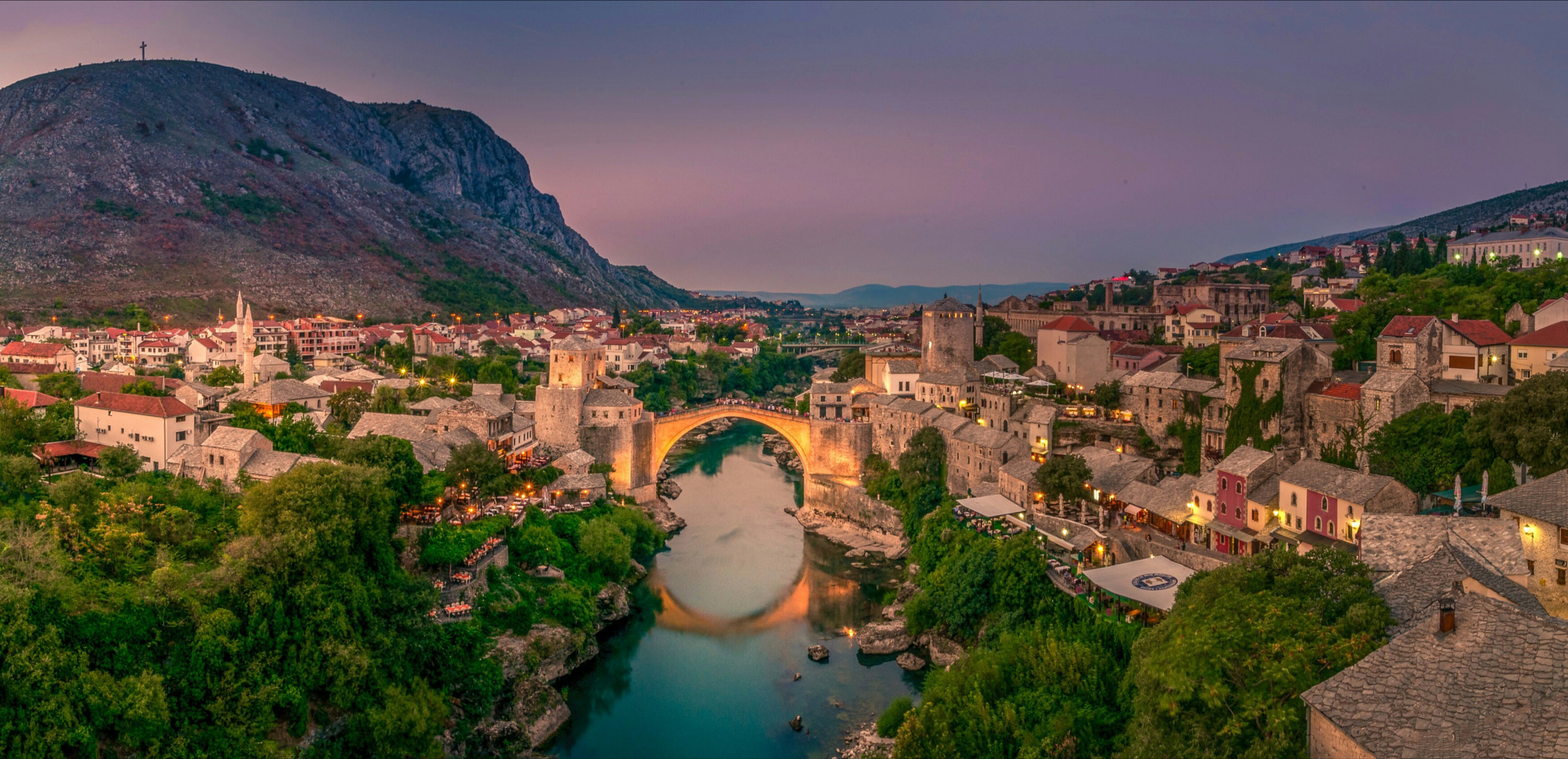 Known for the iconic Stari Most (Old Bridge), a reconstructed medieval arched bridge, Mostar is a city in southern Bosnia and Herzegovina, straddling the Neretva River whose nearby alleys are full of shops and market stalls, and the Old Bridge Museum explores the bridge's long history.
Mostar that is named after the bridge keepers who guarded the Stari Most in medieval times is one of Bosnia and Herzegovina's most popular cities. 
Home to the iconic Stari Most Bridge, the Old Town of Mostar is a highlight of any visit and the city still houses many fascinating glimpses into its destructive past that you shouldn't miss exploring. 
2. Sutjeska National Park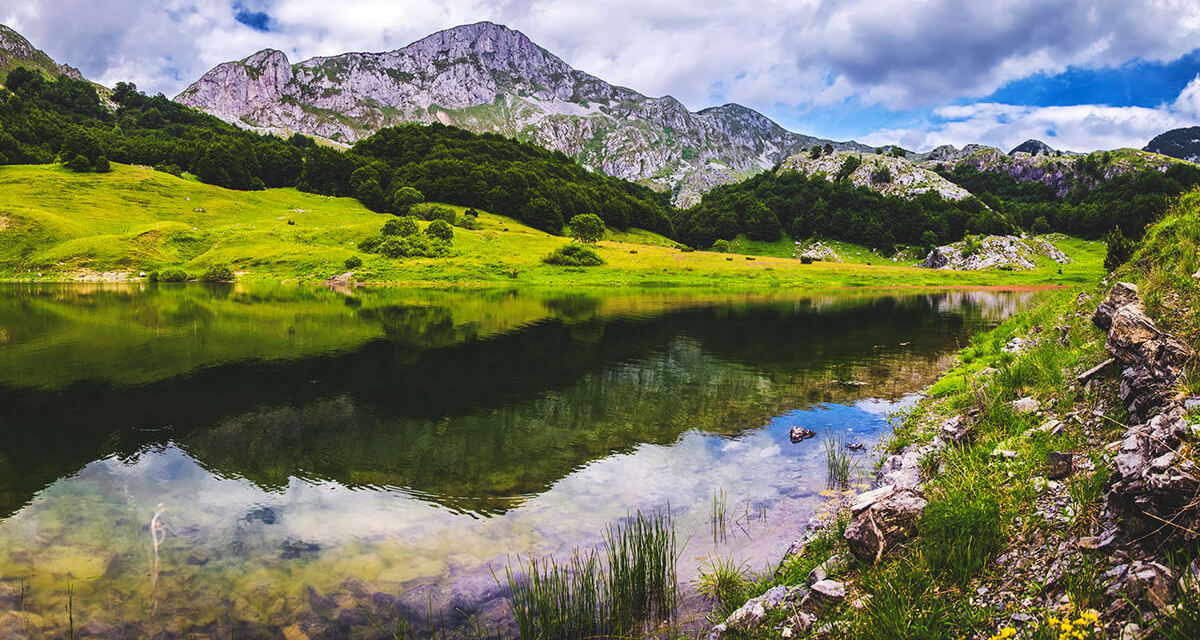 The Sutjeska National Park is a national park located in Bosnia and Herzegovina established in 1962 which is Bosnia and Herzegovina's oldest national park that includes the highest peak of Maglic at over 2,386 mt, on the border with Montenegro, and also it is the home to the last virgin forest in Europe.
Do you want to stop, pitch a tent and thus be closer to nature, or to be part of it? If yes, then this park is the perfect spot for you.
If you want then you can combine hiking and rafting, biking and rafting or you can travel towards the sea, and also can visit the Tara canyon, much more you can enjoy here.
3. Trebinje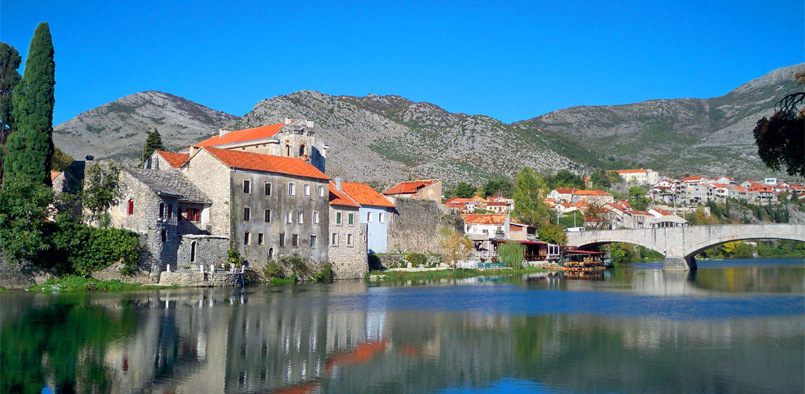 Trebinje, the southernmost town in Bosnia and Herzegovina is only 28km from Dubrovnik but tourist-wise it is a world apart from its more famous neighbor and it an excellent place to break the journey if traveling between Dubrovnik and Mostar.
Trebinje ranks with Mostar and Stolac in terms of beauty but fortunately escaped the fates of these two towns and was not heavily damaged during the war, leaving its old town intact.
So, you shouldn't miss visiting Trebinje as it is a peaceful and charming town in the heart of Bosnia and Herzegovina's wine country.
4. Jajce
Famous for its enormous waterfall in the middle of town, the meeting of two rivers – the Pliva and the Vrbas – established the region in the 14th century as the capital of the then Kingdom of Bosnia, Jajce in the central region of Bosnia and Herzegovina is a historic city all about falling water.
At Jajce, you can find a town castle, old fortified city walls, high mountains, and deep river valleys, and just downstream in the area of the Pliva Lakes, is a collection of about 20 little huts that once served as watermills for local farmers.
Jajce is a pearl for nature lovers, explorers, and adventurers that is surrounded by green and blue, and there are several natural sites that are simply breathtaking.
5. Sebilj in Sarajevo
The Sebilj is an Ottoman-style wooden fountain in the centre of Bascarsija square in Sarajevo built by Mehmed Pasha Kukavica in 1753.
The origin of this kiosk-shaped fountain can be traced back to the Arabian Peninsula and the custom of building Sebiljs was brought to Bosnia and Herzegovina by the Ottomans. Sebilj Fountain is a symbol of Sarajevo.
A legend says: "Whoever drinks water from any of Sarajevo's fountains and spouts will come to Sarajevo". You should really experience this amazing wooden fountain if you get a chance because a visit to Sebilj is worth it and it won't disappoint you.
If you liked this article, then please subscribe to my YouTube Channel for Travel Adventures. You can also follow my adventures on Twitter and Instagram.