Are you in Palermo and totally confused about what to eat there? Don't worry!
Palermo street food is everywhere which is reputedly one of the best in the world where you'll find stalls freshly cooking up a treat on almost every street corner.
Now, let's discover the "must-eat street food" of Palermo because a trip in Sicily cannot be done without eating its mouth-watering street foods.
Here are the 5 Must-Eat Street Foods While Travelling To Palermo, Italy.
1. Sfincione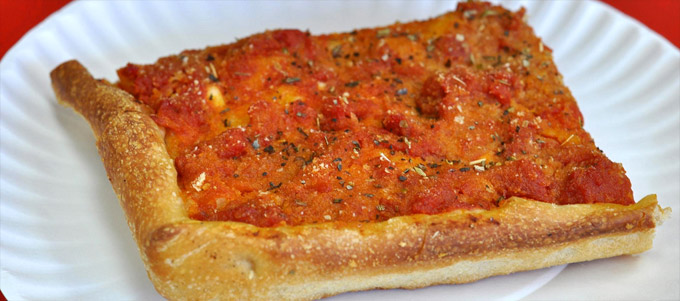 Sfincione pizza is pizza prepared in a manner that originated in Sicily, Italy which is a thick Sicilian pizza, originally created by the mix of pizza and bread dough.
It is topped with tomatoes, onions, sometimes a few anchovies, and grated caciocavallo cheese, seasoned with a dash of oregano and the crust is light, fluffy, and slightly spongy, rather than dense and chewy, with a crisp bottom layer.
In the area around Palermo, it's often sold in bakeries, rather than pizzerias, or from streetside stands or food trucks.
So don't miss to taste this mouth-watering Sicilian pizza when you're in Palermo, Italy.
Check out Top 7 Tibetan Foods You Must Try While Visiting Tibet.
2. Frittola
Frittola is traditional Sicilian street food from Palermo. which is similar to the frittuli from Calabria, but seems to use calf parts instead of a pig that is one of the symbolic dishes of Sicilian cuisine.
The raw ingredients used to cook the frittola are the result of the butchery of the calf: pieces of meat and small cartilages considered waste products of the cut of meat.
An interesting thing to know about frittola is, it must stay hidden from the view of the buyers, even while serving it: the vendor puts his hand inside the basket without removing the cloth and fills up a soft bun or a cone of wax paper.
Then finally you can see the frittola, one of the most bizarre street foods you'll get to taste in Sicily, and yet not the strangest one.
3. Arancini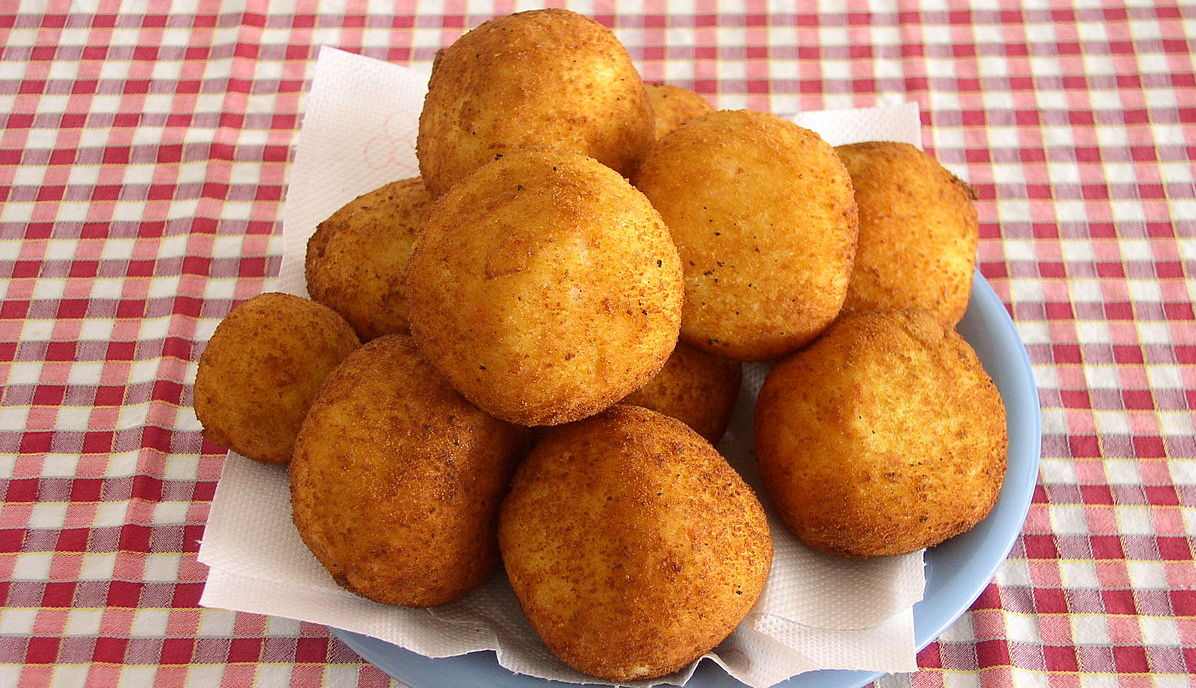 Arancini is a creamy risotto rolled into a ball, stuffed with some sort of cheesy or meaty mixture, breaded and deep-fried which is the most classic street food in Palermo.
It has a conical or round shape and is the traditional filling is with ragu (meat sauce) and peas. It's soft and crispy at the same time that tastes amazing.
Wherever you go in Sicily you are likely to come across arancini, a delicious snack named after the oranges it resembles, but there the likeness ends.
Arancini is a must-eat when you're in Palermo.
Check out 10 Japanese Street Foods You Need To Try – Let's experience Japan.
4. Panella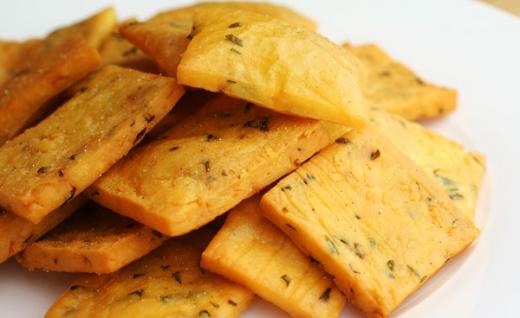 Panelle is a Sicilian fritter that is made from chickpea flour and other ingredients.
They are popular street food in Palermo and are often eaten between slices of bread or on a roll, like a sandwich.
Panelle is believed to be of Arab origin. It is also called Panella or Paneddi in Sicilian.
It is sold at street stands and street markets in Palermo, fried Panella is eaten as is or multiple slices are piled in a sesame roll and enjoyed as a sandwich.
Panella is crisp on the outside and tender on the inside.
So, don't forget to eat these Sicilian fritters when you're in Palermo.
5. Pane con Milza
Pane con Milza is a sandwich made of fried beef spleen served with a slice of fresh Sicilian lemon and perhaps some grated local caciocavallo cheese.
It is a dish exclusively typical of Palermo that consists of a soft bread flavored with sesame, stuffed with chopped veal lung and spleen that has been boiled and then fried in lard.
It is one of the most popular Sicilian street food which you can have it for lunch or for dinner and it is often served in receptions buffets. 
If you liked this article, then please subscribe to my YouTube Channel for Travel Adventures. You can also follow my adventures on Twitter and Instagram.