Andaman is not only a world-famous tourist destination but also it is very famous for its rich seafood. Extremely subtle in taste, and diversity, geography plays a crucial role in the cuisines of Andaman with Thai flavors and Burmese spices.
Here is the Food You Must Try While Holidaying in the Andaman Islands.
1. Lobster
Lobsters are usually available only in upscale restaurants and they are quite expensive.  It is another delicious seafood variant in Andaman.
Grilled Lobster is quite famous there. Butter, parsley, chili flakes, cloves are the main ingredients of Grilled Lobster. The taste of grilled lobsters can't match with any other seafood of Andaman.
If any travelers want to adore the beauty of Andaman then don't leave away from this island without eating Grilled lobster.
This decorated Grilled lobster surely a good experience for the people who like to have lobster.
2. Khadi Crabs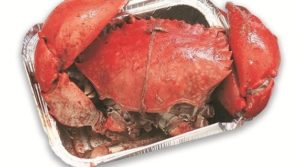 A spicy Khadi Crabs is cooked with hot Indian spices, sliced red onion, and sliced potatoes.  It's best eaten with hot rice.
I am sure definitely you're gonna like it because it tastes amazing.
3. Prawns Curry
The yellow-colored curry will surely win your heart. The fresh prawns of Andaman add more taste to this curry.
So don't be confused about the good food in Andaman. You will get everything whatever you want to taste.
4. Tandoori fish
Tandoori fish will be a great dish for people if they are fish lovers.  You must try the Tandoori fish at the Lighthouse House Residency in Port Blair.
Also, there are plenty of restaurants close to the island and from anywhere you can place an order for the tandoori fish because it is very famous among the public.
5. Rice, Roti & Naan
Rice, Roti, and Naan are common to all Indians so you will get these dishes from Andaman to the allure. In all restaurants of Andaman has rice as well as a combination of Indian curries.
Such as Vegetables, fish, chicken curries, etc are available in the Andaman market.
These are the perfect combination of curries with Rice, Roti, and Naan. Different shaped and sized Roti and Naan are obtainable from the resorts of Andaman. So, don't forget to taste.
If you liked this article, then please subscribe to my YouTube Channel for Travel Adventures. You can also follow my adventures on Twitter and Instagram.