Being called the most liveable city in India, Pune is home to several tourist attractions. Ranging from historical monuments to religious sites and beautiful waterbodies to lush green hill stations, you can find everything in and around Pune but still, there are so many places in Pune that are untouched that you need to visit once for sure as it will help you overcome the stresses of city life.
These beautiful offbeat places will interest each and every kind of tourist. So, how about checking those places now and adding them to your Pune travel bucket list? Oh! You're ready, Let's find out.
Here are the 5 Stunning Offbeat Places To Visit In Pune.
1. Ahupe Ghat

Location: Ambegaon Taluka of Pune District
Elevation/Height: 3855 Feet or 1175 m
Base Village: Khopivali
Duration: 3-4 Hour
Best Time to Visit: June to January
Places to Visit nearby Ahupe Ghat: Gorakhgad, Naneghat, Siddhagad Fort and Bhimashankar
Located in Ambegaon Taluka of Pune in Maharashtra, Ahupe Ghat is basically a pass that starts from Khopivali in Konkan to Ahupe village in the ghats. Situated at an altitude of 1,175 metres, Ahupe Ghat is an enchanting place for nature lovers where if you're trekking towards the Ahupe Ghat, you can witness the beautiful view of great mountains in three directions and a steep valley in one direction which is so heart-stealing.
Surrounded by lush greenery with deep valley and waterfalls all around, the views from the top is simply amazing with the valley and plateau bathed in clouds which will be one of the most enchanting and mesmerizing experience for you once you're there. The Ahupe Ghat is one of the stunning locations in Pune which is not known by many.
So, when you're in Pune then don't forget to visit this amazing place because I am sure that the magical beauty of the Twin Mountains of Machindergad and Gorakhgad can steal your heart.
Points of Interest: Ahupe Waterfall, Water Tanks, Shekru – Indian giant squirrel (State animal of Maharashtra) and, View of Machindragad and Gorakhgad
2. Korigad
Location: Mulshi Taluka of Pune District
Elevation/Height: 3028 Feet or 923 Meters
Base Village: Peth Shahpur
Nearest Railway Station: Lonavala
Duration: 45 Minutes
Best Time to Visit: June to January
Places to Visit nearby Korigad Fort: Lohgad Fort, Visapur Fort, Ghangad Fort, Lion's Point, Bhushi Dam, Tung Fort, Tikona Fort, Tilbaila Trek, and Pawna Lake
Located near Peth Shahpur Village in the Pune District of Maharashtra, Korigad is one of the most beautiful hill forts in Pune. The Korigad Fort also known as Koraigad or Koarigad. This is a fort that you can visit during any time of the year for one-day treks.
Some of the structures on the fort are still intact and the views that one would get from the top are just splendid. Korigad fort is said to be 1500 years old. In fact, the city's first planned township- Aamby Valley is located on the eastern and southern foothills of Korigad. The Chatrapati Shivaji Maharaj forcibly took this fort along with the forts of Lohagad, Visapur, Tung, and Tikona in 1657. But on March 14, 1818, the British captured this fort from Marathas. The fort is so named as it is dedicated to Goddess Koraidevi, whose temple is situated at the peak of the fort.
Koraigad fort comes under the Lonavala Mountain Range being located about 20 km south of Lonavla. Did you know? Korigad fort provides a great view of Tung Fort, Pawna Lake, and Aamby Valley City.
If you can then try to visit this wonderful fort during monsoon season you can see a spectacular view of water flowing on and through historical stairs.                                                                                
Points of Interest: Ganesh Darwaja, Caves, Koraidevi Temple, Two Small Lakes, Fortification & Bastion, Ambavane Darwaza or Chor Darwaja, Deepmala near Koraidevi Temple and Historical Stairs
3. Naneghat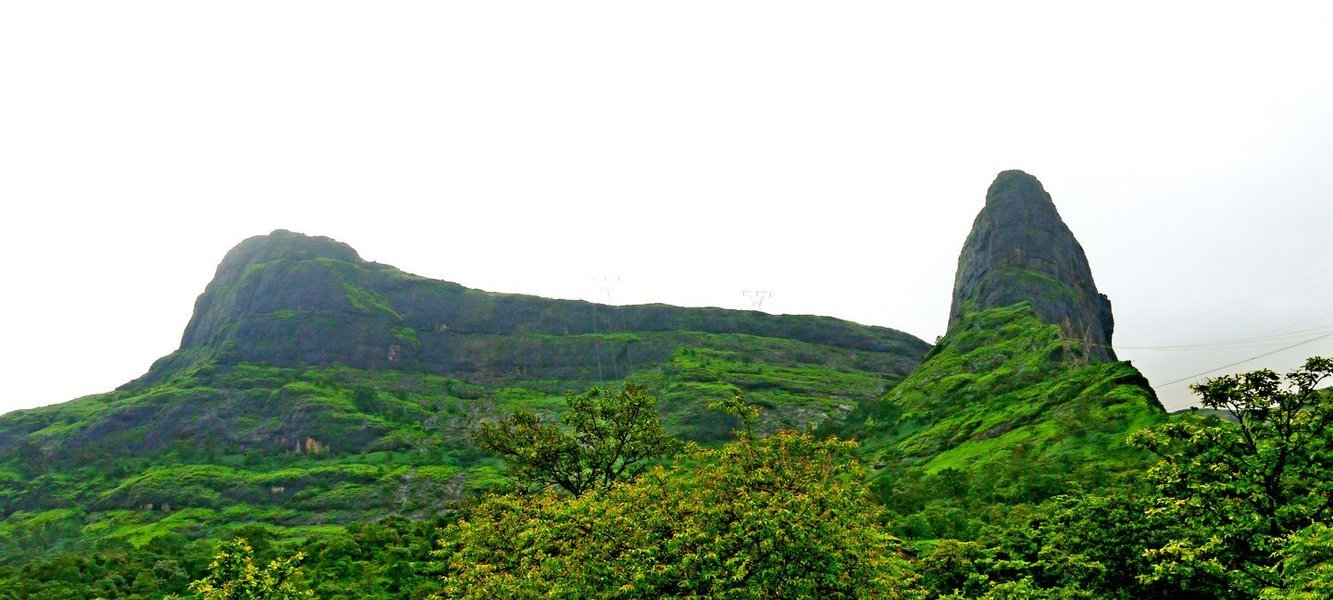 Location: Near Junnar Taluka of Pune District
Elevation/Height: 2461 ft or 740 m
Base Village: Vaishakhare
Nearest Railway Station: Kalyan
Duration: 3 Hours
Best Time to Visit: June to January
Places to Visit nearby Naneghat: Jivdhan Fort, Harishchandragad, Bhairavgad, Durg and Dhakoba, Gorakhgad, Ganpati Gadad Caves, and the Ahupe Ghat
Also referred to as Nanaghat or Nana Ghat, Naneghat is a mountain pass in the Western Ghats range between the Konkan coast and the ancient town of Junnar in the Deccan plateau.
The pass is about 120 km north of Pune and about 165 km east of Mumbai. Nane means "coin" and ghat means "pass". Naneghat is one of the stunning and best trekking places near Mumbai, Thane, and Pune.
Did you know? While going through Malshej Ghat, you can easily get a glimpse of Naneghat after Murbad which is so breathtaking.
Nangehat provides a breathtaking view of its surrounding hills. By the way, it also offers an amazing view of Jivdhan Fort, Vanerlingi Pinnacle, Harishchandragad, Bhairavgad, Varhandi Pinnacles, Gorakhgad, the Ahupe Ghat, Durg and Dhakoba.
Boasting the trademark beauty of lush greens amidst patches of dusty terrain, typical to this region, Naneghat is a treat to the eyes, to the soul, and to the nature-loving, adventure-seeking mind which you will not like to miss at all.
Points of Interest: Cave, Multiple Waterfalls, Reverse Waterfall, Mountain Pass, Lord Hanuman Temple, Multiple Water Cistern, and Lord Ganesha Temple
4. Ghangad
Location: Mulshi Taluka of Pune District
Elevation/Height: 3000ft.
Base Village: Ekole Village
Duration: 1 Hour
Best Time to Visit: June to March
Places to Visit nearby Ahupe Ghat: Tail Baila, Korigad Fort, Sudhagad Fort, Sarasgad Fort, and Tamhini Ghat
Located in the Mulshi Taluka of Pune District, Ghangad is a fort situated near 30km from Lonavla-Khandala and 100 km from Pune which is an important fort in the Pune district.
The Ghangad fort is situated in heart of Tamhini Ghat and is surrounded by Tailbaila, Korigad, Sudhagad, and Sarasgad but still not known by many.
Now, a little historical fact for you – This fort was under the Great Maratha Empire till 1818 but it was surrendered to British forces after the fall of Korigad on March 17, 1818, where this fort was used for keeping prisoners.
The Ghangad fort offers a great view of Tailbaila, Sudhagad, Sarasgad, and Backwaters of Mulshi Lake. So, if you're a history lover then don't forget to visit this lovely 300-year-old structure while you're in Pune.
Points of Interest: View of Sudhagad, Tamhini Ghat, Tail Baila and Sarasgad, Garjai Devi Temple, Main Entrance Gate, Multiple Water Tanks, Goddess Mahishasura Mardini Temple, Ekole Valley, and Savashincha Ghat, Multiple Small Caves, and Mulshi Lake
5. Rohida
Location: Bhor Taluka of Pune District
Elevation/Height:  1116 meters
Base Village: Bajarwadi
Duration: 1 to 2 hours
Best Time to Visit: October to March
Places to Visit nearby Rohida: Necklace point, Bhatgar Dam, and so on…
Also known as Vichitragad Fort, Rohida is a fort located 10 km from Bhor in the Bhor Taluka of Pune District. This windy, beautiful and spectacular fort is around 61km away from the city of Pune and is a destination that is a must on every trekker's to-do list.
Unfortunately, after being so heart-stealing, Rohida isn't among the very popular forts around the city and hence it's serene, less crowded, peaceful, and most importantly, clean.
The most attractive part of this fort is the second gate, which has elephant heads on each of its sides. The views of this fort are breathtaking.
Visiting Rohida gives you all the more opportunities to take in and lose yourself in all the beauty that this hill has to offer. Satisfy the nature lover, adventure junkie, and history enthusiast in yourself all at once with a visit to the amazing Rohida Fort. It's a perfect escape for adventure lovers.
Points of Interest: Three gates, Ancient Rohideshwar Temple and Chor Darwaza (water cisterns)