Himachal Pradesh is a top favorite pick among travelers, nature lovers, and vacationers owing to its beautiful landscape and picturesque views with spectacular river valleys, majestic peaks, lush forests, deep gorges, and snowy ranges which has turned into a paradise for adventure junkies.
But there are several places in Himachal that are still unexplored, not making it to the bucket list of most travelers which has so many hidden gems that have charmed travelers seeking unique experiences.
So, if you are looking for picture-postcard houses, small winding streets, endless vistas of towering peaks, idyllic mountain meadows, and cloudy days with a sprinkle of sunshine far away from the crowd then head to these 11 Offbeat Places In Himachal Pradesh.
Here are the 11 Offbeat Places To Explore In Himachal Pradesh.
1. Malana 
Malana is an ancient Indian village in the state of Himachal Pradesh where this solitary village in the Malana Nala, a side valley of the Parvati Valley to the northeast of Kullu Valley, is isolated from the rest of the world and the peaks of Chanderkhani and Deo Tibba shadow the village.
This village has many secrets that have been maintained in the village for ages like the Malana Cream that is known worldwide for its high-quality hash.
Malana, which is nestled in luscious greenery and surrounded by snow-clad mountains is perched at an altitude of 9,500 ft above sea level.
2. Tirthan Valley
Perched at an altitude of over 1600 meters above sea level, Tirthan Valley is a destination with a plethora of delights – The land of untouched and mystifying beauty.
The riverside retreat of Tirthan is an adventure-centric getaway blessed with a wealth of nature's treasures.
The Tirthan valley is the main gateway to the Great Himalayan National Park (GHNP) which without the national park, the secluded valley would have probably remained unknown.
This quiet valley is ideal for trekking, fishing, wildlife watching, and discovering under-explored hill villages.
It is great for those holidaymakers who seek adventure as well as peace where the valley has plenty of hidden gems and so, it will allow you to enjoy various activities such as relaxation, day hikes, or multi-day treks.
3. Chitkul
A doorway that opens into an exquisite landscape of breathtaking beauty and a serene environment, Chitkul is a village in Kinnaur district of Himachal Pradesh where during winters, the place mostly remains covered with the snow and the inhabitants move to lower regions of Himachal.
Chitkul is said to be the last inhabited village within the Indian boundaries on the old Indo-Tibetan Road.
A drive to the Chitkul village is pleasant. There are orchids, mountains, meadows, huge rocks, rivers, jungles, and grasslands in the village with the help of which it has made a unique identity for itself.
This village is a perfect retreat for you if you're looking for a break from crowd and chaos and turns to perfect bliss for the sparse population over the region. And, according to a recent study by Centre of Atmospheric Sciences at IIT Delhi, Chitkul has the cleanest air in India.
4. Thanedar
A village that turned Himachal Pradesh into India's 'Apple State', Thanedar is a quaint little hamlet in Himachal Pradesh, located amidst the scenic apple orchards in Shimla district which is situated at a height of 7,250 ft from above sea level.
This is a place to undertake many adventure activities from camping to trekking, nature walks, and rock climbing.
Surrounded by picturesque villages, enticing apple orchards, and dense forest cover, the quaint towns of Thanedar is endowed with a unique old-world charm, pristine beauty, and crisp, clean air to tranquilize the soul which is a perfect place to spend some time away from the crowd and in complete peace.
5. Rakcham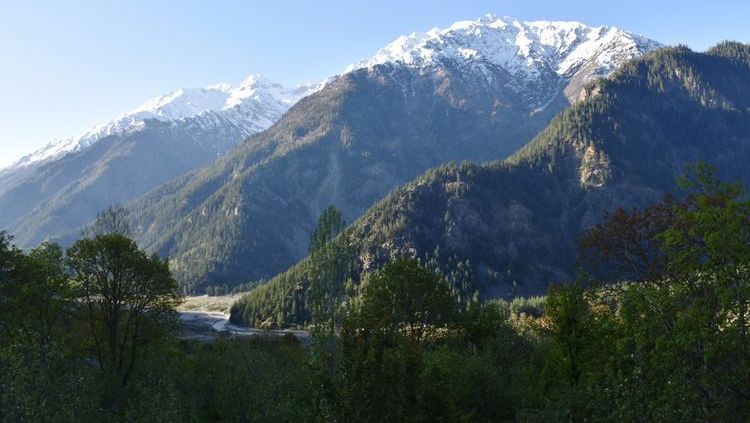 Nestled between the mighty snow-covered peaks and a lush green landscape that looks like absolute heaven on earth, Rakcham is a quaint village situated in Himachal Pradesh about 23 km away from Chitkul, the last Indian village before the Tibet Border.
The region is covered with dense vegetation throughout the year. It lies at an altitude of 2900 meters and is relatively unknown to many people but still, a sparse population of around 800 people inhabits the village.
This village seems to be a place from the past as there are no newspapers, no post office, no internet, no police station, no wine shop, no market-just a couple of shops selling very basic necessities.
However, this place is blessed with crops, abundant water, and natural beauty, and is surrounded by lovely people. Don't forget to visit Rakcham if you're planning your trip to Sangla Valley.
6. Dharamkot
Dharamkot is a small hill station in Kangra district and on the crest of a hill above McLeodGanj this tiny hamlet is blessed with astounding wide views of the Kangra Valley and the Dhauladhar ranges.
The little hippie village of Dharamkot is not visited by a lot of tourists like other places of Himachal.
Popular as the Yoga Village, it is ideal to spend some time away, meditating in peace.
Trekking is one of the most popular activities at Dharamkot as it is the base to some of the popular hikes in the region including the Triund and Indraprahar Pass trek, that's why this tiny town is said to be a haven and a must-visit for backpackers and travelers.
7. Kalpa
Inhabited by Kinnauri people and known for its apple orchards, Kalpa is a small town in the Sutlej river valley, above Reckong Peo in the Kinnaur district of Himachal Pradesh.
Kalpa has all the characteristics of a heritage village. You can see the beautiful Sutlej river flowing down the Great Himalayas and passing through the rocky surface of Kinnaur at Kalpa.
This beautiful town of Kalpa is a picturesque little sleepy village with views that can't be compared.
An early morning walk through this paradise will give you a chance to experience magic and mystery with the sunrise.
Adorned with rich flora and fauna, this small hamlet is a must-visit destination but unfortunately, it's not known by many travel lovers. But don't forget to soak in the beauty of Kalpa village when planning a trip to Kinnaur Valley.
8. Barot
Situated 40 km from Jogindernagar and 66 km from Mandi, Barot is a mesmerizingly beautiful village. This village was originally developed in the 1920s for Shanan Hydel Project is now a tourist location in Mandi district which was difficult to access until 1975 when a road was opened.
Barot is one of the finest places to visit in Himachal Pradesh that is surrounded by high mountains of the Dhauladhar range of the Himalayas and a thick forest of Pine.
The scenic landscapes are captivating, and the unpolluted air draws travelers from across the globe for sightseeing and much more.
If you are a backpacker then Barot is the perfect destination to backpack through for a day or so. It is also world-famous for trout fish.
Barot is famous for its numerous trekking trails passing through the village and hence is a preferred trekking destination too but very few travelers know about Barot Valley and its unexplored and unexploited landscapes.
9. Sojha
Located in the undiscovered Seraj Valley, Sojha is a little village about 5 km from the Jalori Pass that links the Shimla and Kulu districts.
This beautiful hamlet that is located at an elevation of 2600 m has mesmerizing views of the valley. Set amidst pristine forests of deodars, firs, spruces, and blue pines, the village offers enchanting scenery, fresh air, and the scent of the conifers.
Sojha is a timeless village with colorful wooden houses set among apple orchards and an endless view of the valley where sometimes clouds float happily and fog envelops the entire surroundings making it feel like a fairytale.
So, if you want to get away from the chaos of cities, this could be your paradise which is not known to most people.
10. Jalori Jot
Situated in the Kullu district of Himachal Pradesh, Jalori Jot is a high mountain pass at an elevation of 10,800 ft above sea level.
It offers fantastic views of the Dhauladhar and Kinnaur range and can be considered a stunning place for trekking and picnic.
It is one of the favorite places for trekkers, bike riders, and adventure lovers. Being typically accessible only between April and November, the area of Jalori Jot is a natural paradise to find the seasonal blossoms along with bountiful flora and fauna amidst the pristine solitude of the highlands.
Trekking in this beautiful trail takes the tourists to mesmerizing places like Shoja, Sereolsar Lake, Sakiran, Lambri, Bashleo, and the Great Himalayan National Park where one can create an everlasting memory.
11. Kheerganga
Located amidst the astounding Parvati Valley in the Kullu district of Himachal Pradesh, Kheerganga is the most popular trek in Kasol 14 km uphill from base camp.
This trek not only unveils the stunning terrain of the Himalayas but also gives you a chance to learn about the interesting culture of the people living here which lies at the extreme end of Parvati valley.
Also, the last inhibited village while trekking to pin valley via Pin-Parvati pass where you will visit plenty of villages, and there will be infinite opportunities for you to click pictures with the snow-capped peaks in the background.
Kheerganga's panoramic skies and vast greenery are a much-needed delight to the trekker's eyes and especially the tired legs. If you are a beginner trekker then this is where you want to start.
If you liked this article, then please subscribe to my YouTube Channel for Travel Adventures. You can also follow my adventures on Twitter and Instagram.