Known for its ornate castles, native beers, and long history, The Czech Republic, also known by its short-form name, Czechia, is a country in Central Europe whose capital – Prague, is home to grand 9th-century Prague Castle, a preserved medieval old town and statue-lined Charles Bridge.
Czechia is home to ancient castles as well as monasteries and impressive historic homes whose architecture and historical buildings provide cultural sites to explore.
Now, let's find out some of the gorgeous places to explore when you're planning your trip to Czechia.
Here are the 7 Gorgeous Places To Explore In Czechia.
1. Prague
Nicknamed "the City of a Hundred Spires," and known for its Old Town Square, the heart of its historic core, with colorful baroque buildings, Gothic churches, and the medieval Astronomical Clock, which gives an animated hourly show, Prague is the capital city of the Czech Republic that is bisected by the Vltava River.
Prague boasts some of the most picturesque architectural landmarks in Europe where it offers a compact city center, fascinating centuries-long history with splendid examples of Romanesque, Gothic, etc. so let yourself be tempted by the historical, leisure, and meeting offer of Prague, the experiences that won't be forgotten are awaiting you.
2. Cesky Krumlov
Cesky Krumlov is a city in the South Bohemia region of the Czech Republic that is bisected by the Vltava River and dominated by its 13th-century castle.
It is an outstanding example of a small central European medieval town whose architectural heritage has remained intact thanks to its peaceful evolution over more than five centuries.
The river meander and rocky slopes of the castle hill are the most important elements which along with the link to the picturesque neighboring landscape, determine not only the impressive urban composition of the historic centre but the dominating position of the castle as well.
3. Karlovy Vary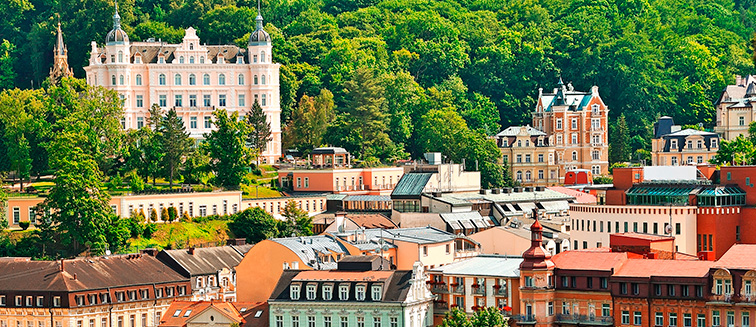 Karlovy Vary is a spa town in the west Bohemia region of the Czech Republic whose numerous thermal springs have made it a popular resort since the 19th century.
The incarnation of spa elegance, imposing colonnades, exclusive spa buildings, and a wonderful layout in the heart of a forested valley. It is a very famous spa resort, visited by many celebrities from all over the world.
It is also known for the Karlovy Vary International Film Festival, held there every year.
Karlovy Vary is one of the most popular tourist destinations in the Czech Republic. Don't miss a chance to explore it while you're in the Czech Republic.
4. South Moravian Region
The South Moravian Region is situated in the south-eastern part of the Czech Republic, bordering Austria and Slovakia which is a place with rich cultural and historical roots as well as precious monuments of all periods.
The region is very famous for its wine production, and there are many vineyards, especially around Mikulov, Velke Pavlovice, and Znojmo.
Traces from the dawn of humanity, left by mammoth hunters, can be found in various places, the most famous discovery being the Venus of Dolni Vestonice. Archaeological areas of Mikulcice and Pohansko witness the glory and wealth of the Great Moravian Empire.
Besides its cultural monuments and natural wonders, tourists are attracted to come to South Moravia by the living traditions, cordiality, and hospitality of its people.
5. Bohemian Switzerland National Park
Bohemian Switzerland, also known as Czech Switzerland is a picturesque region in the north-western Czech Republic which lies on the Czech side of the Elbe Sandstone Mountains north of Decin on both sides of the Elbe River.
A mystical landscape of pine forests and deep valleys, with majestic rock towers, gates, walls, ravines, rock cities, and labyrinths rising up from them. This description fits the Bohemian Switzerland National Park precisely.
This empire of rocks is home to the rarest of animals and also plays host to remarkable plants.
So, enjoy a trip into the fairytale landscape of Bohemian Switzerland while you're in the Czech Republic.
6. Marianske Lazne
Marianske Lazne is a spa town in West Bohemia that is surrounded by mountain forests, mineral springs, and green parks.
The Park Boheminium Marianske Lazne is dotted with miniature models of Czech monuments.
Marianske Lazne means beautiful spa parks, romantic colonnades, charming pavilions, pleasant cafes, and cozy hotels.
The town is endowed with many healing mineral springs and revels in a unique atmosphere that attracts thousands of visitors every year who come to soak up this atmosphere.
So, get to know the story of a town which, at the height of its fame, hosted the most important of statesmen and artists, and remains one of Europe's most beautiful spa towns.
7. Znojmo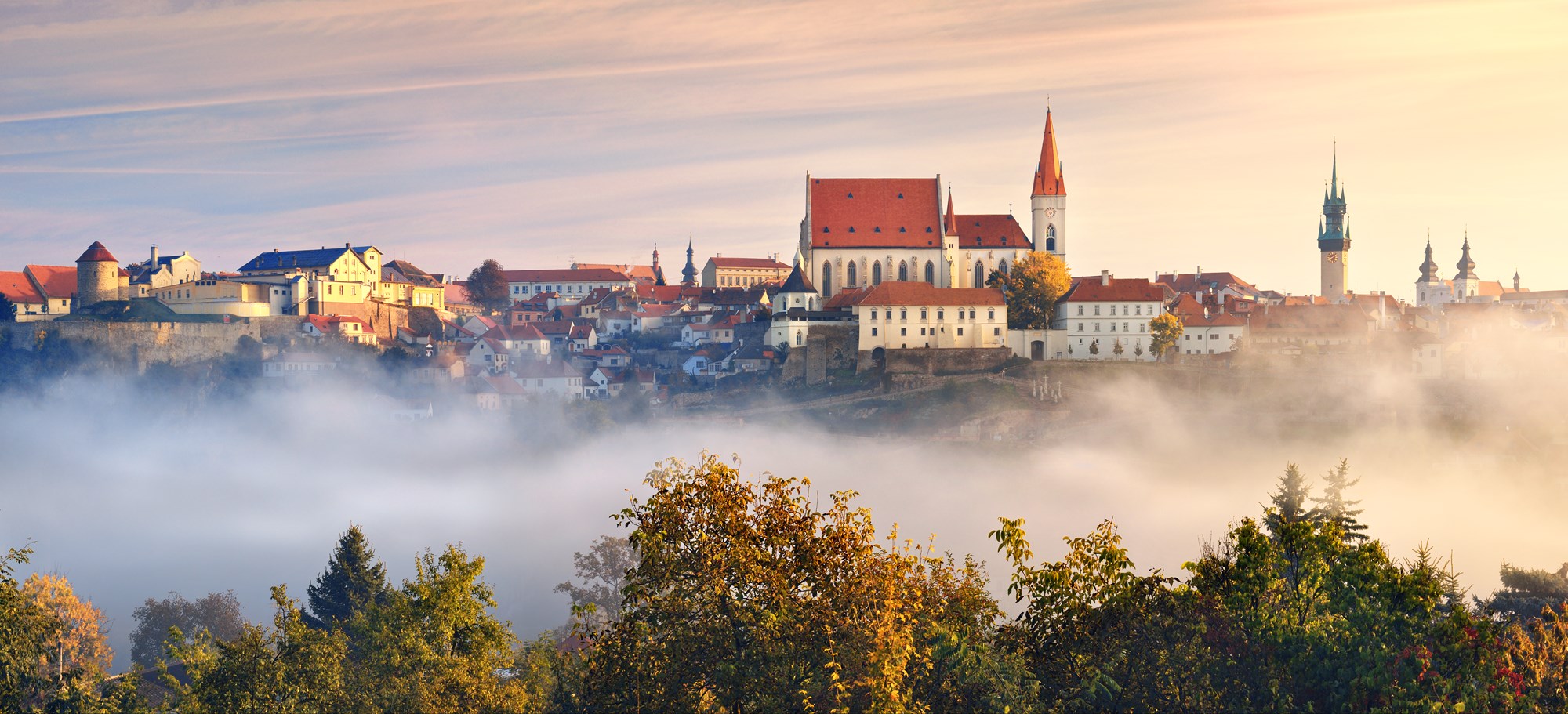 Znojmo is a walled town in the winemaking region of South Moravia which is known for its Romanesque Rotunda of Our Lady and St. Catherine, with frescoes featuring the town's former rulers, and the hilltop Znojmo Castle.
This historic town centre with its numerous churches, all surrounded by medieval city walls that have preserved its Renaissance look and are full of crooked lanes, romantic views, and picturesque nooks and crannies.
It is also the centre of a well-known wine region, so why not take the time to taste some of the local produce while you're here?