India and Japan are breathtaking, but what about all the countries in Asia that aren't as popular?
Asia is brimming with mystic and fascinating destinations, some are loved thoroughly by travelers but some escape the spotlight and the attention that they deserve.
There are several such countries in Asia that are still unexplored, not making it to the bucket list of most travelers which has so many hidden gems that have charmed travelers seeking unique experiences.
Do you want to see why you should choose Mongolia or Bhutan over Thailand and Indonesia? And do you want to find out more about the hidden gems of Asia? Then it's time to begin!
Here are the Charming But 11 Overlooked Asian Countries Not Enough People Visit.
1. Mongolia
A land where you can experience wide-open spaces, cobalt blue skies, forests, deserts, crystal clear rivers, and lakes, and the traditional hospitality of the nomads that is known for vast, rugged expanses and nomadic culture, Mongolia is a nation bordered by China and Russia which is truly one of the world's last undiscovered travel destinations and the safest country to visit.
It is an explorer's dream, with natural wonders like the Gobi Desert and annual festivals such as Naadam that boasts of unique history dating back to the Mongol Empire of Genghis Khan but it is seemingly untouched by tourism.
In simple words, Mongolia is a land of adventure, horses, nomads, and blue sky which you should definitely add to your Asia travel bucket list.
2. Tajikistan

Known for being the land of the high Pamir Mountains, Tajikistan is the smallest country in Central Asia and yet it is still almost five times the size of Belgium.
Famous for rugged mountains, popular for hiking and climbing where you can see mountains almost everywhere: even along the skyline of Dushanbe itself.
Tajikistan has everything an intrepid traveler can dream of. Hiking, trekking, mountaineering, rafting, paragliding, adventure jeep touring, camping, cycling, horse riding, and even Yak riding, yes Yaks can be used as a means of transport, everybody can find his or her own adventure here but yet it is untouched, unspoiled and unrivaled.
So you must add Tajikistan to your travel bucket list where you don't have to seek adventure in Tajikistan, adventure seeks you! Tajikistan is a place for travelers rather than tourists.
3. Afghanistan
Nature has endowed Afghanistan with implausible beauty which is really a "Heaven on Earth".
Afghanistan is definitely the place for the most breathtaking mountains, preserved nature, and endless outdoor beauty where in fact, certain regions are so untouched that there are literally places that no human being has ever been to.
Hidden lakes, unclimbed mountains, Afghanistan will one day turn into "El Dorado" for nature lovers. Picture perfect landscapes where every corner of the valley is filled with great beauty. Each place is like a postcard waiting to be shown to the world.
So don't forget to explore its verdant valleys, charming lakes, winter wonderland, adventure hub, fabulous food, and to meet warm and friendly locals when you plan to visit Afghanistan after considering safety first.
4. Kyrgyzstan
Kyrgyzstan is a rugged Central Asian country along the Silk Road, the ancient trade route between China and the Mediterranean whose surreal atmosphere makes it one of the upcoming destinations for worldwide vacationers, who are keen on the best places to visit in Kyrgyzstan.
This amazing nation is known for its fascinating historical landmarks with large open doors for aficionados of outdoor activities that are characterized by special geography made off to a great extent untouched mountains, moving summer pastures, and stark ridges that are lit up by the semi-itinerant, shepherd, and yurt-staying cultures.
But this beautiful country is yet to be known by travelers from all over the world even though the country's beauty is stunning.
5. Armenia
Defined by religious sites including the Greco-Roman Temple of Garni and 4th-century Etchmiadzin Cathedral, headquarters of the Armenian Church, Armenia is a nation, and former Soviet republic, in the mountainous Caucasus region between Asia and Europe.
There would hardly be anyone who would not agree with the statement that Armenia is more attractive and beautiful with its undiscovered miracles where every corner of Armenia has its own history – a legend,  a myth connected with it.
6. Turkmenistan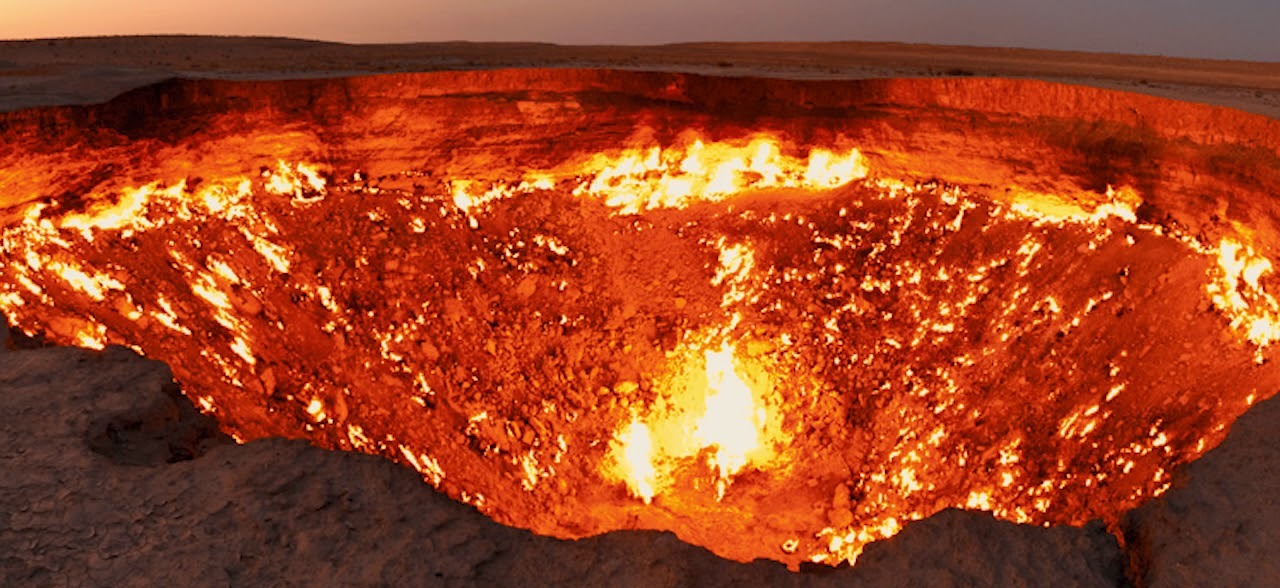 Do you want to get away from the tourist trail and truly get off the beaten track? Known for its archaeological ruins including those at Nisa and Merv, major stops along the ancient trade route the Silk Road, Turkmenistan is a country in Central Asia bordered by the Caspian Sea and largely covered by the Karakum Desert.
In this majestic country, the ancient meets the modern and the result is guaranteed to take your breath away. Its capital Ashgabat was rebuilt in Soviet-style in the mid-20th century and is filled with grand monuments honoring former president Saparmurat Niyazov.
Are you craving one of a kind adventure? If yes, Turkmenistan is the destination for you which has a dynamic mix of culture, nature, and history.
So, if you want to truly get off the beaten track and explore a fascinating land, begin planning your travel to Turkmenistan today.
7. Azerbaijan
Known as the "The Land of Fire" because of its Yanar Dag (Burning Mountain) which is a natural glowing fire burning on a hillside along the Caspian Sea, Azerbaijan is a nation and former Soviet republic that is bounded by the Caspian Sea and Caucasus Mountains which span Asia and Europe. The country shares a border with Russia, Georgia, Armenia, Iran, and a little bit of Turkey.
The way Azerbaijan is placed geographically is what makes it a real blend of East and west.
We can say that there are few places on earth that better showcase the meeting of East and West, past and present and Azerbaijan is one of them whose capital of Baku is called "The Paris of the East."
This place of mystery and enchantment lures travelers with a taste for the exotic and an appreciation for subtle beauty.
Azerbaijan is worth visiting but it's untouched and yet to be discovered by travelers from all over the world.
8. Kazakhstan
Kazakhstan, a Central Asian country and former Soviet republic, extends from the Caspian Sea in the west to the Altai Mountains at its eastern border with China and Russia.
Kazakhstan is wide to an extent that it encompasses 5 climate zones and has 2 time zones by being the ninth largest country in the world which is a very beautiful and diverse country offering a lot of tourist attractions to travelers from all around the world.
But because of its huge territory by being 9th largest country in the world it makes almost impossible for an ordinary tourist to see all the places of interest in one trip.
9. Bhutan
Known for its monasteries, fortresses (or dzongs), and dramatic landscapes that range from subtropical plains to steep mountains and valleys, Bhutan is a Buddhist kingdom on the Himalayas' eastern edge which is the land of happiness on earth.
People may not be very rich, but they are happy because here Gross National Happiness (GNH) is valued more than GDP.
It covers 72% forest area of the country which is one of the large biodiversity places in the world.
So do visit Bhutan which is known for its natural beauty, forest conservation, gross national happiness, great culture & heritage, and biodiversity.
10. Myanmar
A  country whose largest city "Yangon" is home to bustling markets, numerous parks, and lakes, and the towering, gilded Shwedagon Pagoda that contains Buddhist relics which dates to the 6th century, Myanmar (formerly Burma) is a Southeast Asian nation of more than 100 ethnic groups, bordering India, Bangladesh, China, Laos, and Thailand.
It is also known as "The Golden Land" to travelers because of its glittering pagodas everywhere.
A country where more than one hundred different ethnic groups still maintaining their traditional culture is the real treasure of Myanmar.
11. Brunei
Known for its beaches and biodiverse rainforest, much of it protected within reserves, Brunei is a tiny nation on the island of Borneo, in 2 distinct sections surrounded by Malaysia and the South China Sea where its capital Bandar Seri Begawan, is home to the opulent Jame'Asr Hassanil Bolkiah mosque and its 29 golden domes.
You should definitely add "Brunei – The Abode of Peace" to your travel bucket list if you haven't added it yet.
If you liked this article, then please subscribe to my YouTube Channel for Travel Adventures. You can also follow my adventures on Twitter and Instagram.