Wonders never cease in North Sikkim. With each turn, each valley, each rivulet trying to outdo the other in the scenic beauty that it offers.
Powered with an abundance of majestic mountain ranges, landscaped valleys, tranquil lakes, garish orchards, olde worlde villages, and charming sacred monasteries, North Sikkim, an enticing yet unexplored district of Sikkim is indeed a house of seraphic lands.
The mesmerizing scenic beauty and captivating tranquility of the North Sikkim attract travelers from all around the world. North Sikkim tourism boasts about the empyrean view of the snow-clad mountains, sprightly waterfalls, flamboyant landscape, and gushing river all of which soothes the travelers inside out.
Now, let's dive into some of the Best Places To Visit In North Sikkim that is the least explored part of Sikkim, thus abundant in natural treasures which are mostly untouched.
Here are the 19 Amazing Places To Visit In North Sikkim:
1. Lachung
Located at a distance of 25 km from Yumthang, Lachung is a mountain village close to the Tibetan border which is home to the 19th-century Buddhist Lachung Monastery that is surrounded by apple orchards.
Also known as the 'Small Pass', Lachung is embraced by snow-capped mountain peaks, breathtaking waterfalls, sparkling streams, and apple orchards, also peaches and apricots.
Whether you are looking for a vacation, a honeymoon destination, a scenic place, a photographer's paradise, or an adventure, you are sure to fall in love with this beautiful little hamlet while taking back home loads of wonderful memories to cherish forever.
Lachung is an offbeat destination, untampered by the hues of modernization.
If you wish to explore the best of Sikkim, then a trip to Lachung is a must because this village is no less than a paradise for soul seekers who are looking for a destination where they can breathe in the fresh air and take in the solitude of mountains, away from the honking noises of city roads as it is filled with nature's magnificence and glory.
2. Chopta Valley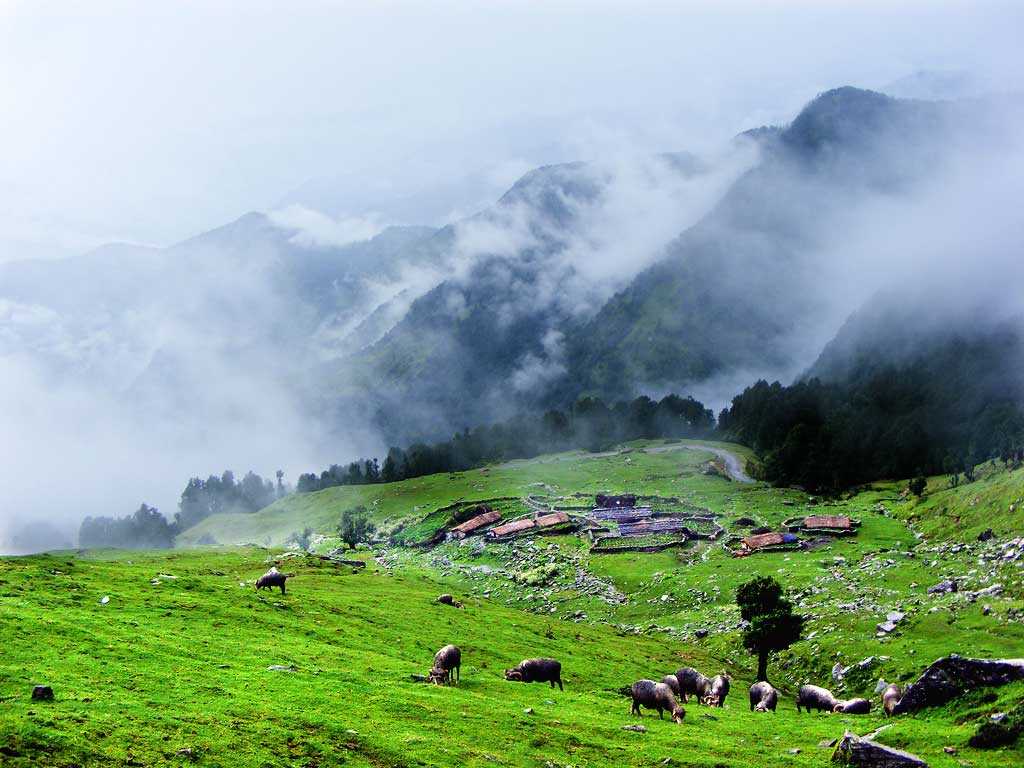 Perched at an elevation of 13,200 feet, Chopta Valley is a picturesque valley located near Thangu village which is situated on the way to Gurudongmar Lake that is one of the heavenly beautiful places to visit in Sikkim.
Famous for its monuments of historical and religious importance, the relatively unexplored and untouched Chopta Valley in North East Sikkim is very popular among trekkers as well as people of several faiths.
The valley, at 13,200 feet which is a preferred destination for hiking, angling, and water sports, and the trek from Chopta Valley to Muguthang Valley is considered one of the best.
At Chopta Valley, trekkers are assured of scenic landscapes with snow-covered mountain peaks on one side and green pine forests and meandering rivers on the other. But the valley is frozen during the winter and provides an opportunity to walk over the frozen rivers.
Do you know? Chopta Valley is the summer residence of the nomadic Lachenpas that has breathtaking alpine scenery with lofty snow-capped peaks, meandering rivers, orchids, rhododendrons, and other high altitude flora.
The unique location of Chopta Valley amidst the mountainous gorge is dotted with trekking trails that attract trekkers and adventurer travelers from around the globe but still, this valley is unexplored and untouched.
So, do visit Chopta Valley amid the spring season to witness the whole valley turn into an uproar of beautiful bright colors.
Check Out The 7 Charming Lakes That You Must Visit In Sikkim
3. Lachen 
Nestled amidst the stunning Himalayan Mountains, Lachen offers a perfect retreat to relax and escape from the daily trap of city life where its wooden homes, scenic view of the mighty mountains, and alpine pastures define Lachen.
Beautiful hill station, picture-perfect view of the neatly sequenced alpine pastures, quaint monasteries, and water streams gushing down from scenic valleys are some of the sights to look out for in Lachen.
Famous for its valleys around India, Lachen is the base camp for the two main trekking camps of Sikkim that are Chopta Valley and Muguthang.
Do you know? Lachen is famed for its alpine lake Gurudongmar that remains frozen in winter and has crystal clear water in the summer.
But Lachen is an unexplored land and one of the most peaceful places to be in where you can enjoy solitude and hear the sounds of nature in this heavenly abode.
So, If you are on a trip to Sikkim, do visit Lachen to experience an air of peace and calm. Also, don't forget to admire the breathtaking beauty of Lachen which is drenched in every bit of beauty.
4. Thangu Valley
Situated at 3950 m and having an altitude of 13000 ft which is en route of Gurudongmar Lake and Chopta Lake, Thangu Valley is a small hamlet with rows of wooden and stone houses, which also double up as eating places for passing by tourists and this beautiful valley which is about two hours' drive from Lachen.
This stunning valley is covered in a blanket of snow almost all the time. The valley comprises alpine meadows that are flanked by shimmering water of River Teesta and wooden houses, offering a picturesque sight to witness. Thangu Valley is the ideal spot for a stopover to soak in the beauty of the mountains from up close.
At Thangu Valley, you can catch a glimpse of the rows of trees and as you go more upwards, the beautiful view of the Tibetan Plateau begins. For nature lovers, this quaint town is a perfect gateway and is one of the most scenic destinations in North Sikkim.
5. Gurudongmar Lake
Gurudongmar Lake is one of the highest lakes in the world which is located at an altitude of 5,183 m, in the Indian state of Sikkim, encircled by snow-capped mountains and crystal clear icy water.
This lake is considered sacred by Buddhists, Sikhs, and Hindus.
The splendid and scenic beauty of the place is breathtaking and attracts tourists from all across the world which has also a great religious significance attached to it, and the beautiful view of Mount Siniolchu and Kanchenjunga from the lake is a sight to behold and cherish.
6. Yumthang Valley
The Yumthang Valley or Sikkim Valley of Flowers sanctuary, is a nature sanctuary with a river, hot springs, yaks, and grazing pasture on rolling meadows surrounded by the Himalayan mountains in the North Sikkim district of Sikkim state in India.
This valley is a natural landscape filled with hot springs, yaks, rolling meadows, and the Teesta river. It is as if, a painter has etched its expression of wild imagination onto the canvas of mother nature.
The serene and tranquil air of the Valley cannot be described in words. A single visit there can leave the visitor in an enchanted state for weeks.
7. Mangan
Nested in the laps of the Himalayas in North Sikkim, Mangan is one of the most scenic tourist places in Lachung, and also the capital of North Sikkim.
The place is no less than an empyrean for spirituality seekers too; soaked in a deep aura of Buddhism with colorful prayer flags fluttering all around and chanting of Buddhist mantras reverberating in the air, it simply makes for a tranquil place to just sit back, relax and meditate connecting oneself with the ultimate supreme power.
Mangan counts amongst one of the top tourist places in Sikkim, attracting vacationers, nature lovers, and soul seekers from different parts of India and the world.
Surrounded by monasteries and blooming nature, the charming little village is blessed with an enticing scenic beauty that is simply magical enough to captivate anyone's heart and soul in just no time, not sullied by the advent of travelers yet.
From trekking routes to decades-old monastery and music festival Mangan is an ideal destination to immerse yourself in the lively yet serene ambiance of the Himalayan valley that is truly one of the best-kept secrets of Sikkim.
So, don't miss to shortlist Mangan on your itineraries whenever planning a trip to North-East India the next time.
8. Singhik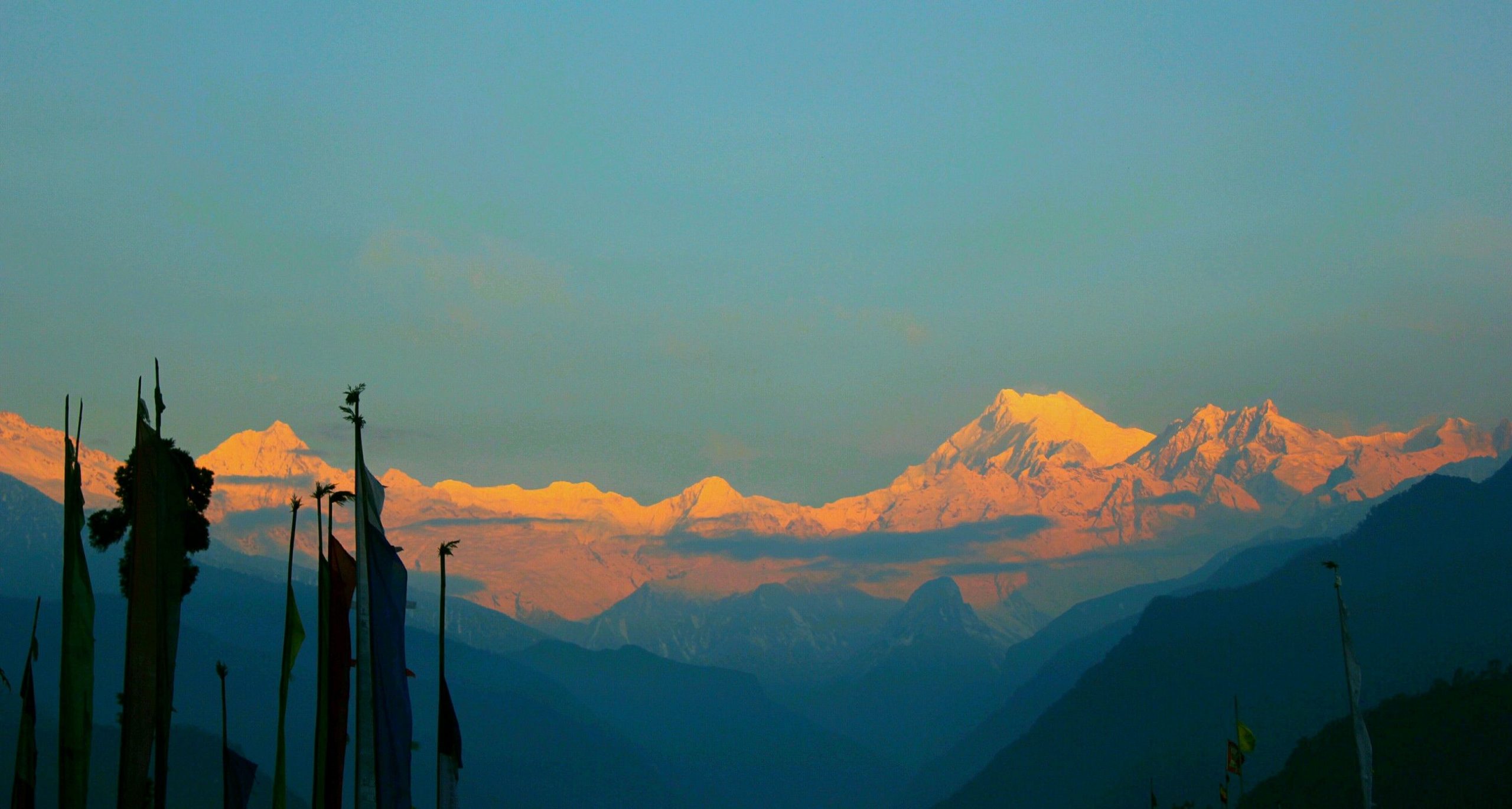 Situated at a distance of 4 km from Mangan, Singhik is a tiny settlement on a hill, around 1560 m above sea level that is considered to be the most popular viewpoint that offers the splendid and unobstructed view of Mt. Khangchendzonga and Mt. Siniolchu.
Aside from the staggering views of elevated mountains, Singhik additionally offers an all-encompassing vista of the bordering places.
Singhik comes with many short nature treks along with itself, the surrounding lush green hills with higher ridges provide the rewarding bird's eye view of the converging point of River Teesta and River Kanaka at the foothills, which attracts many adventure travelers to come to Singhik.
All those who want to skip the din of Gangtok after spending a few tranquil days in the higher altitudes of Lachen and Lachung can choose Singhik to rest their tired bodies on the last leg of their journey.
If you don't know then Singhik is slowly turning into a popular travel destination that has essential comfortable homestays for the visitors.
9. Zemu Glacier
Zemu Glacier is the largest glacier in the Eastern Himalaya. It is about 26 km in length and is located at the base of Kangchenjunga in the Himalayan region of Sikkim, India.
The Zemu Glacier drains the east side of Kanchenjunga, the world's third-highest mountain. It is so untouched that you won't find Zemu Glacier on a bucket list of Sikkim travel that is because of the trek that leads up to this magical glacier, at the base of the mighty Kanchenjunga, is rated moderate to difficult.
That being said, the road to Zemu Glacier is straight out of a painting. So, as you pass through thick forest areas, you will be amazed at the flora and fauna that inhabit this snowy region. Blue poppies in bloom dot the wayside and you will soon lose count of the varieties of rhododendrons.
Zemu Glacier, being at the foot of the third-highest peak in the world, is at the heart of nature and a bucket-list-worthy experience. Don't forget to explore Zemu Glacier on your trip to North Sikkim.
10. Cholamu Lake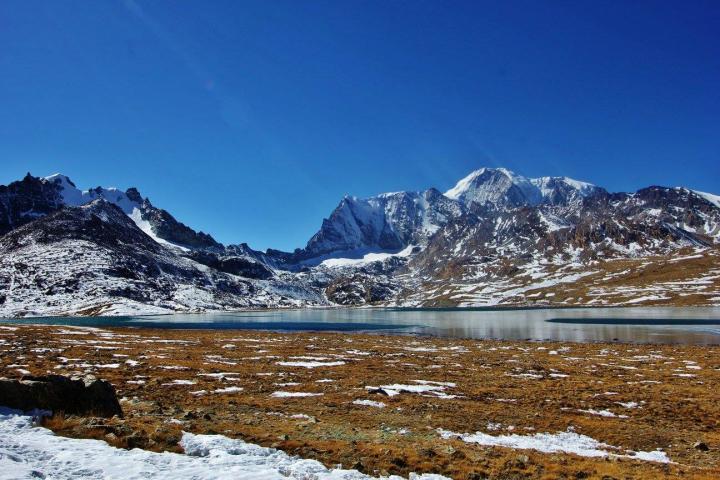 Situated at an altitude of 18000 feet from sea level, Cholamu Lake is the 14th highest lake in the world and the highest lake in India. While coming down the slope around 300 feet from Donkiala pass where you can get the first sight of this moderately sized, almost frozen lake.
Do you know? Cholamu Lake is only a few km away from the Tibet border and is off-limits for commonplace tourists. So, you need special permits, from Army and Sikkim police/administration to visit Cholamu Lake.
This lake is purely for nature lovers, who would love to lose themselves in the beauty of it. Photography is of course the best thing to do here. Since Cholamu Lake is a short distance away from Gurudongmar Lake, one must visit it as well.
By the way, Cholamu Lake is also known as Tso Lhamo lake. Cholamu, being tucked away in the North Sikkim region, is lesser explored, and thus its beauty remains intact. So, don't miss visiting this amazing lake at any cost.
11. Shingba Rhododendron Sanctuary
Shingba Rhododendron Sanctuary is a nature park that has forty species of rhododendron trees and is located in the Yumthang Valley of Flowers north of Lachung.
Surrounded by scenic mountain ranges and the charming Yumthang Chu (river) flowing through the valley, the sanctuary has a breathtaking landscape.
The best time to visit the sanctuary is from April to July when the rhododendrons are in full bloom and the sanctuary turns into a riot of colors. Since Shingba Rhododendron Sanctuary is situated close to the Tibetan Plateau, it also experiences long winter seasons. Though the cool breeze starts from November, January is the coldest month.
Also, the beauty of the valley increases by ten times due to heavy snowfall. Shingba Rhododendron Sanctuary is a beautiful place to spend time amidst the picturesque location and natural beauty all around where the adventure lovers can also have their share of fun by trekking through the Yumthang Valley.
12. Yume Samdong
Yume Samdong is the end of Yumthang Valley that is situated close to the China border and it can be visited by Indian tourists only. Yume Samdong is often referred to as the Zero Point.
Sikkim's untouched beauty; Yume Samdong has no roads further, just the landscapes completely covered with snow offering a majestic view contrasting with the patchy blue sky in between the fresh icy breeze.
Snow at Yume Samdong has always been of great attraction for travelers. With the majestic mountains and snow around – it is like being at the only place in the world. Yume Samdong in Sikkim remains snow-laden throughout the year.
So,  If you are lucky enough you may even see the wild Himalayan Blue Sheep which is extremely rare, grazing on the pasture. The snow-capped mountains and ice-fed valley of Yume Samdong provide a perfect setting to capture the cold nature at its best that is just an hour's drive beyond Yumthang; popularly known as the Valley of Flowers because of its rich meadows and fragrant breeze.
13. Crow's Lake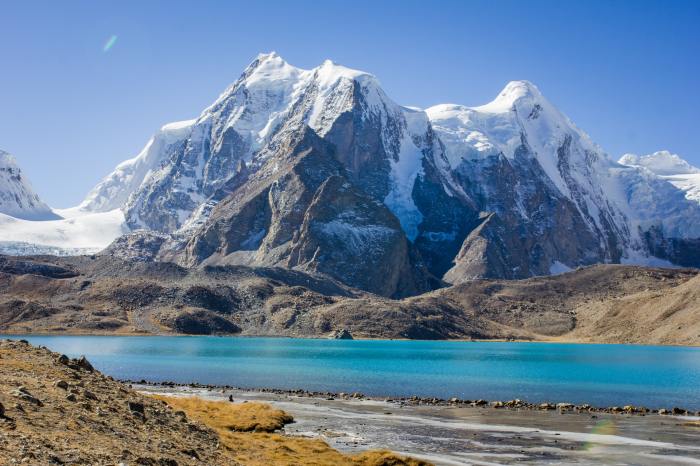 Crow's Lake is one of the hundreds of high altitude lakes of North Sikkim that is located northeast of the Kanchenjunga range of the Great Himalayas in India.
Crow's Lake is another beautiful lake that is 50 km from the city and on the way to Gurudongmar Lake where you can visit this amazing lake to see the natural beauty of the lake and surrounding hills and greeneries.
This picturesque lake, the twin-take of nearby Eagle's Lake presents fine views towards the Gurudongmar route and the mountains that form the border with Tibet. The lake remains frozen in the winter months making it one of the must-visit lakes of North Sikkim.
14. Seven Sisters Waterfall 
Seven Sisters Waterfall is a popular waterfall located on the Gangtok- Lachung Highway, around 32 km away from Gangtok.
This waterfall is divided into 7 small waterfalls and it's quite wonderful that's why it becomes a must-see place in Gangtok after rains when the falls come into a fierce life offering an awe-inspiring view.
The gurgling water of the fall plunges out of the lush green vegetation plastering the rugged cliffs, falls over the limestones making a thunderous sound. The water gushing through the rugged cliffs gives travelers some amazing scenic and picturesque looks which will leave you in wonder.
A picturesque waterfall awaits you with a watching shed where you can enjoy the magnificent view of the waterfall and click memorable photographs.
15. Mount Katao
Nestled in the northern part of Sikkim, at a distance of 144 km from Gangtok and 28 km from Lachung, Mount Katao is an offbeat destination in Sikkim that is often reckoned for being the paradise for adventure lovers who like skiing, snow tubing, snowboarding, and grinding during the winter season, the surreal mountain provides a splendid view to its onlookers.
But to visit Mount Katao, you must get approval and permission from the Indian Military Forces posted in this region. Considering its closeness to the Indo-China Border, you must get the formalities done before you visit this fantasy land, haha.
This amazing place is situated at an elevation of 15000 feet and remains covered in snow almost throughout the year. There is a zero point situated nearby which provides some spectacular views.
Mount Katao is quite an impressive place to visit and set your spirit free from the hustle-bustle of urban areas and make you enter into the natural beauty of the waterfall and the pleasant weather.
16. Green Lake
Green Lake is surrounded by an amphitheater of snowy mountains, providing an unforgettable view that is one of such treasures that resides at an altitude of 1437 m, offering the stunning views of Kanchenjunga and other magnificent peaks.
The meandering path through the rocky terrains that reaches many adventure enthusiasts to this dazzling lake, is bestowed with life's best sight of the dense forest. And once you reach the top, the soft mountain breeze enthralls you and revitalizes you from the weary city life.
Adventure lovers visiting Green Lake can also visit the Chopta Valley, Thangu Valley as well as Gurudongmar lake that also carries religious significance.
But did you know? Green Lake Trek is the perfect mixture of the beauty of mother nature and enthrallment!
Besides taking you into the bosom of the Himalayas, the trek offers its devotees to experience a world that can hardly be found in any other treks in Sikkim. It is considered to be one of India's most underrated trails, which definitely makes for a must-visit.
17. Tosar Lake
Located at an altitude of 13000 ft in between the Mangan Ridge and the Chola Range, Tosar Lake is considered sacred and worshiped by the local people where some of the best views of the Khangchendzonga East face is seen from this region.
If you want to enjoy the beauty of Tosar Lake then you have to trek all the way up to it. The trail to Tosar Lake starts from the road head at Naksuk, above Naga village, and traverses through a dense conifer, bamboo, rhododendron, and pine forests.
The trekking route also crosses the famed yak trails in the Reserve Forest. The trek is popular for the spectacular mountain views, beautiful fauna in flora. I hope, you won't miss adding it to your North Sikkim bucket list.
18. Chungthang
Situated at the confluence of the Lachen and Lachung rivers that combine to form the Teesta River, Chungthang is considered to be a sacred site by locals and Buddhists. It is believed to be a holy place that has been blessed by Guru Padmasambhava, the patron saint of Sikkim.
There is a rock that has a crevice and footprints of Padmasambhava as per legend. From a small opening in the rock, there is a continuous flow of mineral water. There is a small patch of land from which grows paddy every year. The nature-defying miracle is believed to be the blessing of Guru Padmasambhava who sprinkled a handful of grain on the spot that has sprouted paddy ever since.
It is also one of the military bases of the country, especially due to its proximity to the China border. But Chungthang is a good place to halt before you take off for the more alpine regions of Lachen, Lachung, and the Yumthang Valley.
So, don't miss exploring this amazing valley that is mired in myths and legends, one such being that this is the place from where the word 'Demazong' – the hidden valley of rice, as Sikkim is known first originated.
19. Rong Lungten Lee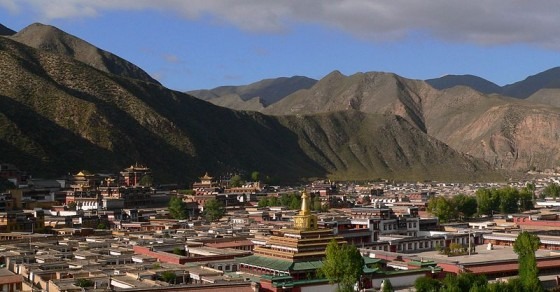 Nearly taking after the Lepcha customary house, the Rong Lungten Lee is situated in a beguiling destination of Namprikdang that comprises three rooms. The ceiling called 'PHODONG' (attic) is used to store valuable items. This house is open to visitors, both foreigners and domestic throughout the year where you can admire the antique artifacts displayed.
If you enjoy taking a walk in the past, Rong Lungten Lee is a great place to be as it displays some ancient artifacts of the Lepcha tribe. There are three rooms in Rong Lungteen as mentioned above and each of these rooms houses items from the past, the Phodong which means the attic is used for storing valuable and antique items.
The Rong Lungten Lee is generally visited by voyagers in light of its wonderful Sikkim legacy significance. So, If you appreciate going out for a stroll, Rong Lungten Lee is an awesome place to be as it shows some antiquated ancient rarities of the Lepcha clan.
If you liked this article, then please subscribe to my YouTube Channel for Travel Adventures. You can also follow my adventures on Twitter and Instagram.