While the scenic beauty of South Sikkim is the USP of the region, there are several activities that will make you looking for rush adrenaline to jump off your seats.
Despite the fact that South Sikkim isn't as famous yet but South Sikkim is a perfect destination for adventure lovers and obviously for those who are looking for an escape from the touristy places and clamoring city life because this little region of Sikkim can possibly pull you with assorted interests.
With the beautiful scene, rich greenery, landmarks, and social legacy, south Sikkim arouses and resuscitates internal peace that also offers plentiful open doors for unwinding, boating, trekking, and natural life exploration.
I know after reading this, you feel like visiting South Sikkim right away but hold on because first, you need to check out the most beautiful places to visit while you're in South Sikkim. So, let's check it out now.
Here are the 4 Best Places To Visit In South Sikkim:
1. Ravangla
Located between Maenam and Tedong Hill at an altitude of 7,000ft and with the magnificent Kanchenjunga as the backdrop, Ravangla is the perfect place to laze around with a cup of coffee and enjoy the best of Sikkim.
Decked with the panoramic landscape, Ravangla enveloped by incomprehensible characteristic excellence is a must-visit while you're in Sikkim that gets a romantic look with the colors and fragrance of the flowers which are in full bloom during April-May. Ravangla is known for its ethnic culture and festivals.
So, visit Ravangla and loosen up yourself at this place which will influence you to flicker twice where you can explore its enchanting areas and its charming string of tourism attractions and touring places.
The marvels of its eccentric settlements, entrancing tea gardens, old religious communities, and chattering cascades will abandon you astonished. Visit Ravangla as it is one of the picturesque places to visit in Sikkim and among the best places to experience.
Attractions in & around Ravangla: Buddha Park, Rayong Sunrise Viewpoint, Ralang & Borong Hot Springs, Ralang Monastery, Doling Gompa, Tumlong monastery, Temi Tea Garden, etc.
Best Time to Visit Ravangla: Ravangla weather is pleasant throughout the year. But it is better to avoid visiting during severe winter months and monsoon. However, September to November & February to June is the best seasons to visit Ravangla.
2. Namchi
Situated about 78 km from Gangtok and is famous for its Buddhist monastery and scenic locales, Namchi houses the world's largest statue of Padmasambhava or Guru Rinpoche, the patron saint of Sikkim that offers panoramic views of the mountain ranges and the valley below which lies at about 1,675 m above mean sea level.
Namchi, which signifies 'top of the sky, is a beautiful spot, favored with the bounties of nature. This residential area is to a great degree picturesque and fills in as a perfect place to discover comfort.
It is blessed with welcoming monasteries, traditional temples, lush greenery, flora, and forests where you can unveil the best-kept secrets of the Himalaya on your trip to Namchi. So, if you are tired of the typical tourist destinations in Sikkim, for a different vibe, consider heading to this sweet little hilly town.
The city's many scenic sights are worth exploring, as are its streets, which you'll want to stroll for hours on end. The beauty of Namchi can't be defined in a single word or phrase, to be honest.
Attractions in & around Namchi: Ngadak Monastery, Samdruptse Hill, Tendong Hill, Solophok Hil, etc.
Best time to visit Namchi: March to May is a good time to visit Namchi when the temperature remains moderate. Another good time is between the months of September to November. But if you want to witness the flower show festival, then visit during the month of February where numerous species of Himalayan flowers bloom in beautiful shades.
3. Jorethang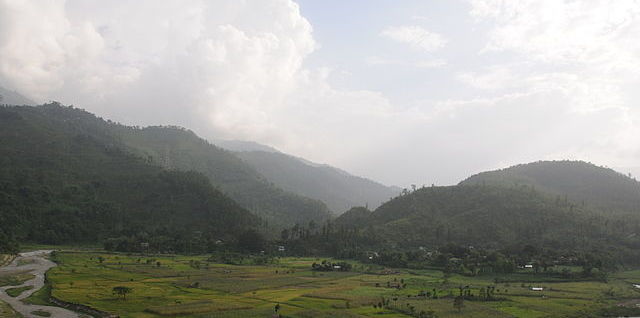 Situated along the Rangeet River, a tributary of the Teesta river, Jorethang is an idyllic setting in the southern regions of Sikkim that ensures opportune moments for sightseeing and water activities.
It is located at an altitude of 300m and is in the foothills of the Himalayas which is one of the few towns in Sikkim which are not located in the hills. But being situated close to the borders of Sikkim and West Bengal, Jorethang provides ample scope for those traveling from either state to explore this town's numerous attractions and enjoy its many aspects.
The Maghe Mela of Jorethang is an interesting event to be witnessed if you are anywhere close by to the town during January. And some of the interesting activities that you can take to during your trip to Jorethang include river rafting and trekking. So, don't miss it.
Attractions in & around Jorethang: Rangeet River, Sikip, Darjeeling, Pelling, etc.
Best time to visit Jorethang: The best time to visit Jorethang is the summer that is from March to June though other seasons are also relatively pleasant as Jorethang enjoys a temperate climate, and is pleasant most of the year-round.
Check out The 7 Charming Lakes That You Must Visit In Sikkim
4. Rumtek 
Located at a distance of 24 km from Gangtok, Rumtek is a town surrounded by thick forests that is famous for Rumtek Monastery which is a beautiful Tibetan Buddhist monastery perched on a hill overlooking Gangtok.
It is surrounded by lush green mountains which is a visual retreat besides offering spiritual solace. The town has become popular amongst tourists around the world due to the famous Rumtek Monastery, which is significant amongst Tibetan Buddhists.
If you climb on top of the Rumtek Monastery, you can have a breathtaking view of the whole Gangtok town situated right opposite the hill.
A drive to Rumtek takes you through a number of Sikkimese villages and paddy fields where during the months from July to September, the paddy fields sport the look of a green carpet. These fields take a golden hue during the harvesting season, which falls between October and November. Breathtaking views of snow-capped mountains and green hilly terrains make the place a sight to behold.
Attractions in & around Rumtek: Rumtek Monastery, Gangtok, Jawaharlal Nehru Botanical Garden, etc.
Best time to visit Rumtek: October to mid-December is the best time to visit Rumtek Monastery.
If you liked this article, then please subscribe to my YouTube Channel for Travel Adventures. You can also follow my adventures on Twitter and Instagram.