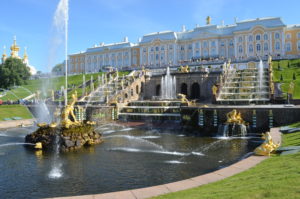 Russia's 2nd largest populated country and most beautiful place in Russia is St. Petersburg. My trip to this beautiful city was very memorable. I and my friends were waiting for vacations to go as soon as possible. As you all know foreign means clean, so first of all the city was very neat and clean with vehicles ejecting water to clean the highways every 30 mins. We went to St. Petersburg by train where we met many Russian kids who were going to St. Petersburg for the karate championship with their coach. We were very chatty with them and on reaching St. Petersburg I gave them Indian rupees as a souvenir. The journey was long of 16 hrs. As we reached there we were looking for hotels to stay in. Two people went for the search in the meantime we were drinking coffee which they found and then we parked our luggage there.
As we reached there after luggage parking we went outside to have a city tour. We took photos during our walk. We went on a boat for the whole city trip through the Neva River. We loved having breakfast in KFC, then again started tripping taking photos of diff monuments and buildings. Now lunch from an Italian restaurant then went to the largest church in Russia and took photos.
Now we were tired and came back to the hotel and cooked food and slept. The next day morning It was a very nice climate I wore my summer outfit and we went by bus to St.Peters palace. It was very beautiful and very large. We took many photos, we took a group selfie with Russians too. That was a long day but after that, we went to see our friends in Peters in the north-west state medical university. We were chatting, chatting, and just chatting. After that, we came to the hotel and on the next day, we had a train to Moscow for a flight to India. It was a very nice experience and it was so much fun.
– Akul Suresh, Arkhangelsk, Russia