Known for its mosques, mausoleums, and other sites linked to the Silk Road, the ancient trade route between China and the Mediterranean, and famous for its ancient cities with thousands of years of history behind.
Some were invaded by Alexander the Great and later destroyed by Genghis-Khan, some are less than 100 years old, some are major pilgrimage destinations of the Muslim world, there's one fading town-disaster.
Uzbekistan is a Central Asian nation and a former Soviet republic.
What makes it so unique? Samarkand, a major city on the route, contains a landmark of Islamic architecture: the Registan, a plaza bordered by 3 ornate, mosaic-covered religious schools dating to the 15th and 17th centuries and many more.
Let's explore some of the amazing places of Uzbekistan.
Here are the 5 Amazing Places To Visit In Uzbekistan.
1. Lake Charvak
Lake Charvak is a water reservoir in Bostanliq District in the northern part of Tashkent Region, separating Ugam, Pskem, and Chatkal ranges which are formed by bulk-rock dam height of 168 meters whose blue water attracts everyone on hot summer days.
It is surrounded by green slopes of mountains, snow-topped.
At Charvak, you can go paragliding or ride on the water, or at the least, you can just enjoy the peaceful environment, views of pure blue colored water, and fresh air.
Charvak should be among the top must-see places for sure on your Uzbekistan tour as its blue-colored water just sets in anyone's eye so much so that it is hard to forget ever.
So don't miss it because its surroundings sites are quite beautiful and sunrise and sunsets are unforgettable once they set into your eyes or your camera.
2. Registan
The Registan was the heart of the ancient city of Samarkand of the Timurid dynasty, the main tourist sight of Samarkand which represents all the beauty and authenticity of the Uzbek architecture in the Middle Ages.
It was a place where people, summoned with trumpets, gathered to listen to government decrees announced.
The word "Registan" means a sandy place in Uzbek and Hindi where every city of Central Asia had such place, but today only Samarkand Registan is known all over the world which is something like kremlins in Russian towns. Originally, they were almost in every Russian town.
So don't miss to visit Registan – a crowning glory of the Timurid Empire when you're in Uzbekistan.
3. Chimgan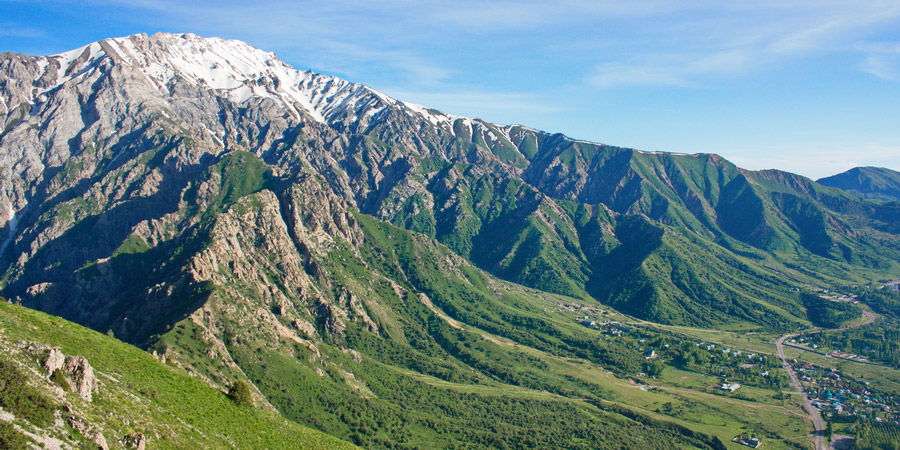 Chimgan is a ski resort located in a mountain range named the Tian Shan, near Chirchiq which is the most popular ski resort of Uzbekistan.
During winter, it's the place to be in Uzbekistan for skiing and heliskiing.
In summer, it's a great weekend getaway from the city: cheap, quiet, and right in the middle of an endless stretch of glorious mountain scenery.
The area is frequented by mountaineers, rock climbers, skiers, snowboarders, hikers, hang gliders, and paraglider riders, as well as photographers, singer-songwriters, and other creative persons.
For its beauty and health-improving properties, Chimgan is called "Uzbek Switzerland" that makes it must visit.
4. Boysun
The Boysun located in south-eastern Uzbekistan on the route from Asia Minor to India is one of the oldest inhabited areas of Central Asia.
At Boysun you will find yourself in a quite different world, where centuries-old customs and culture of local people remained almost unchanged.
Boysun sits within the Boysuntau Mountains in range of several hikes and excursions, including an overnight trek to the Teshiktosh Cave that believed to have been inhabited by Neanderthals more than 50,000 years ago.
This region is full of picturesque and beautiful landscapes is the only place in Uzbekistan that lets any traveler immerse in Uzbek culture in its untouched version.
The most remarkable thing is that Boysun is neither a myth nor a theatrical performance of past days.
It is not a fantasy. This is the reality. This small island of the past and traditional does exist.
5. Yangiabad
Yangiabad is a very young city in Tashkent Oblast, it's located 100 km away from Tashkent, in the foothills of Western Tien-Shan. The construction of Yangiabad started in the forties of the 20th century.
The smallest town in the Soviet Union happened to have the largest deposits of uranium and silver in Uzbekistan.
Today many Tashkent residents come to the town, escaping from the summer heat. Among them, there are a lot of hikers, mountain climbers, and lovers of various adventure sports.
Yangiabad resembles an alpine German town, with its fantastically clear air, serenity, stunning mountain landscapes, and unhurried lifestyle of the locals.