The country that is known for its Norman castles, glacial valleys and mountains, Celtic and Christian monuments, and coastal links golf courses, Northern Ireland is part of the United Kingdom where its capital city Belfast is home to the political murals of the 20th-century 'Troubles' conflict, and the Titanic Quarter, showcasing the redeveloped dockyards where the famous ship was built and a contemporary museum, Titanic Belfast.
It is one of the most beautiful, memorable, and cultural regions to be found anywhere on the island of Ireland.
Nowhere is Ireland's recent history more strongly felt than in the North.
But Northern Ireland is an underrated and often overlooked region that usually surprises travelers with its memorable scenery and friendly people.
So, now let's find out some of the interesting places to visit in Northern Ireland.
Here are the 9 Best Places To Visit In Northern Ireland.
1. Antrim
Antrim is a town and civil parish in County Antrim in the northeast of Northern Ireland, on the banks of the Six Mile Water, half a mile northeast of Lough Neagh.
It is one of the scenic highlights of Northern Ireland from the mythical nine glens to geological wonders, castles, and surf towns, County Antrim is bursting with exceptional experiences.
It is also undoubtedly one of Ireland's most beautiful and interesting counties where there is so much to see and do in this little county so don't miss to explore it while you're in Northern Ireland.
2. Mourne Mountains
The Mourne Mountains, also called the Mournes or Mountains of Mourne, are a granite mountain range in County Down in the south-east of Northern Ireland which includes the highest mountains in Northern Ireland and the province of Ulster.
It is famous for a lot of things like challenging peaks, gentle slopes, and crystalline lakes.
A sweeping range of grand, granite peaks, the Mourne Mountains is an area of outstanding natural beauty on a whole new level so you shouldn't miss witnessing its stunning scenic backdrop.
3. Portrush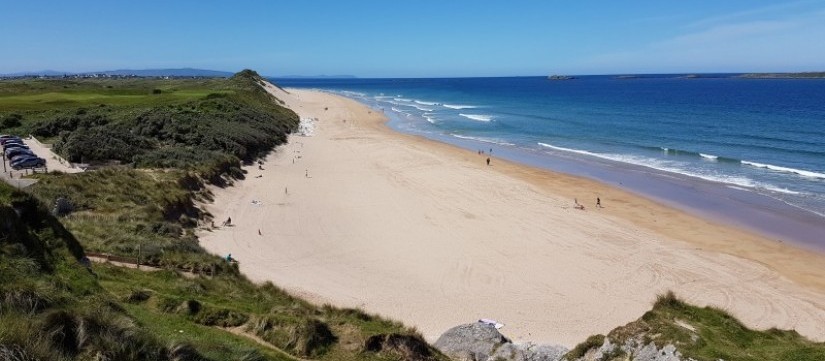 Portrush is a small seaside resort town in County Antrim on the County Londonderry border which has beautiful beaches filled with friendly people and tons of activities for people of all ages.
Portrush is a peaceful yet action-packed vacation set in the spectacular surrounding scenery, with something to please the entire family, all year round.
You should definitely visit Portrush which is a world of funfair rides, amusement parks, indoor swimming attractions, and just about any holiday recreation imaginable where, Barry's Amusements of Portrush are famous all over Ireland.
4. Bushmills
Bushmills is a village on the north coast of County Antrim which is 60 miles away from the capital city Belfast where the name of this village came from a river that was called Bush and to a large watermill that was built back in the early 17th century.
Surrounded by endless shades of green fields which is home to less than 1500 people, it is the closest settlement to the world-famous Giants Causeway only 2 miles to the North.
The narrow central road through the Bushmills is aptly named "Main Street" that is lined with historic listed houses and shops.
Here, you'll feel like you have stepped back in time with the old-fashioned shop frontages and the Distillery making it a must-visit for any traveler.
5. Ballycastle
Located on the north-easternmost coastal tip of the island of Ireland at the northern mainland limit of the Antrim Coast and Glens Area of Outstanding Natural Beauty, Ballycastle is a small town in County Antrim, Northern Ireland.
Ballycastle is a small but thriving community, which has much to offer visitors having a rich history going back at least 5,000 years that has sandy beaches and tall threatening cliffs.
So don't miss to explore Ballycastle because it has a huge variety of landscapes to explore, whichever direction you decide to go, you are guaranteed spectacular scenery.
6. Rathlin Island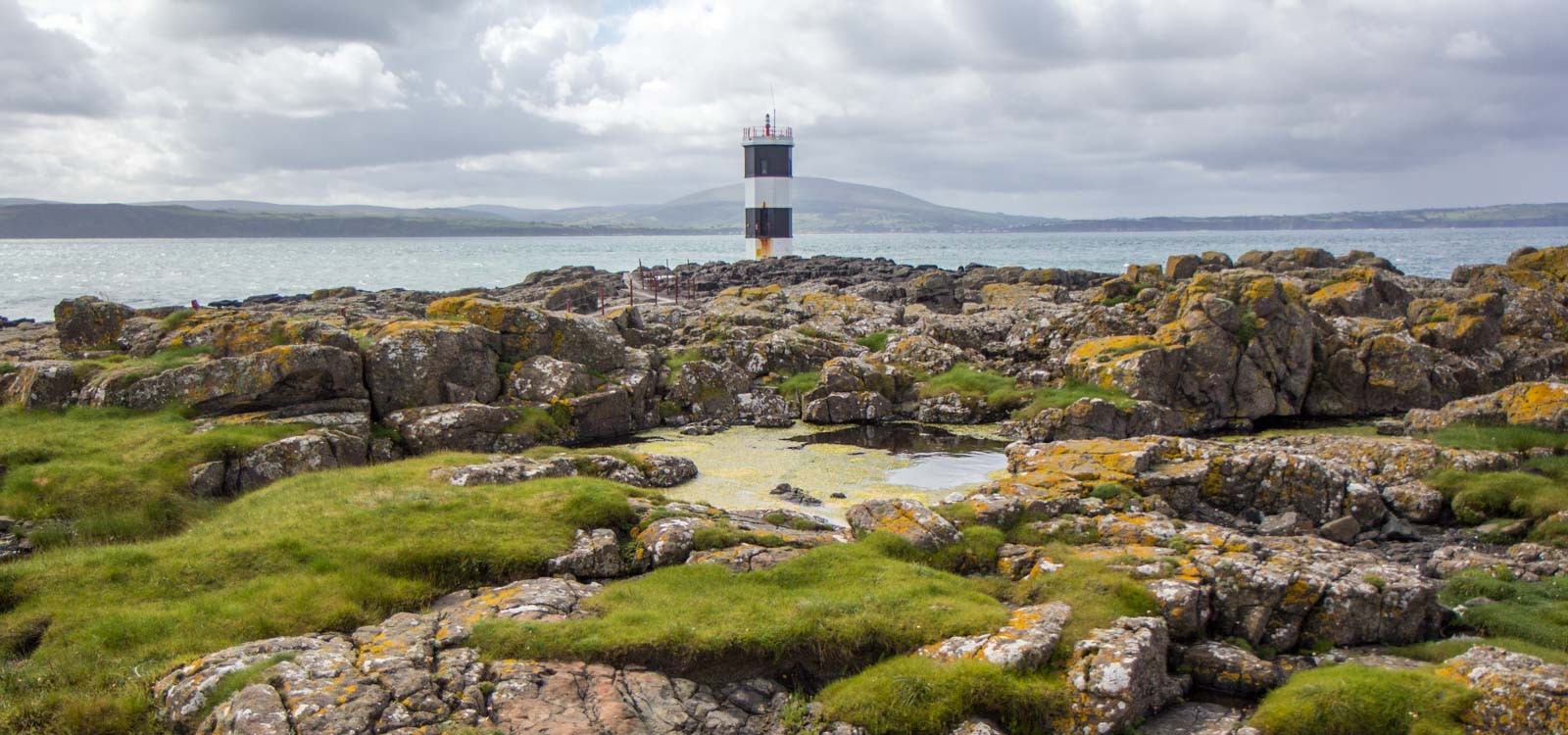 Rathlin Island is an island and civil parish off the coast of County Antrim, Northern Ireland, and the northernmost point of Northern Ireland.
This island is six miles long, one mile wide, "L" shaped and home to a slowly increasing population of around 140 people where a short walk from the harbor is the Boathouse Visitor Centre, where you can discover some of the exciting histories, learn about present-day island life and see some artifacts from shipwrecks around the island.
Amidst the rugged landscape of this beautiful island, let your mind wander and discover a tranquillity and beauty that is so unexpected.
7. Castlerock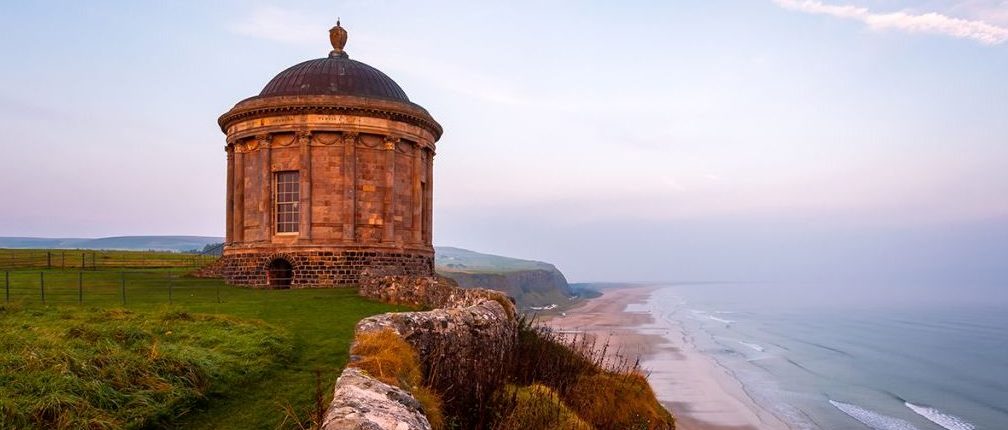 Situated five miles west of Coleraine, and is part of Causeway Coast and Glens district, Castlerock is a seaside village in County Londonderry, Northern Ireland which is very popular with summer tourists, having numerous apartment blocks and two caravan sites.
It is a popular seaside village that perfectly blends the past and present.
This village offers all the pleasures of the unspoiled seaside that is surfing and walks on the sand amid, woods, ruins, and gardens of the National Trust's Downhill Demesne.
Castlerock is home to less than fifteen hundred people attracting many more visitors in the season due to great amenities, naturally beautiful landscape, and a variety of places to visit nearby.
8. Castlewellan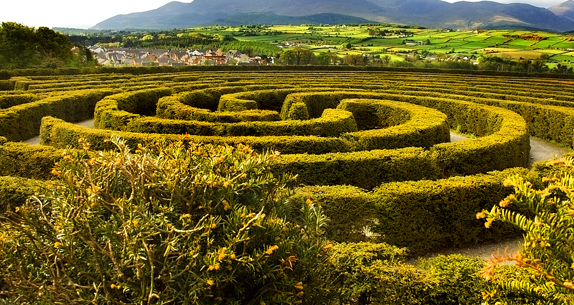 Castlewellan is a small town in County Down, in the northeast of Northern Ireland close to the Irish Sea. It is beside Castlewellan Lake and Slievenaslat mountain, 11 miles southwest of Downpatrick that lies between the Mourne Mountains and Slieve Croob.
Located in a dramatic setting of mountains and sea, Castlewellan is one of the most outstanding trees and shrub collections in Europe whose beauty, vigor and perfect shape of the trees in the National Arboretum attract tree enthusiasts from around the world.
So, don't miss to explore Castlewellan while you're in Northern Ireland.
9. Magilligan
Magilligan is a peninsula that lies in the northwest of County Londonderry, Northern Ireland, at the entrance to Lough Foyle which is a huge 79,000 acres coastal site, part British army firing range, part nature reserve. It gets its name from "MacGilligans country", which formed a major part of the barony of Keenaght.
The Martello Tower at Magilligan Point is an example of the small defensive forts which were built as a defense against a possible attack from the forces of Napoleon during the 19th Century.
Magilligan is a must-visit that is popular with surfers, swimmers, and walkers, the beach forms part of a local Nature Reserve.