Known for its beaches, blue lagoons, and extensive reefs, The Maldives is a tropical nation in the Indian Ocean composed of 26 ring-shaped atolls, which are made up of more than 1,000 coral islands that are endowed with incredible beauty and splendor of nature.
For all those wishing to keep their heads above water, Maldives won't disappoint you at all.
The natural environment of the islands bejeweled with crystal clear lagoons and turquoise blue waters is the perfect combination for a natural water sports arena.
So now, I am gonna mention my favorite places to visit in the Maldives.
Here are the Top 7 Best Places To Visit In Maldives.
1. Como Cocoa Island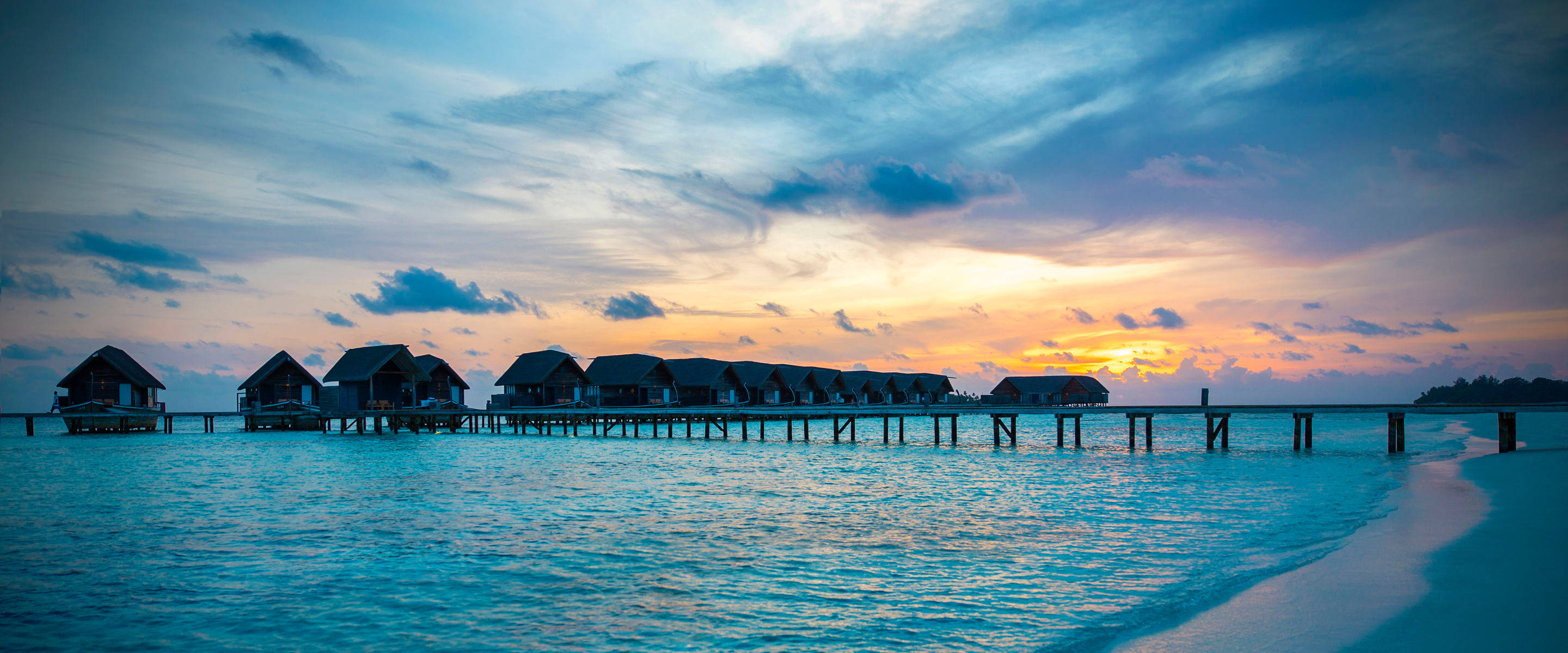 With 33 overwater suites, COMO Cocoa Island is an intimate private Maldives island which resort seems a bit like an over-the-top parody of an island holiday destination.
It is beautifully designed which resembles a collection of Keralan boathouses (Kerala, India), the individual over-water villas have soothing white-on-white interiors and teak flooring to create an ambiance of laid-back romance.
The 33 overwater suites of Como Cocoa Island allow you to slip right into the turquoise lagoon to explore an exceptional house reef that is encircled with powder white sand.
You can do an array of water sports there if you are a water sports lover so why not experience this stunning visit to this island at least once in your lifetime.
2. Baros

A small private island in the middle of the Indian Ocean, Baros is close to the Male city which is set in a turquoise lagoon with villas secluded in palm-shaded glades by a white sandy beach or perched over-water with a private sun deck where its elegant, secluded villas with palm-thatched roofs are either over-water or facing the beach.
Baros is encircled by clear, warm waters and sugar-white sands, and dotted with swaying palms and fragrant flowers where its intimate resort's scenery is swoon-worthy.
For sure Baros will exceed your highest fantasy-island expectations which are a 25-minute speedboat ride from Male International Airport.
Baros is the ultimate atoll escape for travelers from all over the world.
3. Taj Majestic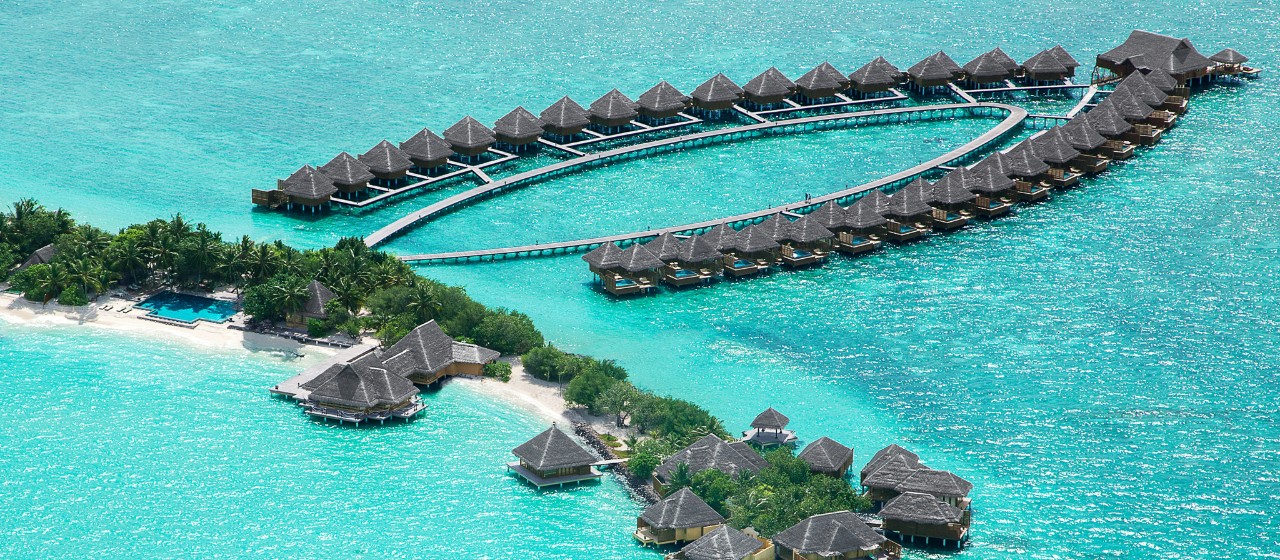 Located in the heart of Maldives archipelago, Taj Majestic is luxury redefined with 64 impeccably designed villas and suites that provide an endless view of the Indian Ocean.
You can escape to the pristine beaches and crystal-clear waters at Taj Exotica in the Maldives.
Renowned for its rich flora and fauna, this tropical isle, also known as the Three Coconut Isle which is situated amidst the coral reefs, a 15-minute speedboat ride from the airport brings you to this idyllic resort surrounded by the azure waters of the Indian Ocean.
To escape the frenetic pace and chaos of everyday life, into luxury's very own lap at Taj Majestic in Maldives where you can celebrate the curative and culinary virtues of traditional Indian culture, and adds a touch of exoticism to this hedonist address on the crystalline waters of the Indian Ocean.
4. Six Senses Laamu

Six Senses Laamu is a sustainable luxury resort surrounded by clear turquoise water and white sandy beaches.
Located on Olhuveli Island which is a 35-minute inter-island domestic flight away from Male International Airport to Kadhdhoo is the only resort in the Laamu Atoll, in the south of Maldives.
At Six Senses Laamu, you can spy on darting fish from your glass-bottomed bathtub, watch movies in the jungle, and while away weeks with watersports and island expeditions.
The island truly feels like it's in the middle of nowhere but is an amazing place that combines thoughtful luxury, rustic simplicity, outstanding culinary options, and plenty of activities which are making Six Senses Laamu – the latest must-visit destination in the Indian Ocean.
5. Vilamendhoo
Vilamendhoo, formerly one of the uninhabited islands of Alif Dhaal Atoll of the Maldives which has been developed into a 184 room 4 star plus resort, called Vilamendhoo Island Resort & Spa where some of the best diving points in the Maldives are located in Ari Atoll.
It is surrounded by a beautiful lagoon, an excellent house reef, and long stretches of white, sandy beach which is the only resort on the island of Vilamendhoo, South Ari Atoll.
Why not visit Vaiamendhoo where you can have excursions such as whale shark snorkeling and sunset cruises, and a dive center on the island? It's worth visiting.
6. Kurumba
The very first Maldives resort. Kurumba is the Maldives draws on its proud history, a charismatic character, and heartfelt service, to offer diverse experiences amid a stunning island of the Maldives.
The resort's name 'Kurumba' is derived from the coconut trees that grow here in glorious abundance where its lovingly nurtured tropical gardens include an orchid nursery.
Shaded paths lead from one side of this 30-acre circular island to the other. Intimate white beaches are protected by eco-breakwaters of weathered coral.
It offers guests the complete island resort experience. Relaxing on the white sandy beach. Swimming in Kurumba's protected crystal clear lagoon.
So treat yourself to an exquisite Maldivian spa treatment and also explore the underwater world on the vibrant house reef. With such a wide choice of experiences, Kurumba is the favorite Maldives Resorts of many.
7. Sun Island

Located on Nalaguraidhoo Island in the South Ari Atoll, 107 kilometers south of the Male International Airport.
Sun Island is the biggest resort in the Maldives and its scale comes with an unmatchable array of facilities along with very high value for costs.
You can escape to an exotic world of breathtaking possibility, where adventure and relaxation are equally within reach which is a flowering jewel among Maldives family hotels where every moment is free to shape into your personal version of paradise.
So explore the spectacular local scenery and unique Maldivian culture with excursions to neighboring islands or else simply let the ocean breeze caress you to sleep as you sway gently in your hammock.