Lisbon is Portugal's hilly, coastal capital city and is one of the most charismatic and vibrant cities in Europe. It's the hub of a multifaceted area that appeals to different tastes and senses.
It is a city that effortlessly blends traditional heritage, with striking modernism and progressive thinking. Lisbon is a fantastic city that has become one of the most respected holiday destinations in Western Europe.
The city boasts a glorious climate, lively nightlife, historic monuments, and a range of activities that will enthrall and captivate visitors of all ages.
As a travel destination, Lisbon offers a rich and varied history, a buzzing nightlife, and is blessed with a glorious year-round climate which must be on your bucket list.
Now, let's check out some of the cool places to visit while you plan your trip to Lisbon.
Here are the 5 Breathtaking Places To Visit In Lisbon.
1. Baixa
Baixa is Lisbon's historic heart and commercial center that comprises magnificent plazas, grand avenues, and boutique shopping boulevards.
It is the most central and renowned neighborhood in Lisbon which is popular with tourists, as contained within Baixa are many of Lisbon's major tourist attractions, along with a huge variety of restaurants and many excellent hotels.
Baixa has a lively and vibrant atmosphere and is from where most tourists start their tour of Lisbon.
It is packed with stores and restaurants and is always busy during the day which makes it fun to explore Baixa.
2. Belem

Known for its seafood restaurants and houses decorated with colorful tiles, Belem is a laid-back area on the Tagus River.
Among the area's shaded green lawns are historic landmarks that recall Portugal's seafaring past, like the 16th-century Tower of Belem and the sail-shaped Discoveries Monument.
Portugal's various explorers set sail from this part of town to other parts of the world and brought back riches and their many discoveries which is the charming district to the west of central Lisbon and is the setting for many of the capital's most iconic tourist attractions.
Belem is filled with parks, tree-lined plazas, and green open spaces, and is a breath of fresh air from claustrophobic and chaotic central Lisbon which you should not miss visiting.
3. Bairro Alto
Bairro Alto is a picturesque quarter dating from the 1500s, that has traditionally been the city's bohemian haunt of artists and writers.
It is the place to head to for a fun Lisbon night but is not the area to be based in for quiet nights, as the partying continues late into the night most days during the summer.
Here, travelers wander the steep cobbled streets of bohemian Bairro Alto to ride the Bica Funicular, visit lavish Sao Roque Church, and take in the views from Miradouro de Sao Pedro de Alcantara.
The appearance of Bairro Alto also reflects that of its numerous partying patrons; fun-loving and loud at night but distinctly worse for wear during the day.
Its grid of streets is quiet during the day but is transformed at night into one of the city's most vibrant nightlife quarters.
If you like partying then Bairro Alto is a perfect place for you to visit while you're in Lisbon.
4. Alfama
Alfama is one of the oldest districts of Lisbon where the steep streets of Alfama, one of Lisbon's oldest areas, are lined with shops selling traditional crafts and cafes.
It's also a delightful maze of narrow cobbled streets and ancient houses, which lead up the steep hill from the Tejo Estuary to the castle which is one of the most rewarding for walkers and photographers because of its medieval alleys and outstanding views.
Contained within this diverse and charismatic district are many historic buildings including the Se Cathedral, the Castle, the National Pantheon, and Saint Anthony's Church.
Alfama is a must-visit as it is the historic soul of Lisbon and its steep, cobblestoned lanes stand just as they were in medieval times.
5. Sintra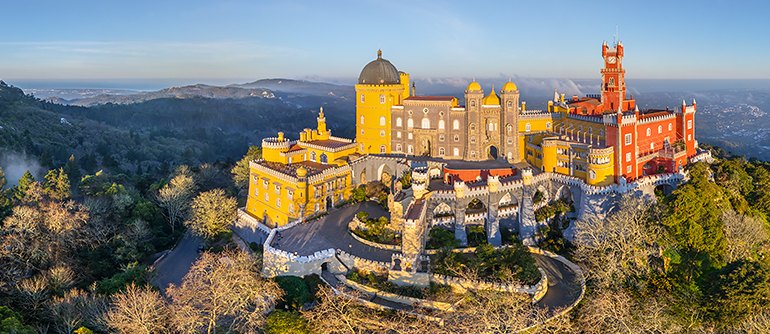 Sintra is a resort town in the foothills of Portugal's Sintra Mountains, near the capital, Lisbon.
This delightful Portuguese town is situated within the hills of the Serra de Sintra is hidden within the pine-covered hills are extravagant palaces, opulent mansions, and the ruins of an ancient castle.
It is a place full of magic and mystery, where Nature and Man have combined in such a perfect symbiosis that UNESCO has granted it World Heritage Site status where the variety of fascinating historic buildings and enthralling attractions, combine to form a fantastic tourist destination.
Sintra is a picturesque town that boasts extravagant palaces, ancient castles, and stunning scenery which you shouldn't miss while you're in Lisbon.
If you liked this article, then please subscribe to my YouTube Channel for Travel Adventures. You can also follow my adventures on Twitter and Instagram