Based around 2 large harbours, Auckland is a major city in the north of New Zealand's North Island.
In the centre, the iconic Sky Tower has views of Viaduct Harbour, which is full of superyachts and lined with bars and cafes.
It's a place where always something happening, from major sporting events, concerts and festivals to outdoor adventures, designer shopping, and world-class food and wine.
Escape the hustle & bustle of Auckland city to these beautiful places. Take a stroll along tree-lined avenues, picnic on the grassed slopes between lovely flower beds.
Experience a working farm right in the heart of Auckland city. But now it's time to find out those amazing places.
Here are the 5 Stunning Places To Visit In Auckland.
1. Sky Tower
Located at the corner of Victoria and Federal Streets within the city's CBD, Sky Tower is 328 metres tall, as measured from ground level to the top of the mast making it the tallest freestanding structure in the Southern Hemisphere and the 25th tallest tower in the world.
This telecommunications and observation tower in Auckland (New Zealand) has become an iconic landmark in Auckland's skyline due to its height and unique design.
It also has the city's only 360-degree revolving restaurant called Orbit which is on level 52.
It's an exciting hub of adrenaline activities, superb dining, and breathtaking views is a must if you're travelling to Auckland.
2. Waiheke Island
Waiheke Island is the most populated and second-largest island in the Hauraki Gulf of New Zealand.
It is a haven of beautiful vineyards, olive groves, and beaches which is a 40-minute ferry ride from downtown Auckland.
Waiheke has abundant natural wonders to explore and for the more adventurous, there are numerous activities to pursue including mountain biking, sea kayaking, fishing, surfing, sailing, archery and much more.
In landscape, lifestyle, and experience, Waiheke is a world away. So come and discover a true island paradise of New Zealand.
3. Rangitoto Island
The volcanic Rangitoto Island is one of the most iconic landmarks in Auckland's city skyline.
The 5.5 km wide island is an iconic and widely visible landmark of Auckland with its distinctive symmetrical shield volcano cone rising 260 metres high over the Hauraki Gulf.
This Island offers a range of activities for the family, including walking/hiking, fishing, camping and sea kayaking, plus many more. Only a short scenic ferry ride across the harbour from downtown Auckland, the island is a favourite destination for hikers and day-trippers.
So, must visit this amazing island which is the youngest and largest of Auckland's 48 volcanic cones, and is home to the world's largest pohutukawa forest.
4. Waitakere Ranges
The Waitakere Ranges are a chain of hills in the Auckland Region, generally running approximately 25 km from north to south, 25 km west of central Auckland, New Zealand.
This is a place where pristine bush, thriving native wildlife, and rugged black sand surf beaches come together.
The 'wild west' feels like another world away which is only a 40-minute drive from the city centre.
The Waitakere Ranges region is one of Auckland's natural treasures which is rich in native flora and fauna, and home to the giants of the forest, the mighty kauri tree.
At the base of the Waitakere Ranges Regional Park, you'll find the wild and beautiful west coast black-sand surf beaches of Whatipu, Karekare, Piha, Bethells and Muriwai and some of Auckland's most popular surf spots, great swimming, dramatic landscapes – even a huge clifftop gannet colony.
5. One Tree Hill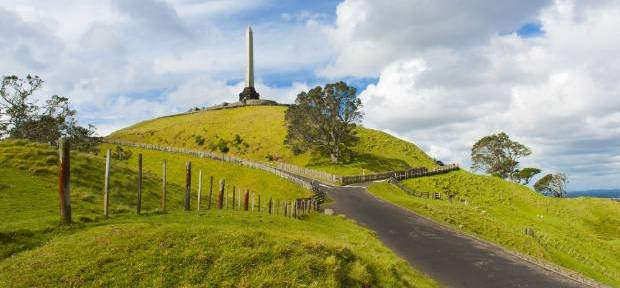 One Tree Hill is a 182-metre volcanic peak in Auckland and the second-largest of the 46 volcanoes that dot the Auckland landscape, Maungakiekie was once the site of a massive pa (fortified village), home to several thousand people.
By the time of European settlement, the pa had been abandoned, and a single totara tree grew on the summit which was later replaced by a single Monterey pine, and Maungakiekie became known as One Tree Hill.
Once you get to the top of the hill you will see where the tree used to be planted and standing tall next to it is the obelisk which is a tall four-sided monument shaped a bit like a pyramid.
Any time of the year is perfect to visit One Tree Hill, so don't miss it.
If you liked this article, then please subscribe to my YouTube Channel for Travel Adventures. You can also follow my adventures on Twitter and Instagram