Belgium is a country in Western Europe that is known for medieval towns and Renaissance architecture which has distinctive regions including Dutch-speaking Flanders to the north, French-speaking Wallonia to the south, and a German-speaking community to the east.
The bilingual capital, Brussels, has ornate guildhalls at Grand-Place and elegant art-nouveau buildings.
Its well-preserved gothic and baroque architecture, picturesque canals, cobbled streets, top restaurants, and irresistible chocolatiers make their perfect holiday destinations for travelers all around the world.
So don't let Belgium's relatively small size fool you since it has more to do per square mile than most other places on earth.
Now, let's check out some of the amazing places to visit while you're in Belgium.
Here are the 7 Amazing Places To Visit In Belgium.
1. Bruges
Bruges, the capital of West Flanders in northwest Belgium is distinguished by its canals, cobbled streets, and medieval buildings whose port, Zeebrugge is an important center for fishing and European trade that will capture your heart.
It is a city of human proportions, but one that can never be truly fathomed whose history has made it great, a fact that garnered it the title of a UNESCO World Heritage City.
Retaining the mysteries of the Middle Ages and unashamedly exuberant, Bruges has been an international metropolis for centuries.
2. Ghent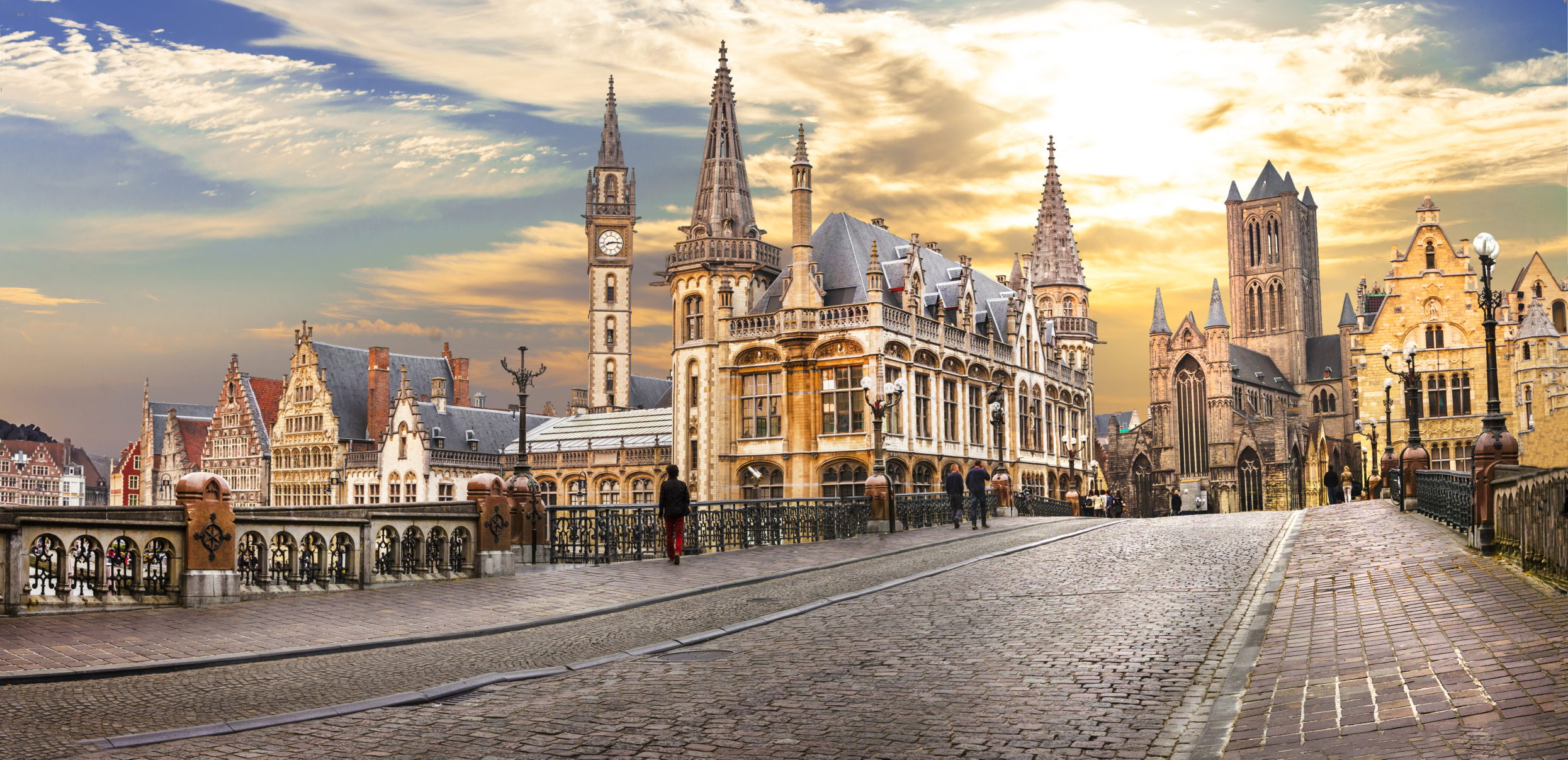 Whose pedestrianized center is known for medieval architecture such as 12th-century Gravensteen castle and the Graslei, a row of guildhalls beside the Leie river harbor, Ghent is a port city in northwest Belgium, at the confluence of the Leie and Scheldt rivers and during the Middle Ages, it was a prominent city-state but today it's a university town and cultural hub.
Quirky Ghent offers a fascinating cultural cocktail brimming with trendy, modern urban life.
Ghent is a city where people enjoy life: a chilled-out place where anything goes and a city that feels human.
Its friendly, welcoming people love the good life where this undiscovered Flemish jewel of a city boasts an opera house, a handful of museums, even more, ancient churches, and countless bridges spanning the two rivers that wind themselves through the city.
Don't miss the chance to admire vibrant Ghent.
3. Leuven
Leuven is a city east of Brussels which is known for its breweries. On a central square is the 15th-century town hall, with its tall spires.
The building is decorated with hundreds of statues of local figures, biblical characters, and saints.
Leuven is a versatile city but on the one hand, it has an age-old heritage: the university is the oldest in the country, as is the Botanic Garden, not to mention the incredible Gothic architecture.
It is a place that combines the vibe of a city with the coziness of a village where you can spot the peacocks in the park around Keizersberg Abbey, go to Keizershof for a beautiful view of the city, and relax in the Dijlepark.
4. Dinant

Perched on an outcrop above the town is the centuries-old fortified Citadel, Dinant is a city in Belgium's Walloon Region which is on the banks of the Meuse River and backed by steep cliffs.
Beneath Dinant's romantic facade lies a rich history that emanates from every corner. It is a city that begs to be explored left and right, above and below.
If you really want to skip the crowds of Brussels then head to this city blanketed with medieval ambiance and experience the unseen Belgium of centuries ago.
Don't miss a chance to explore Dinant as it is home to some of the most beautiful caves in Belgium.
5. Brussels
As the headquarters to the European Union and NATO, this metropolis is often referred to as The Capital of Europe and also as the centre of European culture and institutions, Brussels has much more to offer than most people imagine.
Apart from its famous chocolates and beers, there are almost 90 museums, beautiful parks, architecture, bars and much more.
It is the ultimate European city with a mosaic of languages and cultures paving a way for a vibrant restaurant and nightlife scene. With over 80 museums, the King's Palace, and a wealth of history, culture is equally accessible.
6. Ardennes
Ardennes is a region in southeast Belgium that extends into Luxembourg, Germany, and France.
Once the scene of fierce battles in both World Wars, whose rugged terrain encompasses rolling valleys, meandering rivers, extensive caves, and dense forests crisscrossed with hiking paths. Those same valleys and rivers yield game, ham, trout, and pike that are renowned throughout Belgium.
You can wander through the many picturesque villages nestling in the valleys where traditions and folklore still live on, and where the region's arts and crafts can be enjoyed.
7. Damme 

Damme is a picturesque medieval town in the green Flemish polders at a stone's throw from historic Bruges and the Belgian coast.
Very few small towns have so many monuments as Damme: the gothic town hall, the Schellemill, the 13th-century Sint-Janshospital, the partially restored town walls, old farms, and in the surrounding villages, you will also find various architectural masterpieces that bear witness of the rich past of this region.
Damme is an ideal base for your vacation with the family. The landscape is very inviting and well-suited for a bicycle ride.