The cuisine of Kerala, a state in the south of India, is linked to its history, geography, demography, and culture. Kerala cuisine offers a multitude of both vegetarian and non-vegetarian dishes prepared using fish, poultry, and red meat with rice as a typical accompaniment.
Here are the Top 7 Yummy And Delicious Foods To Taste On Your Kerala Trip.
7. Toddy (Coconut Wine)
Referred as a Coconut Vodka, Toddy is nothing but the sap got from incising the clusters of the coconut mostly not being fermented which is served as either neera or padaneer (a sweet, non-alcoholic beverage derived from fresh sap) or kallu – a sour beverage made from fermented sap, but not as strong as wine.
If you are a wine lover and want to try something different then you should try Toddy from Kerala.
6. Karutha Aluva (Black Halwa)
Karutha Aluva is a special sweet dish prepared in Kerala that is also a traditional delicacy of Kerala cuisine which is tempting and mouth-watering for sweet lovers where you can never say enough with one bite.
It is a unique and special dessert made with a condensed mixture of rice flour, jaggery, and coconut milk which you can easily prepare the delicious sweet at home also.
So do not forget to taste this delicious dessert of Kerala if you are a sweet lover.
5. Avial (Mix veg Stew)
Avial is a dish that is believed to have been originated from South India and is common in Kerala and Udupi cuisine.
It is a thick mixture of vegetables and coconut, seasoned with coconut oil and curry leaves. Avial is considered an essential part of the Sadya, the Keralite vegetarian feast.
If you love to eat green vegetables then you should definitely try eating this amazing Avial.
4. Kappa Meen Kari (Tapioca with Fish Curry)
Kappa Meen Kari, one of the authentic Kerala dishes without any doubt has become a true delicacy of Kerala's cuisine loved by all non-veggies lovers with high enthusiasm.
Nowadays, you could come across tapioca being served along with beef or chicken but tapioca with fish curry is the most delicious and the most commonly served combination.
Tapioca has been a staple food for many people in Kerala because it is cheap and available all year round.
Also, Kappa (tapioca) used to be considered as poor man's food because it was a good starchy substitute for rice for those who can't afford rice but over a period of time, it got transformed from poor man's staple to an exotic dish.
3. Appam Muttakari (Appam with an Egg Curry)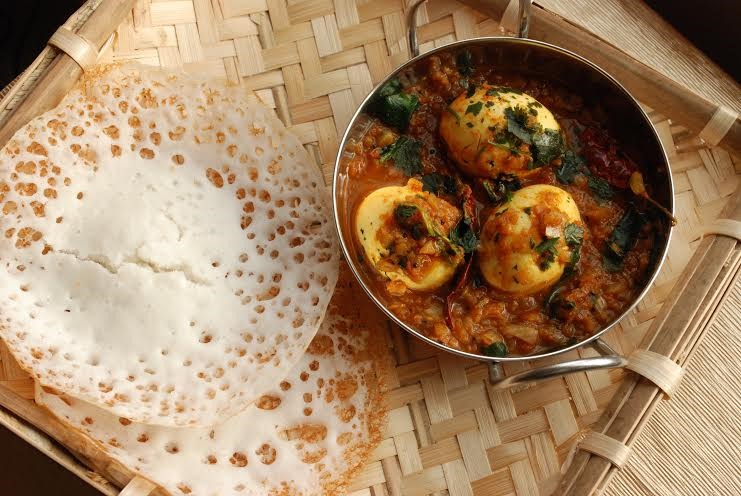 Appam is a type of south Indian pancake made with fermented rice batter and coconut known as Hoppers as you can see in the above picture which is the most popular dish in Kerala and southernmost part of Tamil Nadu that can be eaten most frequently for dinner and breakfast.
Appams are very soft and spongy in the center and have a lacy border which can be served with an egg curry which is so mouth-watering and delicious.
Don't miss to try Appam with an egg curry when you are in Kerala.
2. Kakka Erachi (Shell Fry)
Kakka Erachi (Shell Fry) is a seafood specialty dish in Kerala which is juicy and rich in flavors and tastes best when roasted to a golden brown widely eaten in the coastal regions of Kerala where the spices, pepper, and coconut strips complement the meat well and make it extra scrumptious and enticing to your taste buds.
So don't miss to add this special delicacy of Kerala to your Kerala food bucket list when you plan to explore Kerala.
1. Chammanthi Podi (Coconut Powder)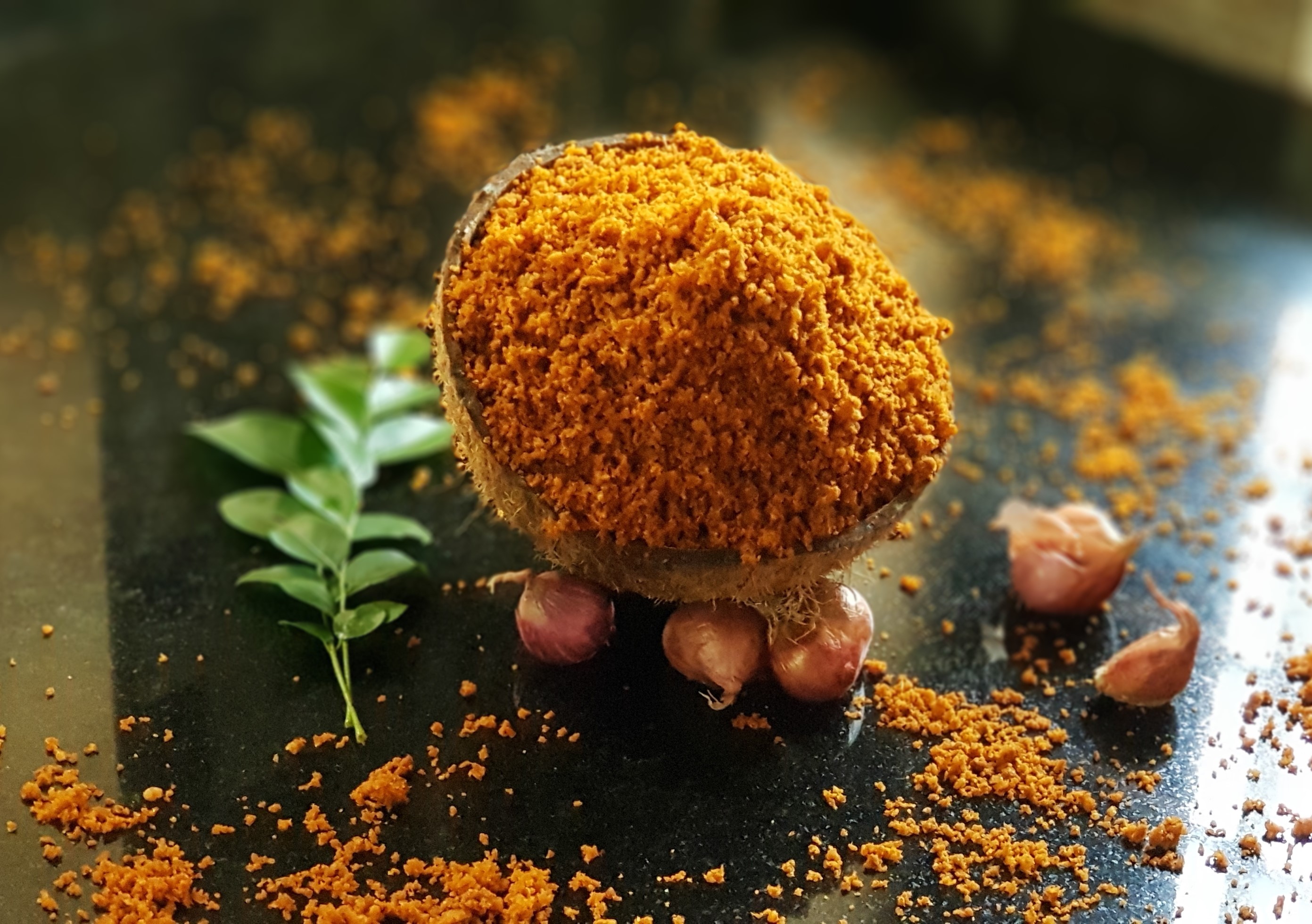 Now, here comes my favorite dish from Kerala – coconut powder, Chammanthi Podi is a dry condiment and chutney from the Indian state of Kerala where roasted coconut chutney powder is long-term storage guaranteed roast and ground coconut mixture which serves as the best side dish for Upma, Idli and Curd rice.
Actually, the dry coconut powder you can have with any dish is so mouth-watering and delicious. Right now my mouth is so watering when I am mentioning it.
So warning! – do not forget to taste this mouth-watering coconut powder because it tastes amazing and you will agree with me after tasting it.
You may also like to know about the best places to visit in Kerala so click to know about  10 Best Places to Visit in Kerala.
If you liked this article, then please subscribe to my YouTube Channel for Travel Adventures. You can also follow my adventures on Twitter and Instagram.