Spicy, rich, and an extravaganza of different flavors, Hungary's cuisine is a delicious and surprising discovery for many travelers to the country.
They consume a lot of cheese and meat, as well as soups and stews, while the desserts are famous all over the world.
Developed over thousands of years of Magyar history, traditional dishes continue to be part of a proud and abundant cultural heritage.
Here is a list of Top 5 Hungarian Dishes You Must Try At Least Once In Your Life.
1. Goulash
Goulash is a soup of meat and vegetables, seasoned with paprika and other spices. Originating from medieval Hungary, goulash is a popular meal predominantly eaten in Central Europe but also in other parts of Europe.
2. Porkolt
Porkolt is a meat stew that originates from Hungary but is eaten throughout Central Europe and the Balkans.
It should not be confused with Goulash, a stew with more gravy or a soup (using meat with bones, paprika, caraway, vegetables, and potato or different tiny dumplings or pasta simmered along with the meat), or Paprikas (using only meat, paprika, and thick heavy sour cream).
The traditional Hungarian stews: Porkolt and Paprikas along with the traditional soup "Goulash" are considered to be the national dishes of Hungary.
3. Lecso
Lecso is a Hungarian thick vegetable ragout or stew which features explicitly yellow pointed peppers, tomato, onion, salt, and ground sweet and/or hot paprika as a base recipe.
4. Langos
It is a deep-fried flatbread made of a dough with flour, yeast, salt, and water (kind of bread dough). Langos can be made with yogurt, sour cream, or milk instead of water, a dash of sugar along with salt, and sometimes with flour and boiled mashed potatoes, which is called potato langos.
It is eaten fresh and warm, topped with sour cream and grated cheese, rubbed with garlic or garlic butter, or doused with garlic water.
Langos may be cooked at home or bought from street vendors around the country. The name comes from lang, the Hungarian word for flame.
5. Somloi Galuska Cake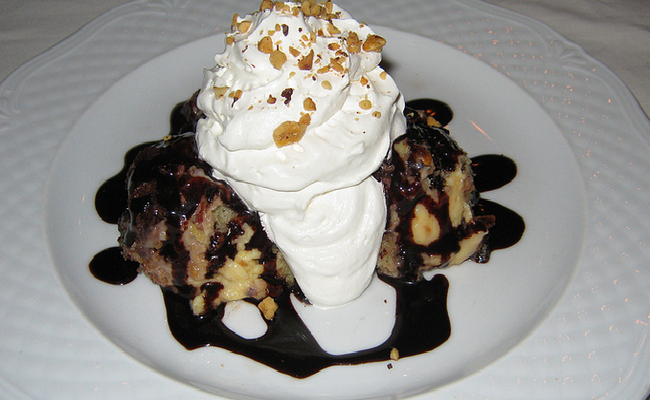 Known as the Sponge Cake, It is one of the most famous Hungarian desserts which is made with three different-flavored sponge cakes, pastry cream, raisins, walnuts, chocolate sauce, and whipped cream.
The traditional presentation is to scoop three balls of this dessert into a bowl or on a plate, dollop with whipped cream, and garnish with chocolate sauce.
A modern presentation is to cut it into squares so the different layers are evident.
If you liked this article, then please subscribe to my YouTube Channel for Travel Adventures. You can also follow my adventures on Twitter and Instagram.