Big, bustling cities teeming with life and bright lights make fantastic places to visit.
But are you tired of city life? How about taking a vacation to a countryside village?
A place with fresh air, fresh water, and many beautiful landscapes where small lesser-known villages often make even better ones.
Visiting them will only transfer you to the magical world of fairy tales and you would ultimately wish to settle down there.
Don't believe in love at first sight? Here are the 5 charming villages in Germany that will change your mind.
Let's explore Germany's 5 Most Heart-Stealing Villages You'll Fall In Love With:
1. Berchtesgaden, Bavaria
Famous for its mountains, the Berchtesgaden is a small town within the German Bavarian Alps located between 500 and 1,100 meters in altitude in the German Alps and is bounded by the Untersberg Mountains on the northern side.
The stunning and magnificent view of Berchtesgaden makes this village wins the prize for the most breathtaking scenery since it is to be found in mountainous south Bavaria.
Apart from its magnificent view, mountain sports are also on offer here, from mountain biking to climbing.  And unfortunately, this beautiful place was also a favorite of Adolf Hitler who had an alpine retreat here.
2. Bickensohl, Kaiserstuhl
Bickensohl offers one of the most beautiful natural areas for hiking which is located in the heart of the Kaiserstuhl in southwestern Germany and belongs to the town of Vogtsburg in the Kaiserstuhl wine village with about 400 inhabitants.
The location in the middle of the Kaiserstuhl makes the place so popular for wonderful walks through vineyards, woods, and meadows where you can also find rare flowers and orchids.
3. Cochem, Rhineland-Palatinate

Cochem is the seat of and the biggest town in the Cochem-Zell district in Rhineland-Palatinate which is the center of the Mosel wine trade fondly known for its regional wines because of the presence of the many vineyards and small family-run wineries in the nearby towns along the river.
Cochem does not disappoint when it comes to striking architecture that makes the most of dramatic, natural scenery with just over 5,000 inhabitants where  Cochem falls just behind Kusel, in the Kusel district, as Germany's second smallest district seat.
In Cochem, the houses are sandwiched between the river and the Reichsburg castle which peers down from one of the surrounding tree-covered hills which makes it must visit place for tourists.
4. Gimmeldingen, Rhineland-Palatinate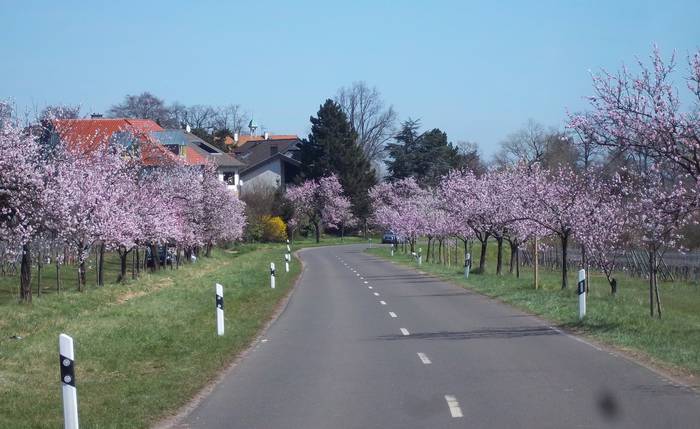 Famous for  "Almond Blossom Festival", Gimmeldingen is a village with 2600 inhabitants that was the first documentary mentioned in 1109 as "Gomeltingen" which is complete with a mini castle and surrounded by hills and forest.
Mandelbluetenfest, the almond blossom fest, held each year in spring in March, depending on the start of the almond blossom, dipping the whole countryside in light pink up to one month earlier than in other parts of Germany that are not blessed by such a warm climate which makes this place especially visit-worthy in the spring when the blossoms arrive. This is an event that is celebrated with an annual festival.
5. Tuchersfeld, Bavaria
With 251 residents, Tuchersfeld is a church village in the Puttlach valley in Franconian Switzerland and belongs to the town of Pottenstein which is an absolutely tiny village in northern Bavaria that is worth a visit purely for its architecture.
Click to know about Top 5 Stunning Places to Visit in France.
If you liked this article, then please subscribe to my YouTube Channel for Travel Adventures. You can also follow my adventures on Twitter and Instagram.