Known for its scuba diving and surrounded by sand-fringed Motus (islets) and a turquoise lagoon protected by a coral reef, Bora Bora is a small South Pacific island northwest of Tahiti in French Polynesia.
It is undoubtedly one of the most beautiful places in the world which is famous for its luxurious overwater bungalows that provide gorgeous vistas of the turquoise lagoon and lush, mountainous landscape, as well as direct access to the sea life-filled waters, it's a bucket-list spot for many.
A trip to Bora Bora is your ticket to discover a new and colorful world so don't miss exploring because a trip to Bora Bora won't be just a trip but a marvelous experience.
So now I am gonna list out some of the best places to visit Bora Bora.
1. Mount Otemanu
Mount Otemanu is an impressive remnant of an ancient volcano which is located at the heart of the South Pacific Ocean on the island of Bora Bora.
The French Polynesian islands, in general, are blessed with some incredible picture-perfect sceneries but Mount Otemanu takes the crown where volcanic remnant makes for a dramatic photo op or an adrenaline-pumping adventure.
The dramatic peaks are an oft-photographed site due to their changing appearance according to where you are positioned on the island and their lofty height.
A trip to Bora Bora isn't complete without a visit to the top of this breathtaking mountain so don't miss hiking through Mount Otemanu when you are in Bora Bora.
2. Matira Beach
Often described as the most beautiful beach in the world, Matira Beach is the largest public access beach in Bora Bora making it extremely popular with visitors.
It's a fun atmosphere that offers natural shade from palm trees, safe swimming, and easy snorkeling where its water is crystal-clear and the sand is soft and downy.
Backed by lush palms and forested hills, the beach is an idyllic spot to relax where you can rent a sun lounge or spread out your towel and enjoy the sunshine.
Matira Beach is a perfect place for some rest and relaxation so don't forget to visit the amazing beach.
3. Mount Pahia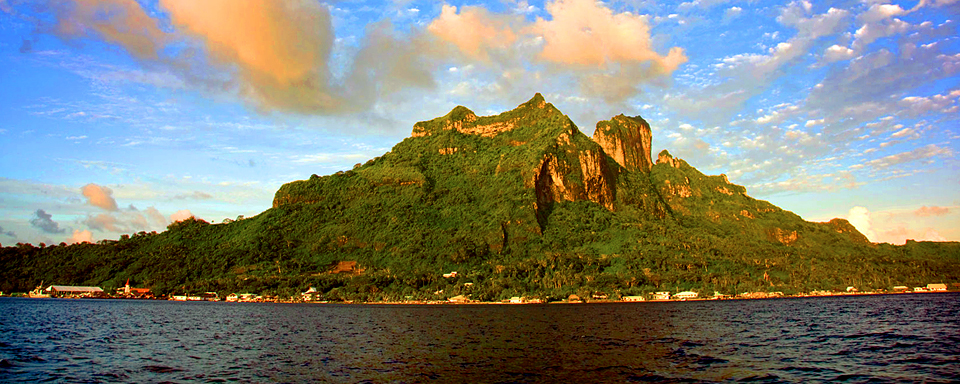 Mount Pahia is the second-highest summit on Bora Bora and the challenging hike leading up to it features steep jungle climbs on faint trails with spectacular views all around the island and lagoon.
Often draped in white clouds, this landmark takes on mysterious and mythical qualities. With its dominating peak and brilliant turquoise lagoon, Bora Bora offers the most dramatic beauty of an island in French Polynesia.
So do not miss to visit Mount Pahia when you are in Bora Bora as the views from Mount Pahia are absolutely incredible all the way around.
4. White Valley
White Valley is one of the favorite dive sites in Bora Bora due to the incredible marine life sightings and its underwater topography which is open into a field with rich coral formations, and sandy dunes animated by a multitude of fish.
The reef in perpetual activity. Like a garden inhabited by its own little microcosms of fish life.
If you love to dive then you must visit White Valley in Bora Bora, I am sure it will not disappoint you.
5. Leopard Rays Trench
Known for its crystal clear waters, the Leopard Rays Trench is one of the most beautiful diving sites in Bora Bora.
Here you can practically see the giant Manta Rays penetrating through the waters and the white sandy bottom makes it even better to explore the marine life.
So don't forget to do scuba diving on your visit to Leopard Rays Trench.
6. Fitiiu Point
Fitiiu Point is a natural bay and area that has some of the best snorkeling and diving on all of the island where you can see a good amount of sea wildlife ranging from small colorful fish to shark to sting and manta rays.
A climb to Fitiiu Point offers some gorgeous vistas of the lagoon, signature mountains, and the luxury resorts out on the Motus which makes it must visit place in Bora Bora.
7. Maupiti

Maupiti is a small coral atoll with a volcanic island in its midst. It has a population of 1,200 people living on 11 square kilometers.
There's something about Maupiti, something captivating, a sense of raw beauty, a feeling of the ultimate paradise.
It offers stunning tropical island lagoon scenery, action-packed, sensational snorkeling, and knock-out panoramas from atop Maupiti's highest peak which is accessible by foot which makes it one of the must-visit places in Bora Bora.
Click here to read about the Top 8 Best Places To Visit In Pacific Islands.