Home to numerous lakes, villages, and the high peaks of the Alps, Switzerland is a mountainous Central European country whose cities and villages contain medieval quarters, with landmarks like the capital Bern's Zytglogge clock tower and Lucerne's wooden chapel bridge. The country is also known for its ski resorts and hiking trails.
If you really want to experience quintessential Switzerland then you need to visit the small picturesque villages which have dozens of adorable villages throughout Switzerland.
Each and every village in Switzerland is overflowing with beauty and charm but some of the villages are so isolated that the only way to reach them is by mountain train, cable car, or on foot.
These villages with flower-adorned chalets, green meadows with grazing cows, car-free centers, and traditional customs followed even to this day offer a unique and enchanting experience.
Visiting these villages may be inconvenient but the sceneries waiting for you, are well worth putting in the effort to get there.
Let's find out some of the most heart-stealing villages Of Switzerland which you must add to your must-visit list for a trip to Switzerland.
Here are The 11 Most Heart-Stealing Villages Of Switzerland.
1. Lauterbrunnen
Set in a valley featuring rocky cliffs and the roaring, 300m-­high Staubbach Falls, Lauterbrunnen is an idyllic Swiss village located in an impossibly beautiful valley in the Alps.
The name 'Lauter Brunnen' ('many fountains') suggests the magnificence of the Lauterbrunnen landscape which is consists of 72 waterfalls where the most famous being the Staubbach Falls.
Nearby, the glacial waters of Trummelbach Falls gush through mountain crevices past viewing platforms. Also, a cable car runs from Stechelberg village to Schilthorn mountain, for views over the Bernese Alps.
Lauterbrunnen is one of the most beautiful villages in Switzerland with breathtaking views.
This what makes Lauterbrunnen a must-visit place when you are traveling to Switzerland where the unspoiled village is popular throughout the year and also you can enjoy an endless array of scenic hikes and walks and also witness the amazing views of snowcapped peaks.
2. Grindelwald
Being a popular gateway for the Jungfrau Region, with skiing in winter and hiking in summer, Grindelwald is a village in Switzerland's Bernese Alps which is also a base for mountain-climbing ascents up the iconic north face of Eiger Mountain.
This pretty Swiss village is blessed with stunning surroundings which are the ideal base to enjoy Switzerland's natural beauty and charm.
Grindelwald is surrounded by lush green pastures and towered over by the 3970 m Eiger whose mountainscape and the numerous lookout points and activities make Grindelwald one of the most popular and cosmopolitan holidays and excursion destinations in Switzerland.
Also, it is a favorite destination for those who love the mountains.
This is a must-visit when you're on your trip to Switzerland where Grindelwald is also the perfect place to head for world-class skiing and snowboarding, so don't miss it.
3. Murren
Featured in a James Bond film, the Piz Gloria revolving restaurant contains the Bond World 007 exhibit and has views of Mont Blanc, Murren is a Swiss mountain village at the foot of the Schilthorn peak which is accessible by cable car.
The mountain with its breathtaking panoramic views is today one of the top attractions of the Jungfrau region. Lying at the foot of the Schilthorn, Murren has nevertheless remained a cozy mountain village.
It is a charming village with magnificent views and no traffic noise where this beautiful village is completely cut off from car traffic.
Places like Murren are hard to find which is so stunning. It is an amazing place for hiking enthusiasts who wish to enjoy the natural beauty of Switzerland.
So don't miss to enjoy the most beautiful panoramic view of the Eiger, Monch, and Jungfrau and the autumn in the beautiful hiking area of Murren-Schilthorn.
4. Wengen
Known for its timber chalets and belle epoque hotels, Wengen is a Swiss Alpine village in the Bernese Oberland region.
It is a car-free Alpine village in the Jungfrau region which is surrounded by hiking trails in summer and ski slopes in winter making a perfect base for excursions to Jungfraujoch, Kleine Scheidegg, and Mannlichen.
Wengen offers a pure mountain experience with some of the best views in the Alps.
Wengen is one of the picturesque villages you may have in mind when you try to picture what the Swiss Alps look like: no cars, mountains all around, green meadows and forests surrounding the village which is also a perfect place to hike.
So don't miss to enjoy traffic-free Wengen with its picturesque buildings and wonderful views just for you if you are looking for an idyllic Swiss mountain village holiday destination.
5. Engelberg
Located 25 km south of Lake Lucerne in a wide mountain valley at an altitude of around 1000 meters, Engelberg is a village resort and a municipality in the canton of Obwalden in Switzerland also the largest winter and summer holiday destination in central Switzerland.
Formerly a quiet monastery village, this attractive village offers a wide variety of holiday activities for families, newcomers, and those who are looking for it.
Engelberg is home to a network of walking trails covering around 50 km where many exciting options will make your trip an unforgettable mountain experience.
The village of Engelberg is so appealing because of its distinct and rustic character which offers such a variety of things to do that you will be tempted to extend your vacation long enough to try each and everything that Engelberg offers.
Fresh wind in your hair, glistening snow, and sunshine this is what travelers expect from sledding fun in Engelberg so don't forget to add to your bucket list.
6. Brienz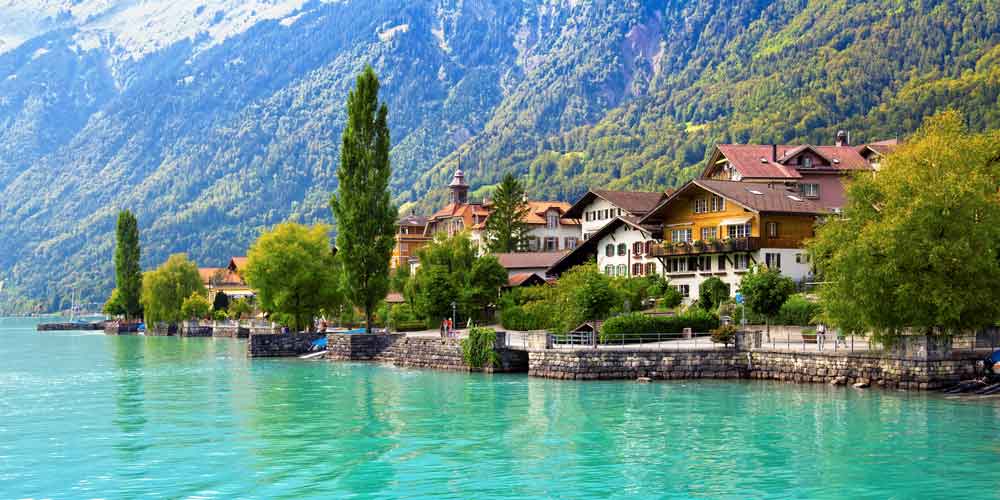 Located in the middle of charming mountains at the eastern end of turquoise-colored Lake Brienz, Brienz is a village on the northeast shore of Lake Brienz, in Switzerland's Bernese Oberland region whose 18th-century wooden chalets and the sculptures dotted throughout the village are testimonials to a woodcarving tradition.
Brienz was a must-visit town on every "Grand tour of Europe" since the British invented tourism in Switzerland.
Brunngasse which is the most romantic part of Brienz has once been awarded the title "most beautiful street in Europe", is well-known abroad.
The picturesque setting on its namesake lake and a wreath of Alpine mountains as a backdrop contribute to the beauty of Brienz.
It is home to the valley terminus of the steep cogwheel railway that transports passengers to the panorama and hiking peak marking the border of the Bern, Obwalden, and Lucerne triangle.
It is really worth taking the time to explore this amazing village of Brienz.
7. Verbier
Located in the south-western part of Switzerland in the canton of the Valais, Verbier is an Alpine village in Switzerland's Valais Canton which is the gateway to the 4 Vallees ski area is bordered by France to the west and Italy to the south offering a unique panoramic view of the Mont-Blanc and the Combins massif.
Verbier has developed into a glamorous winter playground for anyone who wants to splash the cash with its pretty chalet-style architecture, glorious mountain views, fantastic ski terrain, and wild nightlife.
During winter Verbier offers limitless pleasure for advanced skiers from all over the world as well as for beginners.
If you love sports then Verbier is the perfect destination for you because this alpine village has countless activities in store for families, senior citizens, and young people alike from paragliding, heliski, sledding, golf, museums to local produce to try.
Check out Germany's 5 Most Heart-Stealing Villages You'll Fall In Love With.
8. Saas-Fee
Famous for its proximity to mountains more than 4,000m above sea level, or Four-thousand, Saas-Fee is a resort village in the Swiss Alps near the Italian border which a gateway to more than 100km of pistes for skiing and snowboarding, plus sledding and toboggan runs.
Often called "a diamond of the Alps", Saas-Fee is a marvelously beautiful place with many attractions and traditional high-quality service which is distinguished by 350 km of thematic and hiking trails as well as special offerings for families and children.
You should definitely visit Saas-Fee which is absolute heaven for travelers if they like the combination of stunning alpine scenery, a comfortable village, and plenty of outdoor activities.
9. Gstaad
Gstaad is an upscale resort town in the Bernese Oberland region of the Swiss Alps whose soaring mountains and prestigious international boarding schools have long made it a holiday destination for royalty and celebrities.
Cable cars connect surrounding ski areas such as Wispile and Rinderberg, with hundreds of kilometers of all-level pistes and cross-country trails.
Gstaad in the Bernese Oberland attracts a charming mix of visitors while the chalet village of Gstaad welcomes famous guests where the smaller neighboring villages offer attractive options for families with children.
It is appealing with a variety of sporting activities and social events during most of the year.
Don't forget to add Gstaad to your bucket list where you will be fascinated by flowering meadows under clear blue skies.
10. Andermatt

Located in the heart of the Swiss Alps, Andermatt is a village in the Ursern Valley whose narrow streets are lined with traditional chalets, one housing the folk museum, Talmuseum Ursern.
A cable car offers access to Gemsstock ski area and a chairlift links the village with Natschen's gentler slopes.
It is a large village in the Urseren Valley embedded in 1.4 million square km of natural Alpine landscape which is renowned far beyond the Swiss borders for its high peaks, deep gorges, cascading waterfalls, and clear mountain lakes.
Andermatt is the perfect destination for nature lovers and outdoor sports enthusiasts, whatever the time of year, so don't miss visiting Andermatt if you're a nature lover.
11. Appenzell
Appenzell is a village in northeastern Switzerland situated in a singularly beautiful landscape of rolling hills. Trails and cableways connect various summits, including towering Santi's peak.
The car-free village beckons with pretty lanes and a myriad of small stores and boutiques that are ideal for shopping and browsing.
It offers everyone time and space to relax and rejuvenate. Appenzell has around 7,000 inhabitants making it the political, economic, and cultural centre of Switzerland's smallest canton, Appenzell Innerrhoden.
The hilly pre-Alpine landscape and the mighty Alpstein take on the appearance of a snowy-white winter fairytale, this is why you should drop everything and visit Appenzell.