"Wherever you go becomes a part of you somehow." "Travel is fatal to prejudice, bigotry, and narrow-mindedness, and many of our people need it sorely on these accounts. Broad, wholesome, charitable views of men and things cannot be acquired by vegetating in one little corner of the earth all one's lifetime."
So, here is the list of the 10 best travel movies of all time.
10.  The Darjeeling Limited (2007)
 A year after the accidental death of their father, three brothers — each suffering from depression – meet for a train trip across India. Francis, the eldest, has organized it. The brothers argue, sulk, resent each other, and fight. The youngest, Jack, estranged from his girlfriend, is attracted to one of the train's attendants. Peter has left his pregnant wife at home, and he buys a venomous snake. After a few days, Francis discloses their surprising and disconcerting destination. Amid foreign surroundings, can the brothers sort out their differences? A funeral, a meditation, a hilltop ritual, and the Bengal Lancer figure in the reconciliation.
9.  Zindagi Na Milegi Dobara (2011)
Friends Kabir, Imran, and Arjun take a vacation in Spain before Kabir's marriage. The trip turns into an opportunity to mend fences, heal wounds, fall in love with life and combat their worst fears.
8. The Art of Travel (2008)
A man who planned to marry his high school sweetheart, buy a house with a white picket fence, and raise a family kisses his dreams of suburban bliss goodbye in order to travel through a hundred-mile section of Central and South American jungle known as the Darien Gap in this adventure starring Christopher Masterson, Brooke Burns, Johnny Messner, and James Duval.
7. Hit the Road: India (2013)
It's a travel adventure documentary about two friends participating in a 12-day rickshaw rally across India, from Mumbai to Chennai, recognized by Lonely Planet as one of the top-10 greatest adventures of 2012.
6. Indiana Jones (the whole series)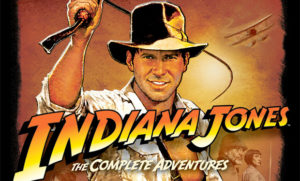 A whole series draws and inspires for travel and also to have adventures like Indiana Jones.
5. Eat, Pray, Love (2010)
Elizabeth Gilbert's perfect world comes shattering down when she gets divorced. She then embarks on a journey across the world in an attempt to rediscover her true self.
4. Wild (2014)
Cheryl Strayed, a recently divorced woman, decides to start a new life by hiking along the 1100 mile-long Pacific Crest Trail. She begins to discover herself as she goes along her trek.
3. The Bucket List (2007)
Two terminally ill men decide to explore life and make a bucket list comprising all the things they haven't tried before.
2. Little Miss Sunshine (2006)
A family travels across the country when their daughter wants to participate in a beauty pageant. Things take a turn when they set out on their journey.
1. Into the Wild (2007)
Christopher McCandless, a young graduate, decides to renounce all his possessions and hitchhike across America. During his journey, he encounters several situations that change him as a person.
(Note: You can download these movies from movie sites like tamilrockers, worldfree4u, and bolly4u in dual languages.)
If you liked this article, then please subscribe to my YouTube Channel for Travel Adventures. You can also follow my adventures on Twitter and Instagram.