Kashmir is known as one of the most beautiful places in India where time stands still. Water, in all or any form, is one of Kashmir's charms like rivers, lakes, springs, make music all over the valley. The alluring and majestic sweeps of forested mountains are tempered with miles of flowering meadows.
Here are the Top 5 Beautiful Places to Visit in Jammu & Kashmir- Leh.
1. Gulmarg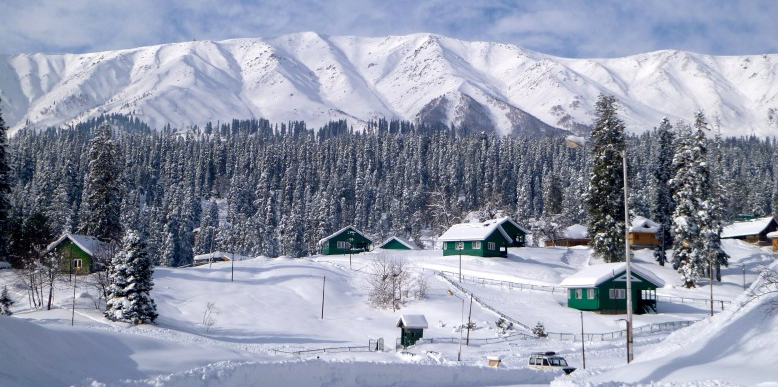 Gulmarg is a town, a hill station, a popular skiing destination, and a notified area committee in the Baramula district of the Indian state of Jammu and Kashmir. The town is situated in the Pirpanjal range in the western Himalayas.
2. Leh

Leh, a high-desert city in the Himalayas, was the capital of the Leh region in northern India's Jammu and Kashmir state but now it's a Union Territory. Originally a stop for trading caravans, Leh is now known for its Buddhist sites and nearby trekking areas. Massive 17th-century Leh Palace, modeled on the Dalai Lama's former home (Tibet's Potala Palace), overlooks the old town's bazaar and mazelike lanes.
3. Sonamarg
Sonamarg is a hill station in the Ganderbal district in the Indian state of Jammu and Kashmir. Sonmarg, which means 'meadow of gold' has, as its backdrop, snowy mountains against a cerulean sky. The Sindh meanders along here and abounds with trout and mahseer, snow trout can be caught in the main river. In late April when Sonmarg is open for road transport, the visitors can have access to snow which is furnished all over like a white carpet. Private vehicles are not allowed. Visitors have to hire a taxi and it is controlled by the taxi mafia. Ponies can be hired for the trip up to Thajiwas glacier a major attraction during the summer months.
4. Hemis
It's also spelled Hamis, is a village in the Leh district of Jammu and Kashmir, India. It is located in the Leh tehsil, 40 km southeast of Leh town, in Ladakh. Hemis is well known for the Hemis monastery that was established in 1672 AD by king Senge Nampar Gyalva. The village hosts a colorful festival held in July. It is close to the Hemis National Park, an area that is home to the endangered snow leopard.
5. Pahalgam

It is a town and a notified area committee in the Anantnag district of the Indian state of Jammu & Kashmir. Pahalgam is a hill station in the north Indian state of Jammu and Kashmir. Mountain trails run northeast to Amarnath Cave Temple, a Hindu shrine and site of the annual Amarnath Yatra pilgrimage. Overa Aru Wildlife Sanctuary is home to animals including brown bears and musk deer. Northeast, the Lidder River runs through scenic Betaab Valley. Southeast, Tullian Lake is flanked by mountain peaks and often frozen.
If you liked this article, then please subscribe to my YouTube Channel for Travel Adventures. You can also follow my adventures on Twitter and Instagram.