Known for its villages like Cotswolds, Tintagel, and Bourton-on-the-Water, South West England is a mainly rural region with a coastline along both the Bristol Channel and the English Channel where Bristol is a harbor city, home to Brunel's Clifton Suspension Bridge and steamship, the ss Great Britain, and neighboring Bath features preserved Roman hot-spring baths dating to the 1st century A.D. Stonehenge, the prehistoric stone circle, is found in Wiltshire.
It is home to some of England's most enchanting spots whose counties such as Dorset, Devon and Cornwall maintain a feeling of remoteness and tranquillity that make them popular holiday destinations.
Also, its craggy and rugged coastline creates a haunting beauty that has lured travelers and residents from afar whose landscape is characterized by vast expanses of natural flora.
Now, how about finding some of the amazing places to visit when you're traveling to southwest England with me? Let's find out.
Here are the 11 Amazing Places To Visit In South West England.
1. Cotswolds
Famous for its rolling hills and grassland harbor thatched medieval villages, churches, and stately homes built of distinctive local yellow limestone, The Cotswolds is a rural area of south-central England covering parts of 6 counties, notably Gloucestershire and Oxfordshire where its honey-colored stone buildings provide a quintessentially English charm found no-where else in the world.
The Cotswolds – the Heart of England where time has stood still for 300 years be ready to intrigue by its rich unique history, culture, and the natural beauty of ancient limestone villages, rolling wolds countryside, beautiful gardens, and magnificent historic castles and stately homes.
I'm sure a short break or even an extended holiday in the Cotswolds will leave you wanting more so don't miss visiting Cotswolds at any cost when you're traveling to southwest England.
2. Dartmoor
Dartmoor is a vast moorland in the county of Devon, in southwest England. Dartmoor ponies roam its craggy landscape, defined by forests, rivers, wetlands, and tors where it trails wind through valleys with Neolithic tombs, Bronze Age stone circles, and abandoned medieval farmhouses.
The area of Dartmoor is dotted with villages, including Princetown, home to Dartmoor Prison used during the Napoleonic Wars.
If you're looking for peace then you should definitely visit Dartmoor where you'll find a magical, ancient landscape of stunning views, awe-inspiring granite tors, deep wooded valleys with fast flowing rivers, and rugged, wide-open spaces which is quiet and extremely beautiful.
3. Newquay
Known for sandy Fistral and Watergate Bay beaches, where waves from the Atlantic Ocean create strong surf, Newquay is a town on the north coast of Cornwall, in southwest England, and on its seafront, the Blue Reef Aquarium features an underwater tunnel going through a coral-reef tank with pufferfish, sharks, and rays.
It is one of the nation's favourite seaside towns where exudes the laid-back atmosphere you'll find from a town perched on Cornwall's Atlantic cliffs and bordered by 7 miles of glorious golden sandy beaches which is a place where all the family gets to relax and enjoy a proper holiday.
These beautiful beaches and the spectacular coastal scenery have made Newquay what it is today which you should definitely visit.
4. Bibury
Bibury is a charming, typically Cotswold, village just a short drive from "The Capital of the Cotswolds", Cirencester and civil parish in Gloucestershire, England.
The village of Bibury was once described by William Morris – a British textile designer, poet, novelist, translator, and socialist activist as 'the most beautiful village in the Cotswolds' where wonderful stone buildings strung out along the banks of the River Coln.
One of the village's main tourist spots and overlooking a water meadow and the river is Arlington Row, a group of ancient cottages with steeply pitched roofs dating back to the 16th Century.
Perhaps one of the most famous locations in the Cotswolds, the quintessential cottages and pretty riverside location of Bibury are a must-visit on any trip to the region.
5. Exmoor
Named after the River Exe, the source of which is situated in the centre of the area, two miles northwest of Simonsbath, Exmoor is loosely defined as an area of hilly open moorland in west Somerset and north Devon in South West England.
It is really an amazing place, with a different world-class view around every footpath corner and the stunning views are not restricted to daylight hours as Exmoor was Europe's first designated Dark Skies Reserve with its fresh, clean, and uncluttered heavens a perfect canvass for the stars.
Exmoor is rich in hidden haunts, deep valleys, ancient oak woodland, England's highest sea-cliffs, sparkling rivers, and waterfalls where its land and seascapes are dotted with medieval towns and villages, harbors, and resorts full of character and timeless charm.
So don't miss to visit this unique landscape of moorland, woodland, valleys, and farmland that is shaped by people and nature over thousands of years.
6. Tintagel
Tintagel is a civil parish and village situated on the Atlantic coast of Cornwall, England, the United Kingdom that is set high on the rugged North Cornwall coast.
Tintagel has dramatic sea views both from the castle ruins on the headland and island where you can immerse yourself in history, myths, and stunning scenery when you visit Tintagel.
Discover caves on the beach, one of which was rumored to be the home of Merlin, and don't forget to explore the island where Tintagel Castle is said to be the birthplace of King Arthur.
The village of Tintagel is worth a visit and is within easy reach of many other beauty spots of this part of North Cornwall which is a spectacular place that is steeped in myths and mystery and has inspired artists and writers throughout history who have associated it with the legend of King Arthur.
7. Bourton-on-the-Water
Straddling the River Windrush, which's known for its low bridges and traditional stone houses, Bourton-on-the-Water is a village in the rural Cotswolds area of south-central England.
The village which is regularly voted as one of the prettiest villages in England, Bourton on the Water has a unique appeal to visitors and residents alike where this popular village is often referred to as the 'Venice of the Cotswolds' because of the attractive little bridges that cross the gently flowing River Windrush that runs through the centre of the village.
The Bourton-on-the-Water – a charming English village in the heart of the Cotswolds has a charm all of its own at any time of the year which is a must-see for all visitors to the area.
8. Stow-on-the-Wold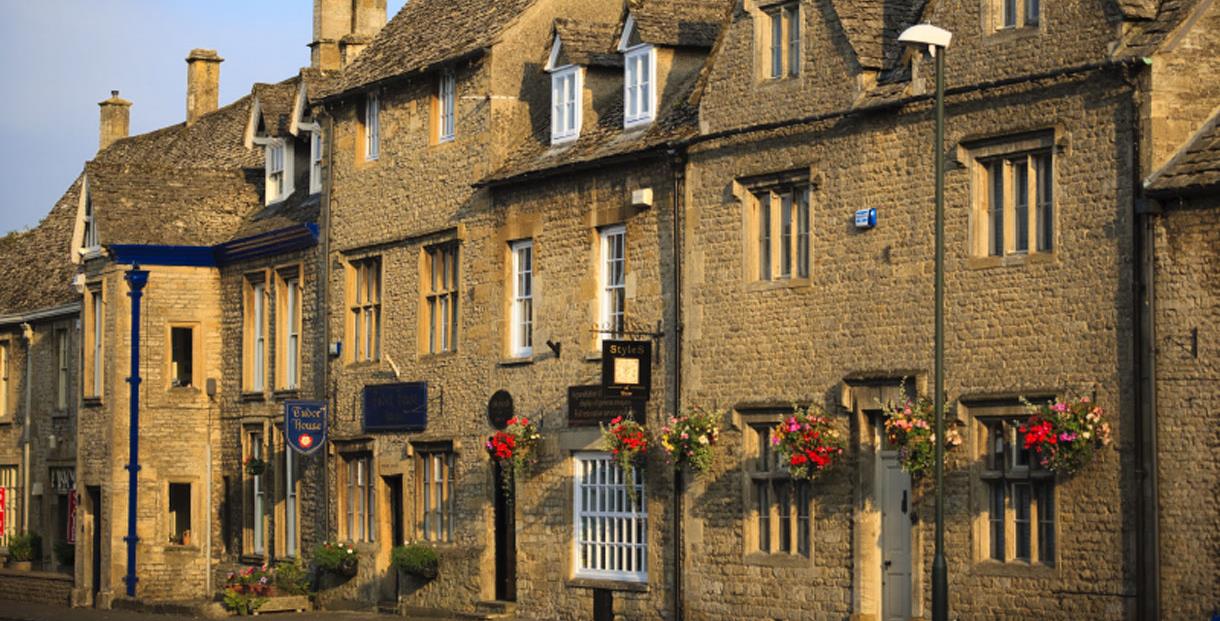 The town that was founded by Norman lords to take advantage of trade on the converging roads, Stow-on-the-Wold is a market town and civil parish in Gloucestershire, England, on top of an 800 ft hill, at the junction of major roads through the Cotswolds, including the Fosse Way, which is of Roman origin.
It is one of the prettiest towns in Gloucestershire where you can find honey-colored buildings, cozy pubs, tiny tearooms, and narrow streets.
Stow-on-the-Wold is the highest of the Cotswold towns standing exposed on 800 feet high Stow Hill that is waiting to be discovered by you with its grand manors and gardens, quaint cottages, and quiet backwaters, ancient woodlands, and rolling hills, Stow is the quintessential Cotswold town.
9. Cirencester
Cirencester is a market town in east Gloucestershire, England which is 80 miles west-northwest of London that lies on the River Churn, a tributary of the River Thames, and is the largest town in the Cotswold District.
Often referred to as the "Capital of the Cotswolds", Cirencester was the second largest town in Britain during Roman times where this lovely market town with a fascinating history will leave you wanting to know more and more about its history.
Set in the heart of the Cotswolds, Cirencester is a great town to visit that makes a delightful base for visitors wishing to explore the area.
Its easy access to major road networks and mainline railway belies its charming and peaceful character.
10. Port Isaac
Port Isaac is a small and picturesque fishing village on the Atlantic coast of north Cornwall, England, United Kingdom that centres around the harbor with a pier built during the reign of Henry VIII and augmented with a more modern sea wall.
This small vibrant fishing village of Port Isaac is one of Cornwall's most well-known and popular holiday destinations that is set amidst rugged and magnificent scenery on Cornwall's North coast with two beautiful ports nearby – Port Quin and Port Gaverne.
Port Isaac is a truly picturesque village with narrow winding streets lined with whitewashed cottages that head down to the harbor where you can watch local fishermen landing their daily catch of fish, crab, and lobsters.
So don't miss to visit Port Isaac when you're in southwest England.
11. Avebury
Best known as prehistoric sites in Britain that contains the largest megalithic stone circle in the world, Avebury is a Neolithic henge monument containing three stone circles, around the village of Avebury in Wiltshire, in southwest England.
Avebury is the largest stone circle in the world where this extraordinary site is formed by a huge circular bank, a massive ditch now only half its original depth, and a great ring of 98 sarsen slabs enclosing two smaller circles of 30 stones each and other settings and arrangements of stones.
The monuments of Avebury were constructed as early as 3000 BC and have been designated a World Heritage Site.
If you really love history and love to dig more into history then Avebury is the must-visit place for you.
If you liked this article, then please subscribe to my YouTube Channel for Travel Adventures. You can also follow my adventures on Twitter and Instagram.