Bounded on the north by Kazakhstan, and clockwise, Issyk Kul Region, Naryn Region, Jalal-Abad Region, and Talas Region, Chuy Region or Chui Region is the northernmost region of the Kyrgyz Republic. The great wealth of the Chui region is its wonderful nature.
The Chui region has a lot to offer: endless mountain ranges and peaks, beautiful valleys and gorges, waterfalls and lakes, hot springs, a wide range of activities (from horse riding to rafting and paragliding) and so much more that will make you fall in love with this reason.
So don't miss to add Chui Region to your Kyrgyzstan bucket list as it is a lovely place that welcomes every single person who crosses its border and I hope you will be one of them. But now how about finding some amazing places to visit there when you're in Kyrgyzstan? Oh! You are excited! So, let's find out now.
Here are the 13 Best Places To Visit In Chui (Kyrgyzstan).
1.  Ala-Archa National Park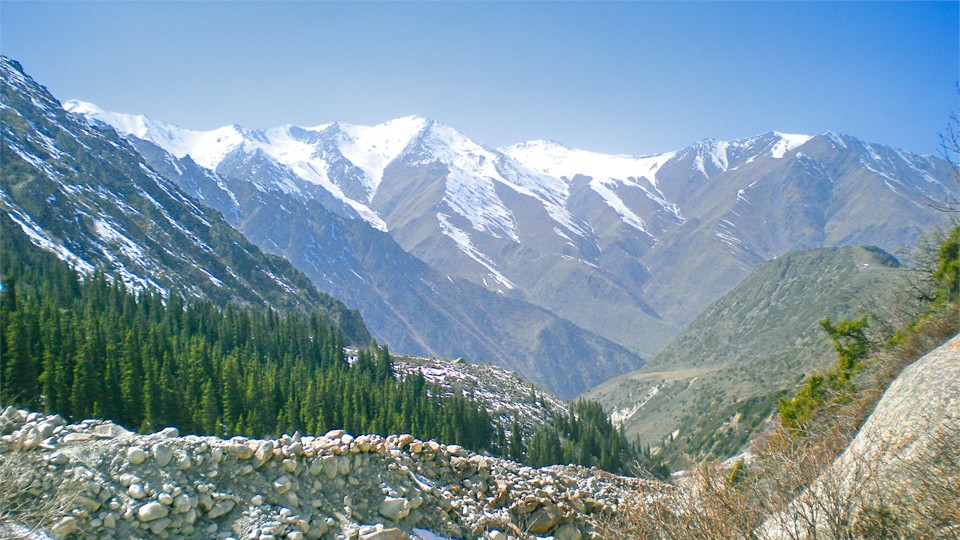 The Ala Archa National Park is an alpine national park in the Tian Shan mountains of Kyrgyzstan, established in 1976 and located approximately 40 km south of the capital city of Bishkek whose gorgeous landscapes dot the countryside, crisscrossed by epic hiking trails.
It is also a big draw for tourists visiting Central Asia who wants a quick trek outside of big city life which is in the narrow valley of an ordinary small river that you may see a concentration of wonderful landscapes, stunning waterfalls, and amazing rock formations.
Though it's very possible to explore the mountains of Kyrgyzstan year-round, the best season is generally considered to be July-September to explore this park by making it a must-visit for any traveler.
2. Suusamyr Valley
Being one of the most exquisite and beloved areas in Kyrgyzstan silk road, Suusamyr Valley is one of the largest alpine valleys, located at an altitude of 2000-3200 meters between Kyrgyz Ala-Too, Suusamyr Too, and Djumgal Too ranges that stretches more than 150 km from the west, starting from the Ala-Bel Pass, to the east, up to the Kokomeren River.
Did you know? In the summer, the entire valley is decorated in tall, lush grass, making it some of the best pastureland in the whole country, popular with local nomads as well as mountain climbers and travelers looking for a peaceful spot to enjoy the crisp mountain air. The entire surface of the valley is covered with thick lush green meadows.
Being the birthplace of Kodjomkul, the greatest Kyrgyz wrestler of the 20th century, Suusamyr is one of those places in Kyrgyzstan which comes to mind when you think of jailoo, koumiss, paragliding, skiing, and heli-skiing.
3. Chong-Kemin Valley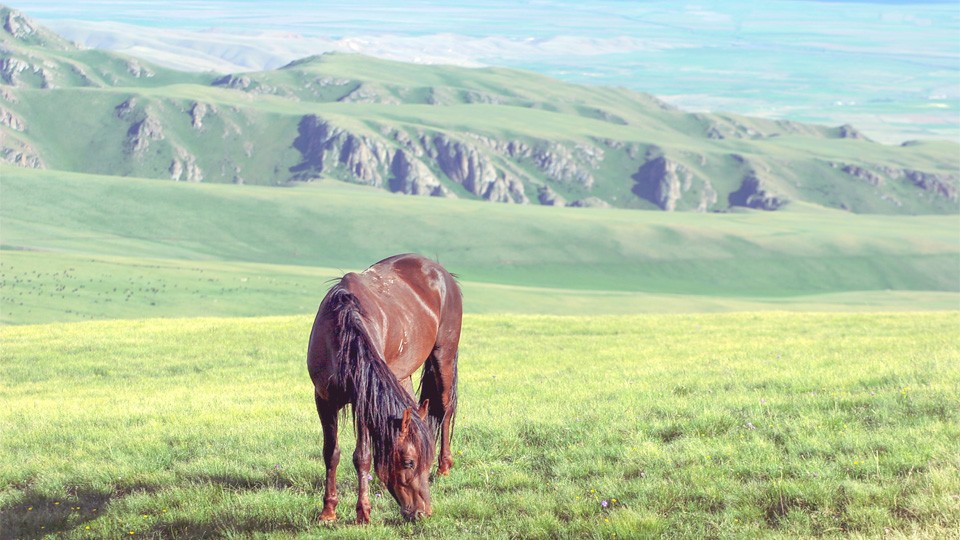 There is an amazingly beautiful valley between Kungey Ala-Too and Ile Alatau ranges that stretches more than 100 km from east to west which is called Chong-Kemin Valley.
Chong-Kemin is a unique natural complex that includes a gorge, a valley, and a stormy river. The river in the valley is also called Chong Kemin and it flows into the Chu river where the Boom Gorge starts.
It is a well-known destination among white water rafting and kayaking enthusiasts and also it is known as one of Kyrgyzstan's most beautiful locales, the Chong-Kemin valley is popular with those who enjoy extreme sports.
The Chong-Kemin valley is a popular spot amongst those who truly appreciate natural beauty, as it remains – many say – in its virgin state where you can enjoy a range of outdoor activities from hiking to fishing and horseback riding. So, don't miss it.
4. Kel-Tor Gorge
Located 90 km from Bishkek, Kel-Tor Gorge is an offshoot of the Kegety Gorge, with a river of the same name and amazing landscape. The name Kel Tor is literally translated as "Dead Lake" which is the most popular feature in the gorge that is famous for its unusually clear turquoise water.
The Kel-Tor Gorge is rich in spruce forests, herbs (sage, St. John's wort, thyme), and varieties of berries (mountain ash, honeysuckle, wild rose, barberry).
Kel Tor Gorge's picturesque beauty provides an excellent destination for hikers as well as bird watchers which is home to a wide variety of bird species including falcons, gyrfalcons, and golden eagles.
I am sure you won't be disappointed at all after visiting this beautiful gorge. So don't miss exploring it while you're in Kyrgyzstan.
5. Alamedin Gorge
Alamedin Gorge (1,800 – 2,000 m) is located roughly 30 kilometers outside of Bishkek and is a popular destination with Bishkek locals. Juniper, birch, black currant, common cockle, rose hips, and sea buckthorn is just some examples of the area's rich flora.
The fresh mountain air combined with Alamedin Gorge's beautiful scenery makes it a prime destination for day trips from Bishkek, picnics, and hiking. The river that flows through the gorge is also called Alamedin. Going farther up through the gorge, you can see steep cliffs that look like ruins of ancient fortresses.
There are also peaks Aitmatov (4650 meters) and Kyrgyzstan (4860 meters) which always attract tourists' attention. There's a small waterfall (10-12 m) hidden back in the gorge that makes a good hiking destination, especially in the winter when it freezes in place!
Other popular features in the gorge are the natural pools and hot springs that are rich in minerals such as calcium salt, iron, and magnesium and provide travelers with some relaxing spots to sit back and enjoy the scenery.
6. Korona Peak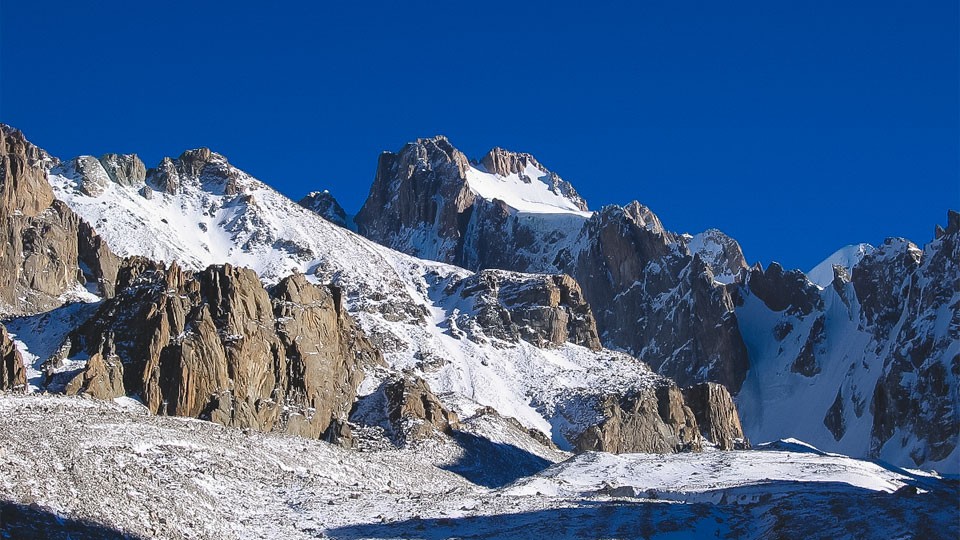 Consisting of six rocky towers that look like a crown of a medieval king, Korona Peak is one of the most beautiful peaks of the Kyrgyz Ala-Too ranges, popular among climbers from around the world.
Korona Peak contains rock walls that range from 600 – 900 meters tall. The crown's points are so steep that they can't even collect snow, making them even more prominent sitting on top of the glacier.  It is the highest peak in Ala Archa National Park.
The name of this high peak is no coincidence; six mountain towers resemble a majestic crown when viewed from a distance. You already know that the towers are so steep that the snow does not manage to stay on their tops and walls, which adds to the splendor of the landscape.
Korona Peak is a popular destination with climbers from all over the world.  The best months to climb the peak are July and August. So, if you're a climber then visiting this peak is a must for you.
7. Issyk-Ata Gorge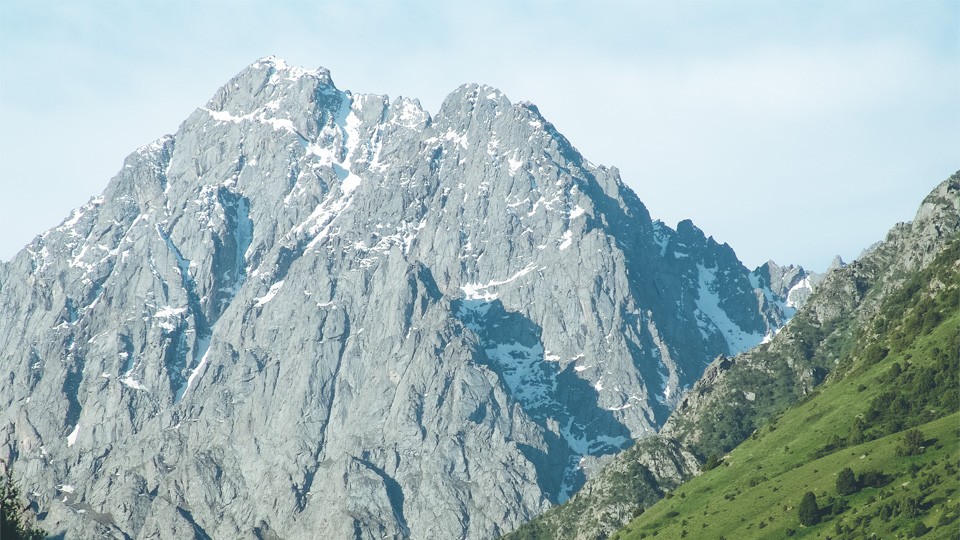 Located on the northern slopes of the Kyrgyz Ala-Too Range, 77 km east of the city of Bishkek, Issyk-Ata Gorge is well known not only for its gorgeous climatic conditions but also for its excellent balneotherapy resources.
However, the most popular features in the gorge are the hot springs said to have healing properties that help treat a number of diseases (balneotherapy).  There's a resort nearby as well as a 2nd – 7th century stone carving of a Buddha healer, further contributing to the belief that the spring has true healing powers that were recognized even centuries ago.
But if you go deep into the gorge, there are several lakes with glaciers in the side gorges behind. The main gorge continues further to the south and ends with glaciers and the pass to East Karakol beyond the Kyrgyz Ridge. Mountain slopes above 2800 meters are covered with juniper forests. Surrounded by high slopes and cliffs, the gorge has a spectacular landscape.
8. Kegety Gorge
Located 75 km from the city of Bishkek on the northern slope of Kyrgyz Ala-Too that has a rich flora, Kegety Gorge extends itself along the Kyrgyz Ala-Too Mountain Range for a total of 30 kilometers that is considered one of Kyrgyzstan's silk road most beautiful and is popular with horseback riders.
Its tall grasslands, barberry, rowan, wild rose, and fir forests largely contribute to the beauty of the gorge. Kegety Gorge is home to numerous streams, alpine meadows, and spruce forests.
The Kegety river, which flows through the gorge, has many tributaries. The largest of them is the Kel-Tor river (the right tributary) which flows down through a smaller gorge with a beautiful landscape.
The main source of the Kel-Tor river flows through moraine passes under the ground and breaks out roaring at a certain point in a forested area but one stream in particular crescendos into a beautiful waterfall that is one of the most visited features within Kegety Gorge.  The falls are 20 meters high and are located just 100 meters from the main road in the gorge.
So don't miss to visit this amazing gorge where natural and climatic features of the Kegety Gorge are favorable for hiking and trekking, as well as picnics.
9. Too-Ashu Pass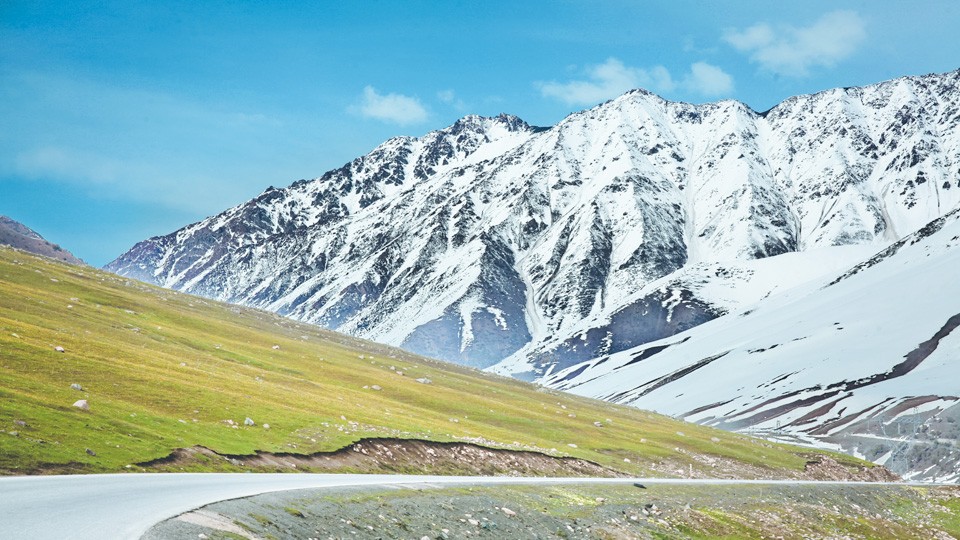 Too-Ashu Pass, literally "mountain pass", is a high mountain pass 135 km from Bishkek, on the main highway, linking the northern and southern regions of Kyrgyzstan. The altitude of the pass is 3400 meters above sea level.
The road is serpentine and views from it are truly breathtaking. It also has breathtaking mountain scenery that sports ice caps year-round. A ski resort is located near the southern end of the pass and is a popular destination for skiers and snowboarders come winter.
At the end of Too Ashu Pass, the land opens up into the Suusamyr Valley.  I have already mentioned that the road in this place is really breathtaking, so don't forget to keep your eyes open for this indescribable mountain scenery but it is very windy here where the mountains are covered with ice caps all year round.
But the air in the Pass is uniquely fresh and clean, and every person inhaling it understands that such air they never breathe in.
10. Boom Gorge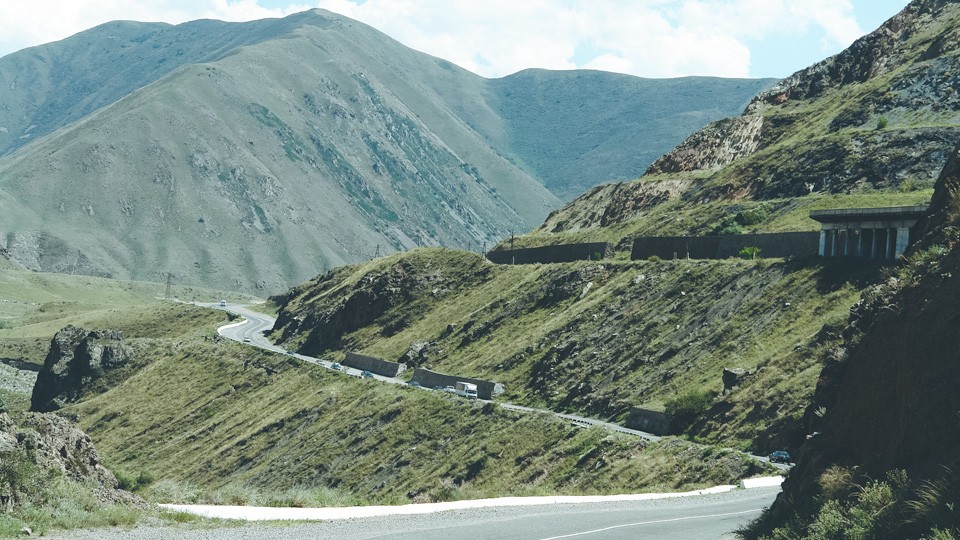 Boom Gorge is an antecedent gorge, located 112 km from Bishkek and is a natural gateway connecting the Issyk-Kul basin with Chui valley.
The gorge cuts, in a general north-south direction, across one of Tian Shan's mountain range systems. The range east of the gorge is known as Kyungey Ala-Too, the one to the west is the Kyrgyz Ala-Too. The length of the gorge is 22 km.
Inside the Boom Gorge, you will see commanding mountain peaks; some are tall and rocky, some smooth and round. Near the entrance to the gorge is a recently erected monument to commemorate the lives of the victims that died during the Urkun exodus in 1916.
Also near the entrance are cool springs that provide a refreshing place to stop and walk around for a bit. The sector of the Chu river in the Boom gorge has long been a very attractive destination for enthusiasts of rafting and kayaking whose beautiful landscape draws a lot of hikers as well.
11. Chunkurchak Ski Resort
Located 30 km from Bishkek, Chunkurchak Ski Resort is a young and developing ski resort in the picturesque Chunkurchak Valley.
It is one of the prime skiing areas in the vicinity of Bishkek, with a modern infrastructure. It offers over 10 kilometers of skiing routes and five modern chair lifts. The resort provides proximity to the capital, a compact arrangement of service facilities, and comfortable pistes for amateur skiers, making it an ideal destination for family holidays. A variety of trails for skiing: for beginners and for experienced skiers free-riders and ski tour lovers are available here.
So, the Ski Resort Chunkurchak is an excellent place for an individual, family, and corporate recreation, as well as organizing and conducting sports and entertainment events of various levels.
12. ZiL Ski Resort
Located 35 km from Bishkek in a beautiful scenic location and at an altitude of 1850 above sea level, ZiL Ski Resort is one of the top places for skiing for both Kyrgyz and foreign visitors. ZiL ski resort has been ranked first out of 17 ski resorts of Kyrgyzstan for three years in a row.
There are five different ski lifts operating in the resort. There are also three cafes, a hotel complex with nineteen rooms with well-developed infrastructure, ski equipment rental, and first-aid post.
A glacier called Kentor has located 5 km from the ski resort, sitting at an altitude of 3500 meters. If a ski lift were to be built on this glacier, it would be possible to ski here all year round, as opposed to only December through March. So, have fun at this Ski Resort when you're in Chui during winter.
13. Konorchek Canyons
Located on the eastern part of the Kyrgyz Ala-Too range, Konorchek Canyons are magnificent monuments of nature, formed over several million years at the hands of natural forces such as the sun, wind, and waters.
These huge clay lumps take on forms that resemble ancient castles, churches, modern buildings, and animals. The Konorchek Canyons reside in the Boom Gorge 125km outside of Bishkek.
To reach the canyons, you have to walk through a maze of rocks scattered over a dry river bed where you'll see red sandstone columns that go on for miles; it seems never-ending!
One particularly fascinating feature in the canyons is a 2.5-3 million-year-old dormant volcano. The Konorchek Canyon in the land of the celestial mountains of Kyrgyzstan is nature's superb creation that you will not like to miss at all. But be ready to face hot, dry summers and cold winters with very little snow.
If you liked this article, then please subscribe to my YouTube Channel for Travel Adventures. You can also follow my adventures on Twitter and Instagram.