Brazil is the largest country in South America, 5th largest in the whole world. With a population of over 200 million people, 7 biomes, and a mix of cultures, this vast country offers many interesting places to visit and things to do besides going to Rio de Janeiro, take pictures in Corcovado, with Redeemer Christ, and visit Samba Schools.
Rio de Janeiro is amazing, but there are other wonderful and cultural immersion experiences you can feel in the Green-Yellow land.
Here are the 10 Wonderful Places To Visit In Brazil:
1. Belem, Para
Amid the Amazon Forest, Belem is the capital of the State of Para, the 2nd largest state in Brazil. Belem is surrounded by the beautiful River Guama.
You can go to the docks and get on a wonderful boat ride seeing cultural presentations of Carimbo dancers. It's fantastic to see that show while you cross the view of Amazon Forest! Besides the boat ride, you can also go to the Historical center and enjoy buildings from XVII and XVIII centuries!
You can see the Forte do Presepio. This fort is where Belem was born. It carries colonial architecture and a unique atmosphere. You can also visit the Metropolitan Cathedral of Belem, and of course, the Museu da Arte Sacra inside the Igreja of Santo Alexandre.
Visiting that places, eating a delicious Vatapa, a traditional dish from Para, you will be completed in love with North Region!
2. Recife, Pernambuco
Capital of the state Pernambuco, in Northeast Region, Recife is a charming city with Dutch influence, traditional dances like Frevo, and a singular vibe.
If you intend to visit the Dutch Historical Roadmap in Recife, you can start from the neighbor of Santo Antonio, famous for Mauricio de Nassau, dutch count sent to manage the colonial Recife. You can go through the Ponte Mauricio de Nassau where, according to the legend, people around the world have seen an ox "flying".
Apart from the Museums (and there are too many) you can go to beautiful beaches as Boa Viagem, (the most famous one) referenced in songs from Northeastern artists, this beach is a Postcard of the state of Pernambuco. Other wonderful beaches are Piedade and Pina.
Whilst you are in Recife, don't forget to go to the Paco do Frevo, a cultural space to see presentations of Frevo dancers, and start dancing together!
3. Salvador, Bahia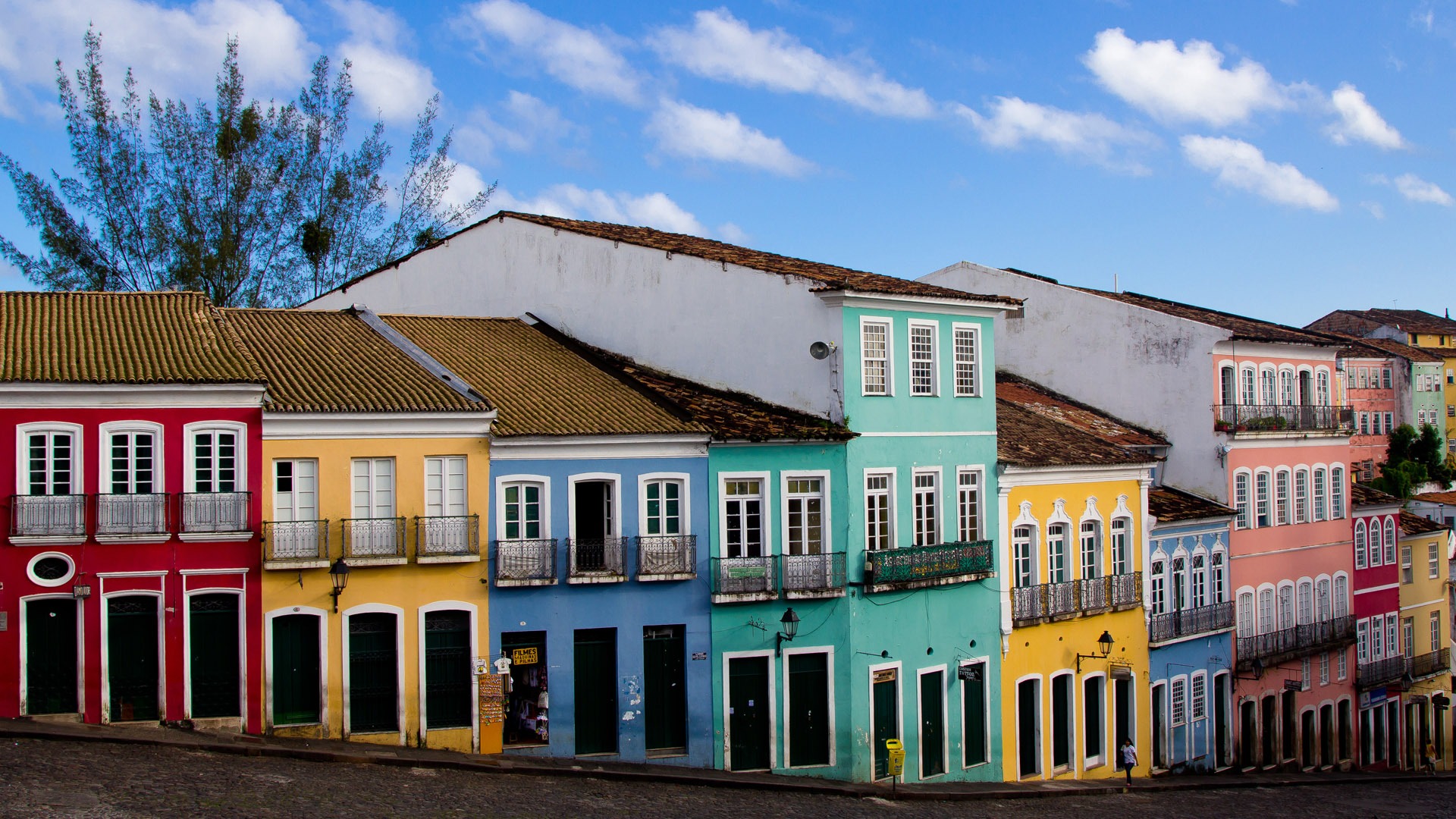 Capital from Bahia, Salvador was also the first capital of Brazil (1549 to 1763). Land of rhythms like Axe dances like Capoeira, and Afro-religions like Candomble, Salvador is the birthplace of Afro cultures in Brazil.
Here you can visit the Pelourinho, a historical neighbor that gathers baroque architecture from XVI to XIX centuries, with charming alleys and energetic nightlife!
Try also visiting Pelourinho in the Carnival Station, to watch the shows of 'Trios Eletricos'. The Carnival from Salvador is the most vibrant street Carnival in Brazil!
Other charming places to visit in Salvador: Elevador Lacerda: With 73 meters of high, this is another symbol of Salvador. An imponent elevator that connects Cidade Alta and Cidade Baixa. Scenario for wonderful pictures!
4. Ouro Preto, Minas Gerais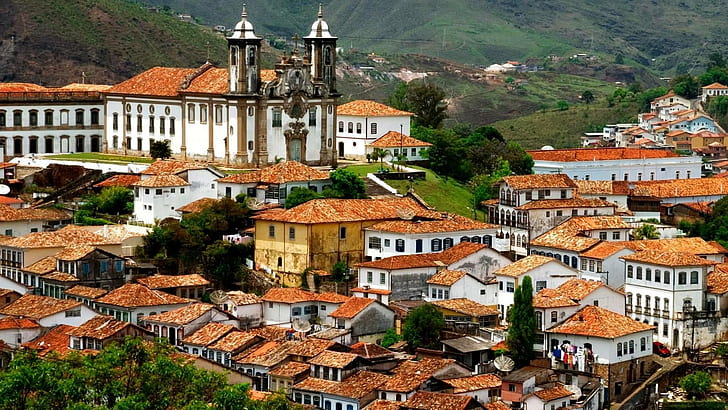 In the heart of Brazil, the southeastern state of Minas Gerais, Ouro Preto is a UNESCO Heritage.
This historical city offers the best from Minas Gerais: Wonderful landscapes, history, and active nightlife! Praca Tiradentes – the starting point for tourists in Ouro Preto, this Square, before called Morro de Santa Quiteria, is surrounded by Museums, as the Museu da Inconfidencia that shows scenarios of the Inconfidencia Minera, important separation movement in Brazil from dominium of Portugal in XVIII century.
Mirante das Lajes – wonderful for pictures, and looking basically like a real portrait, this viewpoint allows an overview to the Museu da Inconfidancia, Igreja de Sao Francisco de Assis, with the hills from Minas Gerais as background.
A perfect landscape for enjoying! Don't forget to visit Ouro Preto in Carnival times as well! The street carnival is one of the best in Brazil. The city is also known as a University city, with bars, pubs and a young vibration for all the city!
5. Blumenau, Santa Catarina
This Southern city, from Santa Catarina, is known as the National Capital of Beer! With German Colonization, everything around this charming city refers to Germany.
Attractions you need to visit:
Parque Vila Germanica: With 30.000 square meters of area, this park gathers the most traditional events as Osterdorf, which transforms the village into an Easter Village. It's a party for all families and even more for children, because of its Face Painting Cones, the Osterbaum workshop, an Easter tree, and also the Easter Market.
Oktoberfest: The most traditional Beer Festival from Santa Catarina, and Brazil, also inspired by the German festival, this event happens in October. 19 days of party of music, dance, and typical dishes!
Spitzkopf Eco Park: Spitzkopf is a german expresion that means "pointed head". The name was given because of the tallest hill, pointed like a shaped head. With over 940 meters, this hill is perfect for adventurers! Don't forget to check the wildlife out there!
6. Florianopolis, Santa Catarina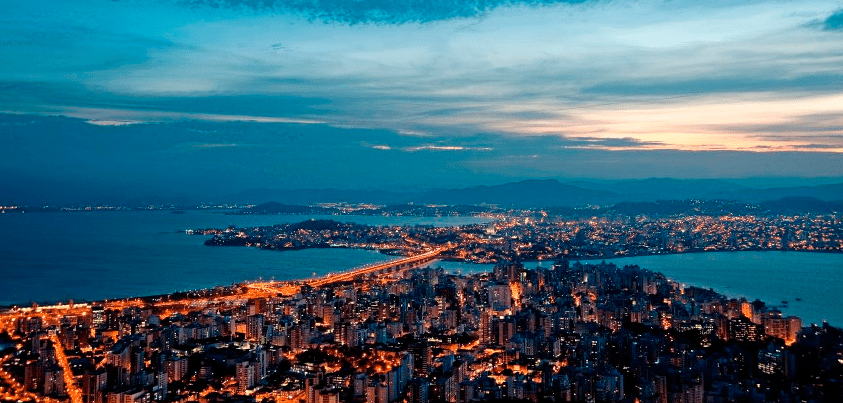 Florianopolis, known as 'Ilha da Magia' or simply 'Floripa', this city is the capital of Santa Catarina. The place is 90% located on an Island, and a short part of the continent, both linked by Hercilio Luz Bridge.
In this capital, with a strong influence from Acores, you can explore different beaches, cliffs, culinary and practice radical sports like Surf, Climbing, Biking, abseiling, etc. Among the beaches, you can visit Praia da Joaquina, Ingleses, Campeche, and Jurere Internacional.
But there is much more to explore here than just the beaches!
Mirante Morro da Cruz: The best moment to visit this viewpoint is going in the sunset, to take the best view of the Island, its hills, the downtown, and the Bridge Hercilio Luz.
Trilhas de Gravata: Another good point to a panoramic view – on the other side of the Island – this trail is next to Praia Mole – the observatory affords wonderful pictures of the Island, from the east side. Obs: The trail starts way close to Sunset Backpackers Hostel. A great option for you to stay when you come to Floripa!
Nightlife: Florianopolis is known as 'Ilha da Magia' (Magical Island). A paradise for young people. Surrounded by pubs and parties for college students, you can find rock bars as John Bull Floripa, thematic ones like Retro Pub and The Church, and many pop music ones as Milk Club, Mr. Beer Chopp Bar, and Pacha. There will be no shortage of options for vibrant nightlife in the capital of Santa Catarina!
7. Foz do Iguacu, Parana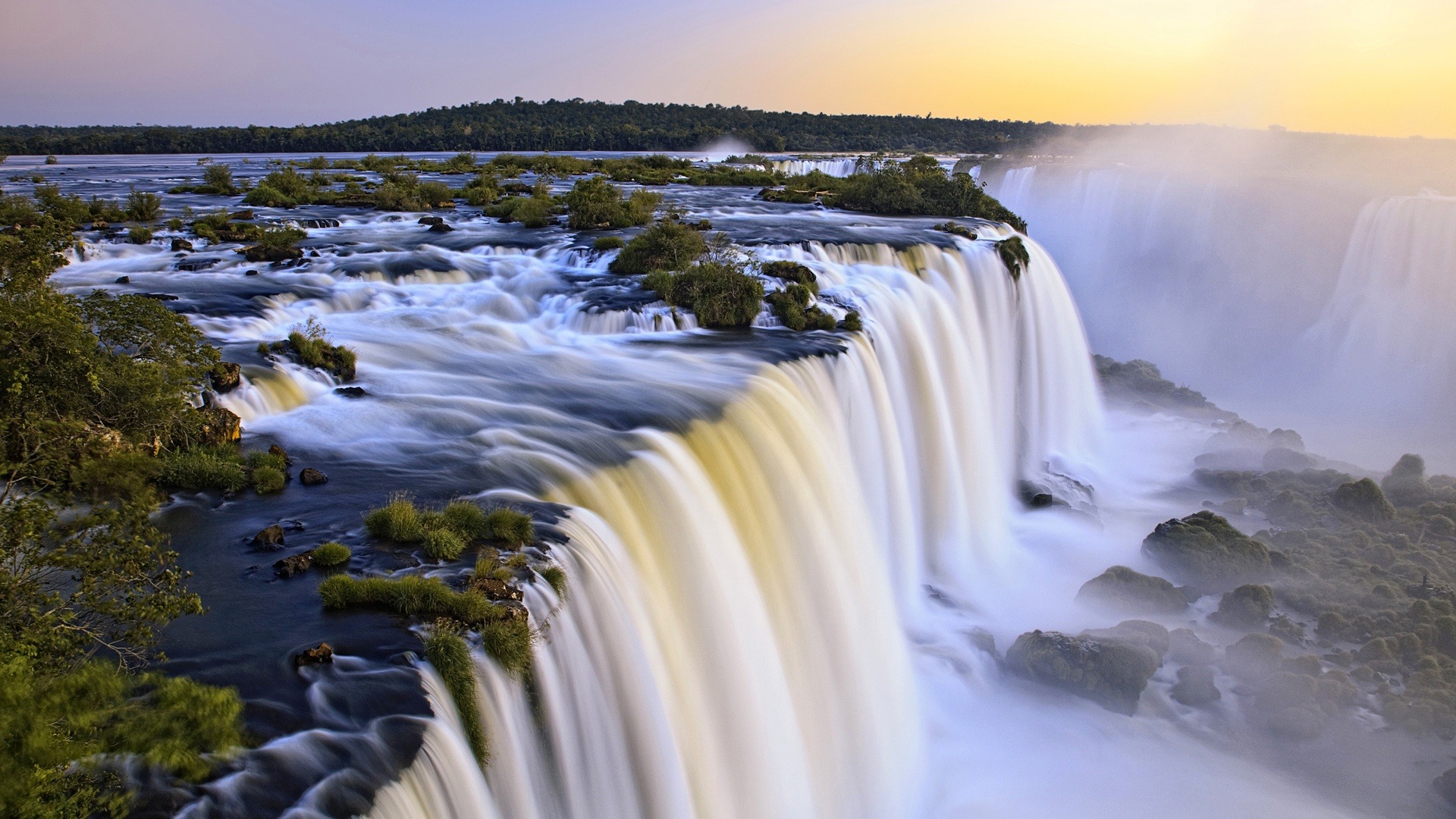 Still in the South, now in the state of Parana, you can find a fantastic experience at Iguacu's Waterfalls, the greatest waterfall in South America.
This natural wonder is composed of 275 waterfalls, covering Argentina, Paraguay, and part of the state of Parana, in Brazil. In the Brazilian part, you can cross the panoramic ride in about 2 hours. Spoiler: Among the three countries: The Brazilian side affords the best pictures haha.
Parque das Aves: Still in Foz do Iguacu, you can also visit the Parque das Aves, 500m away from the waterfalls. Over there, you can even get in the bird's space and take photos with Brazilian species as Macaws, mutums, Arapongas, toucans, and even some species of reptiles! It's the ideal ride for those who love wildlife.
8. Gramado, Rio Grande do Sul
In the extreme south of Brazil, in the state of Rio Grande do Sul, you can go to one of the most charming pleasant cities in Brazil.
Gramado is located in the region of Serra Gaucha, being at an altitude of 830m. Here, you can find strong influences of Acores, Italy, and of course, Germany.
Praca das Etnias: One of the most emblematic squares in the city, this square is based on the European folks who colonized the region of Serra Gaucha, like Portuguese, Italians, and German ornamentation. Here you find Casa do Colono, which is a warehouse with typical gaucho foods and drinks, besides other gifts to take to friends!
Snowland: Who said there's no snow in Brazil? Even in the state of Rio Grande do Sul, you can find snow in the high hills at a certain temperature depending on the station. But you don't need to wait for all these combinations to see snow! In this park, you can snowboarding, skiing, and snow skating every station in the year! And of course, watch precious spectacles as Flokus: A Origem da Neve.
Gramado has a vast amount of places and attractions to do, so, some recommendations you can't miss: Lago Joaquina Rita Bier, Rua Torta, Hardrock Café and Mirante do Belvedere! Enjoy it all!
9. Bonito, Mato Grosso do Sul
Now, skipping to Centre-West Region, let's to the Center-West Region, in the state of Mato Grosso do Sul, Bonito is one of the best Ecotourism destinations in Brazil!
Surrounded by Atlantic Forest, and next to Pantanal (Wetlands), Gramado is the most accurate definition of Paradise. With a limit of people, you can go to the caves, dive with many kinds of fish, do radical sports and enjoy all the nature in the heart of Brazil.
You can go on rides, like:
Gruta do Lago Azul: The best age to visit this wonderful cave is between November and January. The moment where sunrays come across the lake inside the cave, making the color with tones of blue and green, a magic view.
Aquario Natural: The natural aquarium is the perfect point to diving and enjoys the most spectacular aquatic life! You'll find this magic experience in River Baía Bonita and River Paraguay, with a transparent/green view of the water life!
In Bonito, you will find lots of waterfalls, radical sports like 'Boia Cross', rafting, floating and abseiling! You will get plenty of options to do there!
10.  Chapada Diamantina, Bahia
Chapada Diamantina is a vast area of Cliffs, caves, and Canyons located in the center of the state of Bahia. With more than 38km² of area, this park is a natural sculpture in Brazilian Cerrado.
The best basis cities to visit Chapada Diamantina are Lencois and Mucuge. Once here, you can experience many attractions and take beautiful pictures!
Gruta da Lapa Doce: This cave is the third biggest cave in Brazil. With almost 18km of extension, you can safely visit almost 900m of this cave, accompanied by a guide, enjoy all magnificent rock formations! Don't forget to enjoy the city of Lencois, its pubs, traditional dishes, and rustic architecture!
Cachoeira da Fumaca: This waterfall is one of the biggest in the world. The perfect scenario to take photos and dive (underwater photos are also awesome). On the top, over 300m, it's common to see a colorful rainbow crossing the climbs. Also in Vale do Capao, you can experience a dive in precious natural pools!
Morro do Pai Inacio: The most known postcard of Chapada Diamantina, and one of the most known ones from Brazil, this cliff reaches 1.100m of altitude and on it, you enjoy 360º of the best view of Brazilian Cerrado, its endemic species of animals and plants that you won't see in any other place in the world!
If you liked this article, then please subscribe to my YouTube Channel for Travel Adventures. You can also follow my adventures on Twitter and Instagram.
(This article is written by Renen Alencar who's a Web Editor, Musician, and Language Enthusiast. He fell in love with traveling, exploring, and combine it with knowing the History and Language aspects of places in the world. Also, he loves to do Calisthenics and meditation in his free time.)